Meet My Neighborhood: Irving Park, Chicago
Meet My Neighborhood: Irving Park, Chicago
As on Ohio ex-pat, I moved to Chicago knowing very little about the city's 77 neighborhoods. I ended up living in Lakeview, and while I loved being by the water and Lakefront Trail, I longed for more space and different things to do. By the time I was on the hunt for a new neighborhood, I also knew I spent most days near the CTA Blue Line. So, I went searching for a place that butted up against the Blue.
The spot I found in the Irving Park neighborhood on the northwest side checked all my boxes. Since it was close to the train, I could quickly get to Logan Square, Wicker Park, the Loop, and other places I spent a lot of time, but the neighborhood's residential reputation also meant I could get more house for less. (I own a lot of books, OK?)
That was two years ago, and I've noticed more and more interest in Irving Park from friends—and more and more young adults getting off at the Irving Park train stop. Granted, that's pretty anecdotal evidence that this neighborhood's heading toward a boom, but I always pitch it to friends of mine looking to leave hip, increasingly expensive 'hoods or wanting to head northward without losing any urban charm or commuting comfort.
Irving Park has a lot to offer, including a diversity that's evident in the neighborhood's cuisine options: Moroccan cuisine at Shokran, Mexican at Taco Max, and Italian at La Villa. There's a patio at Eris Brewery, and the punchiest Philly cheesesteaks I've ever had the honor of tasting at Susie's.
There's also enough to do here that, even after a few years happily tucked into my Irving Park apartment, I still have neighborhood attractions I want to check off my to-do list, like visiting the Latvian Folk Art Museum or taking a class at the Chicago Weaving School.
Until then, here are seven spots I find myself telling the Irving Park-curious about over and over again.
Treat yourself at The Cat's Meow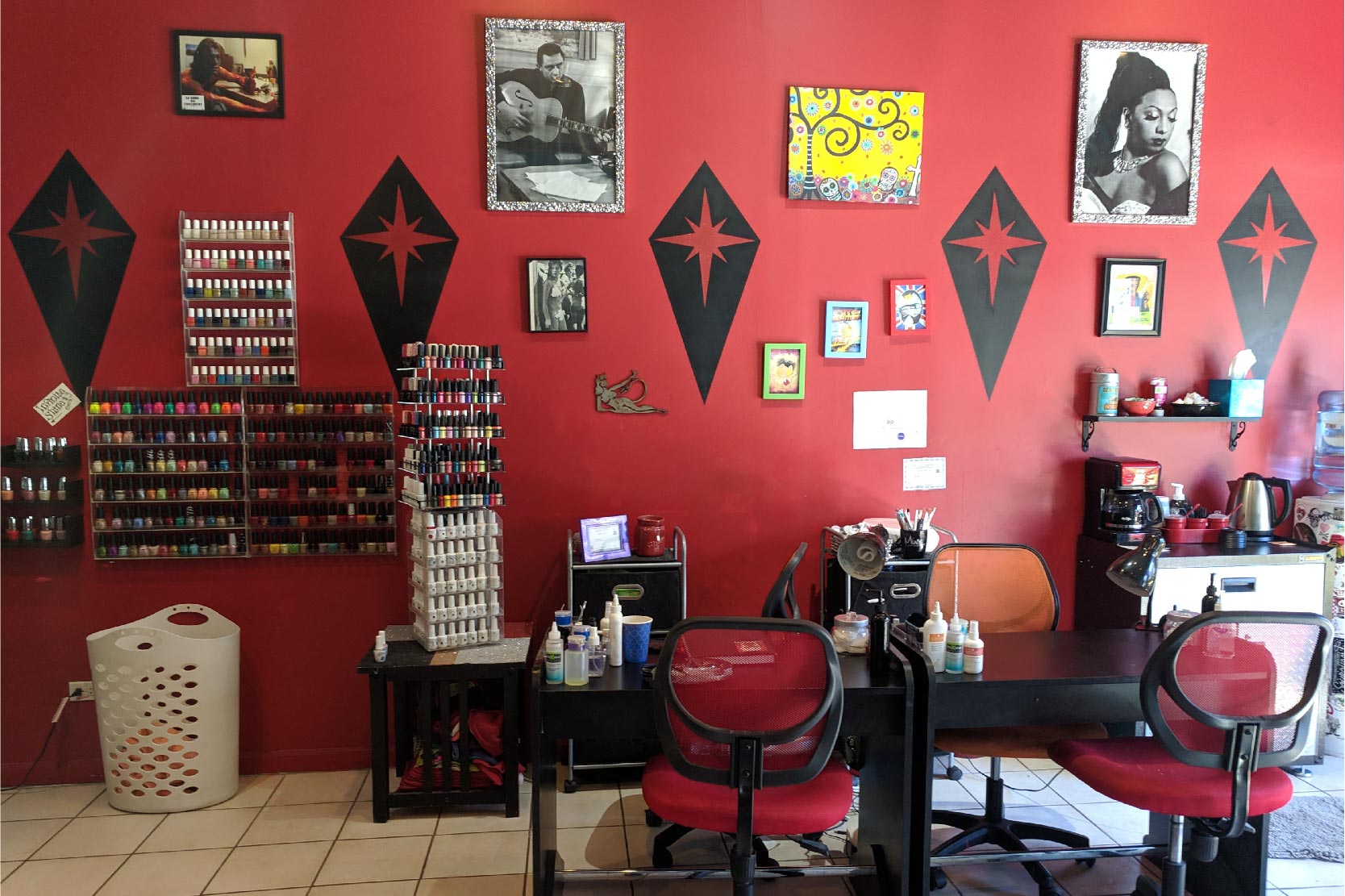 This music- and rockabilly-themed beauty bar on Elston offers all the salon standards, and its specialty treatments are real rock stars. The Cat's Meow offers custom facials and skincare services, some with names that wink, à la "The Leader of the Back" and the "Hey-La, Hey-La, My Boyfriend's Back" men's treatment.
The manicure and pedicure stations give customers a good look at the Johnny Cash and crew artwork. Try the Working Woman's Pedi ("You work hard for your money, let us pamper you, honey!"), which includes a eucalyptus and mint soak, cooling gel treatment, steamy hot-towel service, and muscle rub. You'll feel ready for the dance floor—or mosh pit—in no time.
Meet for Brunch at Finom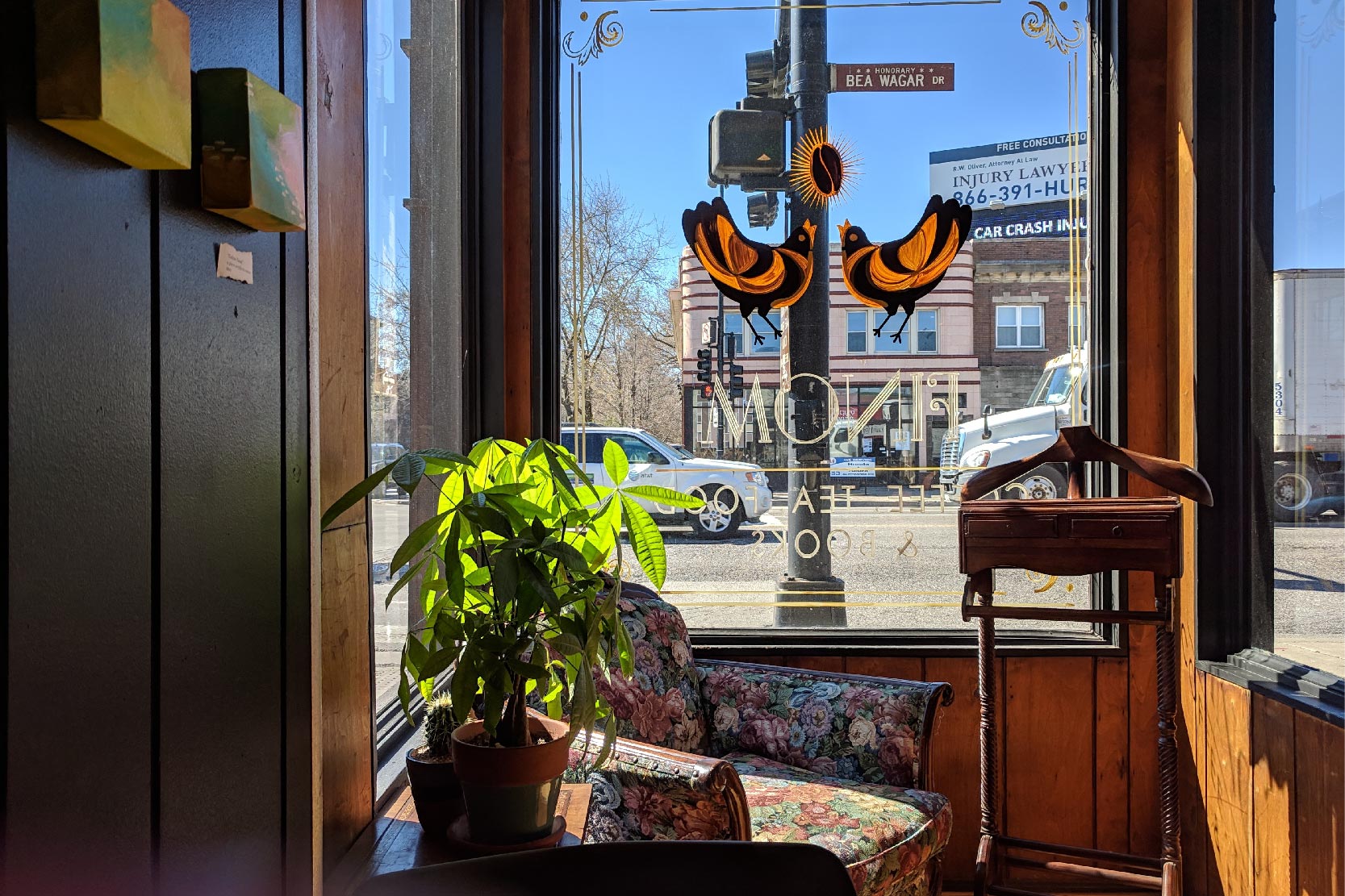 Finom Coffee is a popular new cafe in Old Irving Park, the western neighbor of Irving Park proper.
The cozy interior design makes the place feel like a den of yesteryear. Apropos, considering that Finom is located in the historic Whistle Stop Inn building, a designated Chicago landmark built in 1889. Wood paneled walls, a retro TV setup, vintage floral furniture, tasteful taxidermy, black and white photographs, local art, used books, stained glass windows, and a stunning bar made from 1890s-era wood all set the vibe.
Then, there's the menu. Finom is the Hungarian word for "delicious," and the Hungary-inspired small plates and specialty drinks have earned the title. There's Counter Culture coffee, Rare Tea Cellar tea, and baked goods by Spilt Milk Pastry, but some favorite Finom fare are originals that earn the cafe positive reviews among Chicago foodies: the lecsó sandwich of melty scrambled egg, gypsy peppers, kolbasz sausage, butterkäse cheese, and absinthe-spiked mustard stuffed into a fresh croissant, as well as the brightly topped Hawaiian Fog, a tea latte with almond milk and hibiscus finished with stripes of dried cherry powder and turmeric.
Look Around Independence Library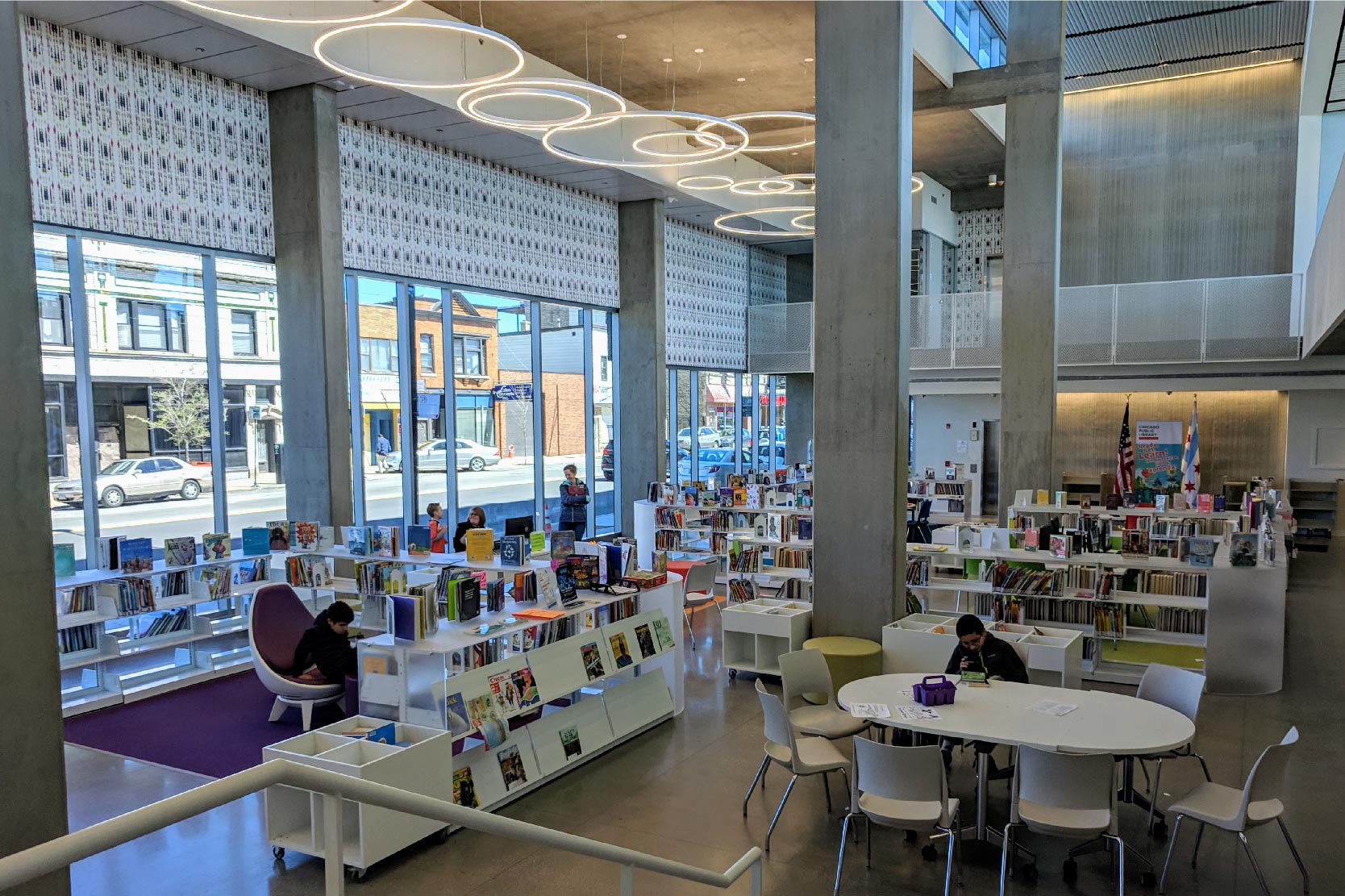 When I first moved to Irving Park, Google Maps still listed a storefront library as open on Irving. I was bummed to find out that it wasn't there anymore; the building burnt down a year or so before our move. Imagine my bookish delight, then, when the new Independence branch of the Chicago Public Library opened in early 2019, giving the neighborhood its long overdue permanent library.
The two-story stunner has open, amphitheater-style seating on its first floor, perfect for people-watching through a window wall. Colorful nooks and crannies await on the second floor, where you can kick back and thumb through the varied selection of tomes.
Supported by affordable senior housing located above the library, Independence also offers family nights, reading events, and a lecture series. I also selfishly love that it's within walking distance of my place. On my trek home from picking up my book reservations, I sometimes stop at the Farmers Market Garden Center near the library for fresh flowers.
Play in Independence Park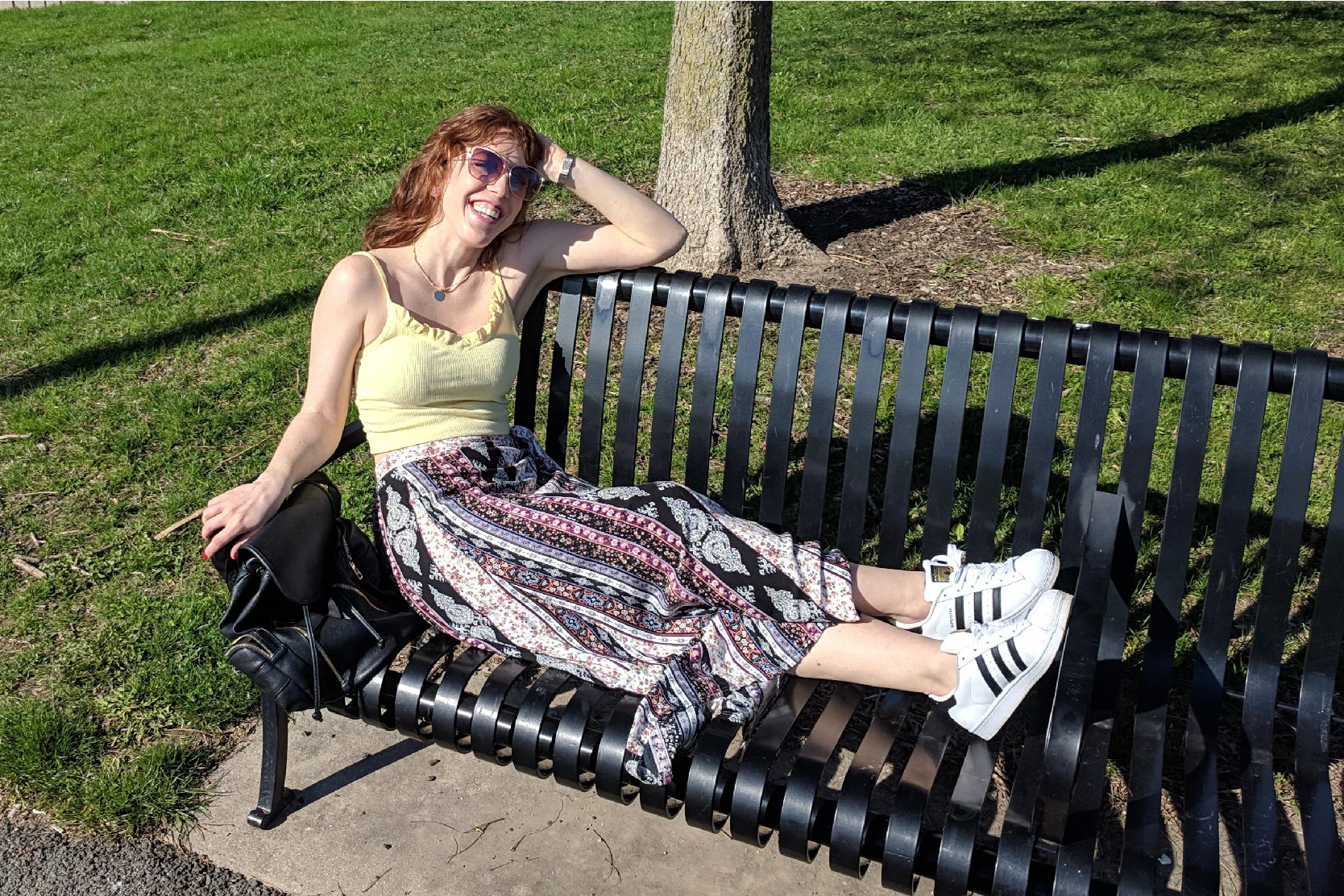 About three blocks east of the Irving Park Blue Line CTA stop is Independence Park, the hub of Irving Park play time. Its nearly nine acres host a bevy of entertainment options during spring, summer, and fall, including a bustling Saturday morning Independence Park Farmers Market and a Summer Movies in the Park series.
There are also tennis courts, a baseball/kickball diamond, a public basketball court, kids' activities, an indoor pool, and a sprawling brick fieldhouse that's home to weekly yoga classes. Oh—and there's typically an ice cream cart slinging popsicles by the playground.
Warm-weather season is also the time to hit up Snix Snacks, a cash-only food truck that posts up on the northwest corner of the park. It's hard to miss, with its bright red exterior and fried food scents. Try the carne frita con tostones and take a shaded stroll through the park or a trip around the park's exterior because the surrounding family estates are worth a view too.
Shop at Lincoln Antique Mall
Going to a good antique mall can be like going to an art gallery—especially if that antique mall has fresh finds coming in on the regular and a no-pressure sales approach. That's Lincoln Antique Mall in a nutshell. This mainstay on Irving Park Road is 7,000 square feet of fascinating. It's got Victorian fixtures, Art Deco decor, midcentury modern artwork, French furniture, raunchy old magazines, a small but try-to-keep-it-a-secret record collection in the back, and much more.
I wander through the wares on the weekends, and I've found one-of-a-kind statement jewelry and accessories here. I'd say something like these are "not your grandma's baubles," but they just may be. The Lincoln Antique Mall's business card slogan is indicative of the owners' sense of humor: "If you didn't get it in the will, you can get it here."
See a Show at Windy City Playhouse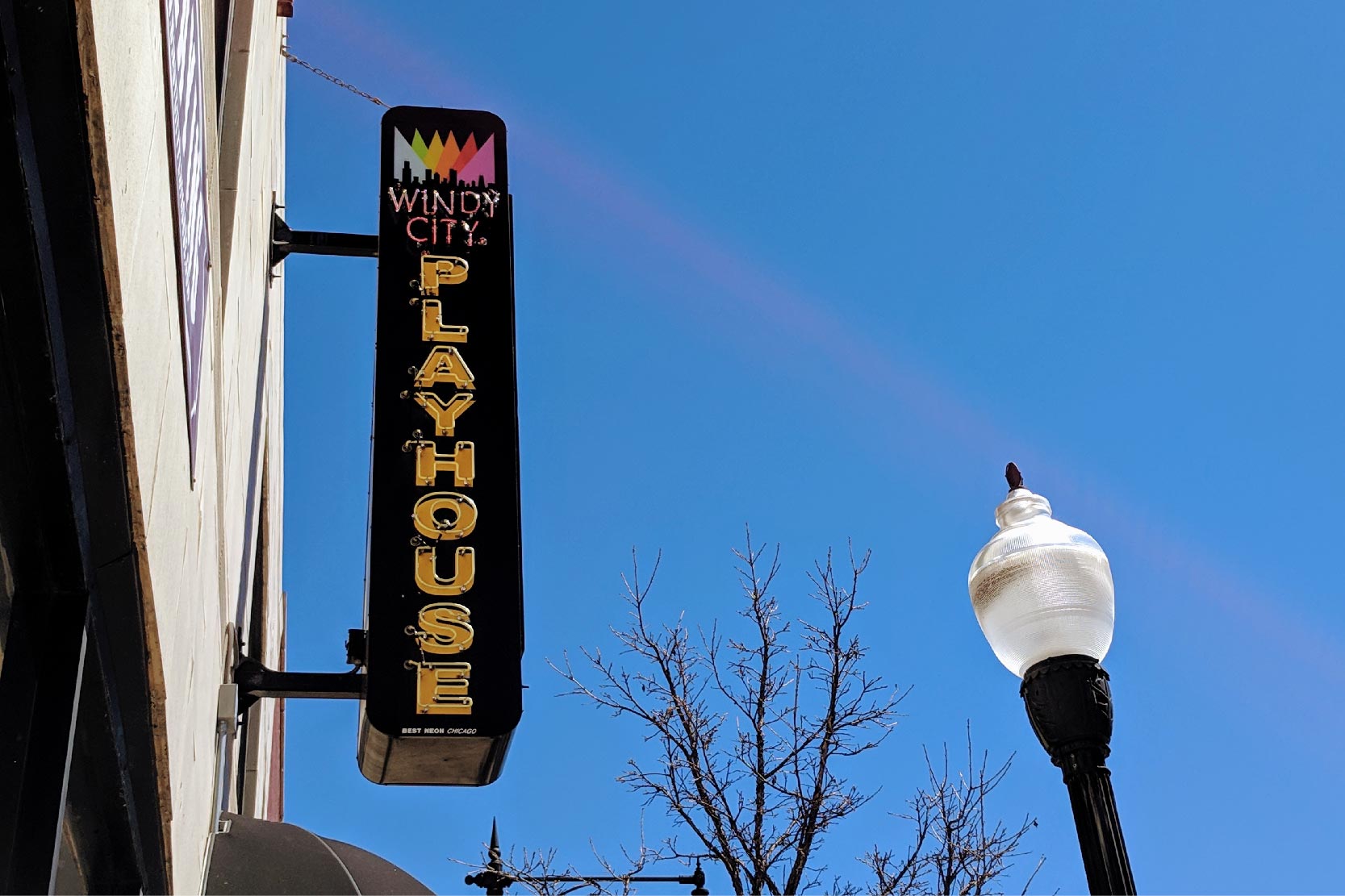 This relatively new theater space (the first show premiered in 2015) has quickly taken a lead in Chicago's indie stage scene, thanks to its professional productions of contemporary theater and its mission to present approachable art to all audiences. Windy City Playhouse recently opened a second location in the South Loop, but the Irving Park flagship is a must-see, designed by noteworthy theater architect John Morris.
If dinner and a show are your date night go-to, try the wood fired pizzas at Hearth & Crust for some pre-show sustenance and then make the relaxing 15-minute walk west to the theater. Before grabbing a seat for the Playhouse performance, grab a drink or dessert at the bar in the theater's plush parlor lobby. Or imbibe afterward—there's often post-show entertainment near the bar.
Eat at Smoque BBQ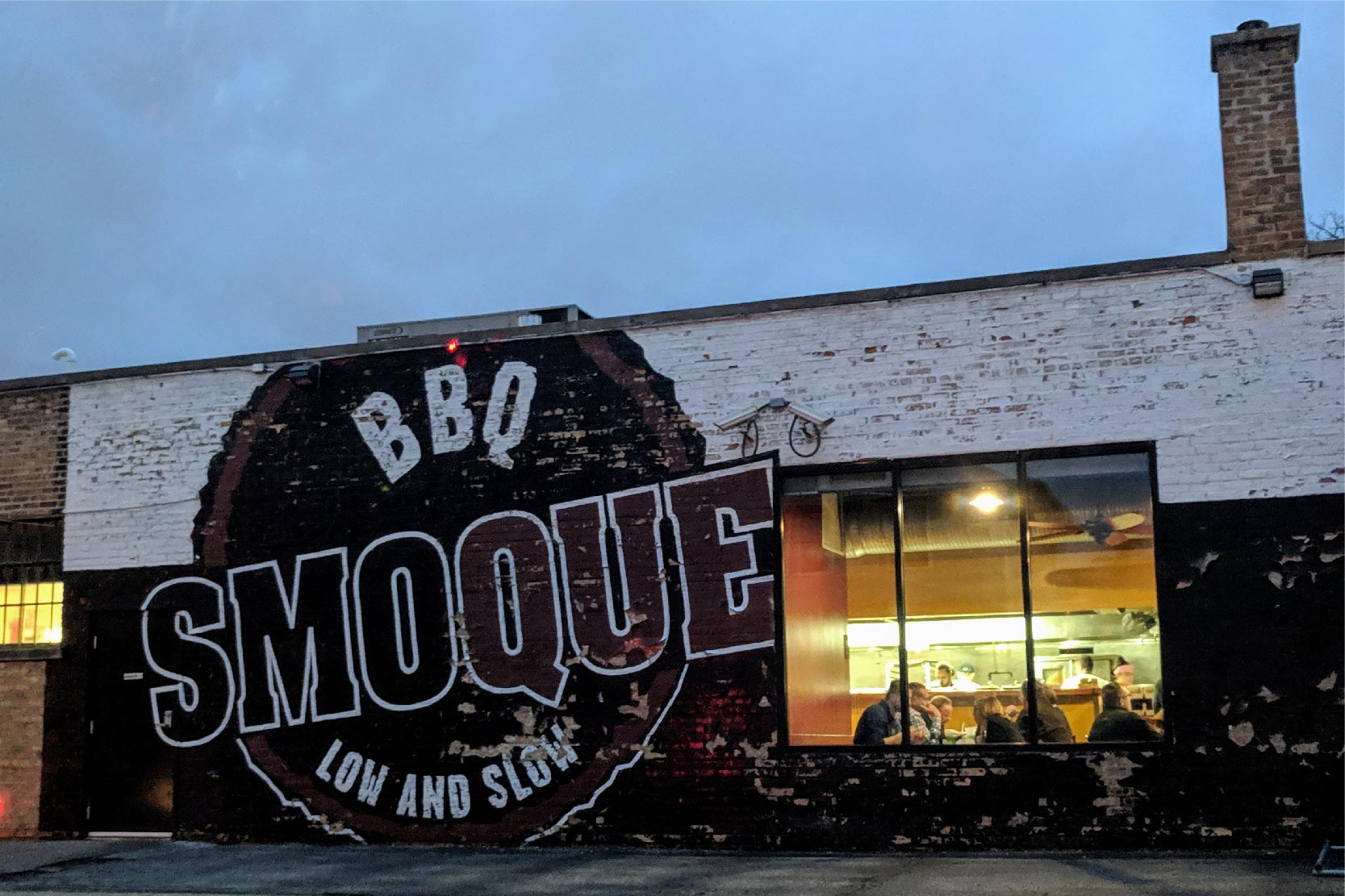 Where there's Smoque, there's always something firey to eat. On a recent visit, I counted five cars with their hazards on crammed into the no-parking zone out front; their drivers inside the restaurant, grabbing some barbecued goodies to-go.
If you've tried Smoque's brisket, you'd understand why. It spends 10 hours in the smoker and boasts a two-layer spice rub. The ribs are also a fan favorite. Memphis-style dry rub ribs—available in baby back or St. Louis versions—are smoked over oak and Applewood, giving them a savory crunch you can enhance with two kinds of barbecue sauce. Smoky, juicy, tender, complex. All the ideal barbecue adjectives apply.
Plus, the homestyle peach cobbler or pecan bread pudding with bourbon caramel sauce enjoyed on the picnic patio is a sweet way to watch the sun set on Irving Park.