Meet My Neighborhood: Waverly, Baltimore, Maryland
Meet My Neighborhood: Waverly, Baltimore, Maryland
I didn't actually choose to live in Waverly. In 2014, I moved in with my boyfriend, who had been living in the neighborhood in 2007. I had spent time in neighborhoods like Pigtown, Fells Point, Charles Village, Station North, Downtown, and Barclay during and after college, but I had never even been to Waverly. Now, I can hardly imagine living anywhere else in the city.
The first time I came to the neighborhood, the green streetscape immediately stuck out as different from many other places in the city. Waverly stretches from 25th Street to Chestnut Hill Avenue, and the east-west boulevard of 33rd Street is the centerpiece. 33rd Street is a four-lane road, with a large median and towering trees designed by the Olmsted Brothers as part of a greenway system connecting Baltimore's parks.
The mix of free-standing homes and rowhouses also provides space for lawns, gardens, and trees. Originally, Waverly sat outside of the city limits as the village of Huntingdon. The Victorian houses served as summer getaways and country houses, but now, they're free-standing historic homes with enough yard for chickens or bees (both of which I've seen neighbors raise).
By the end of the 1800s, the streetcars brought more housing development. By the 1910s, Waverly had new rowhomes with modern amenities like radiators and indoor plumbing. These "daylight" rowhomes are some of the best in the city. They're slightly wider with windows in every room, and often feature glassed-in sunrooms or front porches.
The neighborhood also has a long history of activism, civic-mindedness, and counterculture. Normal's is a collective-run bookstore that hosts experimental music, and Waverly hosted Baltimore's first Gay Pride Day celebration. The People's Community Health Center—which was founded by the Black Panthers, the Coalition of Women's Liberation, and the Baltimore Defense Committee—offered free healthcare and operated in Waverly from the 1970s until 2014.
Today, the Waverly Improvement Association, Better Waverly Community Organization, Ednor Gardens - Lakeside Civic Association, and Waverly Main Street all contribute in different ways to the neighborhood.
I love the community feeling that permeates so many aspects of life in this neighborhood, from the local breakfast diner to the hardware store. Here are some of my favorite spots that make Waverly, Waverly.
Pete's Grille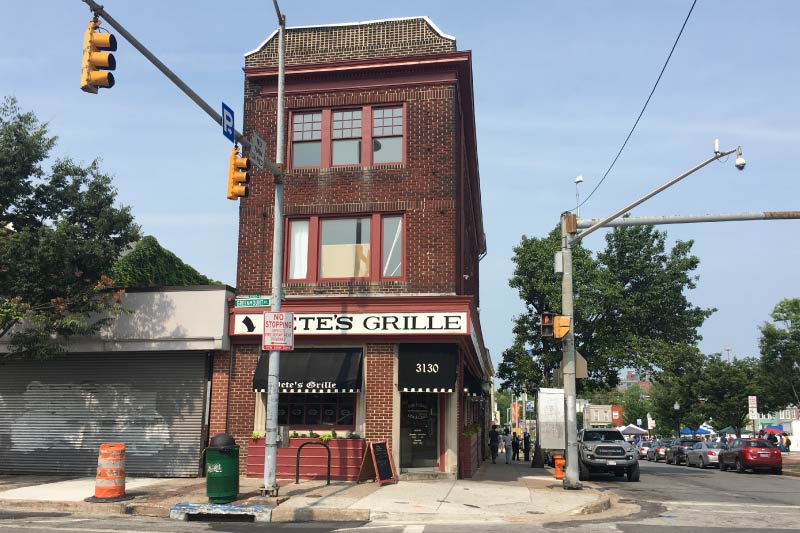 The commercial center of Waverly is Greenmount Avenue, which bounds the neighborhood's east side. Even in the 1840s when Waverly was just a collection of houses, three businesses existed on what was then York Road: a shoemaker's shop, a corn husk depot, and a blacksmith. Today, you'll find stores, a pharmacy, and restaurants.
One of the most famous restaurants is Pete's Grille, a neighborhood staple for over 50 years. Mention Waverly, and many people will fondly remember a breakfast at Pete's. You're not getting your boozy, fancy-foodie brunch here; you're getting a classic breakfast and lunch with hearty portions cooked up right in front of you.
According to the Baltimore Sun, Olympian Michael Phelps loved coming to Pete's for an enormous (literal) breakfast of champions that included three fried-egg sandwiches, one omelet, a bowl of grits, three slices of French toast with powdered sugar, and three chocolate chip pancakes.
They also only take cash, and seating is limited to 28-counter spots, so you might have to wait or cozy up to a neighbor.
Weinberg YMCA in Waverly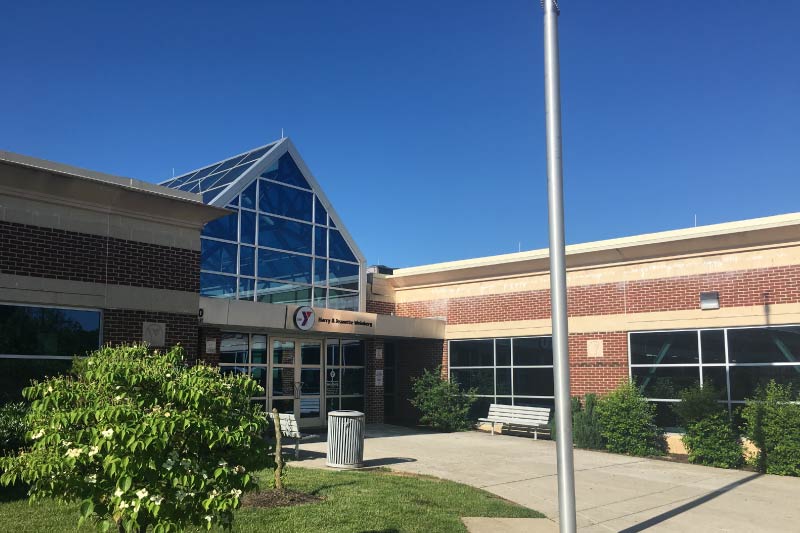 Honestly, one of the reasons I love my neighborhood is because I have no excuse for not going to the gym. Anywhere you live in the neighborhood, the Y in Waverly at the site of Old Memorial Stadium is less than a 10-minute walk away.
Memorial Stadium was once home to both the Baltimore Orioles and the Baltimore Colts. The Colts literally left in the middle of the night in 1984, which is still a sensitive subject for many Baltimore sports fans. The Orioles played at the stadium until 1991, when they moved to Camden Yards. The city tore down Memorial Stadium in 2001, and shortly thereafter, the Y in Waverly opened.
While I use the fitness center and weight-lifting equipment many times a week, there are also group classes like Zumba, barre, cycle, and yoga; a rock climbing wall; a lap pool; a basketball court; saunas; and even a "stay and play" for childcare while you work out. Outside, the Ripken Memorial Field still has a home plate at the same location as the old ballpark, where youth leagues play baseball.
Peabody Heights Brewery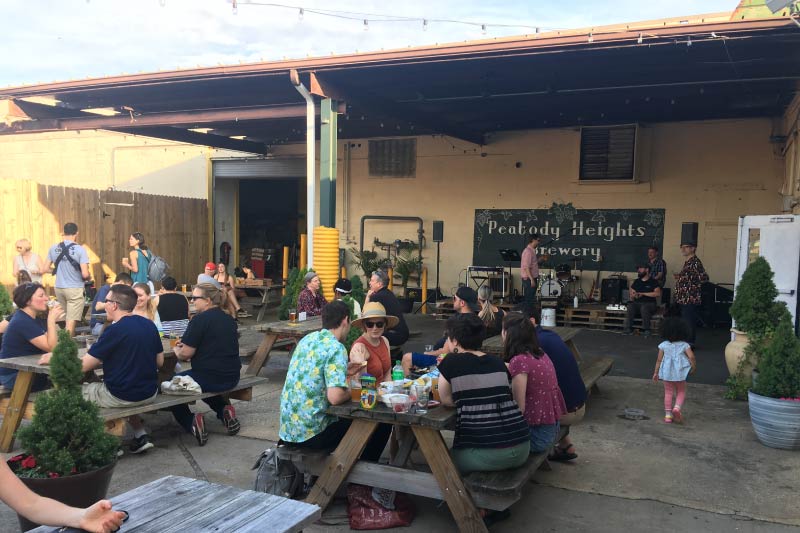 Peabody Heights Brewery loves the fact that the home plate of Old Oriole Park is right on their property. In fact, their signature beer is Old Oriole Park Bohemian Lager, a reference both to baseball and Baltimore's brewing history.
The brewery opened in 2012 in an old Snapple factory, starting as an incubator for small craft brewing operations who couldn't invest in their own infrastructure. Since then, they've expanded to create their own beers, while also continuing to contract brew for smaller breweries or breweries that want Baltimore distribution.
On Friday nights in the summer, bands play outside in the beer garden. You can bring your own picnic, grab a treat from a food truck, enjoy the beers, and let the kids run a little wild.
32nd Street Farmers Market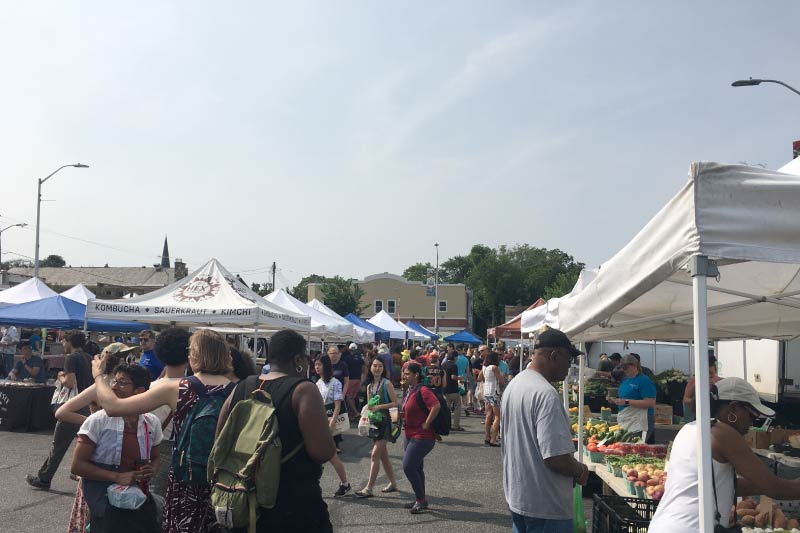 On a recent Saturday afternoon, I was chatting with some people who live all over the city, and we had one thing in common: We'd all been at the 32nd Street Farmers Market that morning.
If you live in Waverly, it's just a short walk to the market, where you can enjoy produce, prepared food, baked goods, and coffee from vendors all over the city and state. I love being able to walk to get the small-batch roasted coffees from Zeke's and see what produce is in season. Although, I'm always tempted by the freshly made falafel wraps and West Indian food too.
The market also turns into a city-wide meet-and-greet. You run into your neighbors, your friends, your co-workers, just about anyone you might know, emphasizing the "Smalltimore" phenomenon. The community feeling is more than just a vibe. The money that exceeds what the nonprofit market collects from vendor spaces and membership donations goes to grants to other nonprofits in the community.
Waverly Ace Hardware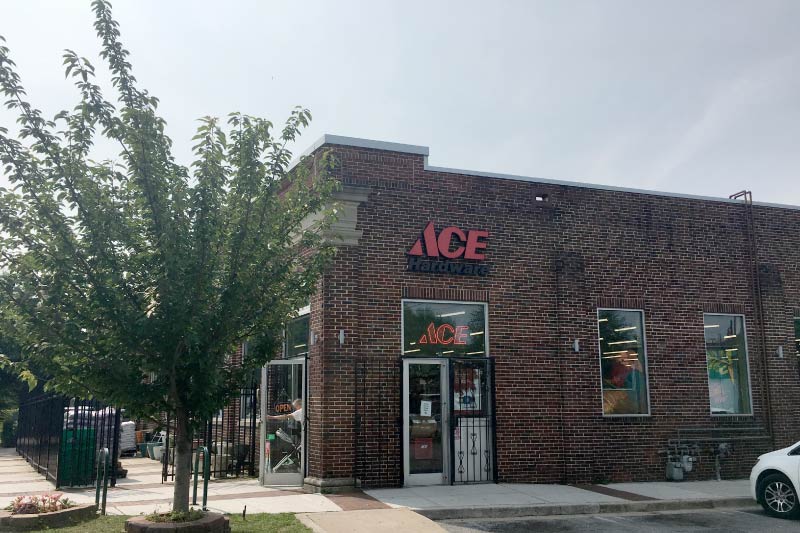 So a chain hardware store might not seem like an essential amenity, but when you own a house (especially an old house), it's so nice to have one close by. Located in Waverly's old post office, the Ace has everything you need for home repairs and everyday home needs. They recently expanded the garden center into an old garage, so you'll have everything you need to make your yard beautiful. My yard is too shady for most plants, but I've decked out my glassed-in front porch with many indoor plants from Ace's garden center.
The staff won't let you by the front register without asking if you need help, and they'll spend as much time as it takes to solve your home or garden trouble. The helpful staff are only beat by Benjamin Moore, the store's friendly (and sleepy) orange tabby.