Chicago Real Estate Development
Mile-Long Stretch of North Branch to Be Set Aside for Wildlife
Major developments, like Lincoln Yards, are springing up in Chicago's North Branch. Many people, including Lincoln Park Ald. Michele Smith (43rd Ward), have been pushing for the inclusion of open space in the area. Now, the City of Chicago has approved funding for the "Wild Mile" as a part of the North Branch Framework Plan. Here are four things to know about the plans for this new public and ecologically focused space.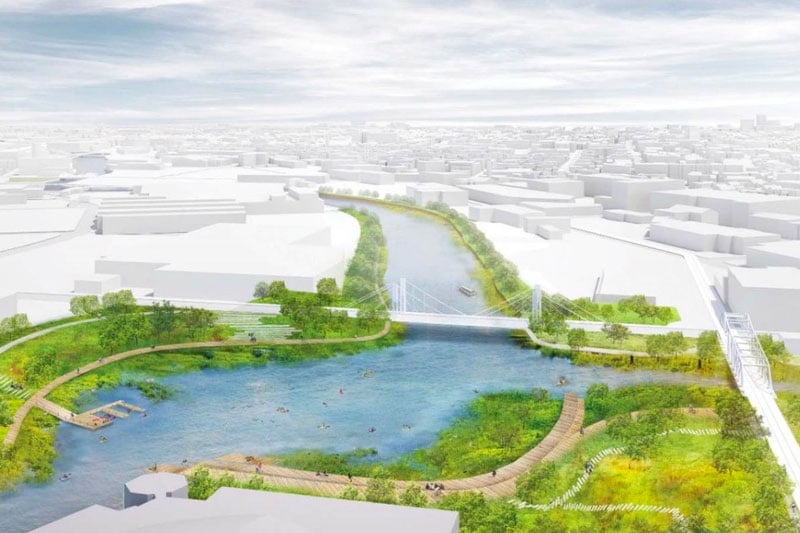 The Area Will Benefit Wildlife and the Public
The Wild Mile will include a public boardwalk, a pier, natural landscaping, and educational resources, according to the City of Chicago news release. "This initiative will improve the North Branch Canal as a truly unique waterfront for the entire city, where visitors will be able to engage and appreciate the city's ecosystem through unprecedented public access," Mayor Rahm Emanuel said in the release.
The project will help encourage the growth of fish, reptile, bird, mammal, and invertebrate populations, as well as the growth of native plant life in the area, according to The Architects Newspaper. People will have access to amenities like public viewing platforms, pedestrian paths, fishing spots, canoe launches, and vegetative islands.
The Wild Mile Will be Located on the East Side of the North Branch Canal
The North Branch Framework covers more than 700 acres of previously industrial land between Kinzie Street and Fullerton Avenue. The Wild Mile will be located on the east side of the North Branch Canal between Division Street and North Avenue, according to The Architects Newspaper report. The North Branch Canal has been a feature of the city since 1857. It was originally created to bypass a bend in the North Branch of the Chicago River.
Open Space Impact Fees Will Finance the Project
A total of $250,000 in open space impact fees will fund the development of the Wild Mile. An additional $250,000 in open space impact fees will go toward building the Wild Mile's public pier at Eastman Street, according to the news release. The pier will serve as a prototype for other potential additions to the development. New residential developments contribute to the open space impact fees in an initiative designed to improve public space throughout the city.
Part of the Project is Slated for Completion This Year
The second phase of the Wild Mile plan, including the construction of the public pier, is scheduled for completion by the end of 2018, according to the news release. The first phase of the plan, 1,500 square feet of park space, was installed last year by Urban Rivers. The third phase of the project, scheduled for completion in 2020, will feature floating gardens, wetland and forest areas, and public walkways, according to the Urban Rivers website.