Moving to Port St. Lucie: 5 Things You Need to Know
Moving to Port St. Lucie: 5 Things You Need to Know
Port St. Lucie is centrally located on Florida's East Coast about midway between Miami and Orlando. It's one of several towns that make up the south end of the "Treasure Coast," which was named for old Spanish shipwrecks off the coast.
With a population of just under 180,000, it's often viewed as a smaller and less expensive alternative to the largest cities to its south, and residents appreciate the small-town feel. "In my community, neighbors introduce themselves when you move into the neighborhood, they wave hello in passing, and stop to chat with you," resident Doriann Lugo says. "It's much slower paced than other suburbs. There are lots of families and retirees."
Barbara Angel Polinice, who moved to Port St. Lucie two years ago from Broward County, attests to the suburb's friendly vibe.
"I like the people here; I've only encountered kindness and helpfulness—no road rage—and peaceful nights," she says.
If this sounds like a place you might want to live, here's what you should know about moving to Port St. Lucie.
Port St. Lucie at a Glance
Cost of Living Index: 100 (U.S. average is 100)
Median Home Price: $224,100
Walk Score: 13 – Car-Dependent City
Sources: Sperling's Best Places, Walk Score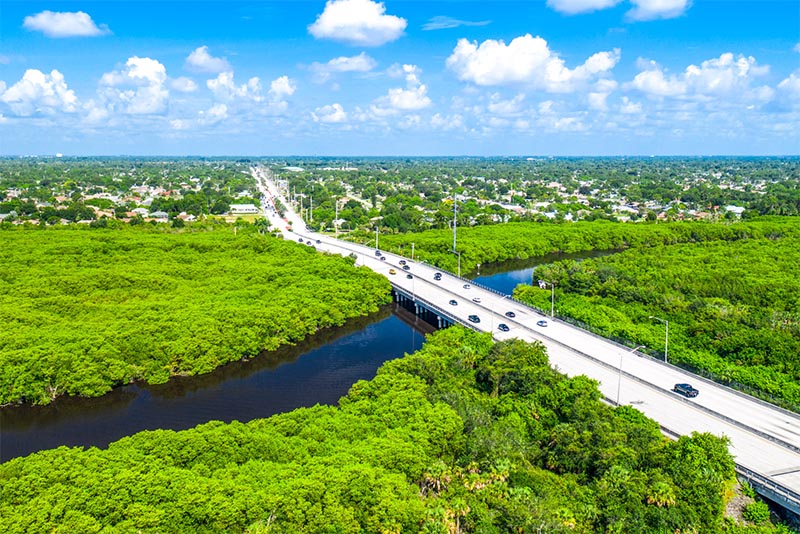 You Can Live in a Master-Planned Community
Port St. Lucie is home to Tradition, which is one of the top master-planned communities in Florida. With 11 neighborhoods on 8,300 acres, it caters to all ages and has a variety of housing types, including single-family homes and townhomes, with prices ranging from $173,900 to $629,900.
Tradition's amenities are extensive and rival those found in other master-planned communities across the country. Tradition Square is home to high-end retail, restaurants, and bars. There are several state-of-the-art fitness centers and clubhouses throughout the community, with more in development.
Between the two main clubhouses, there are two fitness centers, two resort-style pools, one lap pool, three basketball courts, bocce ball courts, shuffleboard, and many tennis courts. The Tradition Town Hall is a modern and spacious event center, which can accommodate special events, such as weddings and birthday parties.
For children at Tradition, Renaissance Charter School is located within the community. There are also several schools in the area, including West Gate, Manatee Academy, St. Lucie West, Oak Hammock, and Allapattah Flats. There's also Windmill Point Elementary, Bayshore Elementary, and St. Lucie West Centennial High School.
"It's much slower paced than other suburbs. There are lots of families and retirees."
Port St. Lucie is Affordable
Port St. Lucie is often viewed by South Florida residents as a potential area to relocate for those seeking a lower cost of living and quieter lifestyle, but an area that is still close to the beach and offers many outdoor activities.
By comparison, Miami's cost of living index is 123.1, Fort Lauderdale's is 117.9 and West Palm Beach's is 108.1. The median home price in Miami is $329,900, Fort Lauderdale is $314,300, and West Palm Beach is $241,400. Orlando, which is considered a relative bargain compared to South Florida, is slightly more expensive with a cost of living index at 104.1 and median home price of $245,400.
You Can Get Your Fill Watching America's Favorite Pastime
Clover Park, a 7,160-seat baseball stadium built in 1988, is the spring training home of the New York Mets, as well as home to the St. Lucie Mets Class A team and the Gulf Coast Mets Rookie League team. While spring training tickets can sometimes be difficult to obtain (and pricey) due to the large number of New Yorkers who live in the area, scoring tickets to minor league games is a lot easier and cheaper. And with the limited number of seats in the stadium, it's hard to get a bad seat.
It's a Nature Lovers Paradise
Port St. Lucie is brimming with natural beauty ("The sky is gorgeous at night," Polinice says), and those who love outdoor activities will be happy here. Whether you're a hiker, biker, fisher, hunter, or kayaker, Port St. Lucie has a place to practice your hobby.
Savannas Preserve State Park has 6,000 acres of preserved land, 15 miles of trails, and diverse ecosystems within its boundaries. It also has a small education center where you can learn about its natural habitat.
The North Fork, St. Lucie Aquatic Preserve is a 2,972-acre haven for state-protected animals like the American alligator, manatee, and opossum pipefish. It's best enjoyed by water, so you can rent a canoe or kayak, or book a boat tour to view the wildlife. The Oxbow Eco-Center has 225 acres of preserves where you'll find a wide variety of Florida's most treasured creatures—from gopher tortoises to otters to armadillos. You can hike along its trails or catch a bird's-eye view by climbing to the top of one of its observation towers located on the Blue Heron Trail.
"I like the people here; I've only encountered kindness and helpfulness—no road rage—and peaceful nights."
Hitting the Links Is a Common Activity
If you're just picking up golf, or you're a seasoned pro, or you're looking to live in a neighborhood geared towards golf, Port St. Lucie has something for you. The PGA Golf Club offers instruction for golfers at all levels, including adults and children. It also has some excellent golf courses, such as the Ryder Course, for those just seeking to play.
Other options include the Palmer Course at The Tesoro Club, a private golf course, and The Saints Golf Course at Port St. Lucie, which is a public golf course. It hosts the City Golf Championship in November each year for amateurs 16 years and older. A premier ladies golf association plays here weekly and junior golf programs for ages 7 to 17 are available throughout the year.
Port St. Lucie is also home to several gated golf communities such as PGA Village, which is located on 2,600 acres and includes three 18-hole golf courses designed by the industry's top architects. PGA Village is split into 34 subdivisions, each with their own neighborhood feel and charm. St James Golf Club is home to a links-style championship golf course that was recently renovated and The Champion Turf Club, a full-service clubhouse.