Las Vegas Local Life
Neighborhood Guide To Las Vegas Pools For Families
When it comes to Las Vegas pools, it's all too easy to find day clubs and party pools with expensive cabanas and bottle service. But what if you just want to bring the family to a quiet spot that the kids can enjoy, minus the party crowd? Both Las Vegas and Henderson have plenty of great swimming pools with low-cost or free admission, excellent amenities, plenty of food options, and even waterslides. Here are several options in these Las Vegas neighborhoods for families who want to enjoy a hot summer day cooling off poolside.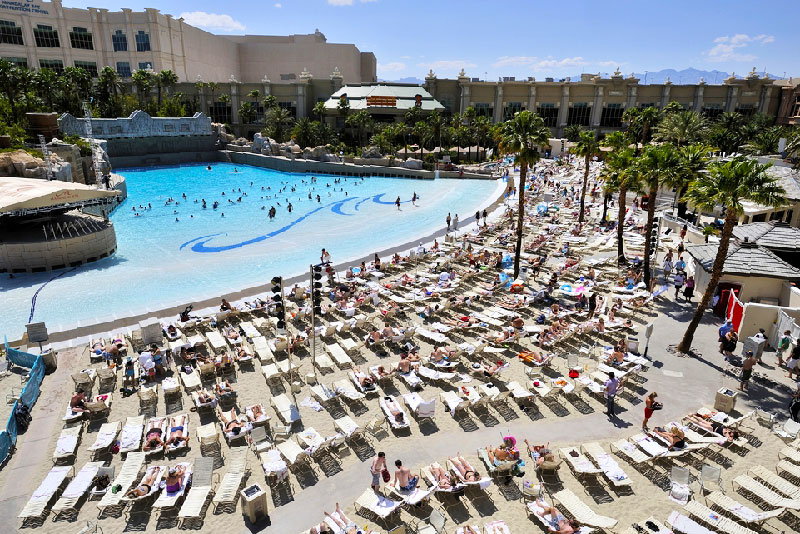 For the most part, The Strip, and by extension, Paradise are full of swimming pools that aren't all that family-friendly. And the pools that happen to accomodate families are usually reserved for guests of the hotel, but there are still choices for families looking to play the tourist. Every Monday night during the summer, The Cosmopolitan has dive-in movies that cost just $5 per person, while children ages five and under get in for free. The pool and chaise lounges are fair game for pool-goers who also have the option to purchase food on the pool deck.
Monday through Thursday, the Mandalay Bay Beach is open to non-guests, who must pay $20 for themselves and $10 to bring a child while kids ages three and under are free. The beach has 2,700 tons of real sand, a 1.6 million gallon wave pool, and a beach bar and grill where pool-goers can enjoy snacks and drinks.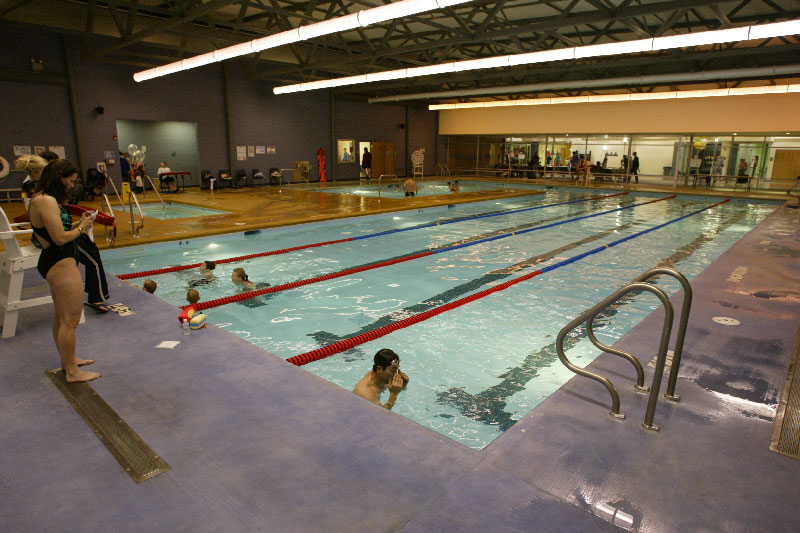 For parents who want to take their kids to a proper waterpark, Cowabunga Bay is full of family-friendly fun. Cowabunga Bay has multiple pools, including a kids cove with water slides and a lazy river. The slides at Cowabunga Bay are also top-notch for families who want a little more thrill in their pool day. Tickets can be a bit pricey depending on date and time, but Cowabunga Bay has discount days where guests can pay lower admission prices.
Green Valley Ranch Resort Pool is another option for families who live in Henderson, as the pool area is open to non-guests from 9 a.m. to 6 p.m. from Monday to Friday. The Backyard gives pool-goers access to a sand-bottom swimming pool, dining options, and comfy seating with views of The Strip. While adults pay $20, they will have to shell out $10 for children ages 12 and under.
Also, for families who want to forego the resort and waterpark options, Henderson has several municipal pools, like the Henderson Multigenerational Indoor Pool, which offers a spa, a four-lane pool instruction area, and a pool with water features and a slide. The facility also offers locker areas, vending machines, and a grass area. Kids pay just $3 for a day at any of these Henderson pools.
Summerlin also has convenient access to municipal pools, where adult residents pay $4 and $3 for the kids. Amenities are similar to Henderson's pools, and parents can expect to enjoy waterslides and water features with the kids. The Willows Pool is only for Summerlin residents, but it has a unique beach-style entrance, along with a fountain and two waterslides that locals can enjoy on any summer day.
Red Rock Resort also has a resort pool open to the public from Monday to Friday, and includes multiple pools for families along with a poolside cafe. Admission is $25 for adults and $20 for children. The Rampart by JW Marriott has an 11,000 square-foot pool area with waterfalls, a poolside cafe, and plenty of lounge chairs for adults, who pay just $15 for all-day access, and $8 for children for the entire day.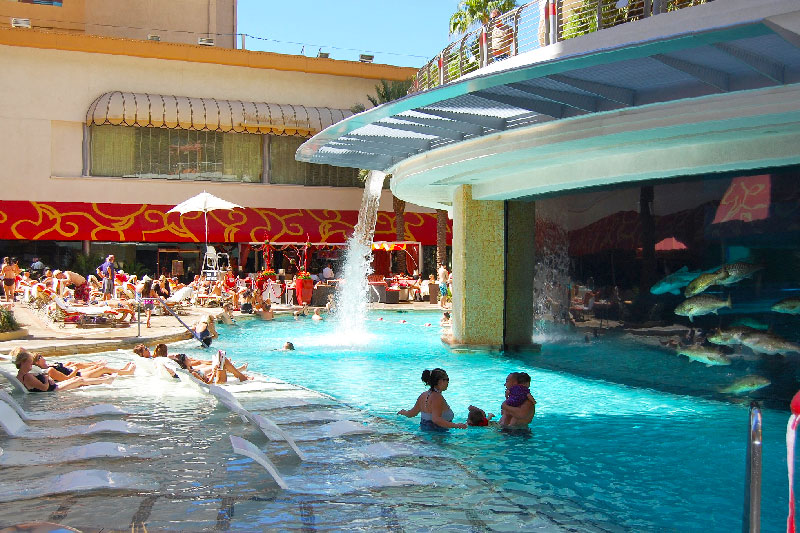 While Downtown isn't exactly known for its abundance of hotel pools, the Tank Pool at Golden Nugget is decidedly one of the coolest pools in town because of the enclosed waterslide that goes through a 200,000 gallon shark tank aquarium. The area also has waterfalls, a hot tub, and poolside snacks, all of which come with a price tag of $25 on the weekdays and $35 on the weekend, but kids under 6 are free.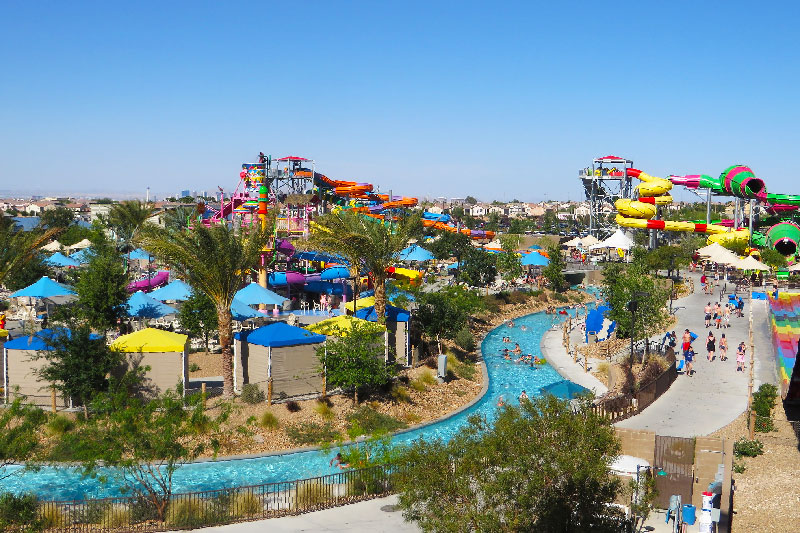 Rhodes Ranch, like Henderson, is home to a waterpark with no shortage of slides and pools. Locals will enjoy Wet 'N' Wild for its Royal Flush slide, lazy river, and kiddie cove. The park also has multiple snack bars that offer delicious summer treats like churros, funnel cakes, ICEEs, and even BBQ rib plates. Admission varies depending on the time you enter the park, but to save some money book online for cheaper admission or enter after 4pm.