Las Vegas Real Estate
Neighborhood Spotlight: Desert Shores
Las Vegas isn't exactly known for its lakeside neighborhoods—after all, the city is marooned in the middle of the desert. But Desert Shores, a neighborhood in the 22,500-acre master-planned community of Summerlin, is just that. Developed in 1988, this 3,351-home community has four man-made lakes where residents can fish, swim, and dock their boats. Unlike many Las Vegas communities, the 22 residential districts of Desert Shores are under complete homeowner control, which fosters a deep sense of community among residents.
The neighborhood offers walking and biking paths alongside an impressive beach facility that lets residents enjoy warm days along the water. You won't find another neighborhood in Las Vegas that offers residents exclusive use of the waterways and facilities that are nearby restaurants, shops, and casinos that are all within the neighborhood.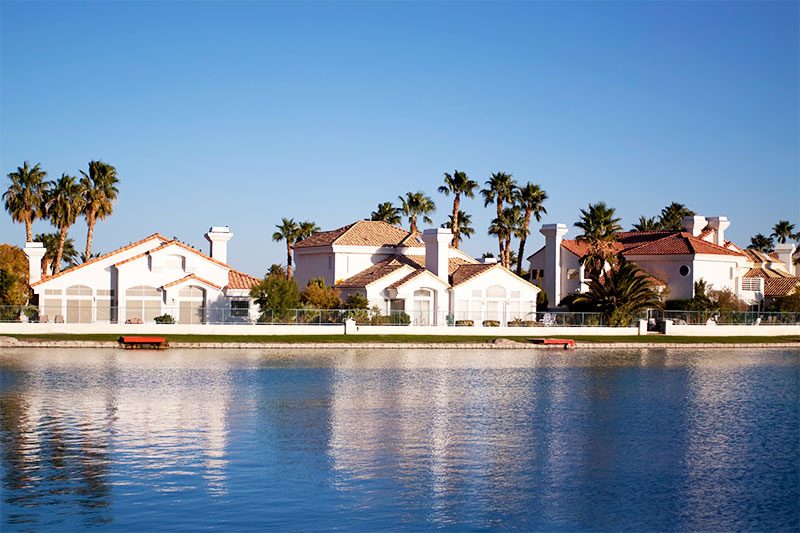 How Residents Get Around
Just minutes from the I-95 freeway, Desert Shores is a central neighborhood. Although it's a car-dependent community heavily reliant on services like Uber and Lyft with a walk score of 36, the neighborhood itself does offer walking and biking paths along the water that are both well-maintained and convenient. There are also several nearby bus routes, but owning a car in this neighborhood is a good idea.
Neighborhood Vibes
Desert Shores is a distinctly suburban, residential community, and it's unique among a sea of similar subdivisions. There are no other neighborhoods in the Summerlin master-planned development within the high $200s that offer residents both exclusive access to the waterways and an involved community association that puts dues back into the community. This neighborhood also offers families a range of schools, which includes William Lummis Elementary School, Palo Verde High School, and Richard H. Bryan Elementary School. Residents also have no shortage of things to do thanks to its community clubs for exercising, cooking, gardening, line dancing, wine tasting, and even flight simulation.
Greenspaces and Amenities
Another upside of living in Desert Shores is the sheer number of amenities that are only available to Desert Shores resident. The 400,000-gallon fully filtered swim lagoon with palm trees and sand is open from Memorial Day to Labor Day.
Right next door is Lagoon Park, a spacious area with basketball and volleyball courts, picnic pavilions, paddle boats, and a playground. At all the community lakes, residents can also fish, but they must catch and release. Homeowners can also use their private boats at their convenience, but they must pay a one-time fee for docking.
The 2,100-square-foot clubhouse next to Lagoon Park is an ideal place for Desert Shores residents to host events for up to 100 guests. Although residents must pay a small fee, the rates are competitive when compared with other event spaces.
Where To Eat
Within the residential community, there's a shopping center within walking distance that includes the Village Pub and Casino and Lakeside Weddings, which offers locals the opportunity to celebrate their special day by the water. Restaurants in the area include Americana, a lakeside eatery serving lunch, brunch, and dinner options as well as specialties like market oysters, rainbow trout, and ribeye. Meanwhile, Pasta Idea offers homemade fresh egg noodles and sauces while nearby Rooster Boy Cafe serves traditional breakfast favorites.
What It's Like to Live Here
In Desert Shores, you'll find every type of home from mid-size, single-family homes to condominiums that are interspersed with larger, mansion-like homes featuring floor-to-ceiling windows overlooking a private dock. Most subdivisions are gated, and the median sale price is in the high $200s, according to Neighborhoods.com data. All homes in the community are over ten years old, but they have held their value well over time.
Whether you live on the lake or simply in a surrounding subdivision, Desert Shores is a low-key, residential neighborhood. The neighborhood also features access to nearby grocery stores like Albertson's and Whole Foods, parks like Doc Romeo Park and Pueblo Privet Park, and high-end shopping centers like Tivoli Village. If you like golfing, Desert Shores is the ideal neighborhood for you, as Palm Valley Golf Course and Durango Hills Golf Club are right next door.