National Local Life
Newark Neighborhood Guide
If you're looking for city life without city rent prices, look no further than Newark, New Jersey. Former home of Queen Latifah. Current home of Senator Cory Booker. Future home of Seton Hall Law students, Rutgers Medical Students, and lovers of the culture that Newark provides. The view of the New York City skyline isn't bad, either.
Dine at local restaurants that specialize in Spanish and Portuguese cuisine, take in colorful murals fashioned by local artists, watch a hockey game at the Prudential Center, or laugh at a comedy show at the New Jersey Performing Arts Center. Newark holds many cultural opportunities for its residents, along with convenient transportation to New York City and Newark Liberty International Airport.
With a population of about 281,000, Newark is generally considered a smaller city, and it's broken down into 17 neighborhoods, each one with its own distinct vibe.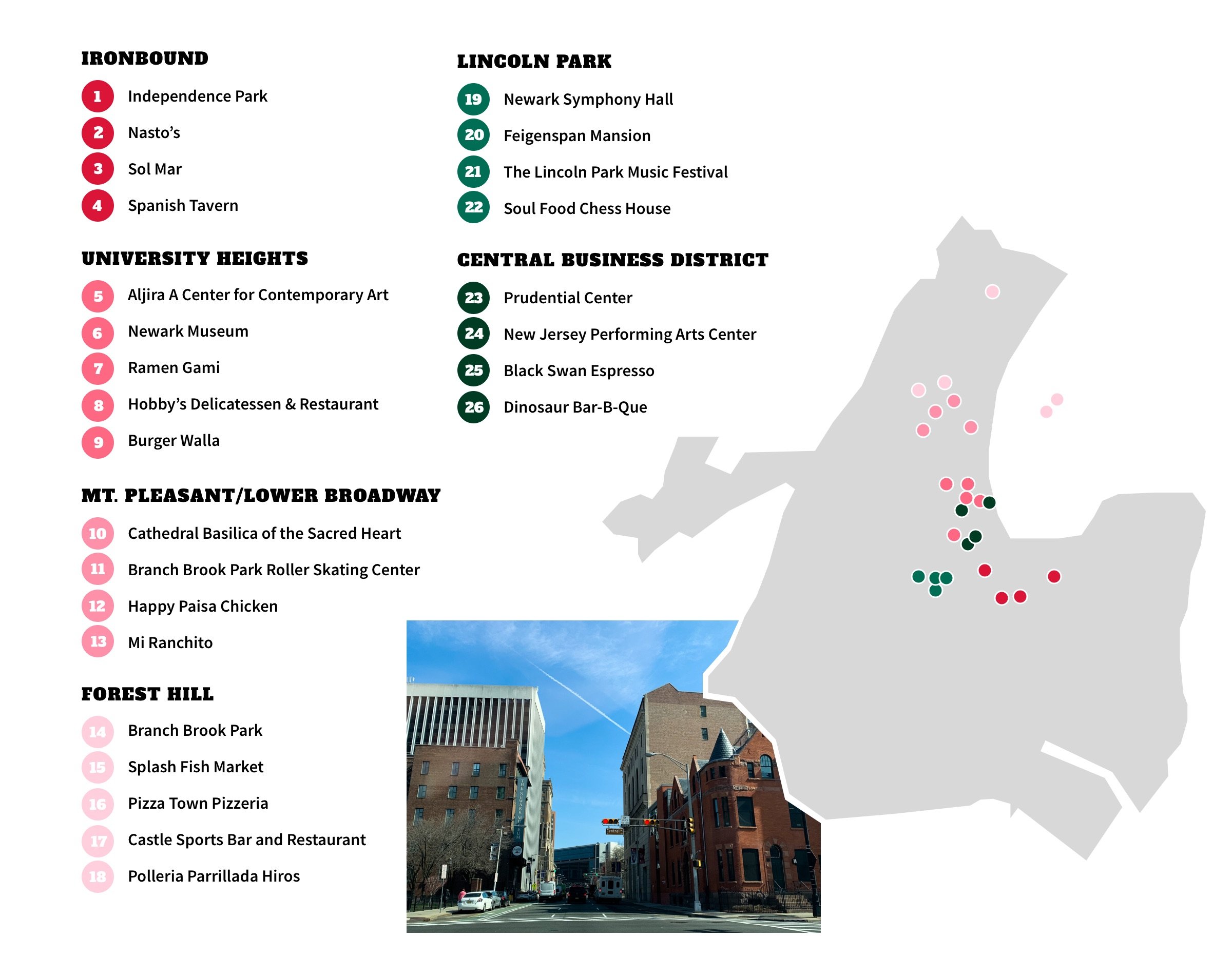 Newark at a Glance
Here are a few helpful hints for navigating this city of neighborhoods.
Newark Penn Station: Located in Newark's Ironbound district. Not to be confused with New York Penn Station, Newark Penn Station is generally seen as the hub of transportation for Newark, providing residents with options to move throughout the city, as well as throughout New Jersey and into New York City.
Newark Airport: Just outside the "city" of Newark, this international airport is one of the three major airports that service New York City, along with John F. Kennedy International Airport (JFK) and LaGuardia Airport. Newark Airport is accessible to New Jersey residents by car and NJ Transit train. (And if you're flying United, Newark Airport is your best bet.)
Newark Light Rail: The light rail service has two "segments" to transport people within the city: the original Newark City Subway and the extension to Broad Street station, implemented in 2006.
Here's what you can't miss if you find yourself in one of Newark's many eclectic neighborhoods.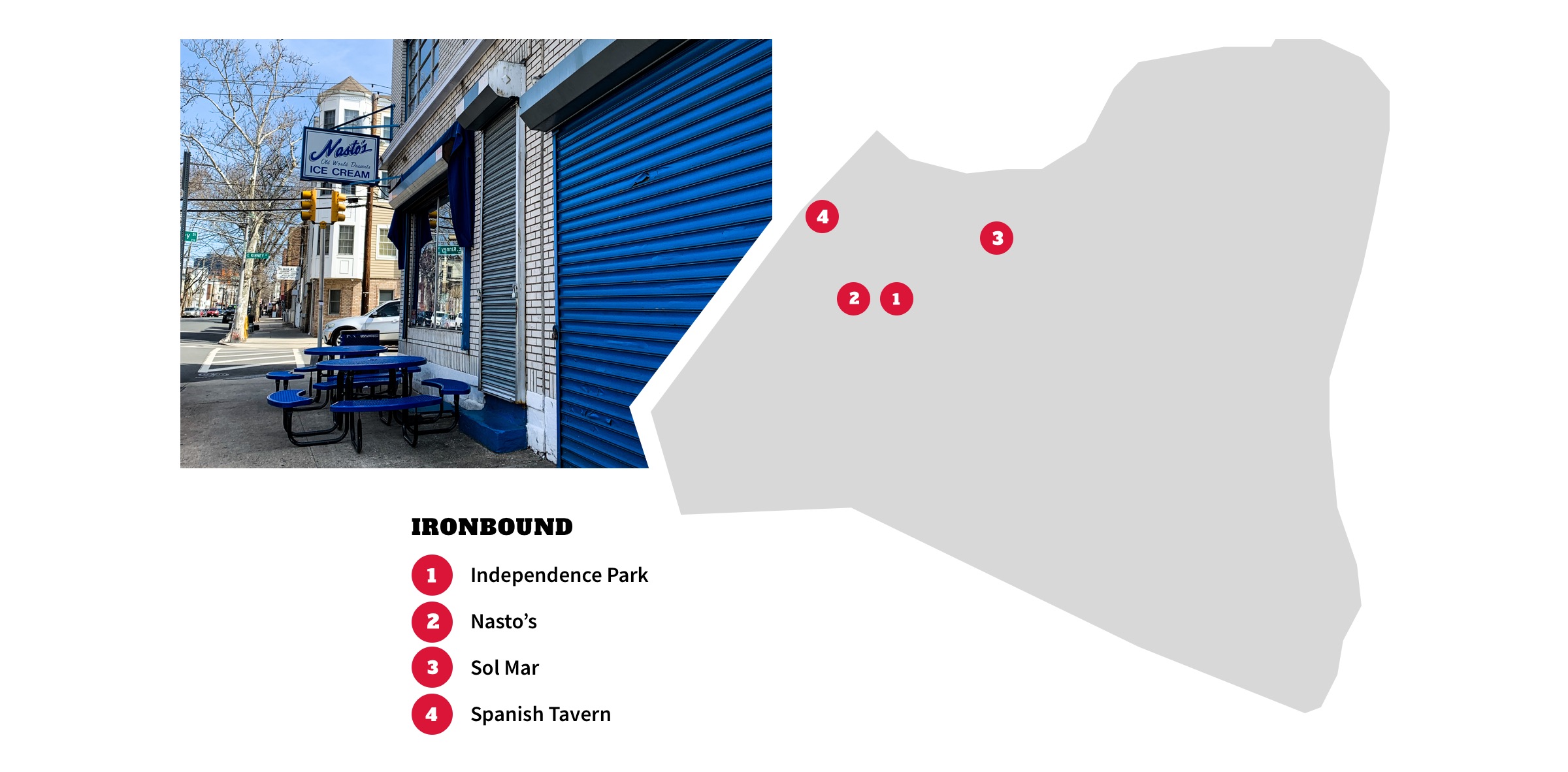 Somewhat reminiscent of Midtown Manhattan, this lively, skyscraper-filled district of Newark houses office buildings, authentic restaurants, Newark's train station, and outdoor sports venues. Locally known as "Down Neck," Ironbound is just a stone's throw away from the New York's Red Bull Arena.
What to Do
Think Central Park, but smaller. Independence Park holds lighted softball diamonds, a soccer field, hockey rink, playground, and gazebo. Though this is not the largest of Newark's parks, this public space spans over 12 acres, and it's right across from East Side High School. Restrooms are located in "the field house," and sporting events are periodically hosted here.
Where to Eat and Drink
Have you ever tried avocado ice cream? Because if you haven't, you're missing out. Nasto's in Newark serves up innovative, homemade ice cream with old-world charm. For the adults, try their original tartufos—balls of vanilla and chocolate ice cream slathered in bittersweet dark chocolate coating. Catch them on a good day for unique tartufo flavors like pumpkin and mango/coconut. For the kids, the fresh fruit sorbets are served in the shell of whatever fruit is used, from coconut shells to giant watermelon rinds. They get very messy very quickly, but that's half the fun!
Who says Newark doesn't have upscale restaurants? As the self-proclaimed leading Portuguese restaurant of Essex County, Sol Mar specializes in authentic Mediterranean flavors with a classy ambiance, (very instagramable, if I do say so myself).
This popular eatery is a taste of Spain in the heart of Newark. Sometimes you just need some good paella or arroz con pollo (chicken with rice) to get you through the day. Fair warning, this restaurant is a bit pricey, but customers continue to come back year after year.
Why Locals Live Here
When people think of a city, this is generally the neighborhood they think of: busy streets, tall buildings, art venues, and urban parks. One of the main perks of Ironbound is its proximity to Newark Penn Station. New York City, Trenton, and other popular commuter and tourist destinations are only a train ride away. There's no shortage of food or entertainment options either; Neighborhoods.com reports that residents in the Ironbound District enjoy more than 170 restaurants, bars, and small retailers.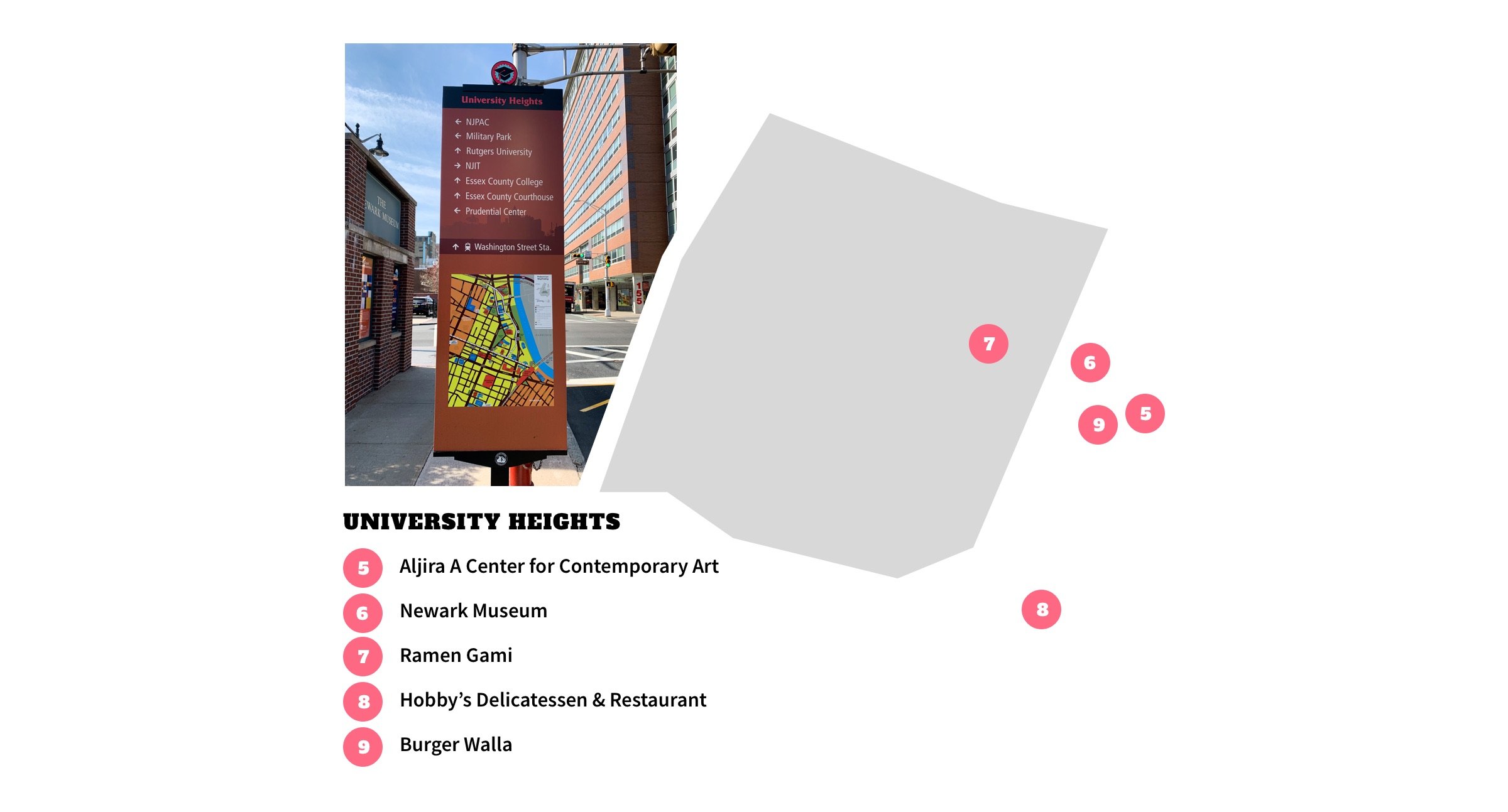 Colleges like Essex County College, NJIT, Rutgers New Jersey Medical School, and Rutgers University Newark campus make the University Heights neighborhood a popular destination for incoming students and their families as well as university faculty.
What to Do
This art gallery is located near the Rutgers University campus and works to "empower artists and engage the community." There are pieces in this gallery that speak on contemporary issues, and students often join artists in bringing their stories to life through colorful, inspiring exhibits.
I still remember going to a crafting event at this museum when I was young and making a Egyptian-style necklace out of green and gold beads. As the largest museum in the state of New Jersey, the Newark Museum offers guests dozens of exhibits to view, from American art to a mummy case to a museum garden. They even have a planetarium with different shows and educational programs for children, at an additional cost. Admission to the museum is free for Newark residents.
Where to Eat and Drink
Of course, there's a ramen restaurant right next to Newark's college campuses. The cartoon on the wall might catch your eye first, but the gorgeous ramen bowls are a close second. The menu features ramen, udon noodles, buns, and sushi rolls, but if you don't see a combination you like, you can create your own special bowl of ramen.
Another local favorite among college students and hockey fans, this deli has been family-run since 1962. The Brummer family also sponsors "Operation Salami Drop," which, according to their website, is an effort to send salamis to American soldiers serving in Iraq and Afghanistan. If you're a Devil's fan, stop by for a pre-game celebration with great food and drinks before heading to the Prudential Center.
Fresh hamburgers served with Indian flare—that's definitely something you don't taste everyday. For an appetizer, choose between buffalo wings and samosas. For dessert, try sweet parathas or homemade pound cake. This restaurant combines the "cultural cues" of Indian food with the tradition of American comfort food.
Why Locals Live Here
University Heights fosters a vibrant city environment with college students in mind. This neighborhood predominantly attracts students and professionals, providing residents with an easy commute to campus and easy access to Newark Penn Station. This is also the neighborhood closest to University Hospital trauma center, and it has many frequent stops along the Newark Light Rail.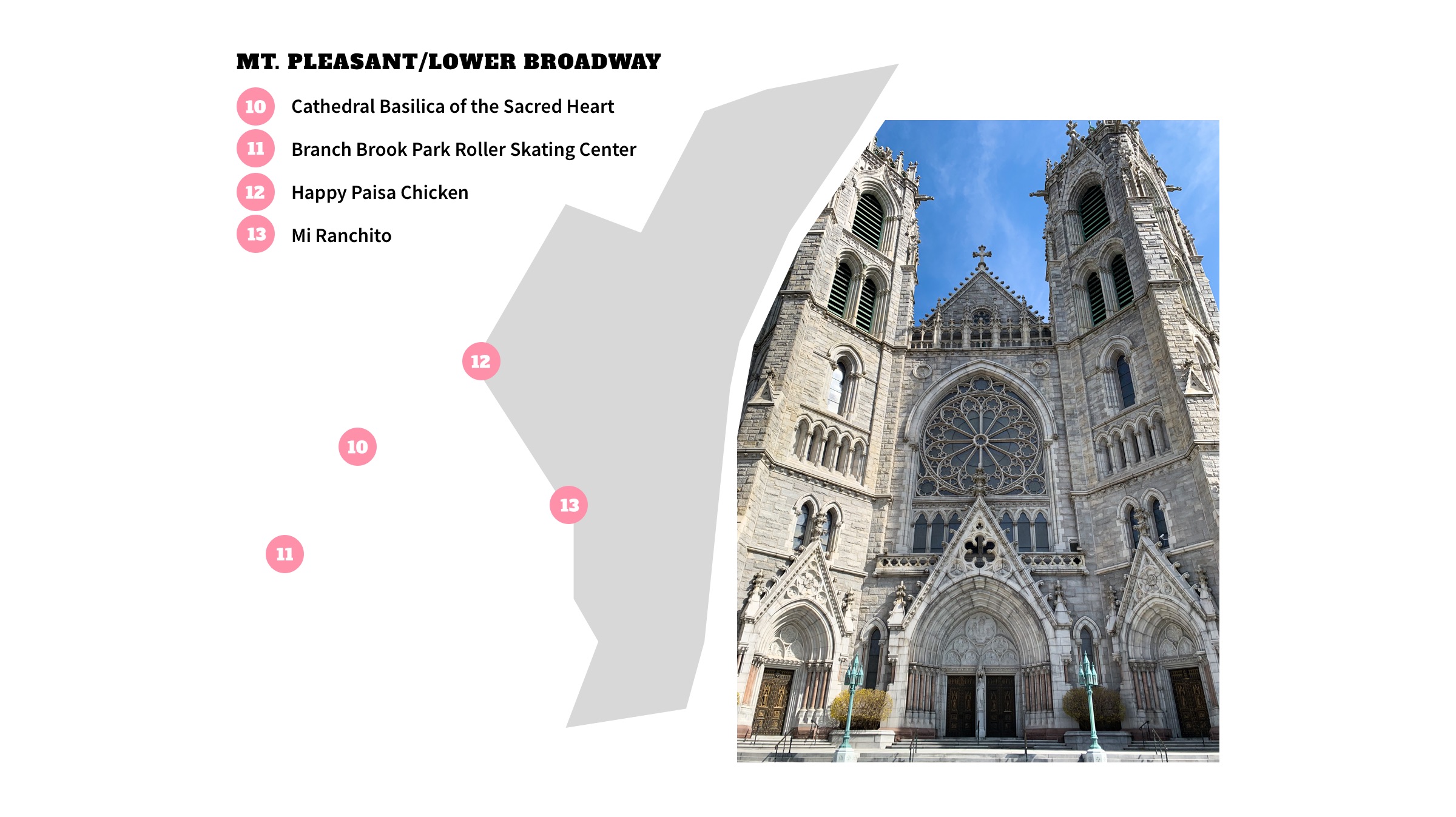 This neighborhood is a little ragtag, but it still has a lot of spunk. In the northern section of Newark, Mt.Pleasant/Lower Broadway (which are two neighborhoods often lumped together by locals) overlooks the Passaic River and includes many traditional hispanic restaurants, lively night clubs, and historic churches.
What to Do
This cathedral is the cornerstone for parishes belonging to the Roman Catholic Archdiocese of Newark. It's the fifth largest cathedral in North America, and its scale does not disappoint. Marble flooring and stained glass windows draw visitors from across the state, and children's choirs from parishes within the archdiocese are often invited to sing, so you may hear tranquil music rising from the cathedral.
Branch Brook Park spans many neighborhoods in Newark, but technically, the park's roller-skating rink is located in the Lower Broadway area. Here, kids can participate in STEM field trips, take skating lessons, and win prizes in the arcade. The skating center has an additional cafe and offers private parties for children and teens.
Where to Eat and Drink
A small room serving large plates of juicy rotisserie chicken, Happy Paisa Chicken serves tasty food at a great price. Parking is a little tricky and the restaurant tends to be crowded, but the flavors are worth the wait.
Another place specializing in authentic Mexican cuisine, this restaurant provides quick, delicious meals for customers on a budget. There are plenty of taco options to choose from, including lengua (beef tongue), chorizo (mexican sausage), and chicken.
Why Locals Live Here
The main selling point for this neighborhood is definitely the price tag. Homes in the Mt. Pleasant and Lower Broadway area are generally considered affordable or moderately priced. According to Neighborhoods.com, the median sale price of a home in this neighborhood is in the mid $200s, and home types range from condos to apartments to single-family homes. Also, Branch Brook Park is only a bus ride away.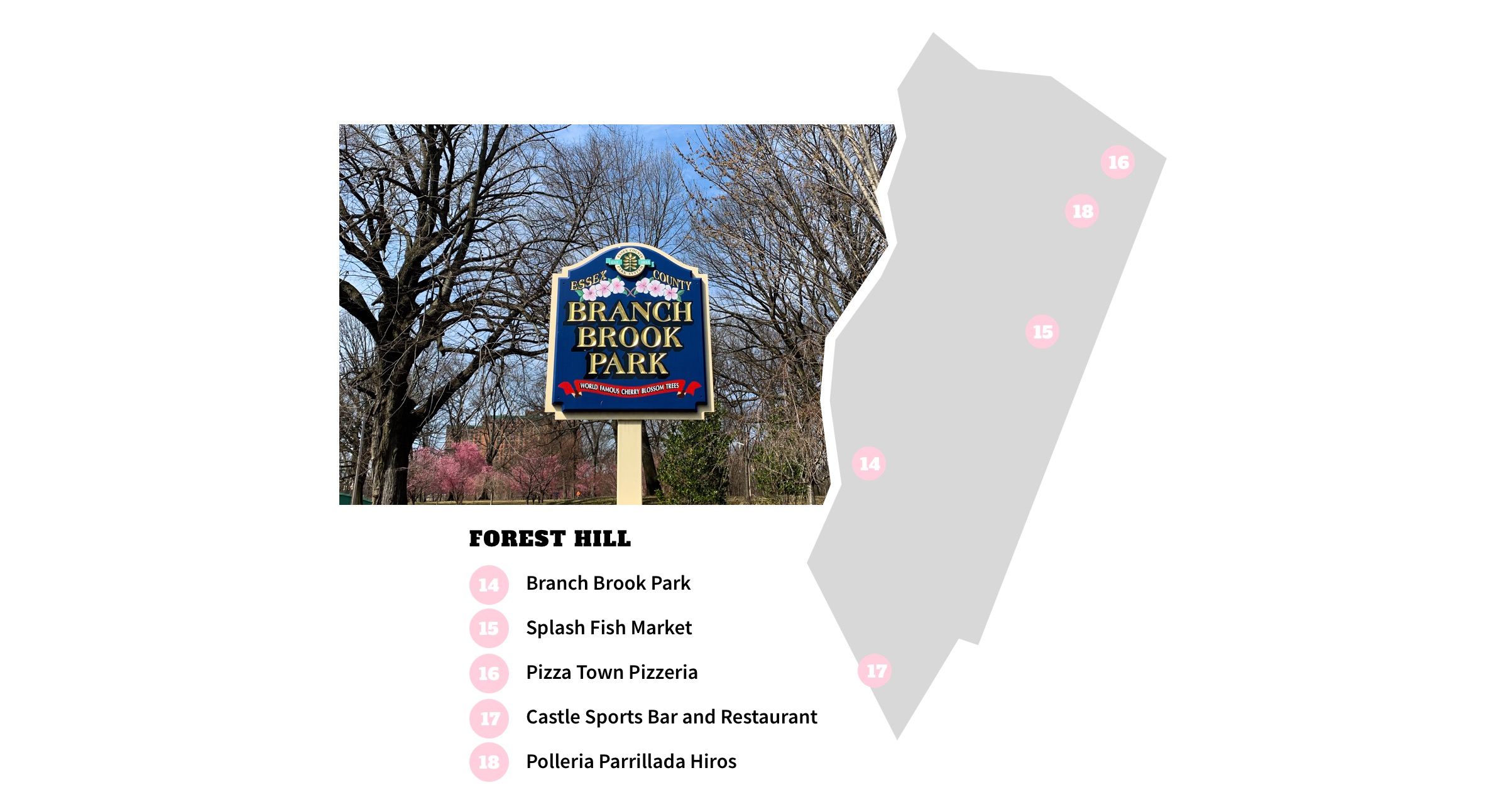 Welcome to the "suburb" of Newark. Forest Hill may be a few steps away from Mt. Pleasant/Lower Broadway, but the environment is very different. Here, you'll find larger houses, tree-lined streets, and a sense of community.
What to Do
This park touches a few neighborhoods, and according to Vogue, Branch Brook Park was originally conceptualized "by famed landscape architect Frederick Law Olmsted, Sr., best known for Manhattan's Central Park." Visit during the spring, and you'll be welcomed with bright hues of pink and white, courtesy of the park's annual Cherry Blossom Festival.
This is a traditional fish market right in the heart of New Jersey. Buy fish fillets to cook up for dinner or pick up a premade seafood soup for lunch. This market is a community favorite, and it's been a staple of the neighborhood for years.
Where to Eat and Drink
Every city needs a good pizza place, and this one is a local favorite. Try their "Special Town Pizza" loaded with pepperoni, sausage, meatballs, mushrooms, onions, and peppers. You can even add anchovies, if you're into that.
If you need a night out on the town, head to Castle Sports Bar for Guyanese food and Caribbean music. You can order take out or stay for the party; this hotspot also hosts themed nights.
If you're going out with the family, Forest Hill has plenty of restaurants to choose from. Polleria Parrillada Hiros (also called "Hiros") specializes in giant plates of Peruvian chicken, perfect for sharing with the whole gang. And if you're not in the mood for chicken, their menu has everything from spaghetti dishes to grilled cow stomach.
Why Locals Live Here
Forest Hill may be pricer than other neighborhoods in Newark, but that's because it's generally considered one of Newark's best neighborhoods. Additionally, Forest Hill is on the National Register of Historic Places, it's within close proximity of Branch Brook Park, and it includes many bus stops that take residents to Newark Penn Station or the surrounding neighborhoods.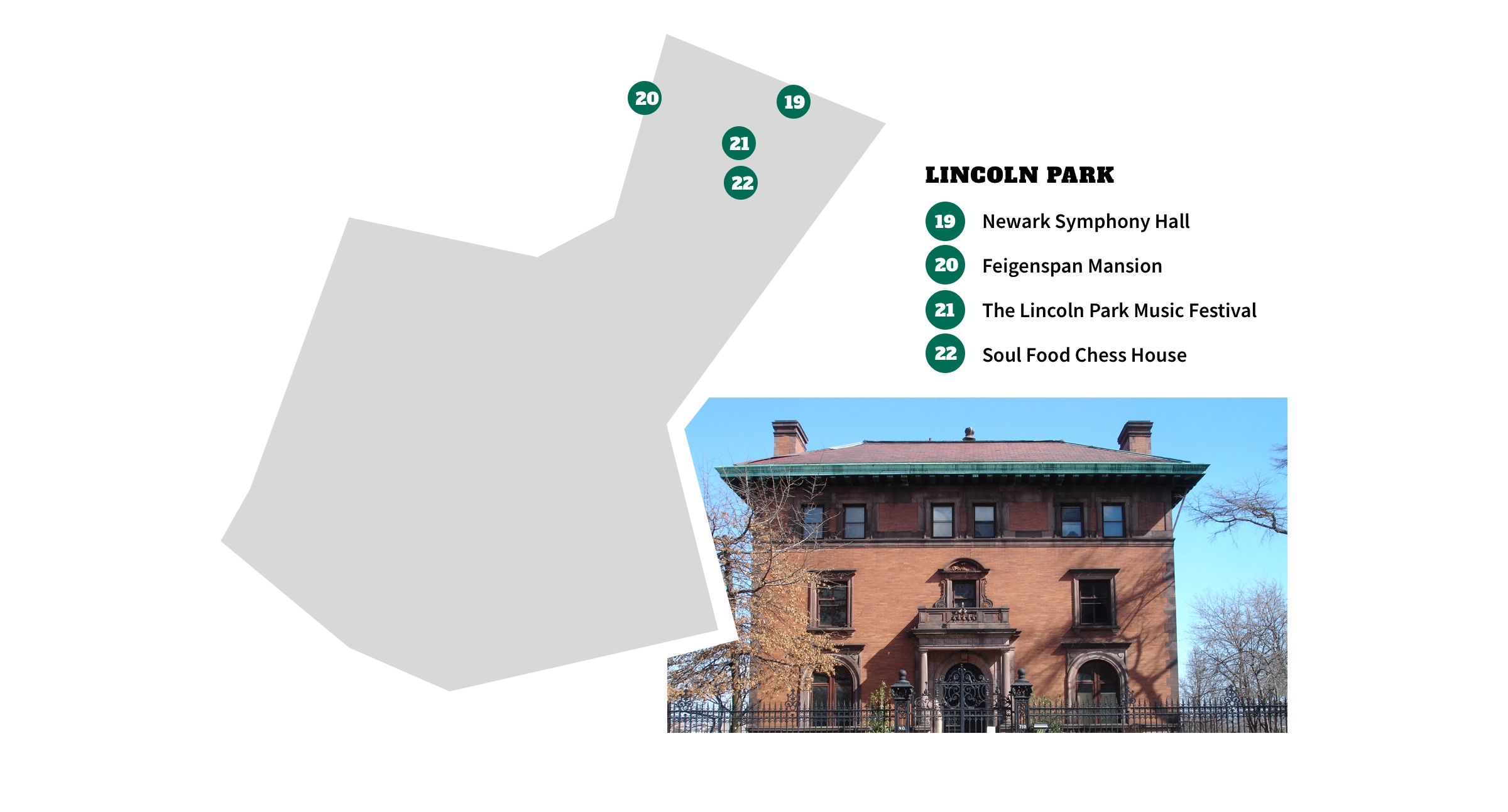 If you have an artsy side, Lincoln Park is the neighborhood for you. Here, you'll find art galleries, the Newark Symphony Hall, and a growing residential community. Lincoln Park also has many historic landmarks, cafes, and Instagram-worthy music festivals.
What to Do
You can't get more traditional than taking a trip to the symphony hall, but there's nothing traditional about the Newark Symphony Hall. This venue hosts children's activities, line dancing nights, comedy concerts, and of course, classical performances. The Newark Symphony Hall also has spaces available for party rentals.
Built in 1905, this building truly looks like its been plucked out of a Jane Austen book. According to the New Jersey Historic Trust, this mansion was built for Christian Feigenspan, owner of one of the largest breweries in the country that made a beer called "Pride of Newark." The building was privately purchased in 2011, but it still holds a lot of its original features, including Tiffany glass windows and marble-walled showers.
Newark has plenty of sporting events, but this music festival highlights the power and potential of local musicians. The annual Lincoln Park Music Festival spans a few blocks in the Lincoln Park community and lasts for three days every summer. It's planned throughout the year by Lincoln Park's own "Coast Cultural District," a nonprofit group that's working towards a sustainable and inclusive Newark.
Where to Eat and Drink
Heaping portions of collard greens, mac and cheese, and sweet potatoes—sign me up! This soul food joint serves up comfort food "the way it should really taste."
Why Locals Live Here
Aside from the arts and architecture, this neighborhood provides residents with a less expensive alternative to living in Jersey City, Hoboken, or New York City. For frequent flyers out of Newark Airport, this neighborhood is only a 10-minute drive from most of the terminals. Parking may be challenging and retail clothing stores may be scarce, but the culture in Lincoln Park makes up for it.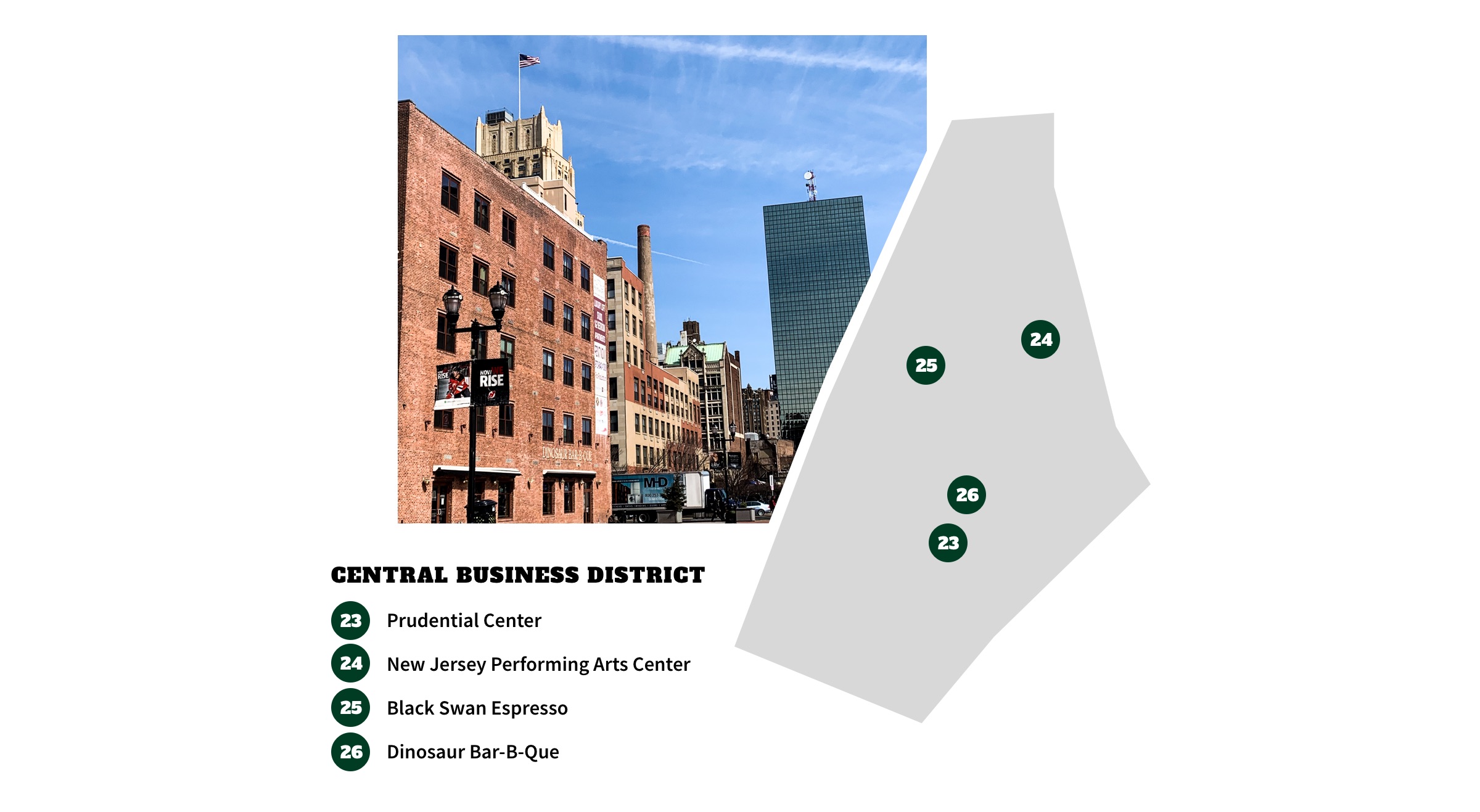 Home of the New Jersey Devils, Seton Hall's basketball team, and a new Whole Foods, the Central Business District is a giant culture hub in the middle of New Jersey. Complete with skyscrapers and a waterfront park, this part of the city is somewhat interconnected with the Ironbound district because of its similar cosmopolitan vibes. Still, the Central Business District holds its own unique charm.
What to Do
When it's not a hockey rink or basketball court, famous musicians often pay a visit to this 19,500-seat venue, including Cher, Jennifer Lopez, Elton John, Michael Buble, and The Backstreet Boys. Also known as "the Newark Arena" and "the Rock," the Prudential Center was built in 2007 and offers guests dozens of dining options. It's also only a short walk away from Newark Penn Station, giving New Jersey residents quick and easy access to public transportation options.
Also known as NJPAC, this venue hosts everything from national poetry festivals to opera concerts. According to their website, NJPAC has served nearly 9 million visitors since its opening in 1997 and hosted more than 1.6 million students in arts education programs across New Jersey. Today, students can take summer and Saturday classes in musical theatre, dance, jazz, and more.
Where to Eat and Drink
The walls are lined with string lights and dotted with hues of black and white. The hibiscus donuts, on the other hand, are a delicious bright red. This adorable cafe is located near University Heights, and it's just as aesthetically pleasing as you'd want a coffee shop to be.
A restaurant with some character, this local chain, parked right next to the Prudential Center, specializes in smoked meaty goodness. In fact, this barbecue joint creates special menus on nights when there are Devils games at the stadium next door.
Why Locals Live Here
Housing costs are generally affordable but are predominantly a reflection of the commuter-culture in the Central Business District. With its close proximity to Newark Penn Station, various bus stops, and many of Newark's office buildings, this area is ideal for professionals working in Newark or commuting to New York City or Jersey City.