Las Vegas Real Estate
Now Is the Time to Buy a Newly Constructed Home in Las Vegas
According to a report in Vegas Inc, existing home sales are cooling off. While there are 5,818 homes on the Las Vegas market without an offer, now is the time to buy a newly constructed home in the Valley because they're not included in the latest numbers. There are more master-planned communities popping up than the Valley has seen in several years, and 2019 is projected to have less dramatic increases in sale prices and a greater number of homes on the market. So where are these newly constructed homes in Las Vegas? Here are several booming master-planned communities in Las Vegas along with the subdivisions that will be popular among homebuyers in late 2018.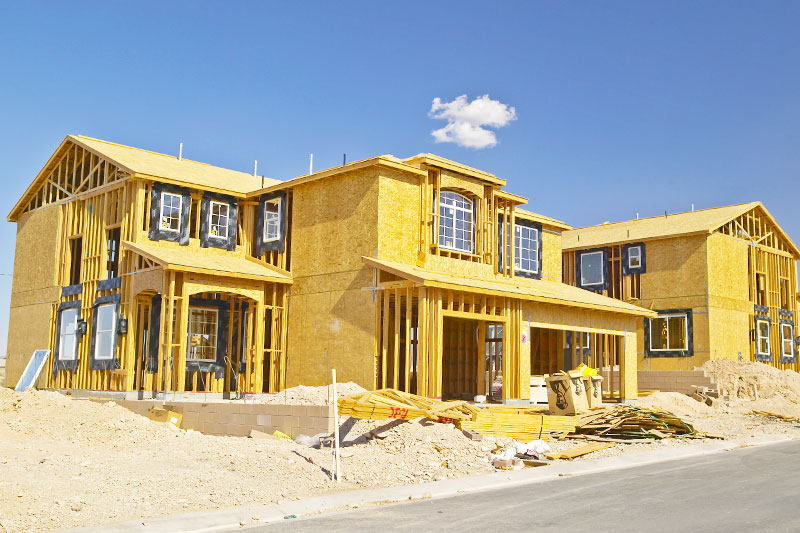 In the thriving waterside community of Lake Las Vegas, the median sale price is in the low $300s, according to Neighborhoods.com data. Yet several new developments in the area fall into a higher market. At The Peaks by William Lyon Homes, homes start in the low $500s and include up to four bedrooms and a three-car garage with floorplans ranging from 2,977 to 3,399 square feet. This trendy neighborhood offers three floorplans to choose from, each with modern touches and angled windows to give the home added versatility and style.
Meanwhile, at Regatta Heights by Lennar, homes in the mid $400s entice buyers with single-story floorplans that include a private courtyard. Homes even include the option to add an extended patio, a casita, and even multiple sliding doors. Also by Lennar, there's Regatta Pointe, where homes in the mid $300s include up to four bedrooms in both single- and multi-level options. The Outlook features modern home designs with a desert-meets-archicture vibe and prices in the mid $500s. Several homes include stonework accents and rectangular windows.
In Southern Highlands, the community that's located on the west side of Henderson, the median sale price is in the low $300s and developments are booming. At Cortona by Lennar, a gated community that ranges from the low $300s to the low $400s, homes offer 1,670 to 2,713 square feet. With floorplans featuring Italian names like Garibaldi, Gelato, and Zeppola, these homes have desert landscaping that feels both Tuscan and modern. The Tiramisu floorplan is unique for its window shutters and sweeping entrance with steps leading toward the front door.
Although Lone Mountain is at a fairly considerable distance from The Strip, it's a great neighborhood for people who work in the north Valley or on the two military bases near Las Vegas. Lone Mountain also has a median sale price in the mid $200s, which is significantly lower than the Valley average of $295,000, per Vegas Inc.
Touchstone Living's The Views at Hidden Hills is a gated community featuring homes on oversized lots with floorplans that have as many as seven bedrooms and five bathrooms. With homes that are either single- or two-story, homes at The Views include stonework facades, three-car garages, and vast windows at prices ranging from the high $400s to low $600s. These are sizable homes for the price, considering that most homes with seven bedrooms would start in a price range far higher. The Terraces at Hidden Hills, also by Touchstone Living, is priced in from the mid $300s to the mid $400s with homes ranging from three to five bedrooms. Homes feature custom touches like window shutters in a light green that evoke the natural surroundings of the community.
Meanwhile, The Villas at Pine Ridge by D.R. Horton are in the low $500s, offer three to five bedrooms, and include colorful garages and single-story options with oversized refrigerators, an open-concept kitchen, and living space that bridges the divide between what would otherwise be separate rooms.
Situated on the edge of the national monument its named after, The Villages at Tule Springs is a new master-planned community in North Las Vegas, located north of the 215 and between 5th Street and Revere. The new development will be home to The Crossings by Lennar, which offers townhomes priced in the low $300s. Meanwhile, The Landings is a single-family home community priced in the mid $300s with homes ranging in size from 1,887 to 2,204. The Peaks offers slightly larger homes with square footage that ranges from 2,129 to 3,871 and offers three to four bedroom designs. Some floorplans include a large master suite that leads to a covered deck. Prices start in the high $300s.