One Grant Park, 800-Foot Tower Going up in South Loop, Prepares to Join Chicago Skyline
One Grant Park, 800-Foot Tower Going up in South Loop, Prepares to Join Chicago Skyline
At the beginning of the month construction began on one of Chicago's biggest construction projects of 2017: One Grant Park, an ambitious skyscraper designed by the architect Rafael Viñoly that is poised to alter Chicago's iconic skyline. Going up in South Loop, the building's pinnacle could reach upwards of 892 feet—making it one of Chicago's tallest structures.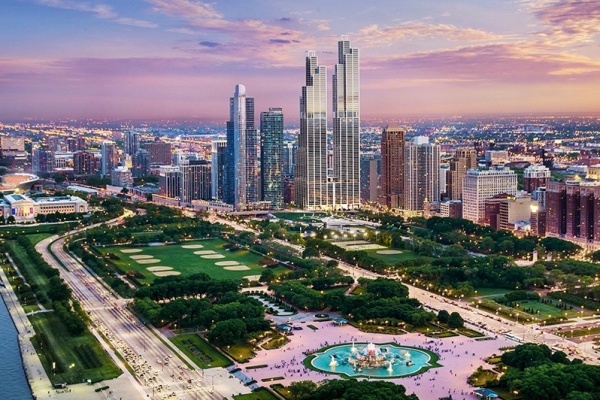 The building at 1200 S. Indiana Ave. from Florida-based developer Crescent Heights—oft advertised at 76 stories, but Curbed Chicago points to a skyscraper forum positing that the figure may only include residential floors—will include 792 luxury rental units and "an unprecedented array of thoughtfully curated amenities," according to the breathless description from Crescent Heights. The building is slated to be complete in 2019, and a subsequent phase calls for a low-rise townhouse to the southeast and a taller twin tower to the west, further adding to the skyline.
As DNAInfo Chicago points out, the skyscraper is one of many planned for the quickly growing South Loop neighborhood. In terms of the design of the project, the architect Viñoly said in 2015 that the towers' "stepping" gesture is inspired by Willis (Sears) Tower, the tallest building in Chicago.
Watch the corner where Michigan Avenue meets East Roosevelt Road to see this exciting project develop.
Source:
Rafael Viñoly's skyline-altering South Loop tower is officially under construction [Curbed Chicago]
One Grant Park, Future Tallest Skyscraper South of Willis Tower, Underway [DNAInfo Chicago]