Washington D.C. Real Estate Development
Only One Condo Still Available in Eleven15th on Capitol Hill
The majority of the condos in Eleven15th on Capitol Hill were purchased by first-time buyers, the Washington Post reported. Some investors did purchase homes there, but it's not surprising this building attracted many who are new to real estate ownership. With prices between $329,900 to $469,900 and low HOA fees, the 10-unit building quickly sold space.
The building includes six one-bedroom units and four two-bedroom units, according to the property's website, each with a front and back door. The back door replaced what would have traditionally been a fire escape. According to the Washington Post, the doors offer access to both the front and back of the building via a hallway and stairs.
The building itself has a mobile entry system, Pella windows, bike storage, and balconies in some units, according to the Eleven15th website. Units feature hardwood floors, an alarm system, Nest thermostat, washer and dryer, and Elfa closets.
Kitchens and baths have quartz countertops and subway tile backsplash and wall tiling. Matte black hardware gives a modern look to the white cabinetry. Kitchen appliances are stainless steel, and the oven features gas cooking.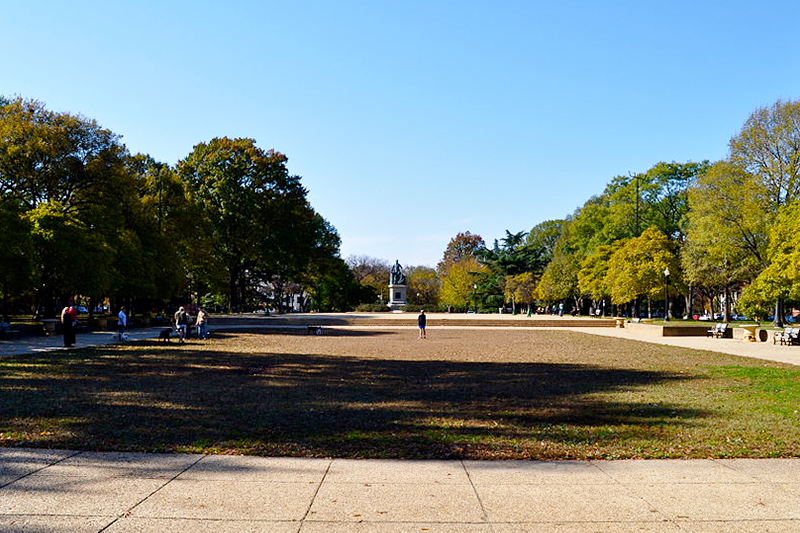 One of the best parts of this building is its proximity to the Capitol. Being less than a mile and a half away, it would only take about a half hour to walk there through Lincoln Park. If walking isn't your thing, you can easily hop on one of the buses that stop less than a block away, or catch a train at Stadium-Armory Station, a short five blocks away.
Capitol Hill has a lot to offer as far as dining and retail go. Eastern Market is a short walk away and offers fresh produce, baked goods, and meats. The market also features a number of artisans who sell pottery, clothing, and more. Barracks Row is also nearby and features a good number of unique eateries, as well as solid, quick dining at places like Dunkin Donuts and Chipotle.
As far as entertainment goes, nearby you'll find the Miracle Theater, which shows movies and hosts concerts. The space is also available for private events.
If all of that hasn't convinced you of this neighborhood's appeal, consider the history of the area. Many of the rowhomes you'll find as you wander down sidewalks still maintain a classic charm you might have expected to see many decades ago. Plus, it's a great area to hang out in if you want to spot a politician or two...or even three or four.