Dallas-Ft. Worth Real Estate
Our Top Neighborhood Picks Between Fort Worth and Dallas
Many residents in the DFW metroplex enjoy visiting Fort Worth and Dallas but prefer not to live in those cities, which is probably why there's a slew of suburbs surrounding the two. For those who work in Fort Worth but prefer to play in Dallas or vice versa, there are plenty of suburbs which offer ideal locations, affordability, and quality entertainment right between the two major cities.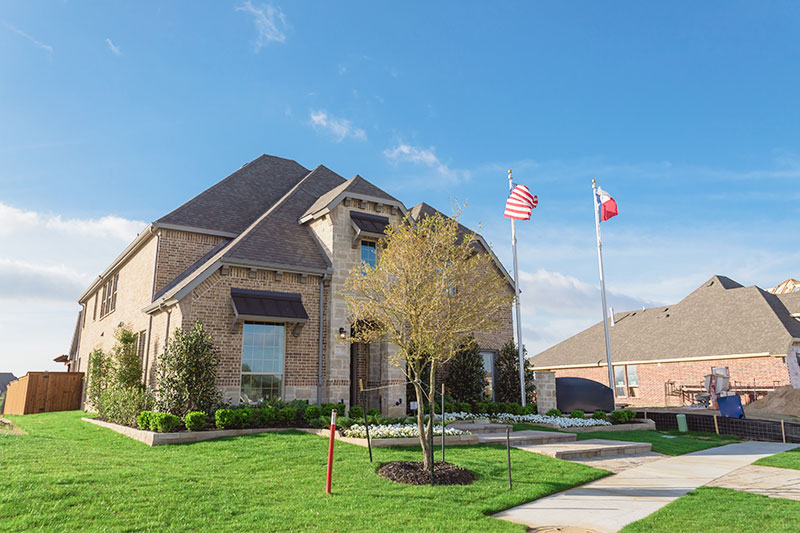 Las Colinas may be the shining star in Irving, but if you want to live almost in between Fort Worth and Dallas, you might want to take a look at Las Brisas Hills. The neighborhood has been building up since 1981 and includes a range of styles and types of homes from single-family to condos. Las Brisas Hills' homes range from the low $100s to the mid $400s, and they generally sit on 16.75-acre lots—which is pretty spacious in DFW. It's close to expansive golf courses TPC Four Seasons Las Colinas and Las Colinas Country Club, as well as to the Irving Arts District and Irving Mall. It also doesn't hurt that DFW International Airport is a 10-minute drive away.
Arlington is perfectly located between Dallas and Fort Worth, so it deserves a spot on this list. Our neighborhood choice is North Arlington. It sits just on top of I-30, making it a 23-minute drive to Fort Worth or Dallas. Plus, it's close enough to the Arlington Entertainment District (which includes the Texas Rangers Stadium and Six Flags) without being too close. It also encompasses River Legacy Parks, positioning it within walking distance of nature. Home prices in North Arlington run the gamut from under $100,000 to all the way up to $3.5 million, with the current median home price at $264,900, according to Neighborhoods.com. Also, North Arlington schools earn 8-10 out of 10 ratings from GreatSchools, making the neighborhood a good choice for families.
Lakeview West is a Grand Prairie subdivision with large but affordable homes. The neighborhood is about a 32-minute drive between Dallas and Fort Worth, on the southern side of the metroplex. Homes here sell for a median sales price of $349,000 which is pretty low considering its within walking distance of Joe Pool Lake. Residences have three to five bedrooms and most are newer builds, having been constructed between 2014-2017.
Close to the Dallas-Fort Worth International Airport is a neighborhood that homebuyers will want to check out. McCormick Farm is a 27-minute drive from Dallas, a 23-minute drive from Fort Worth, and a short eight-minute drive to DFW International Airport, making it perfectly situated in the metroplex. There's a wide range of single homes, condos, and townhomes in the area with asking prices between the low $100s and the high $200s. Nestled right next to McCormick Park and a seven-minute drive from both Glade Parks and the Shops at Vineyard Village, there's plenty in the area to keep residents entertained. Plus, it doesn't hurt that the schools in the area earn high GreatSchools reviews.
Dalworthington Gardens is a unique suburb for many reasons. For one, it's surrounded entirely by another suburb, Arlington. And two, it began as an "model colony" or "planned Utopia," during the Great Depression, and today prides itself as a "rural oasis in the heart of the Metroplex" with only about 2,000 residents. Our neighborhood pick for Dalworthington Gardens is Brookside Park, as it's one of the most affordable neighborhoods with a median sales price of $262,000, and high reviews for the schools in the area. It's also just a 10-minute walk from the neighborhood to Gardens Park and Pappy Elkins Park. The neighborhood is slightly closer to Fort Worth (21-minute drive) than Dallas (31-minute drive), but that's not bad if you're looking for a small-town lifestyle in between two big cities.
While Stone Lakesis about a 37-minute drive from Dallas, it's just a 30-minute drive to Fort Worth. The subdivision is still a good pick for this list because it has everything you'd want out of a Southlake neighborhood. The homes currently range from the mid $500s to the mid $600s and typically have four bedrooms and three bathrooms. There's a residential community pool and a small lake within the neighborhood. It's also just a five-minute drive to a shopping area at the intersection of Davis Blvd and W Southlake Blvd, home to a Sprouts Grocery Store, shopping, restaurants, and even a yoga center. For those with high school-aged children, the high school, Carroll High School, is just a short walk from the neighborhood and receives high reviews on GreatSchools.