National Local Life
Raleigh Neighborhood Guide
People are flocking to North Carolina's capital city—and it's not hard to see why. Aside from its southern charm, Raleigh residents enjoy one of the highest qualities of life in the world. Part of North Carolina's Triangle area along with Durham and Chapel Hill, Raleigh boasts a highly educated population and a stellar job market.
If that's not enough for you, the City of Oaks is becoming known for its killer music and arts scene and craft beer breweries. And did I mention it's also only three hours from the mountains and two from the beach, making it a paradise for outdoor lovers? OK, I'll stop bragging now.
While Raleigh lacks the urbanized development of larger cities like Chicago and Los Angeles, it makes up for it with charming suburban neighborhoods, tree-lined streets, and a booming downtown.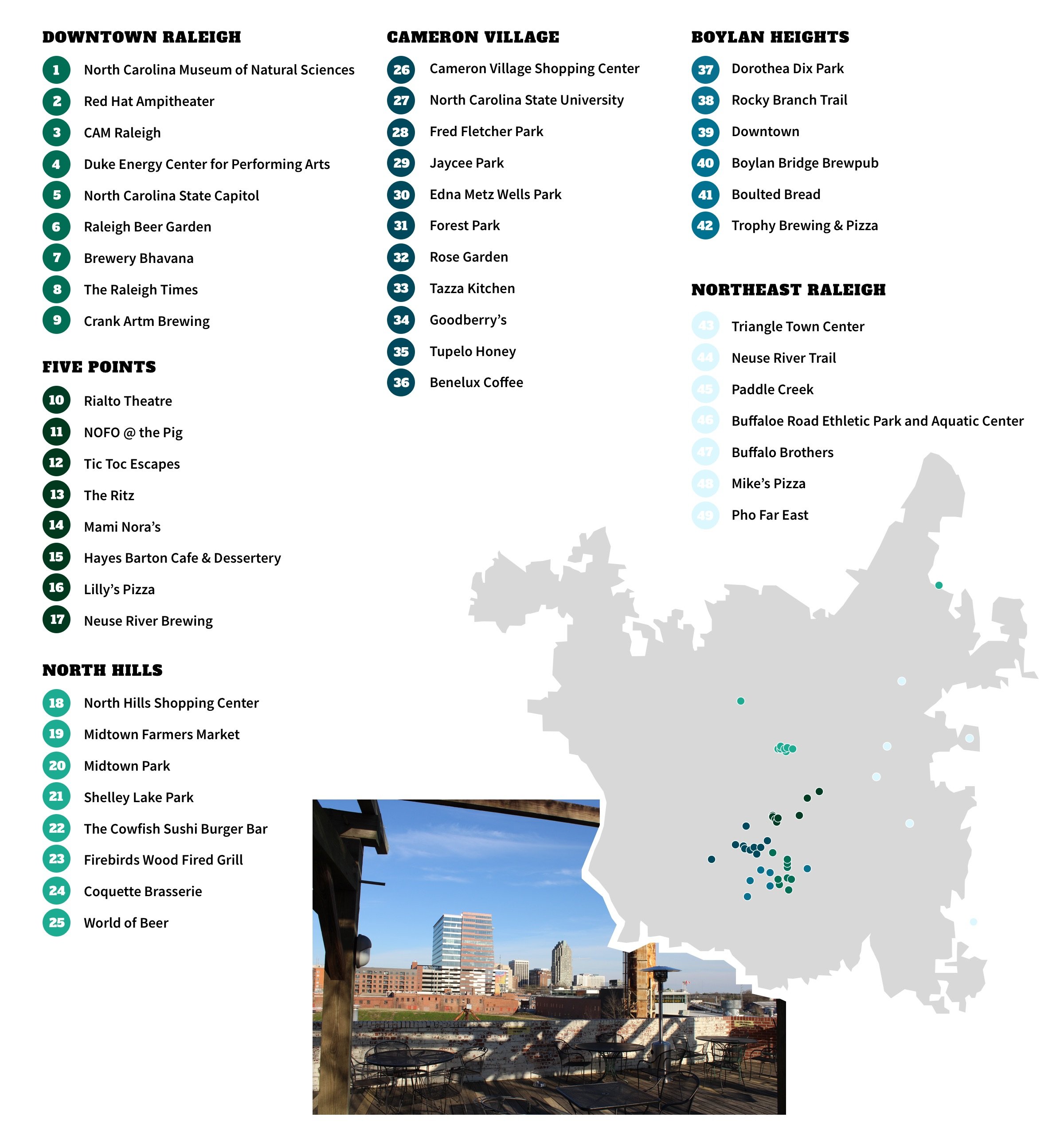 Raleigh at a Glance
Raleigh is part of North Carolina's Triangle area. The name refers to the Research Triangle Park, which is anchored by North Carolina State University, Duke University, and the University of North Carolina at Chapel Hill.
The Raleigh's transit system, GoRaleigh, has 27 routes throughout the city. However, unless you live and work in your neighborhood, you're still going to need a car. Raleigh is a sprawling city and lacks the walkability found in other major metros.
You'll often hear residents mention the Beltline and being either inside or outside of it. This is referring to I-440, which wraps around the inner city's east, north, and west ends. Generally speaking, most neighborhoods outside the Beltline have a suburban vibe to them, while the inner tend to feel more urban.
Unless specifically marked, U-turns are completely legal. You'll even see 18-wheelers ripping U-ies through intersections. Keep your eyes up.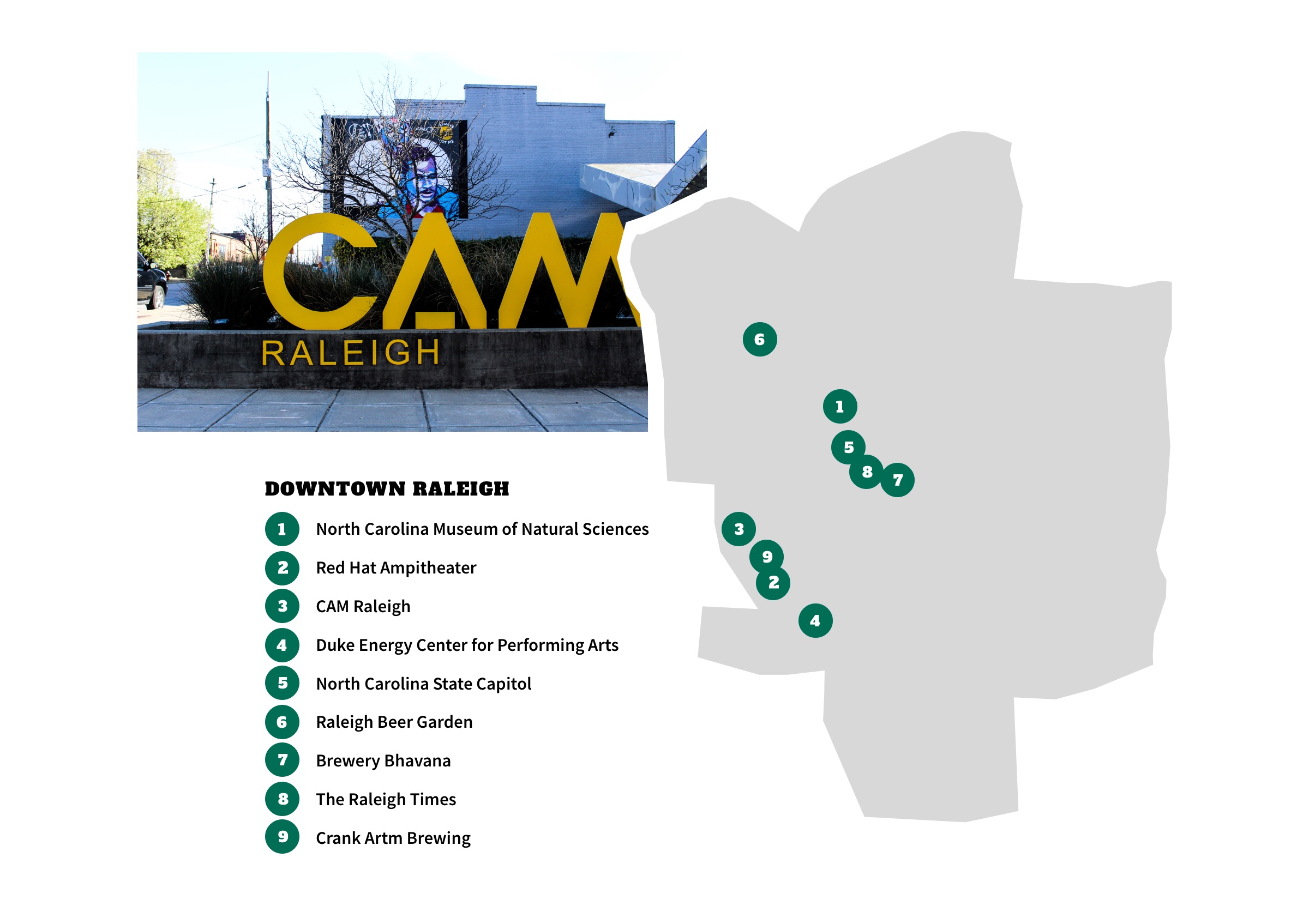 Downtown Raleigh is a vibrant urban center that offers residents world-class museums, beloved restaurants, and a lively music scene. The neighborhood's mix of historic sites, luxurious high-rises, and modern amenities embody Raleigh's appeal, and they've made it one of the most popular areas in the city.
What to Do
When a museum is both Raleigh's and the state of North Carolina's most popular attraction, you know it's good. The North Carolina Museum of Natural Sciences boasts four floors of exhibits, activities, live animals, and hands-on learning opportunities. It also has the world's most complete Acrocanthosaurus skeleton. And as an added bonus, general admission is free.
Downtown Raleigh's Red Hat Amphitheater is about as good of a reason as any to live here. Red Hat attracts some of the biggest names in music, and you can walk to it from most downtown bars and restaurants. Whether you scored front-row tickets or decided to opt for the lawn, there isn't a bad seat in the 5,990-capacity amphitheater.
Unlike most museums, the Contemporary Art Museum of Raleigh (or simply CAM Raleigh) lacks any permanent collections. Instead, the museum continually rotates exhibitions, choosing to showcase work from both local artists and international ones. On the first Friday of every month, the CAM keeps its doors open later for guests to enjoy special after-hours access to its exhibits, delicious food truck grub, and music from local DJs.
Consisting of four distinct theaters, the Duke Energy Center for the Performing Arts is Raleigh's premier destination for opera, plays, and all things theater. During the warmer months, the center hosts events at the Lichtin Plaza.
At the heart of the city lies the North Carolina State Capitol. The stunning Greek Revival-style building is a National Historic Landmark and remains largely unchanged from when it was first constructed. While people can schedule guided tours and visits two weeks in advance, residents can still admire its historic significance from afar.
Where to Eat and Drink
With over 350 beers on tap, three distinct floors, and one of the biggest beer gardens in the city, Raleigh Beer Garden is a craft beer lover's paradise. The first floor features beer exclusively from North Carolina breweries while the international floor features beers from all over the world.
What do you get when you mix beer, dim sum, a bookstore, and flowers all together? One of the coolest places to eat in the world.
Named after and located in the same building as the former newspaper, The Raleigh Times features an extensive craft beer selection while dishing out classic bar favorites with a creative twist.
Located in Downtown Raleigh's Warehouse District, the cycling-themed microbrewery does more than just brew a great tasting pint. Crank Arm Brewing focuses on cultivating an active lifestyle in the community and regularly hosts yoga, running, and of course, cycling events throughout the year.
Why Locals Live Here
Residents of Downtown Raleigh have the best of the city at their disposal. Housing is a mix of high-rise buildings with modern flair, attached row homes, and single-family homes—though you'll need to head towards the outer edges of the neighborhood to find them. Between the incredible food and beverage scene, historic charm, and walkability, residents love living in Downtown Raleigh.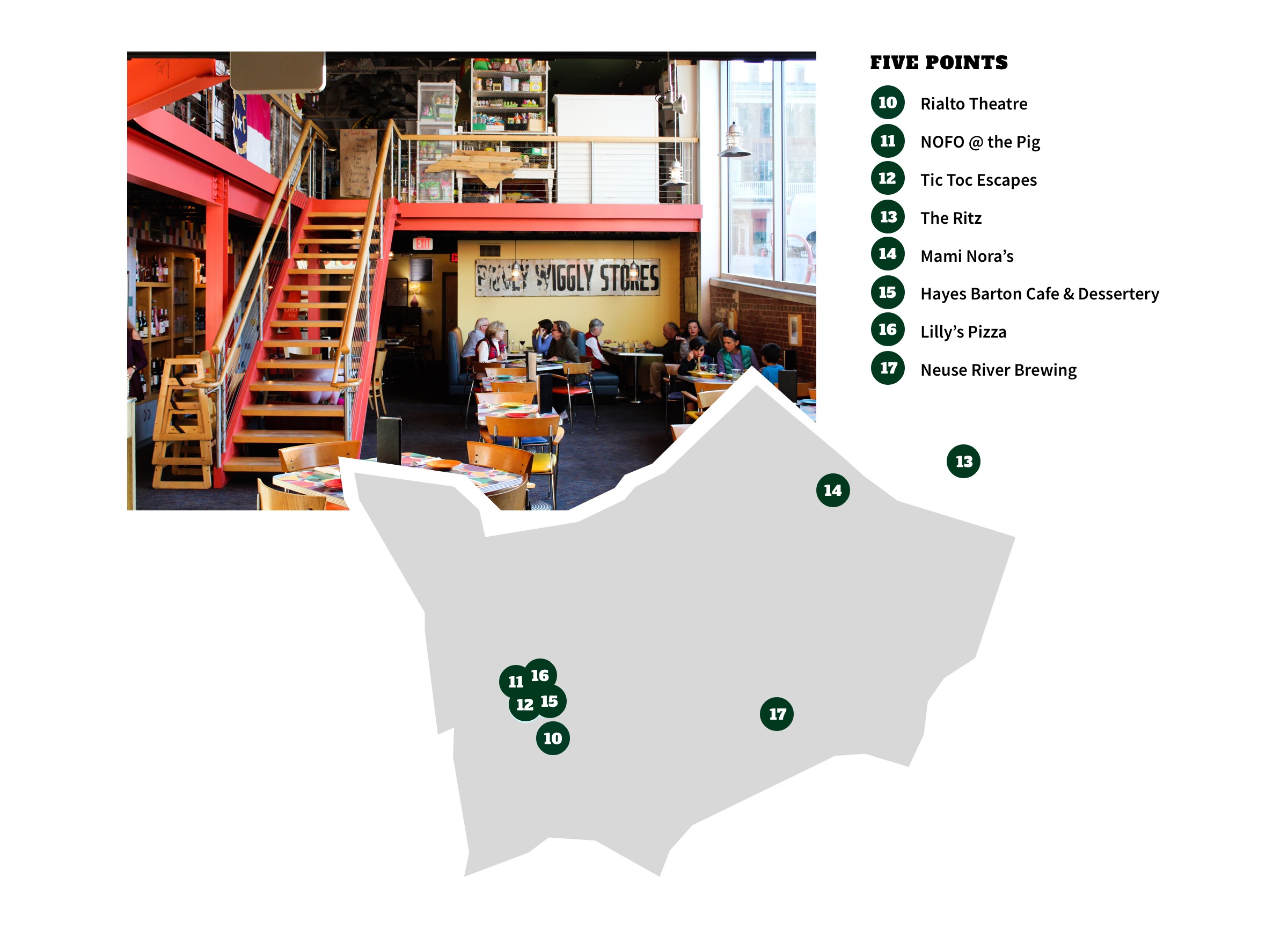 Five Points is close enough to enjoy everything downtown has to offer while still maintaining a quiet, suburban feel. The historic neighborhood consists of nearly century-old bungalows, tree-lined streets, and a few top-notch eateries.
What to Do
If you're in the mood for a classic flick then head on over to Five Points' Rialto Theatre. The vintage, cash-only cinema is the oldest theater in Raleigh, open since 1942.
Located in a restored Piggly Wiggly grocery store, Nofo @ the Pig is part southern cafe, part gourmet market, and part gift shop.
Grab a group of friends and try to beat the clock at Tic Toc Escapes. The Five Points escape room features four distinct rooms, and it's perfect for challenging your mind (and your patience).
Located slightly northeast of the neighborhood is Raleigh's "newest" music venue, the once-faltering rock club was purchased by entertainment giant Live Nation and reopened in early 2015 after a million-dollar renovation. Since then, it's seen huge acts such as Portugal. The Man, Louis the Child, and 2 Chainz.
Where to Eat and Drink
In order to truly capture authentic South American flavors, Mami Nora's imported their ovens all the way from Peru. The place is famous for its charcoal-roasted chicken, special glazes, and traditional Peruvian side dishes.
This popular sweets eatery serves up ginormous slices of cake. Pro tip: Try the lemon blueberry.
This Raleigh staple has been serving up pies since 1993 in a former biker bar. Lilly's musicians-turned-artisan pizza makers use only locally sourced vegetables and other high-quality ingredients to create one heck of a pie.
Located on the neighborhood's southern edge, Neuse River Brewing Company is one of five local breweries within a mile radius. Amid the other breweries, this one stands out with its delicious drafts and taproom that blends old and new. The microbrewery features a collection of Belgian ales and IPAs as well as other rotating selections throughout the year.
Why Locals Live Here
Due to its central location, beautiful homes, and mouth-watering dining options, Five Points is one of Raleigh's most desirable neighborhoods for homeowners. That said, it's also one of the city's most expensive areas.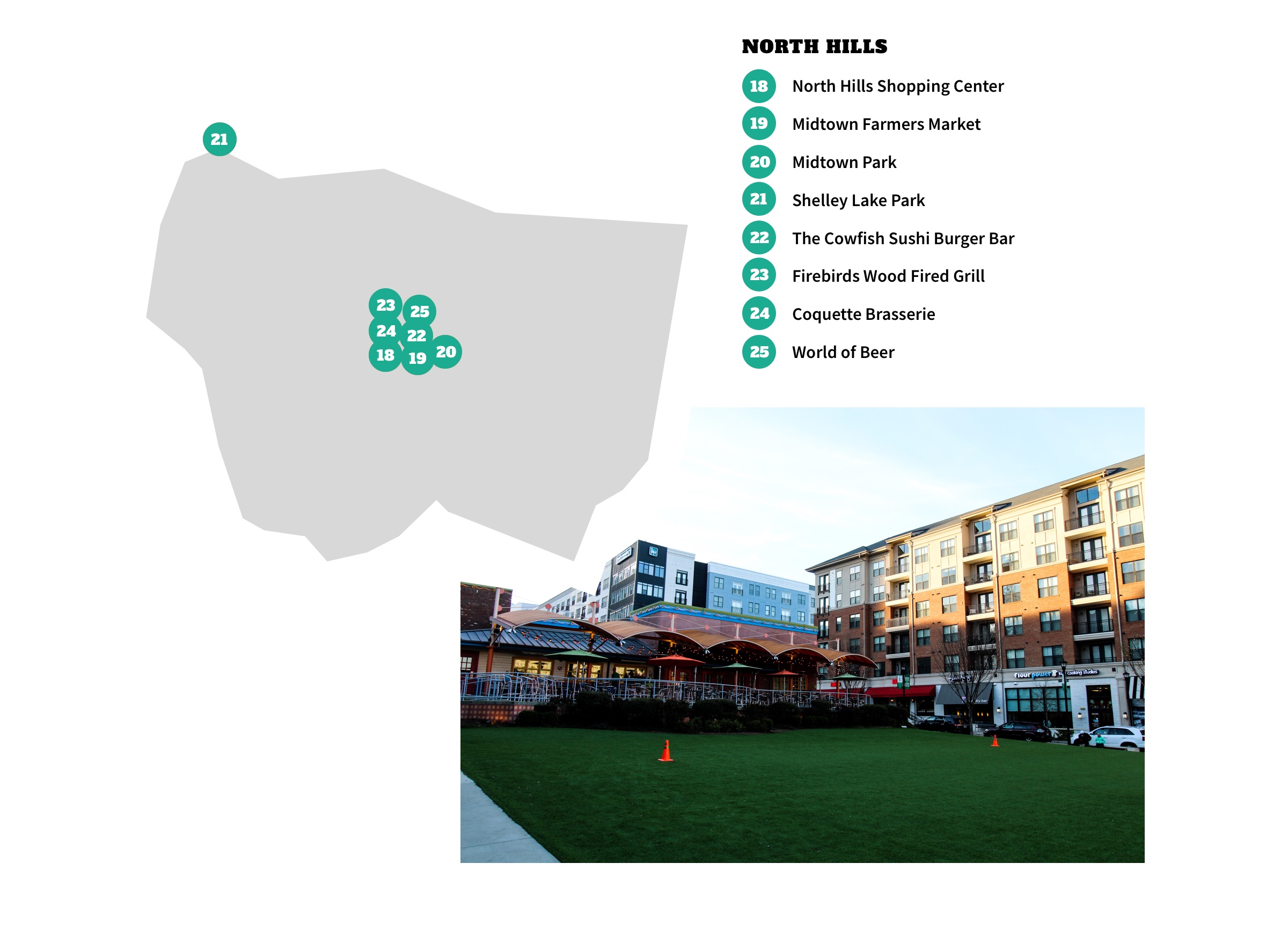 North Hills is a sprawling neighborhood along the Beltline's northside. The neighborhood is almost a city in itself; its suburban subdivisions of single-family homes surround a mixed-use development of the same name that serves as the neighborhood's urban center. Developed in 2004 to be Raleigh's new midtown, the mixed-use development contains low-rise condo buildings, an open-air shopping center, and tons of dining and entertainment options. It's by far the most walkable area outside of Downtown.
What to Do
Arguably one of the best places to shop in the Triangle, North Hills Shopping Center features restaurants, high-end boutiques, major department stores, as well as some local small businesses. For residents, there's even a bank, grocery store, and pharmacy within walking distance. Grab some new hiking gear at REI, a scoop from Ben & Jerry's, and finish the day off with a new novel from Quail Ridge Books.
Located on the Commons at North Hills, the Midtown Farmers Market features locally made breads, desserts, meats, crafts, and produce from 35 vendors. Even during the colder winter months, North Hills residents can still get their local goods at the Winter Market.
With events like glow-in-the-dark yoga and concerts like Midtown Music Fest and the Midtown Bluegrass Series, the centrally located Midtown Park is the perfect community space to unwind after work.
Nature lovers living in North Hills are in luck: Just down the road from the mixed-use neighborhood is the 145-acre Shelley Lake Park. The park features 2 miles of paved, scenic greenways surrounding the lake, basketball courts, playgrounds, and the Sertoma Arts Center.
Where to Eat and Drink
A sushi-burger fusion concept sounds strange, but it's delicious. The best option for newcomers is the Fusion Specialty Bento box, which gives you a sampling of the menu. If you're feeling adventurous, try the Burgushi, a sushi inspired roll made with all the classic burger fixings.
The steakhouse chain is known for delicious wood-fired steaks and fresh seafood.
This French brasserie features an extensive wine list and classic cocktails. They've also got a fantastic brunch menu that pairs extremely well with a mimosa (if I do say so myself).
A reliable chain with almost 50 craft beers on tap and countless other bottled options.
Why Locals Live Here
North Hills offers its residents a bit of everything. You can have a house with a large lot on a tree-lined street or opt instead for an urbanized area with luxurious amenities and numerous entertainment options. Its location just off the Beltline also gives residents easy access to almost any part of Raleigh—but unless you want to leave, you really don't have to. The area has practical amenities, dining, and entertainment in a central, walkable location.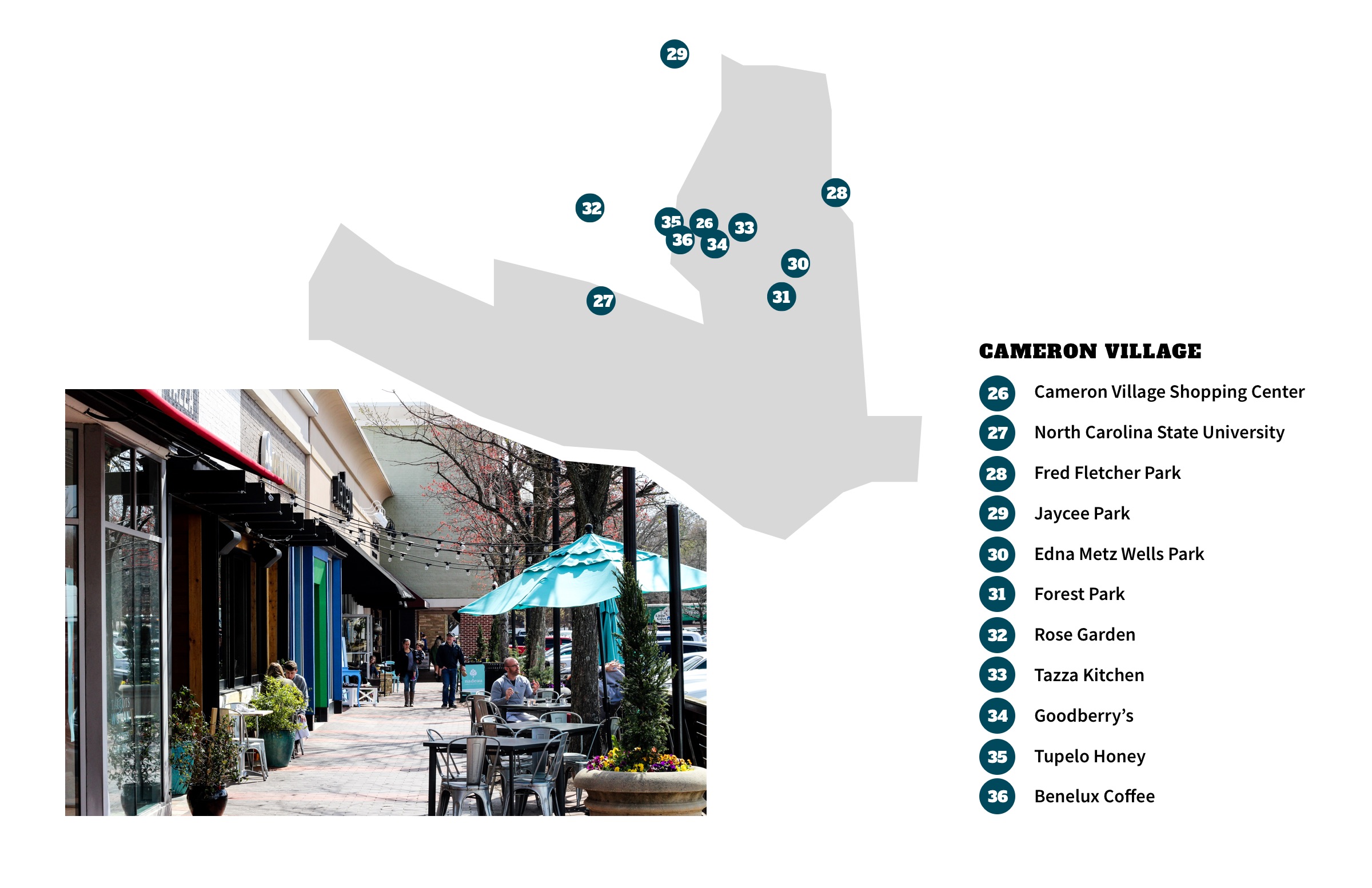 Located just 2 miles west of Downtown, Cameron Village was developed in 1947 as Raleigh's first planned community and quickly became one of the best shopping and residential areas in the city. Today, you'll find a mix of college students, professionals, and families throughout the six block Cameron Village shopping center and the surrounding neighborhood of the same name.
What to Do
You'll often find residents here enjoying a drink on one of the many outdoor patios, shopping to their hearts' content, or simply enjoying the beautiful flower beds. The center has more than 100 distinctive shops, cafes, restaurants, and services.
The university's flagship campus is just down the road and accounts for many of the residents in the area. Check out a basketball game at the PNC Arena, a theater production, or simply walk the beautiful campus. Whatever you decide to do, just make sure you're not wearing Carolina or Duke blue—you might get some dirty looks.
28. - 32. Visit the Nearby Parks
While Cameron Village doesn't technically have any parks within its borders, it's just minutes away from Fred Fletcher Park, Jaycee Park, Edna Metz Wells Park, Forest Park, and the Rose Garden.
Where to Eat and Drink
The contemporary-casual eatery serves specialty craft cocktails, wood-fired pizzas, and dishes with Italian and Baja influences. While you can't go wrong with anything on the menu, try the cast iron goat cheese appetizer and tequila-based Perfect Timing cocktail.
North Carolina gets hot in the summer—like, really hot. Cool off with a creamy frozen custard. Pick either vanilla or chocolate custard (or both) and as many toppings as you'd like. Interestingly enough, you can only find Goodberry's in the surrounding Triangle area and… Australia.
The Sunday brunch spot offers a menu packed with Southern comfort classics such as chicken and biscuits and shrimp and grits as well as the millennial-favorite avocado toast.
Located on the street level of the Crescent Apartments, Benelux Coffee serves up fresh coffee, hot cups of tea, and Belgian waffles. The Raleigh coffeehouse staple also claims to have the world's largest coffee mural, coming in at over 45 feet long and nearly 8 feet tall.
Why Locals Live Here
Cameron Village caters to a broad audience as it offers a mix of both single-family homes and modern condos with luxurious amenities. For many residents, the neighborhood is the perfect combination of suburban and urban elements. It's close enough to Downtown to enjoy all that it has to offer while still being far enough away from the action. Unlike Five Points and North Hills, a home here won't break the bank.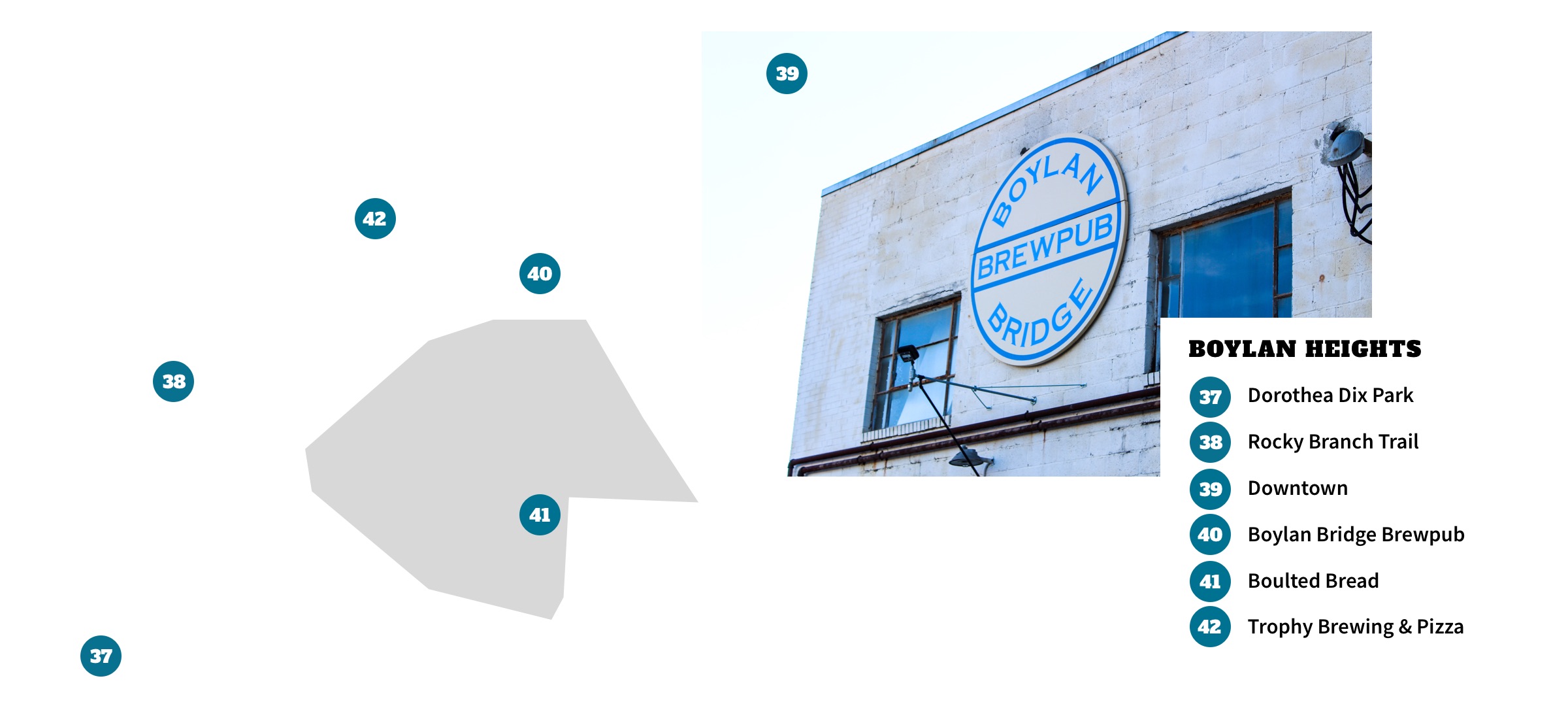 One of six Historic Overlay Districts in Raleigh, Historic Boylan Heights was established in 1907 as Raleigh's first suburb and was added to the National Register of Historic Places in 1985. The neighborhood features winding, tree-lined roads, and charming homes. It's also ideally located just southwest of Downtown. Even with its proximity to the city center, Boylan Heights still maintains a quiet, residential feel.
What to Do
Located just across Western Boulevard from Historic Boylan Heights, Dorothea Dix Park aims to be Raleigh's version of Central Park. It's in the beginning stages of its master plan that will eventually see six distinct landscapes, an outdoor concert venue, public art, and more. For now though, residents can enjoy the wide open greenspaces, skyline views, and rotating flower fields.
From Dorothea Dix Park, you can hop on the Rocky Branch Trail. The west end of the 3.4-mile, multi-use trail starts at Gorman Street and runs through North Carolina State's campus, along the Rocky Branch stream through Dorothea Dix Park, and ends at the Walnut Creek Trail.
39. Head Downtown
One of the biggest draws of Boylan Heights is the neighborhood's proximity to downtown. In less than 15 minutes, you can be in the heart of Raleigh and have access to any number of activities. Catch a show at Red Hat, order some authentic barbeque from The Pit, or simply enjoy the views.
Where to Eat and Drink
With a view as great as this, you don't even need good food. But Boylan Bridge Brewpub still delivers with its own craft beers and modern takes on tasty American pub classics.
If your trendy diet has you cutting back on carbs you may want to avoid Boulted Bread altogether, otherwise there's a good chance the bakery's artisanal breads and pastries will make you cave.
Luckily for Boylan Heights residents, Trophy Brewing & Pizza is just a short walk away. Widely regarded for having both the top pizza and beer in the city, Trophy dishes out creative pies in a rustic parlor vibe.
Why Locals Live Here
Historic Boylan Heights is a small, tight-knit community just on the outskirts of downtown. The easily walkable neighborhood offers many of the conveniences of living in the city while still maintaining a private, residential vibe. With access to great public schools, it's an ideal location for families as well as young professionals.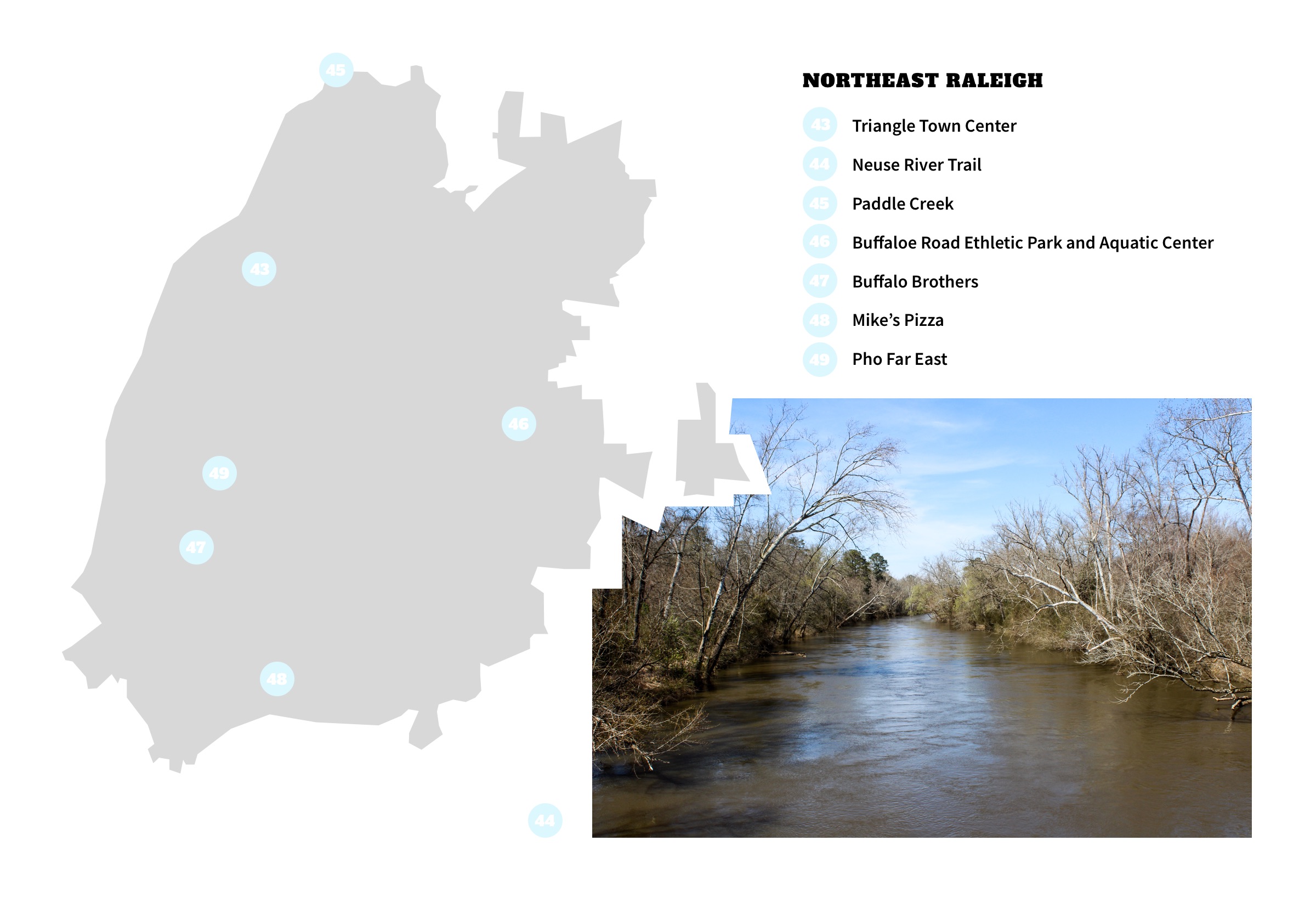 What you give up in entertainment options and chic restaurants, you gain back in affordable homes, tons of greenspace, and convenient shopping options. Northeast Raleigh is unapologetically suburban in the best ways possible.
What to Do
If you can't find it at this shopping center, you probably don't need it all that much. With over 100 stores, this two-story neighborhood hotspot is the place to spend a rainy day and engage in a little retail therapy. Triangle Town Center also has the only Saks Fifth Avenue in the state.
The 27.5-mile long trail runs the length of the Neuse River from Falls Lake Dam south to Clayton. The paved greenway is perfect for cyclists, distance runners, or really anyone just looking to get outside.
If you'd like to experience the river in a different manner, ditch your running shoes and come check out Paddle Creek. They offer guided kayak and paddle board tours down the river typically from mid-March to late October.
With hot and humid temperatures routinely touching the mid 90s, Raleigh summers are no joke. What better way to stave off the heat than escaping to an indoor lazy river? The aquatic center also features a three-story water slide, a zero entry pool, and a pool with designated lap lanes.
Where to Eat and Drink
The Buffalo Brothers owners have a pretty cool story. The college friends bought a pizza and wing restaurant where they worked while in school. After spending five years in Buffalo refining their craft, they headed for warmer weather and opened the very first Buffalo Brother sports bar 17 years ago. Since then they've expanded throughout the Triangle, including a location in Northeast Raleigh.
Mike's Pizza serves up authentic New York-style pizza, hot Italian subs, and pasta in their no-frills eatery. Owner Mike Iskandar is at the restaurant every day to make sure that each pie meets his high standards.
You know the old saying don't judge a book by its cover? Well, it applies to Pho Far East. The Northeast Raleigh hole-in-the-wall is one of the best Vietnamese restaurants in the entire city.
Why Locals Live Here
Just 6 miles from the heart of downtown, Northeast Raleigh offers every advantage of a suburb while never really being that far from the action. Housing is a mix of single-family homes, townhouses, and duplexes, and the neighborhood is one of the more affordable areas in Raleigh. The area scores well for its great schools and array of shopping options.