San Diego Real Estate Development
Rancho Peñasquitos Receives Revamped Suburban Development
Master-planned communities are nothing new to San Diego County. However, there's a new type of planned community coming to the area.
After five years in development and receiving approval from the Planning Commission in February, the San Diego City Council approved a revamped suburban development on vacant land this past May. The new development, called Merge 56, will be located west of Rancho Peñasquitos and east of the Del Mar Mesa Preserve.
"It's essentially an ideal mix of what we're looking for right now," Black Mountain Ranch Councilman Mark Kersey told the San Diego Union Tribune.
The project, which will be situated on 72 acres and offer over 500,000 square feet of commercial and office space, will be a densely built, walkable community. It will include 242 residential units in three-story buildings, with 47 of the units reserved as affordable housing for households earning less than 65 percent of the area's median income ($60,000 for a four-person household at present). The affordable housing units were added as a density bonus, allowing the project to surpass the allowed square footage for zoning. In addition to bringing something new to planned communities, it will also help alleviate the shortage of affordable housing.
The project, named Merge 56 for nearby Route 56, will include single-family units as well as two-to-three-story townhomes. It will also host six-story office buildings and on-site amenities including retail shops, a movie theater, fitness center, grocery store, hotel, and a central green plaza. The design will be focused on the pedestrian, making each destination within the community fully accessible by foot.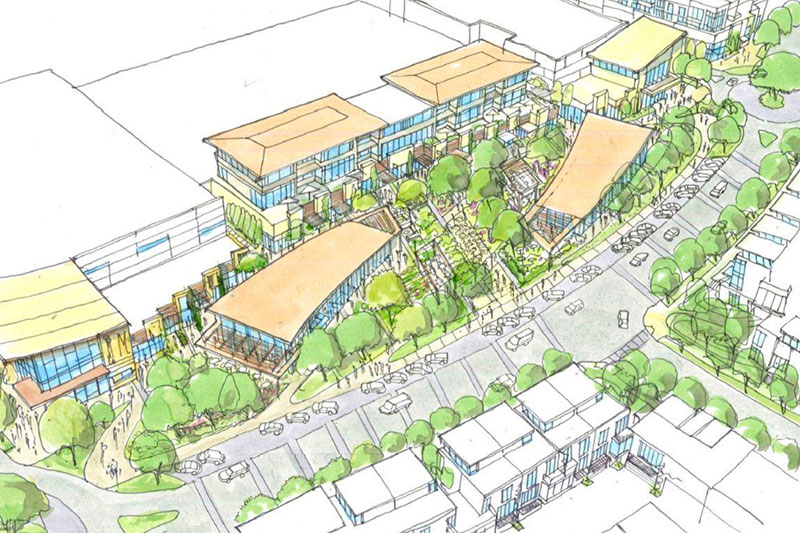 "We are re-evaluating what the suburbs are, and what good planning means for these suburbs," developer and owner of Sea Breeze Properties Gary Levitt said. "In a way we are really turning the American Dream on its head and saying we want to live closer to our neighbors in an urban environment where you can walk to the coffee shop or grab a beer with your friends without a car." Levitt wanted to give an alternative to urban areas as well as car-dependent, isolated suburbs.
This project puts an inversion on typical suburban developments, which usually consist of apartment buildings with a large parking lot, a self-storage facility, and a shopping center with a landscaped, central plaza. Part of the revamped construction of this project will include four parking structures behind buildings to obscure their view, thus leaving no need for any parking lots in order to conserve land. "San Diego is running out of land. We don't have wide swaths of land available to do the old-style master-plan communities," Peter Reeb, a principal with John Burns Real Estate Consulting stated.
Aesthetics aside, Latitude 33, the planning and engineering firm working on the project, said the new development will also be environmentally conscious. "The project's design will add value to the local community by consciously responding to its natural environment and surroundings."
The project will also be of service to existing area residents, as it will provide an extension to Carmel Mountain Road and Camino Del Sur. Initially, the roads were to be expanded from two-lane roads to four-lane roads, but developers insisted that building an extension while keeping it at two lanes would be better for the environment and the community. Other community additions include a trail connection between Darkwood Canyon and Del Mar Mesa Preserve. Sea Breeze Properties plans to contribute $30 million in Facilities Benefit Assessment fees and replace ephemeral pools with sustainable, high-quality versions.
"It's a great walkable community," La Jolla Councilwoman Barbara Bry said, "people don't have to get in their car to go to the grocery store, to go to the gym, to go to a restaurant. Hopefully this is a model of what we can build in more areas of our city going forward."
"The town centers in suburbia today are only town centers in name," Levitt added. "They are really just parking lots with buildings around them. The only meeting place you have is the Starbucks that happens to have tables and chairs outside."
Merge 56 is expected to be completed by 2021, with construction slated to begin later this year.