Chicago Real Estate Development
Residential Developments Signal Bright Future for Douglas Park and Cabrini-Green
Located on the West Side of Chicago, Douglas Park is a small neighborhood often considered a part of Lawndale. Cabrini-Green, located on the city's Near North Side, is a former public housing development. Both neighborhoods are making headlines for the major residential developments set to move forward within their borders.
Here's a glimpse into each neighborhood and what those developments could mean.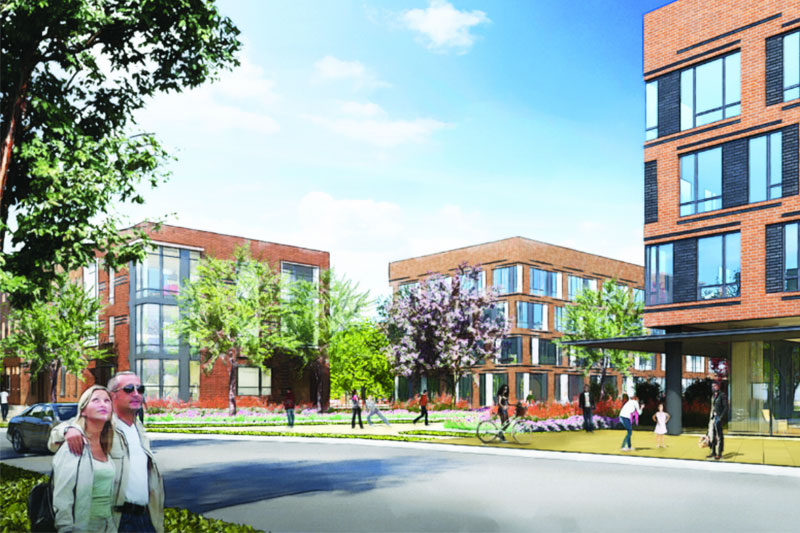 The Ogden Commons Development in Douglas Park
Though small, Douglas Park has pretty big name recognition. Late each summer, the neighborhood hosts rock, punk, and hip hop music festival Riot Fest. The neighborhood is also home to a Lagunitas Brewing Company tap room and Cinespace Chicago Film Studios, which has a hand in making shows like "Chicago Fire," "Chicago P.D.," "Chicago Med," and "Empire."
The neighborhood has a reasonable median home sale price of $210,000, according to Neighborhoods.com data. And now, more homes are set to go up in the neighborhood as a part of a major mixed-use development.
The Habitat Company is planning the $200 million Ogden Commons project for the neighborhood, according to the Chicago Tribune. The Chicago Housing Authority, Sinai Health System, and Cinespace are also involved in the project.
The Chicago Plan Commission has approved the project, and the developer is aiming to secure the green light from City Council in 2019, according to the report. The proposed Ogden Commons would bring office space, restaurants, and nearly 400 homes to Douglas Park. The residential part of the project largely features rental units, but it could add townhomes at a later date.
"There's all this traffic there every day with no amenities and not enough decent, safe and affordable housing. It looks extremely promising in terms of this development being able to fill all of those gaps," Habitat Company Senior Vice President Charlton Hamer told the Chicago Tribune.
Ogden Commons is a part of the Ogden Avenue Corridor Master Plan, which aims to bring more development to the area.
Townhomes Coming to Cabrini-Green
Cabrini-Green has been left vacant for years, but recent development is breathing new life into the area. A total of 88 townhomes are going up for sale in an area between Division and Oak streets, according to Curbed Chicago. The residential development is a part of the larger Parkside of Old Town project, which is being led by Holsten Development, while the townhomes are designed by Landon Bone Baker Architects.
The townhomes are being listed at $450,000 to $790,000, according to the report. Construction on the homes is expected to begin next spring and be ready for residents to move in that fall.
"City homebuyers are pining for townhomes, especially in desirable areas where single-family homes have gotten fairly pricey. Parkside Old Town delivers with moderately priced homes in the heart of the Near North Side," developer Peter Holsten said in a statement.
More Development Reshaping Cabrini-Green
Townhomes are not the only new projects rising in Cabrini-Green. Parkside of Old Town, backed by funding from the Chicago Housing Authority, is bringing 54 CHA units, 92 market-rate units, and 44 affordable rate units—a number that includes the 88 townhomes going up for sale.
Not far from the Parkside of Old Town project, Gensler Chicago is planning a mixed-use development for a vacant 10-acre site located at Clybourn Avenue and Larrabee Street. The residential element of the project will include high-rise and mid-rise buildings with 217 market-rate units, 138 CHA units, and 82 affordable housing units, according to Curbed Chicago. The development will also include 36,000 square feet of retail space, as well as park space.
More residential development is in the works for space located at Oak Street and Larrabee Street. This $33.5 million project would bring a total of 104 new residential units to the neighborhood, including apartments and 18 townhomes, according to another Curbed Chicago report. Brinshore Development is leading the project. The Brinshore website shows townhomes with features like green roofs and private fenced yards. The project is slated for completion in 2020.
As new homes continue to rise in the neighborhood, Cabrini-Green's future is looking markedly different from its past. New construction and the proximity to the Loop could mean the neighborhood is poised to become a highly desirable residential area.