San Diego Real Estate
San Diego's Most Public Transit Friendly Neighborhoods
San Diego is the perfect mix of beautiful weather and stunning coastlines. It is also massive: Unlike some more compact metro hubs, the city spans nearly 400 square miles. With a city that large, getting around without a car can be daunting and difficult. Luckily, San Diego does have a well-established citywide public transit system branching out from the city center downtown to several neighborhoods and suburbs.
The San Diego Metropolitan Transit System, SDMTS for short, offers more than 50 bus lines and a light rail trolley system with a few dozen stops. The bus lines hit the majority of neighborhoods in the city, but they are not known for being terribly reliable—especially as you get farther from downtown.
In rounding up San Diego neighborhoods with public transit options, we've decided to focus on the neighborhoods with easy access to at least one trolley stop, because the trains actually show up when they are supposed to and run more frequently. Here's our list of the five best San Diego neighborhoods for anyone who's sick of sitting on the freeway during rush hour traffic and ready to let someone else do the driving.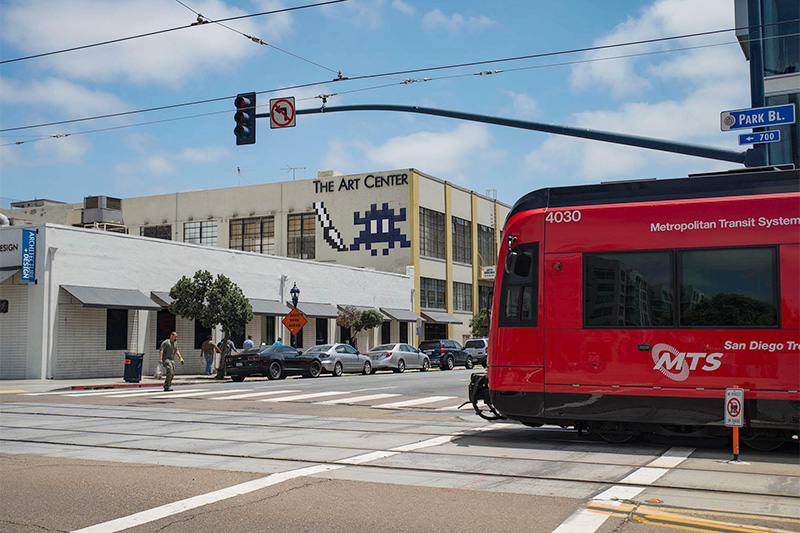 Over the past several years, East Village has evolved from a stretch of warehouses and storage units into a vibrant neighborhood with artsy eateries, local coffee shops, walk-up lunch counters, and trendy bars. From afar, two unique shapes dominate East Village's skyline: Petco Park, where the Padres play, and the San Diego Central Library.
Commuters looking for trolley and bus options to connect them to the rest of San Diego have their pick from East Village because it's the location of the city's largest public transit center, 12th and Imperial. This is where all the trolley lines converge and break off into their individual routes.
The Blue Line heads north to Santa Fe Depot, where commuters can jump on a northbound Coaster or Amtrak train.
The Silver Line loops through Downtown, the Marina District, and Gaslamp before swinging back through East Village in a continuous circle.
The Orange Line heads towards East County, making stops in Lemon Grove and La Mesa before it hits the end of the line in El Cajon.
And lastly, the Green Line heads up to Old Town, Mission Valley, San Diego State, the Grossmont Center shopping mall, and ends up all the way in Santee.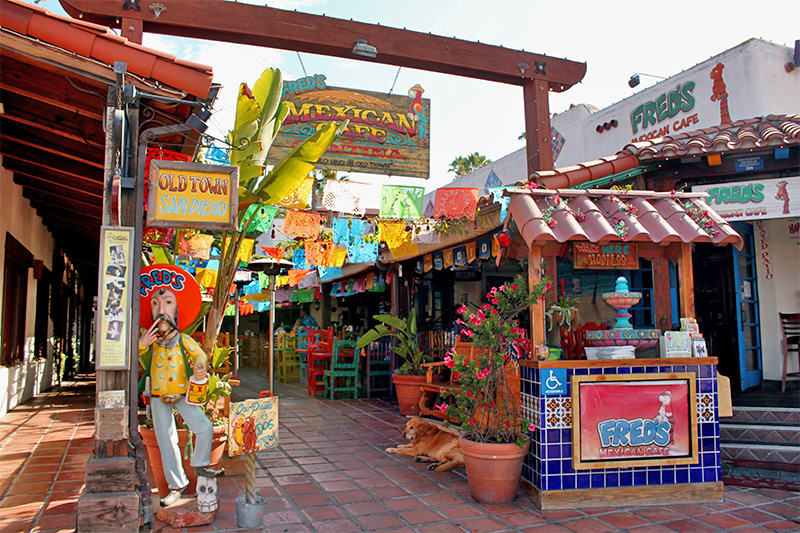 Some locals might equate Old Town with tourists, but this cute neighborhood has more to offer than delicious fresh griddled tortillas and souvenir shop sombreros.
Nestled in between the spots popular with day-trippers you'll find locally roasted coffee, the perfect spot for your next Taco Tuesday meetup, cultural events, stunning flowers and cacti blooming all year round, and one of the city's oldest cemeteries. Despite its closeness to the Downtown area and the airport, Old Town is typically quaint and quiet.
The Old Town Transit Center stop is on SDMTS's Green Line, and the center also has access to northbound Coaster and Amtrak trains for those trips to North County or Los Angeles.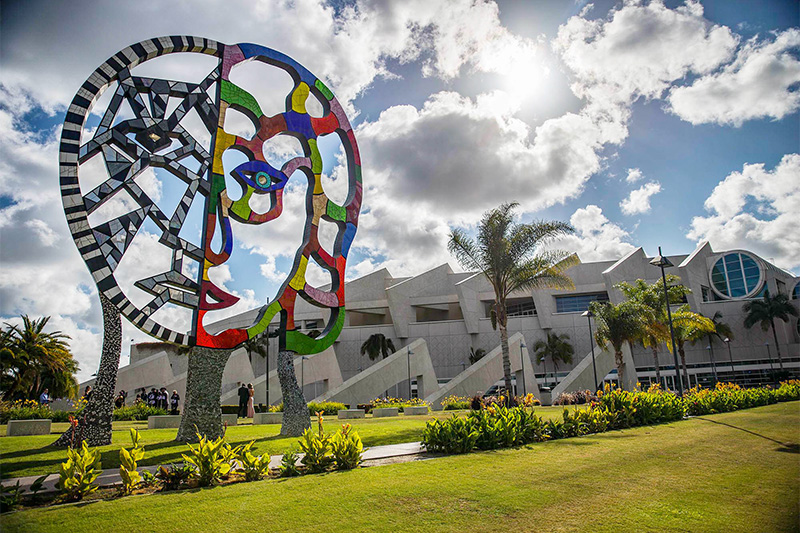 The Marina District runs along the Port of San Diego and the San Diego Harbor, so it's probably not surprising that this long, thin neighborhood is where San Diegans go for a closeup of the ocean.
Along with a view of the Pacific, this neighborhood is home to high-rise condos, a handful of swanky hotels, a couple of quaint shopping centers, and other independent businesses from handstamped jewelry to handmade cheeses. If you aren't here for dinner, you might be attending an event at the San Diego Convention Center—home of San Diego Comic-Con for four days every July—or taking a run through the Embarcadero.
Due to the Marina District's unique shape, nearly all the homes in this neighborhood are less than a five minute walk to the nearest trolley stop. For Marina District, jump off at the Green or Silver Line's Seaport Village stop on Kettner and Harbor.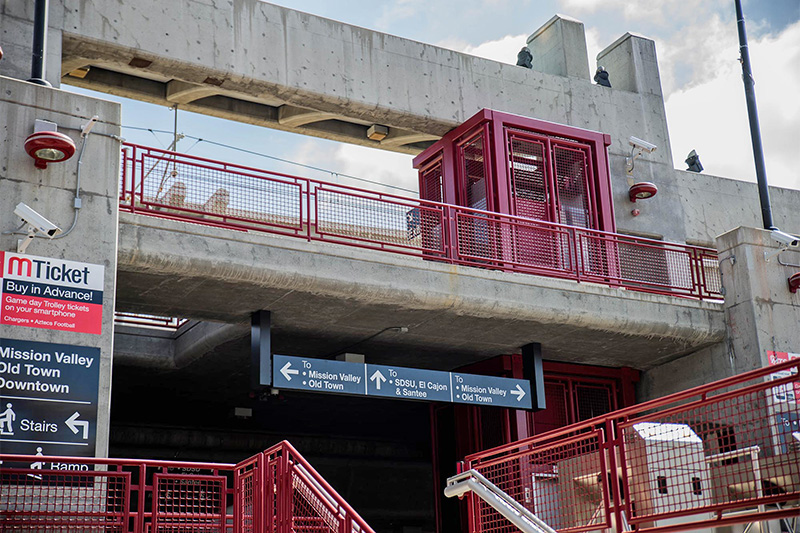 Mission Valley is a central San Diego neighborhood known for having everything you need all in one place. With a shopping mall with favorite chains like Target, Macy's, Michaels, and In-N-Out Burger; several grocery stores; gyms; and lots of restaurants, you'll only need the trolley if you decide to venture out for work in another part of town. This neighborhood is popular for its proximity to both San Diego State University and SDCCU Stadium where the Aztecs play.
Mission Valley claims an impressive three Green Line stops. The Mission Valley Center stop funnels you out into Mission Valley Mall while the two other stations, Rio Vista and Hazard Center, are nestled into more residential sections of this neighborhood.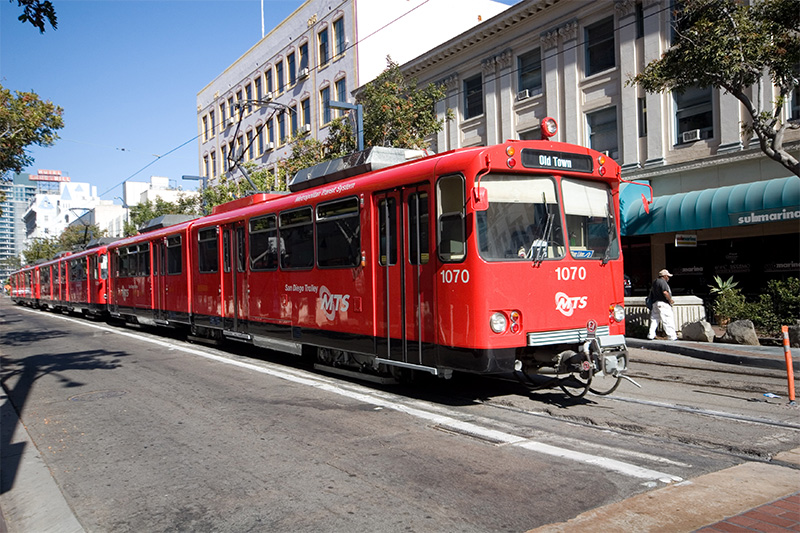 Downtown is the neighborhood that lends San Diego its iconic skyline. While the majority of this neighborhood is made up of skyscrapers, there are also a good deal of condos and businesses that serve lunch to weary workers.
At night, locals catch shows at the House of Blues and on the weekends residents can walk over to the city's largest greenspace, Balboa Park, which is home to more than 10 museums, an off-leash dog park, a giant pipe organ, and the San Diego Zoo.
Downtown residents have their pick of several stops along the Blue, Orange, and Silver Lines, including stations at Courthouse and on 5th Avenue. Not only do most of the lines swing through this neighborhood, but Downtown trains run twice as often as other parts of the trolley system, sliding into the station every seven minutes all day long.