National Local Life
Tampa Neighborhood Guide
Tampa may be known as "the Lightning Capital of the World," but that shouldn't dissuade you from choosing this Florida Gulf Coast city as your home. In fact, the weather—lightning and hurricanes aside—is among the top reasons residents love it here.
But while the weather, the white sandy beaches, and the fabulous sunsets will lure you here, the reasons you'll fall in love with this city go far beyond the sunshine. The cultural, entertainment, and recreational offerings rival those found in any major metropolitan area, and Tampa is quietly becoming a foodie haven.
Once you move here, you'll quickly become familiar with Tampa's most famous celebration—Gasparilla. Dating back over 100 years and drawing hundreds of thousands each year, this pirate festival is the city's version of Mardi Gras.
There are also other, less celebrated events held throughout the year, giving residents plenty of opportunities to enjoy the outdoors year round. Some people also don't realize the city is home to three major league sporting teams—the Tampa Bay Lightning, the Tampa Bay Rays, and the Tampa Bay Buccaneers.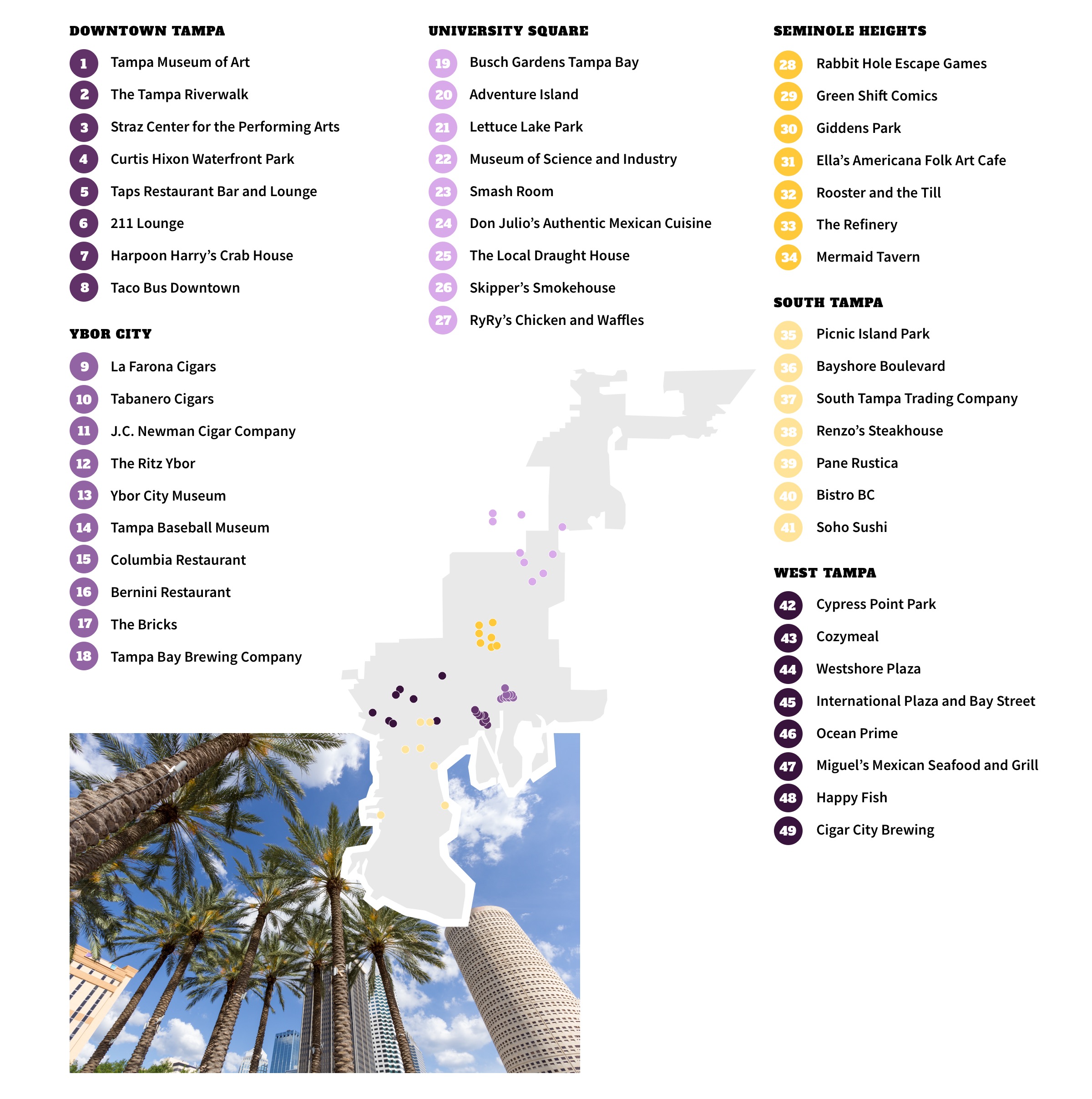 Tampa at a Glance
To be sure, Tampa is not known for its public transportation options. In fact, most residents rely on cars to get around, and newcomers become quickly attuned to navigating Interstates 4 and 275, the main highways serving the city and its surroundings areas. However, those who rely on public transportation may choose from these options: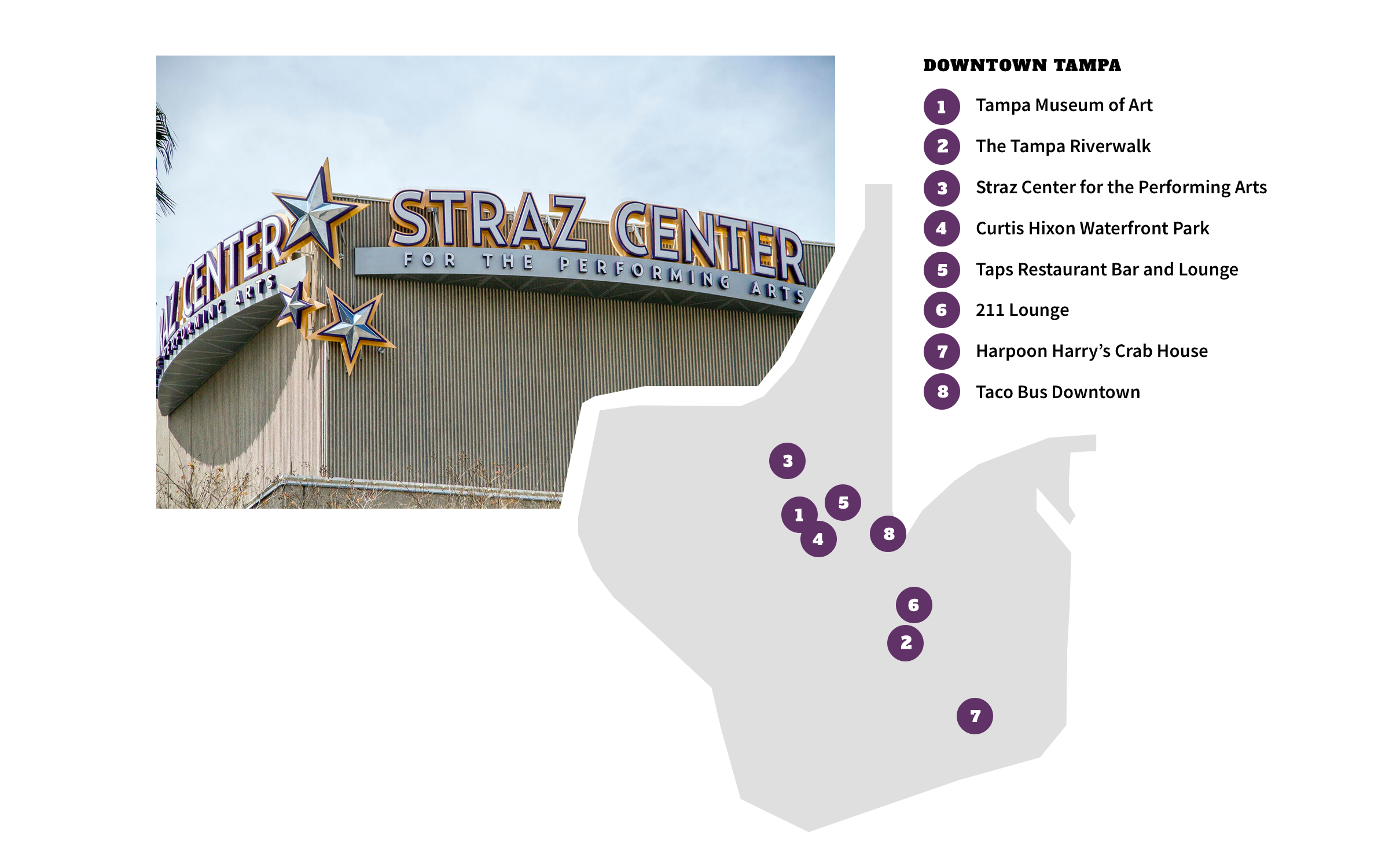 Downtown is the city's center, not just geographically, but also in terms of business, culture, and entertainment. Like downtown areas in other cities, it has seen a renaissance in recent years as developers tap into the growing number of people who want to live, work, and play in one location. It's one of the city's most walkable areas, although many residents still own cars.
What to Do
Escape the heat and wander for an afternoon among one of the largest Greek and Roman antiquities collections in the southeast. The Tampa Museum of Art provides innovative public programs for all ages with a focus on ancient, modern, and contemporary art. The building opened its doors in 2010, and many residents recognize it due to the 14,000-square-foot LED installation on its south facade, which has become one of the city's iconic landmarks.
Whether you've just spent the day at one of the many nearby cultural attractions or you just want to take a leisurely stroll, the Riverwalk is the place to go. Not only can you take in the sights and sounds of the area, you can also learn about the city's history along the way.
Whether you love the opera, Broadway shows, or comedy, the Straz Center has a show for your tastes. For those who like to pair dining with their theater experience, Maestro's Restaurant is located onsite and features tableside service.
Dog lovers in particular will love this park due to its dog run, but the splash pads are also a draw for families with children. Dozens of events are held throughout the year, but this park is also great for lounging and people watching.
Where to Eat and Drink
Within walking distance of several Downtown attractions, this neighborhood pub has a relaxed atmosphere with a reasonably priced menu and a wide selection of craft beers and imports.
For a sophisticated dining or drinking experience, the 211 Lounge and 211 Restaurant—located at the Hilton Tampa Downtown hotel—offers a range of signature cocktails and upscale breakfast, lunch, and dinner menus.
This restaurant is one of Downtown's newest options and features lunch, dinner, and sushi menus with outdoor seating that provides great views of the Downtown skyline.
If you're looking for a bite on the go, this converted school bus serves tacos and other Mexican fare, including vegetarian options.
Why Locals Live Here
What's not to love about a neighborhood where you can have it all? Residents who can afford the price and don't mind having to pay for parking on occasion—or can eschew having a car altogether—find Downtown the ideal place to live. This is the city's most walkable area, with housing consisting mainly of mid- to high-rise residential towers near an abundance of restaurants and several appealing waterfront parks. The northern section has single-family homes close to good schools, so it's popular with families.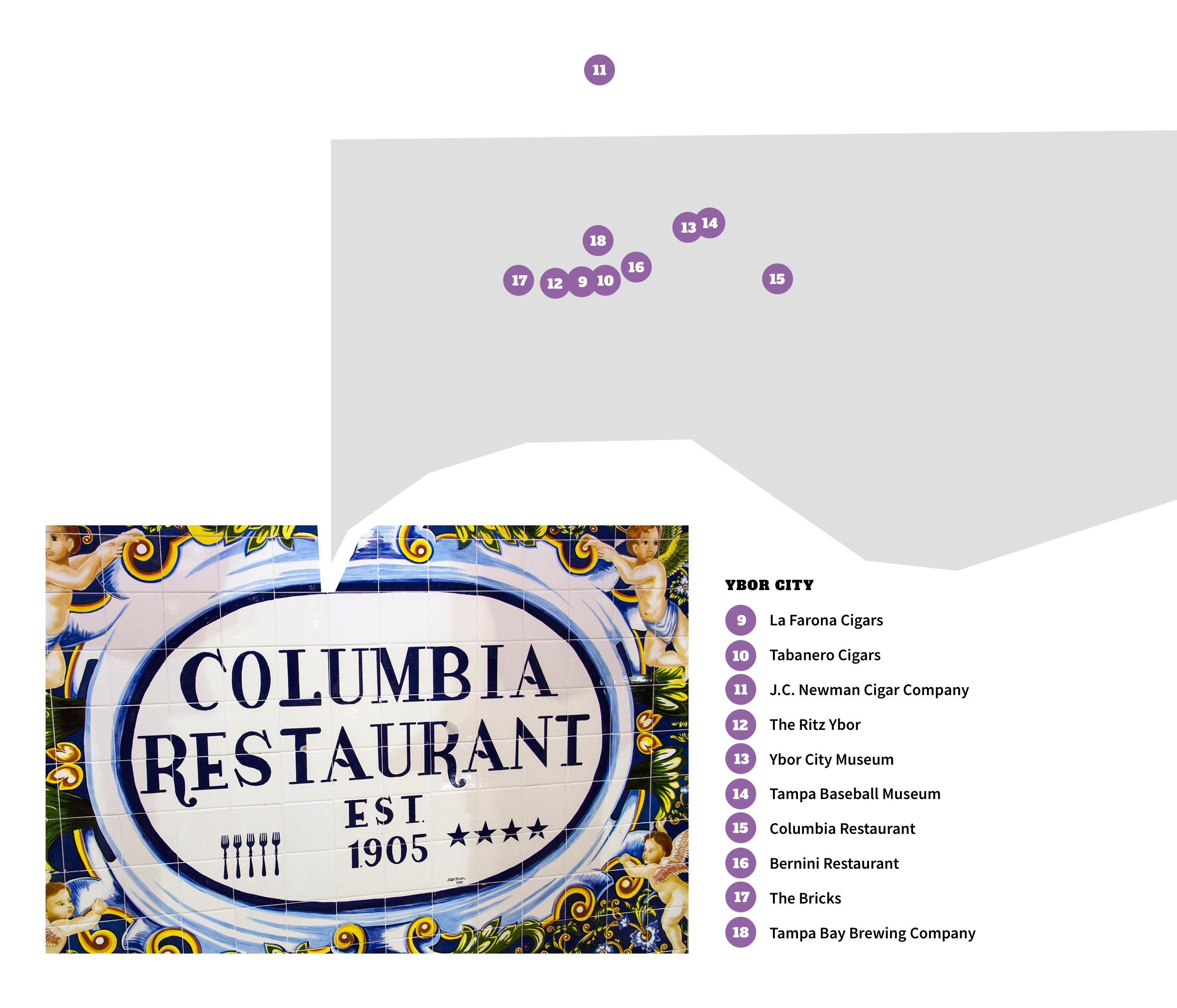 Founded by cigar manufacturers in the 1880s, this neighborhood is still known as "Cigar City," and it's one of the city's most diverse and eclectic areas. Its main street—7th Avenue—is the neighborhood's entertainment hub (think Duval Street in Key West or Bourbon Street in New Orleans). It features a range of housing options at various price levels.
What to Do
9. - 11. Smoke a Cigar
"Cigar City" holds true to its name with an abundance of places to enjoy a good cigar. A partial list of places includes La Faraona Cigars, Tabanero Cigars, and J.C. Newman Cigar Company.
Located in the heart of Ybor City, the Ritz hosts high-profile events and private parties. Past entertainers have included Lady Gaga and Ben Harper.
Ybor City is one of only two National Historic Landmark Districts in Florida. You'll learn about the neighborhood's rich history and tour its scenic garden area during a visit here.
This museum is located in the childhood home of Al Lopez, Tampa's first major league baseball player and the first native to be inducted into the Hall of Fame. It features information about the more than 80 professional players and baseball greats from Tampa and the impact the city has had on the game over the years.
Where to Eat and Drink
This restaurant—family owned and operated for over a century—offers a rich menu of traditional Spanish fare, including the "Mixto," or the original Cuban sandwich.
Located in the heart of the neighborhood, this Italian restaurant will satisfy the cravings of any risotto, piccata, or parmesan lover. Don't forget to top the meal off with some gelato or tiramisu.
Before you hit the bricks for a night out on 7th Avenue, you can dine at The Bricks, which offers reasonably priced food and an extensive list of cocktails and beer, along with live music at certain times.
With a revolving list of beers on tap, this is a favorite spot among craft beer lovers. Located on the second floor with outdoor patio seating and live music on Fridays, this is a great place to relax.
Why Locals Live Here
People who love to be close to nightlife—with the added benefit of historic ambiance and cultural diversity—gravitate here. The best part: The housing options are plentiful with prices for almost any budget. The most common type of home in this area is single-family, although there are some multi-family buildings as well. Ybor City is not as walkable as other areas, but it still has an urban feel to it with many restaurants and attractions.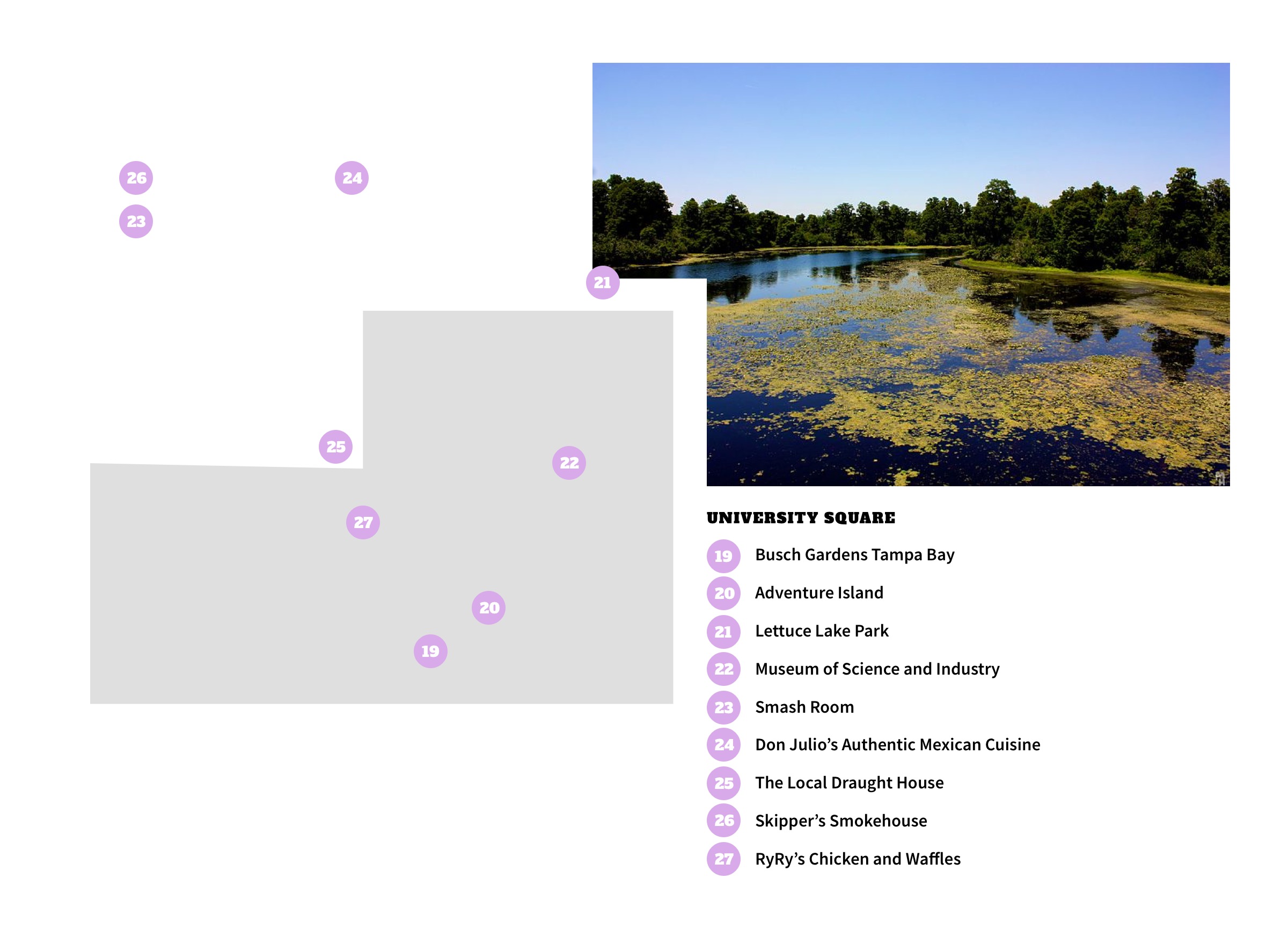 This neighborhood is best known for the major attractions within its border. It's home to the University of South Florida, a research university and member of the state university system in Florida that serves more than 50,000 students. Although it doesn't feature the kind of "rolling hills" you'd find in more suburban college campuses, it has many of the features that attract people to college towns. It's also home to two major amusement parks.
What to Do
From the heart-pounding roller coasters to the more than 200 species of zoo animals to the live shows and entertainment, Busch Gardens is a major Tampa attraction. While a one-day ticket is costly, residents can purchase annual passes at reasonable rates.
If your idea of staying cool involves going on water slides or lounging on a lazy river, then this park may be a good choice. Residents can buy season passes or a single pass that will gain them entry into both Adventure Island and Busch Gardens.
The 240-acre Lettuce Lake Park features canoe and kayak rentals, a 1.25-mile paved exercise trail, wooded picnic areas and playgrounds, and 3,500-foot boardwalk with an observation tower where you can view the Hillsborough River. Park ranger and volunteer-led nature education tours are available on weekends.
With more than 100 hands-on activities, kids learn by building a robot, exploring optical illusions, and solving interactive brain puzzles at this museum that bills itself as a "scientific playground."
We all have those days when we're overcome by the stresses of life and our anger and frustration is almost too much to bear. Just head a few minutes north of University Square to the Smash Room, and you can relieve your stress by destroying rooms that simulate an actual workplace, living area, or kitchen—complete with glass, mannequins, TVs, and more items. Sledgehammers and bats are included.
Where to Eat and Drink
This restaurant opened its doors in 2018, fulfilling a dream for proprietors Julio and Esther Rodriquez who moved to Tampa from Mexico in the 1970s. The menu features traditional Mexican dishes, such as fajitas and carne asada, along with some house specialties, such as Milanesa Don Julio.
The word "local" in this establishment's title is not an accident—this watering hole celebrates local culture by serving beer brewed in Tampa and locally inspired cocktails. The array of televisions also makes this a great place to watch sports.
This iconic restaurant serves "Floribbean" cuisine—a fusion of Caribbean, Florida, and Louisiana flavors—with dishes such as black bean gator chili and alligator ribs. It also has live music, a relaxed atmosphere, and both indoor and outdoor seating.
For those who consider chicken and waffles not just a dish, but a delicacy, this is the place to go. The chicken is cooked to order and waffles are fresh pressed.
Why Locals Live Here
Even residents of this neighborhood who aren't students are drawn to the cultural and educational offerings in University Square. The area also has a variety of home types at a wide range of prices, so homebuyers looking for more moderately priced homes that are still close to Downtown and other major attractions are drawn to this area.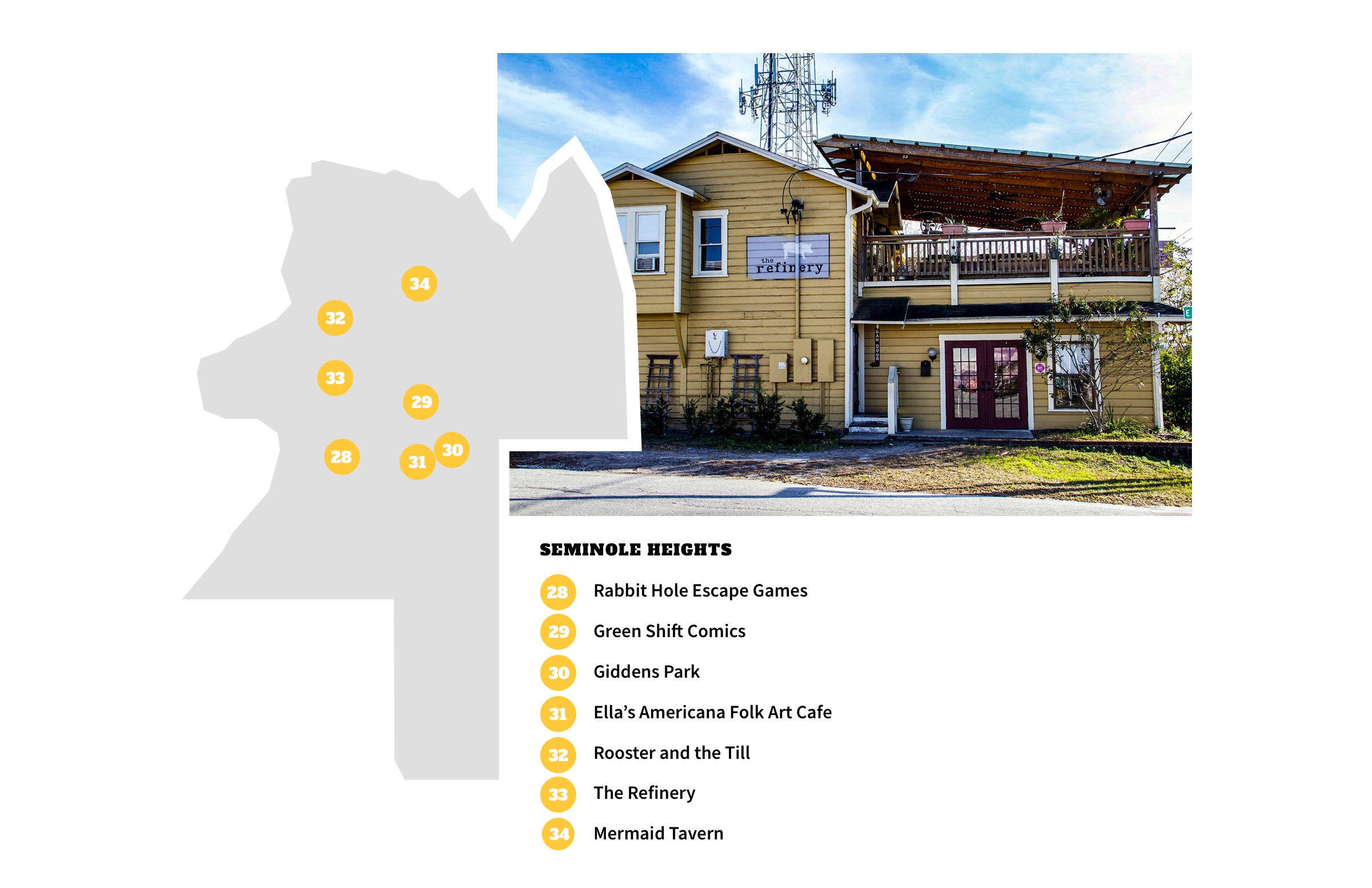 This is fast becoming one of the city's most popular neighborhoods due to its mix of housing options from bungalows to studio lofts. Its numerous historic buildings give the neighborhood charm and many of the businesses are exceptionally pet friendly. It's also close to Downtown and the Tampa International Airport.
What to Do
Nothing tests your team building prowess like being locked in a room with only 60 minutes to solve puzzles and find your way out. Whether you're with family, friends, or coworkers, this experience will bring you closer together (or make you never want to see each other again).
Even if you're not a comic book or guitar enthusiastic, you'll enjoy a visit to this shop to see its wide display of merchandise—some vintage and some modern. The store also sells band instruments, such as trumpets and saxophones.
With a soccer field, basketball court, playground areas, and a dog park, this park is a great place for both children and pets.
Where to Eat and Drink
This eclectic, independently owned cafe serves comfort food (think meatloaf and pork chops) and features live music in a relaxed atmosphere.
Opened in 2013, this restaurant has quickly won the hearts (and stomachs) of residents. It was named the city's top restaurant in 2018 by the Tampa Bay Times.
This highly regarded farm-to-table restaurant has a menu that changes three to four times a week, with dishes made from scratch in-house.
This neighborhood favorite features a casual atmosphere and a wide assortment of craft beers. Mimicking the style of European pubs, it doesn't have table service, so you'll have to order at the bar.
Why Locals Live Here
This neighborhood has become trendy in recent years due to its wide mix of housing, entertainment, and dining options (in fact, it's been called a foodie haven). You can still find properties at affordable prices, although prices have been rising due to its popularity as developers look to take advantage of its funky charm. Historically, this was considered one of the city's "suburbs," and most residents still rely on cars. But in recent times, revitalization efforts have focused on making the neighborhood more walkable, especially on Florida Avenue.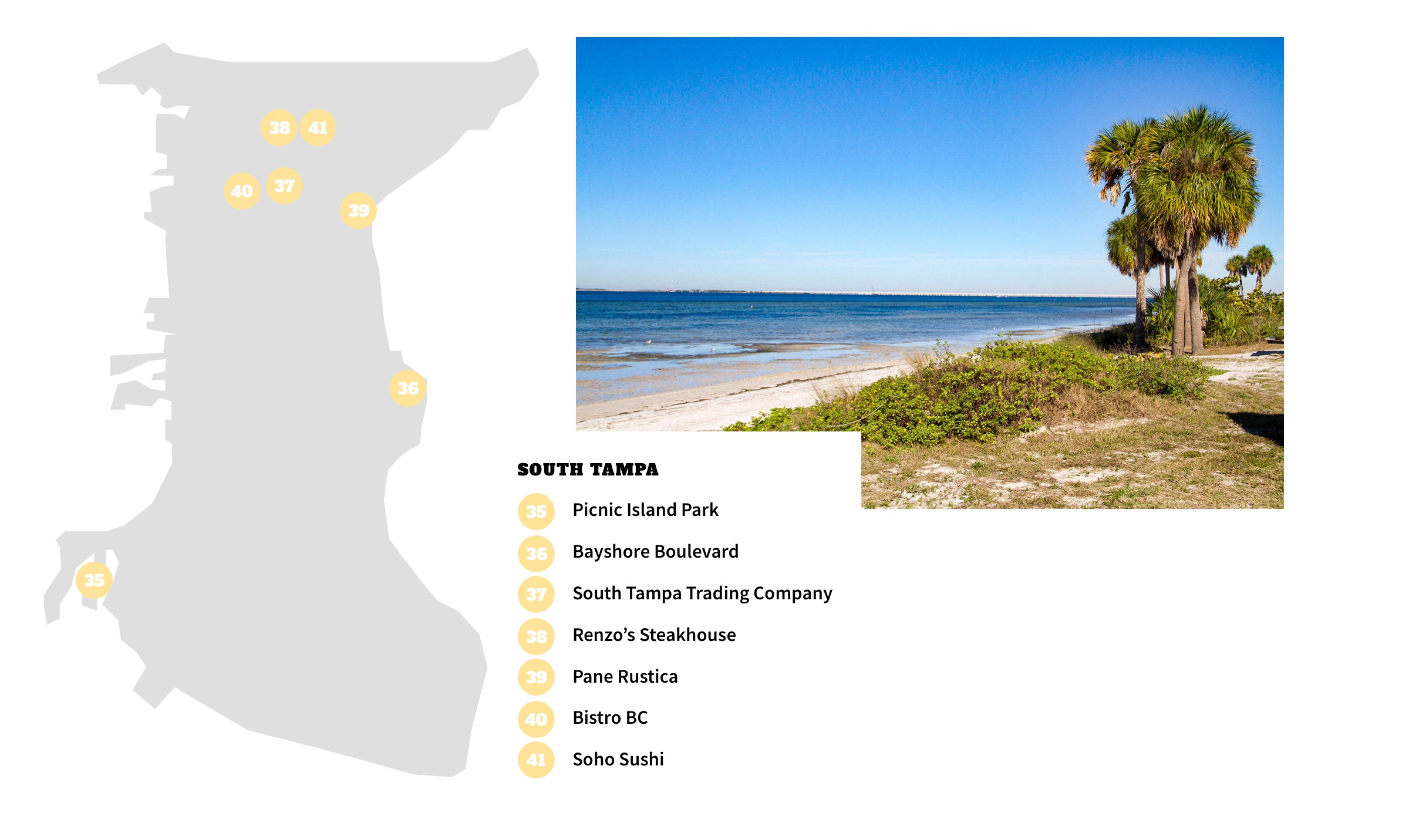 Surrounded by Tampa Bay to the west and Hillsborough Bay to the east, South Tampa is one of the city's most scenic areas. The MacDill Air Force Base occupies the southernmost portion of the neighborhood, and you'll find a range of housing here, from high-rise properties on the waterfront to houses on tree-lined streets in the interior.
What to Do
This waterfront park offers a sandy playground and beach that kids love, but with a dog beach near the boat ramp and pier, it's also a great place to take your furry friend. It also has a volleyball court and disc golf course.
For some joggers and cyclists, workouts are as much about the physical exercise as they are about the scenery around them. This park offers scenic views of Tampa Bay and several spots where you can park. You can keep track of how far you've run or biked by 15 cast bronze trail markers embedded in the sidewalk.
You won't always need a go-to store for all your pirate costume needs, but in Tampa, you might. This shop, which features costumes, beads, hats, jewelry, and more, will help you gear up for Gasparilla, the Renaissance Festival, or any other pirate-themed event that may take place during the year.
Where to Eat and Drink
This local favorite is a meat lover's paradise, serving up Argentine-style steaks in a variety of cuts, along with an assortment of Venezulean side dishes, all in a casual atmosphere.
This European-style bistro in Palma Ceia features a varied menu of Italian dishes and a robust wine selection. While lunch tends to be faster paced, dinner is a distinct dining experience.
This French and Vietnamese restaurant was included in USA Today's top 10 restaurants in Tampa list in 2018. It serves classic Vietnamese dishes, such as pho, along with coq au vin and chicken curry stew.
Every neighborhood needs a good sushi place, and in South Tampa, this is it. With exceptionally fresh fish and a wide assortment of rolls, repeat customers are the norm. The only downside is you'll likely need to make a reservation to ensure a table.
Why Locals Live Here
South Tampa offers the type of scenery (including the occasional celebrity sighting) and recreational opportunities you'd expect living in a coastal city, coupled with the convenience of being minutes from Downtown and the Westshore Business District. The diversity within this neighborhood—along with the wide choices of housing—caters to most ages and lifestyles. Some of the city's top rated schools are located here, albeit in the more pricey sections, and Bayshore Boulevard offers the kind of ocean views that will make you the envy of your friends and relatives.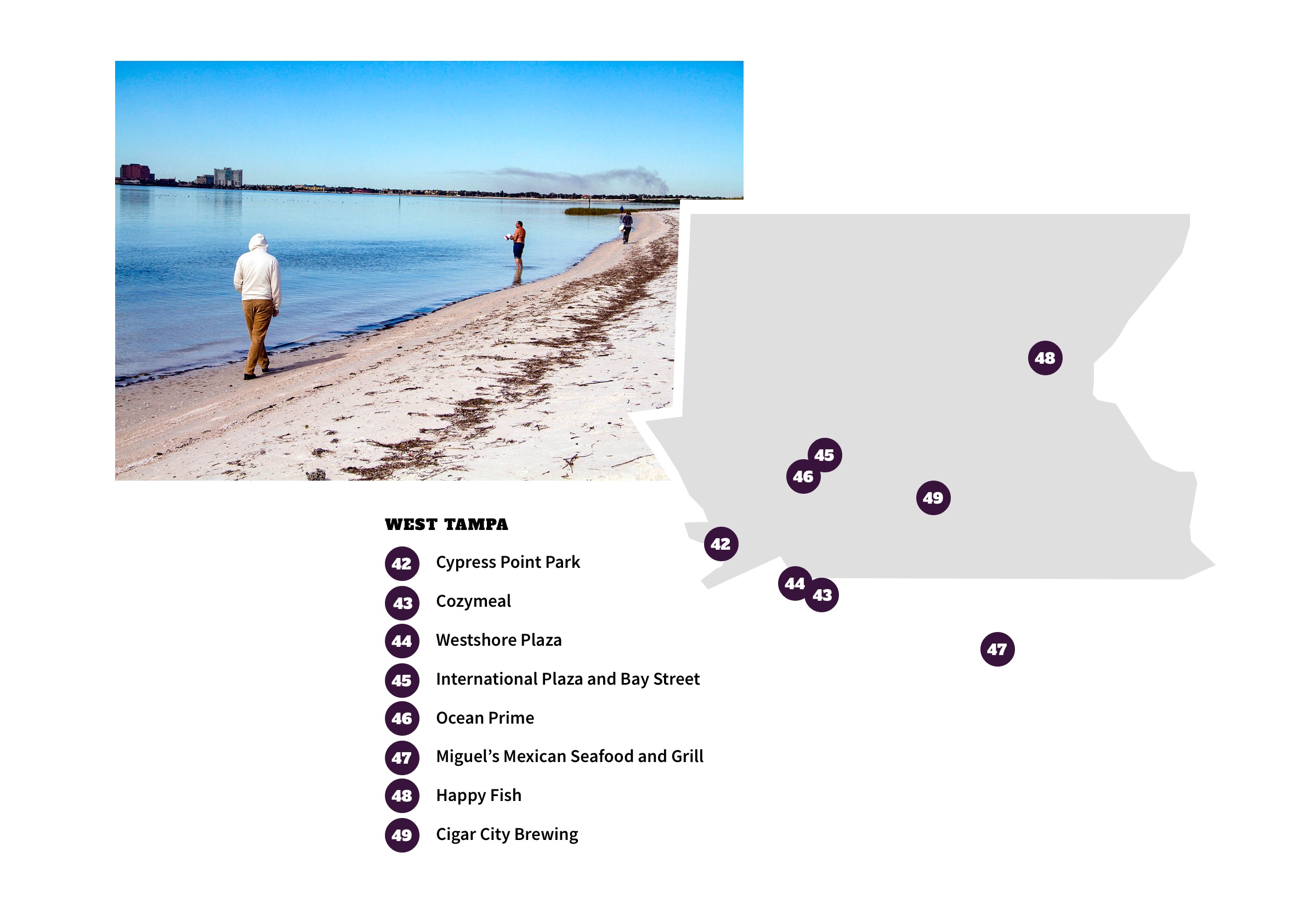 With roots dating back to when cigar companies were coming to Tampa, this neighborhood is one of the city's oldest and most historic. In recent times, it's been a draw for young families and first-time homebuyers, making it one of the city's up and coming areas. Close to both Downtown, the Westshore Business District, and the airport, residents love the convenience of its location and the shopping options are among the best in the city.
What to Do
You'll be able to enjoy the fabulous sunsets that Florida's West Coast offers, along with .44 miles of nature trails and a .9-mile asphalt trail. This park also features a free 18-hole disc golf course.
From a Mexican fiesta to a French family dinner, you can learn to prepare a wide range of dishes at this venue. Taught by professional chefs, classes are geared towards aspiring chefs of all levels, including beginners.
This shopping and dining venue features over 100 retailers, including major department stores like Macy's, and specialty shops like Old Navy and LOFT. It also has two major restaurants and a food court. Aside from shopping, you can participate year-round in KidX Club events with your children.
This upscale shopping venue features stores, such as Hugo Boss, Kate Spade, and Louis Vuitton and restaurants, such as Bar Louie, the Capital Grille, and Brio Tuscan Grille.
Where to Eat and Drink
This upscale seafood restaurant caters to fish lovers, with menu selections such as blackened snapper, Florida grouper, Chilean sea bass, and sea scallops. For true indulgence, you can select a surf-and-turf dish of poached lobster tail paired with filet mignon.
When your average taco joint just won't do, this is a good choice for authentic and upscale Mexican cuisine. You'll find a wide assortment of fajitas, along with an assortment of margaritas, martinis, specialty cocktails, wine, and beer.
This Peruvian restaurant features lomo saltado and other traditional dishes in ample portions, along with sangria and beer in a casual environment.
Called a theme park for beer, this is a favorite stop for beer lovers. You can visit the tasting room for samples of this local brewer's brews, such as Jai Alai IPA, Invasion Tropical Pale Ale, and Tampa-Style Lager. For those who want to eat, food trucks are regularly found here.
Why Locals Live Here
Many residents come from families who have lived here for decades, but even those who don't have historic roots in the area enjoy the influences from the past that are still present. That, coupled with the conveniences of its proximity to businesses and shopping venues, make this a desirable place for many. Despite its convenient location, it still has more of a suburban feel, so having a car is a must.