The 10 Best Things To Do in South Congress, Austin
The 10 Best Things To Do in South Congress, Austin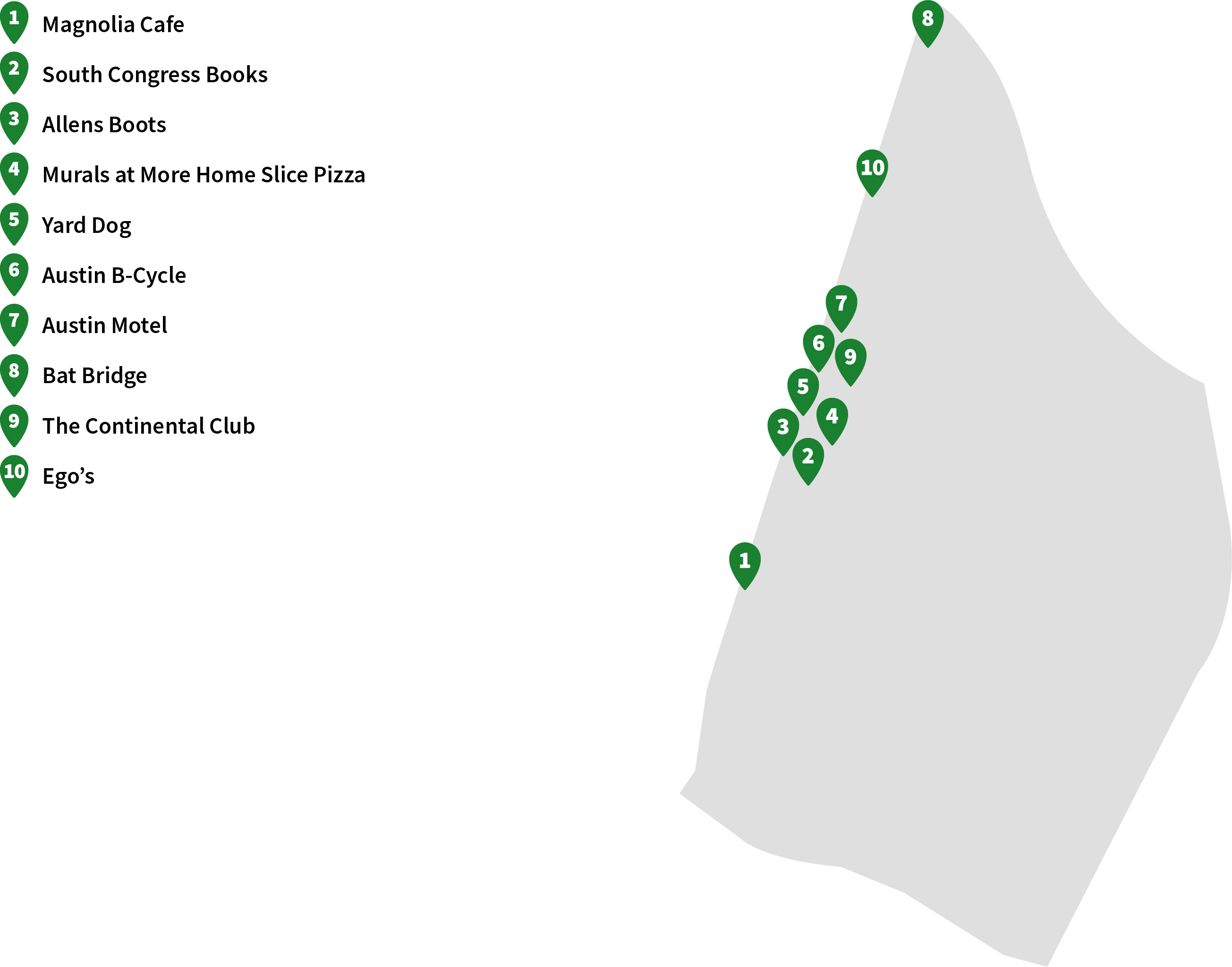 A South Austin neighborhood that epitomizes the "Keep Austin Weird" ethos, the creative, lively, and unique area known as South Congress remains a popular destination for Austin locals and visitors alike.
Anchored by the neighborhood's eponymous street that's lined with fascinating shops, top-rated restaurants, and abundant venues for art and live music, South Congress's entertainment options seem endless, and it can be difficult to hone in on its must-do activities. But we're here to help: Read on for the 10 best things to do in South Congress, Austin.
Grab at Table at One of South Congress's Celebrated Brunch Spots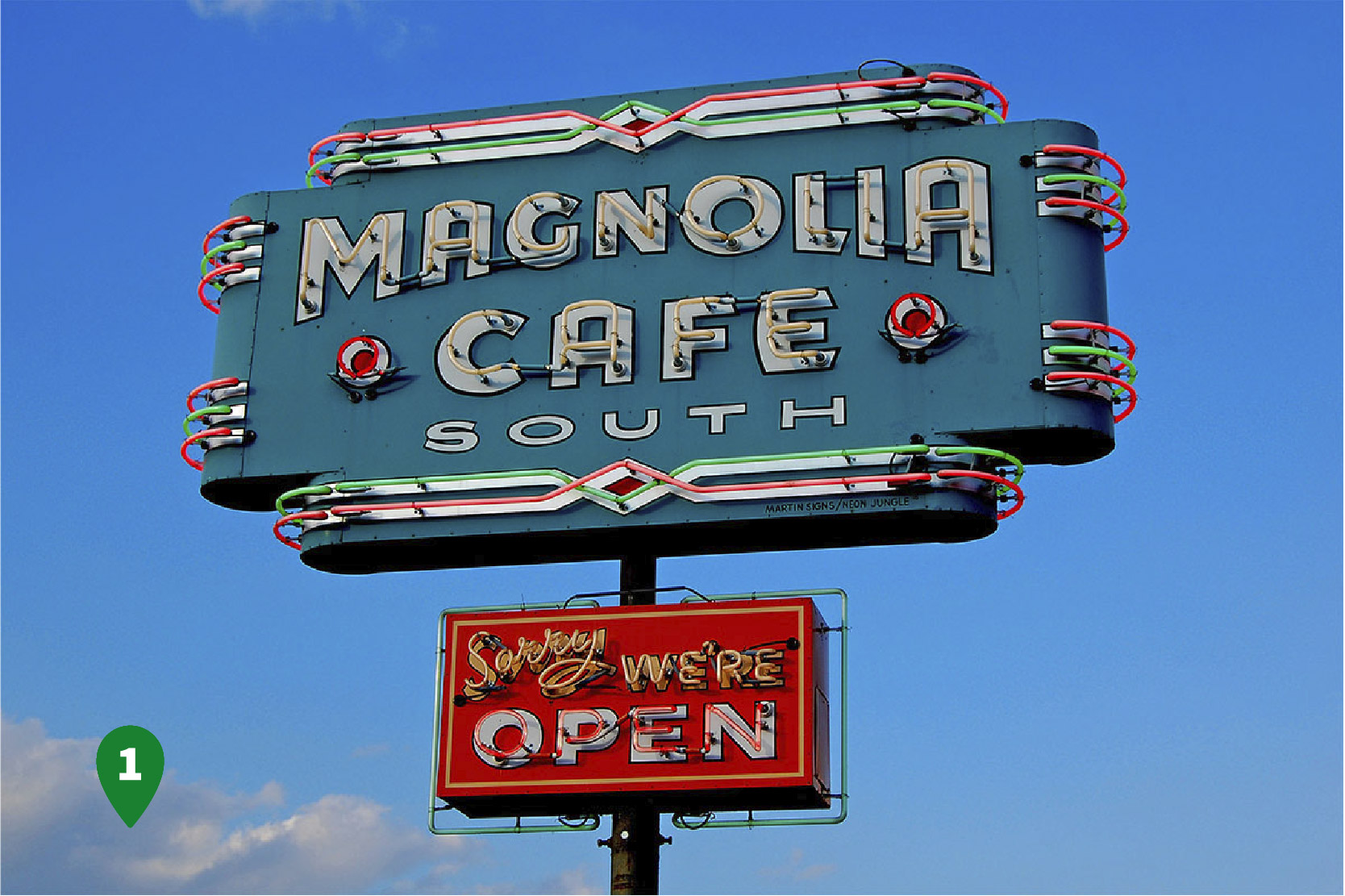 Dining in South Congress is a satisfying experience at any time of day, but the neighborhood truly shines during weekend brunch. Acclaimed eateries like South Congress Cafe, Café No Sé, June's All Day, and Magnolia Cafe serve hearty portions of breakfast fare with bloody marys and mimosas. If you're looking for a quicker morning pick-me-up, the indoor-outdoor Jo's Coffee features the neighborhood's finest coffee alongside breakfast tacos.
Shop at South Congress's Impeccably Curated Secondhand Shops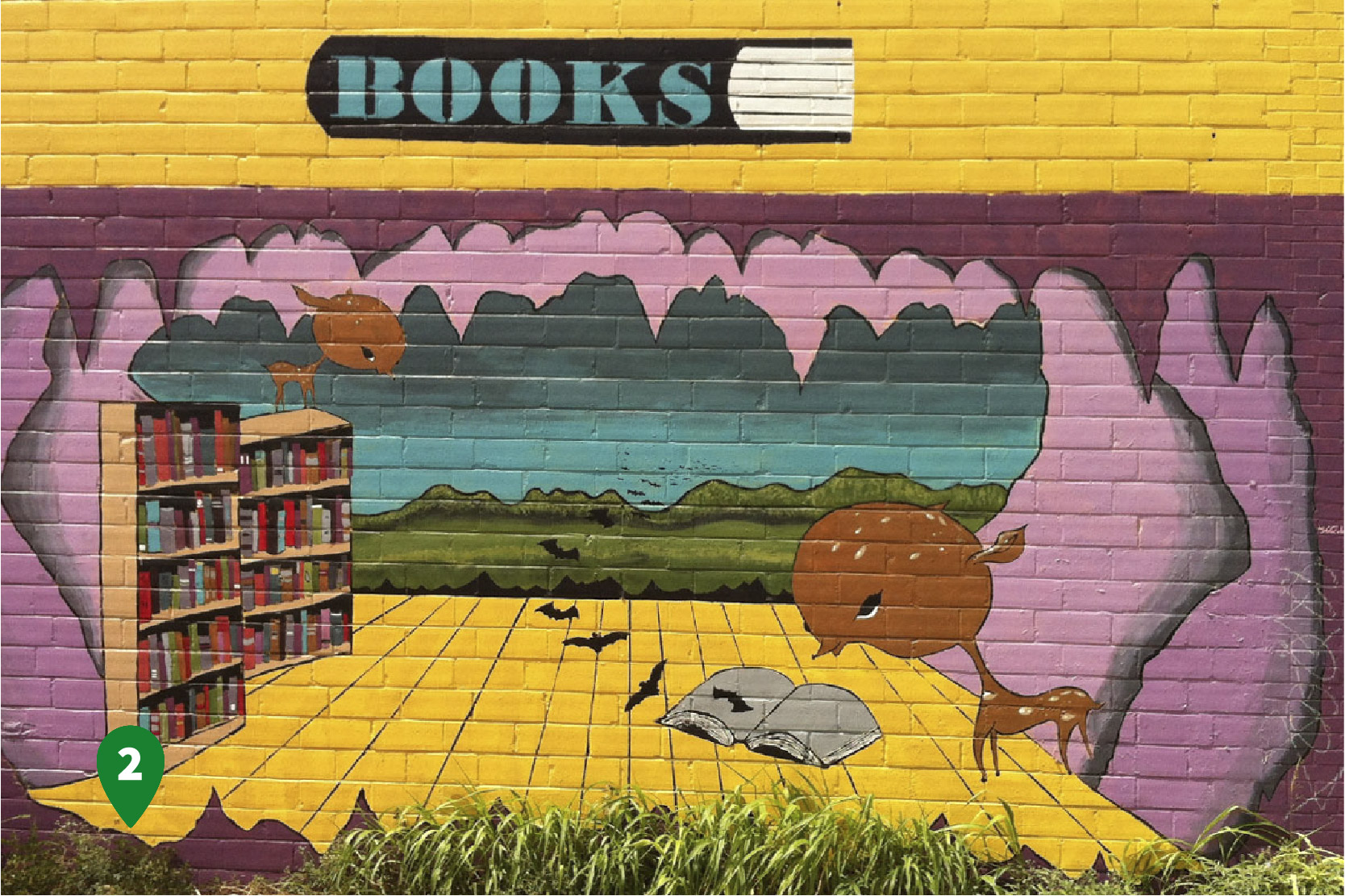 Whether you're looking for chic vintage threads or a well-worn copy of your favorite classic novel, South Congress's shopping scene has you covered.
Throwback fashionistas will enjoy the small but well-appointed Feathers Boutique, carrying styles from the 1960s-1990s that still manage to feel completely on-trend today. For a more expansive selection of eclectic duds, check out Lucy In Disguise With Diamonds, a costume emporium with plenty of funky old-school looks. Regularly counted among Austin's best indie bookshops, South Congress Books carries used volumes ranging from recent hits to rare antique tomes.
Snap Up a Pair of Authentic Cowboy Boots at Allens Boots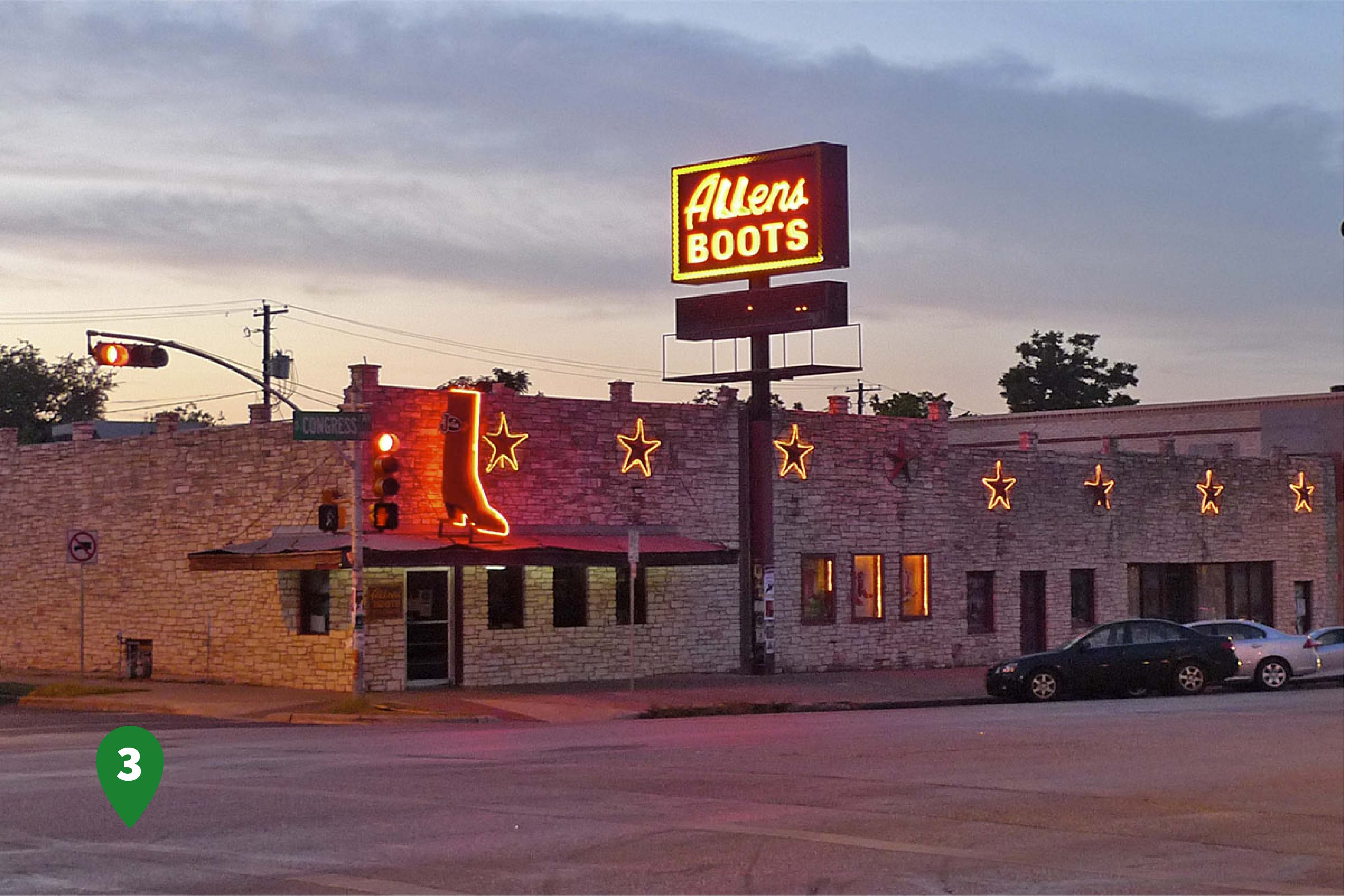 Austin may be a mega-hip urban epicenter these days, but it's still very much the capital of Texas, so it has to include plenty of places to stock up on Texan essentials like cowboy boots and hats. Holding court on South Congress Avenue since the 1970s, Allens Boots carries over 4,000 pairs of Western boots, along with matching hats, belts, vests, and other ranch-wear necessities.
Perk Up Your Instagram Feed With Some of Austin's Most Famous Street Art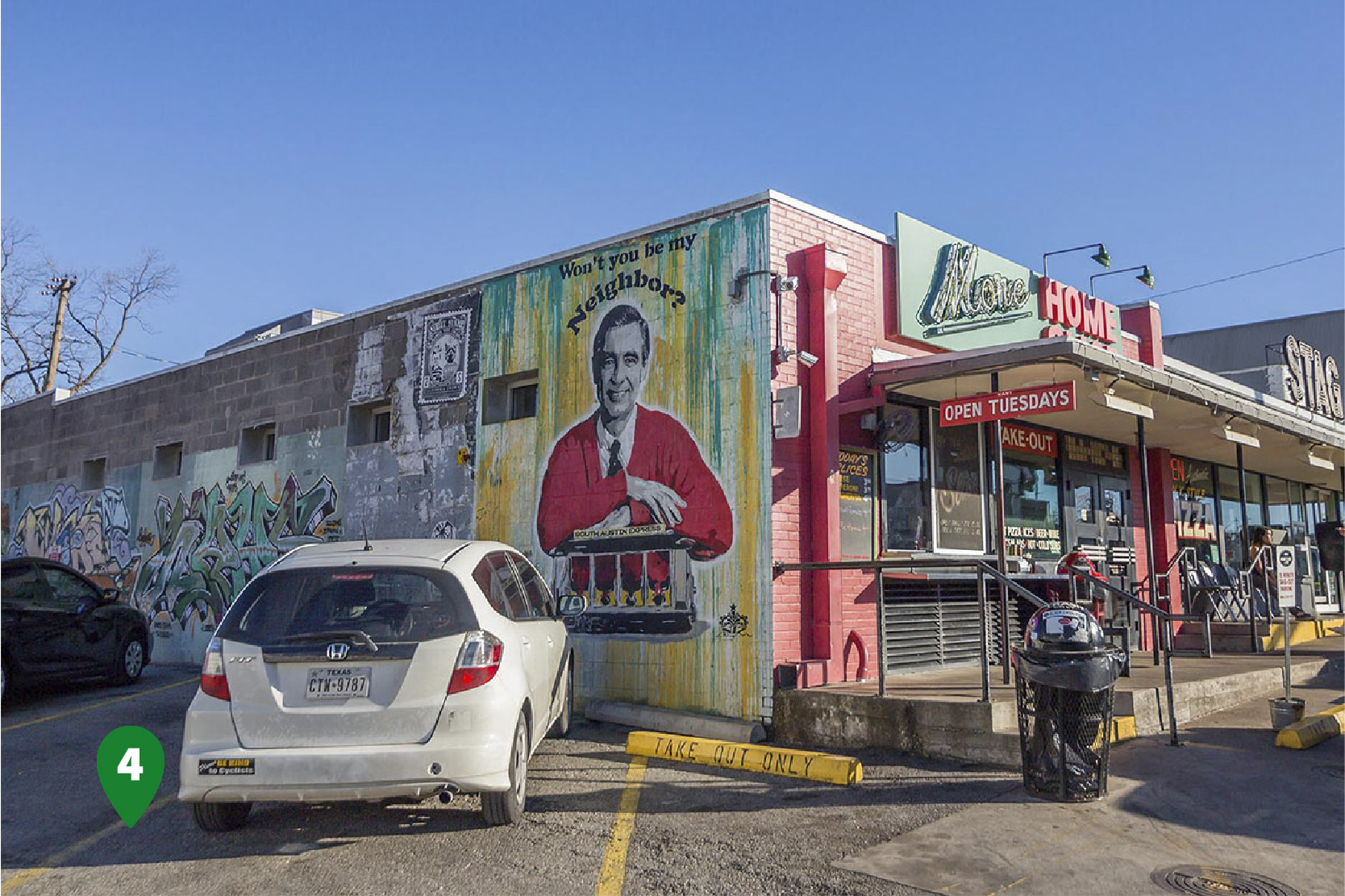 Austin as a whole is a prime locale for scoping out excellent street art, and many of the city's most famous examples can be found in South Congress. From the "I love you so much" mural just outside Jo's Coffee to the "Willie For President" near Stag Provisions, you'll find scenic, social-media-worthy murals and graffiti scattered up and down the neighborhood's eponymous thoroughfare.
Keep the Art Appreciation Going With a Visit to Yard Dog.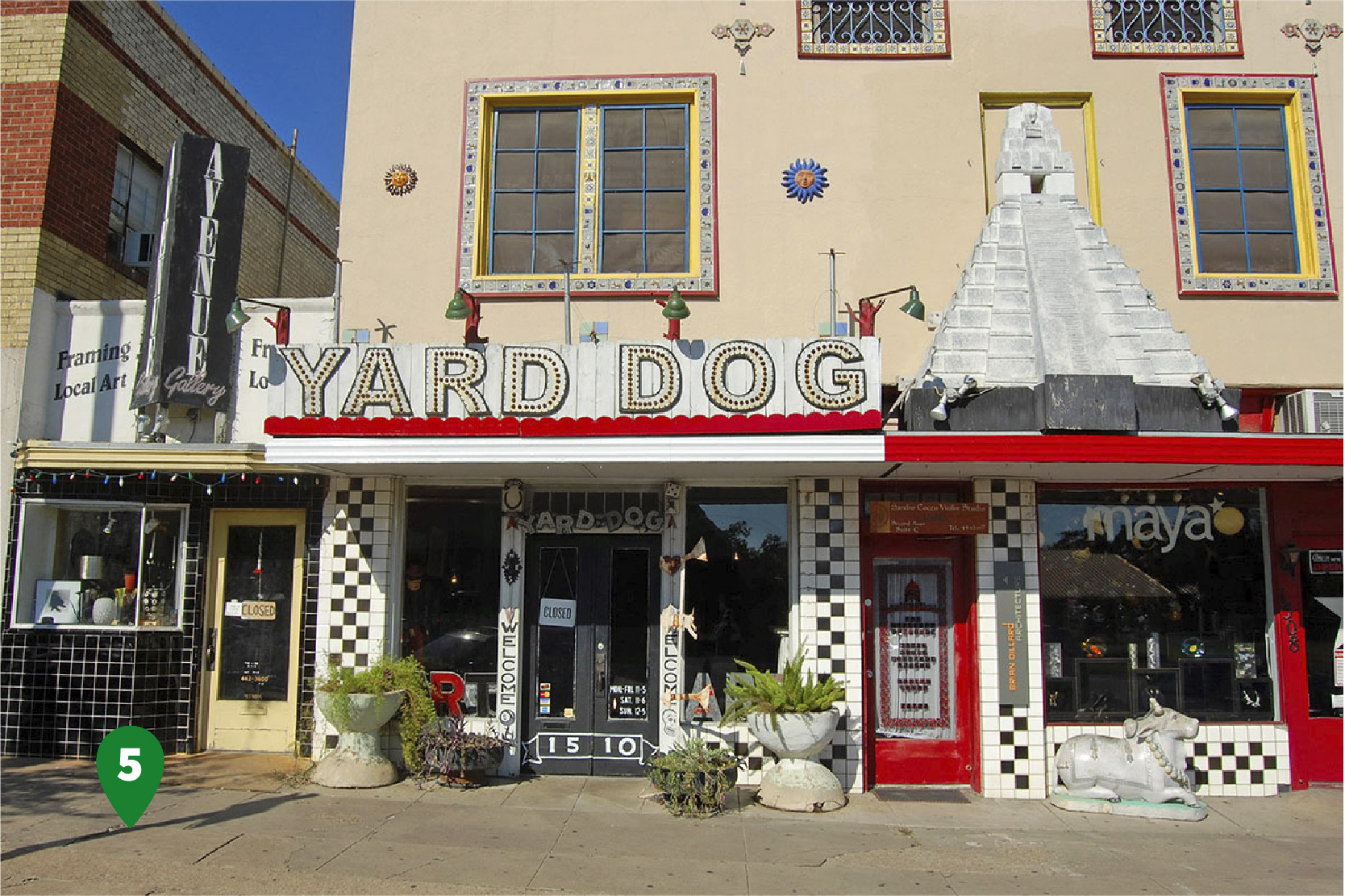 South Congress's artistic vibes show up on walls and on the sides of buildings, but they also find a home inside more traditional—but still quirky—gallery spaces like Yard Dog. This cozy gallery specializes in contemporary American folk art, with many native Austin artists represented in its collections.
Explore the Neighborhood on Two Wheels by Renting a Bike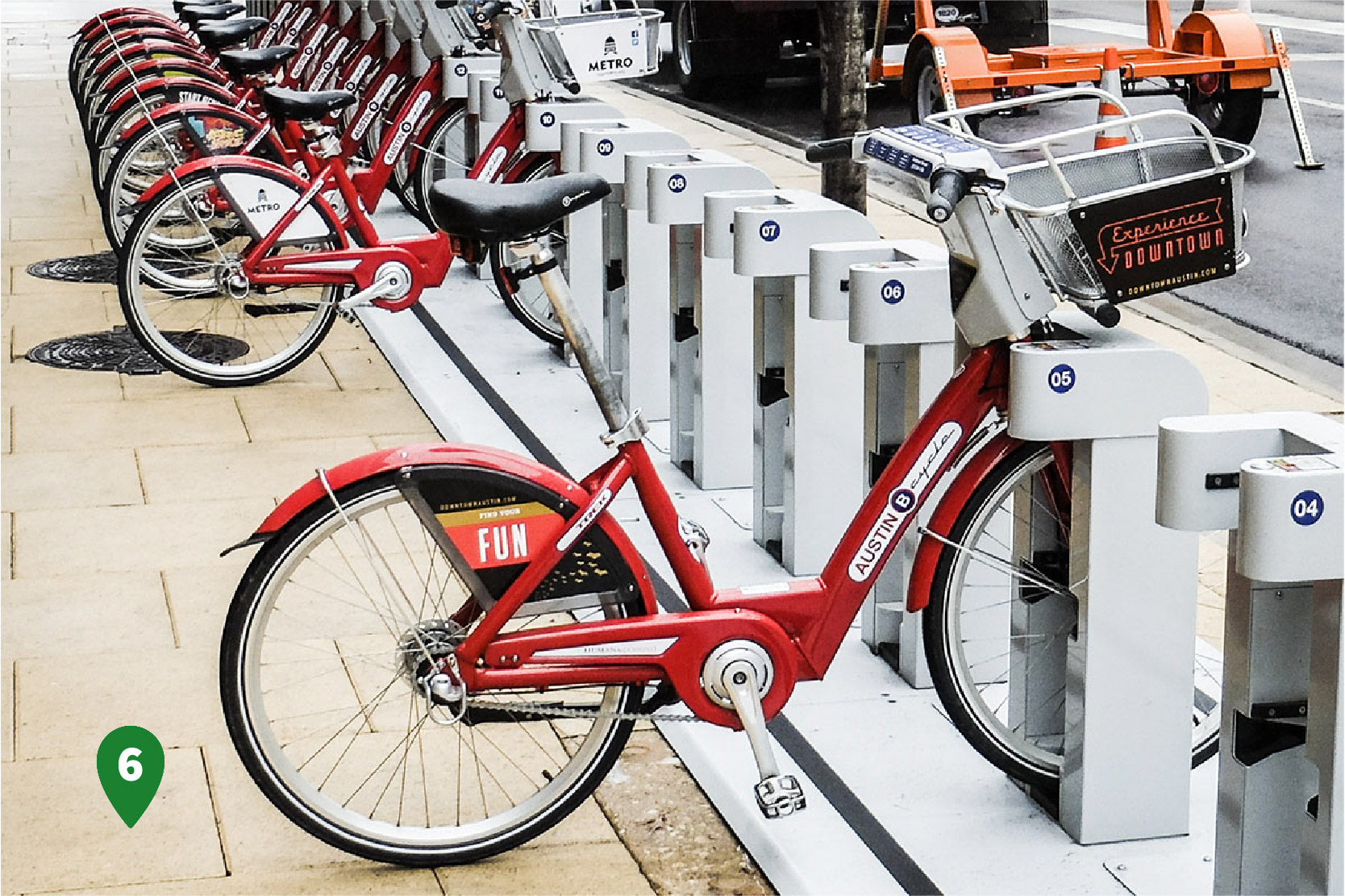 Because most of South Congress's top neighborhood attractions are located on and around South Congress Avenue, the area is one of Austin's easiest to explore by bike. The Austin BCycle public bike-sharing program has three stations on South Congress Avenue, providing an easy and affordable way to get some wheels. A wide avenue connecting directly to Downtown Austin, South Congress Avenue is an ideal route for cyclists hoping to get around these Austin hotspots.
Get a Pool Pass for a Day of Outdoor Cocktails and Lounging at Austin Motel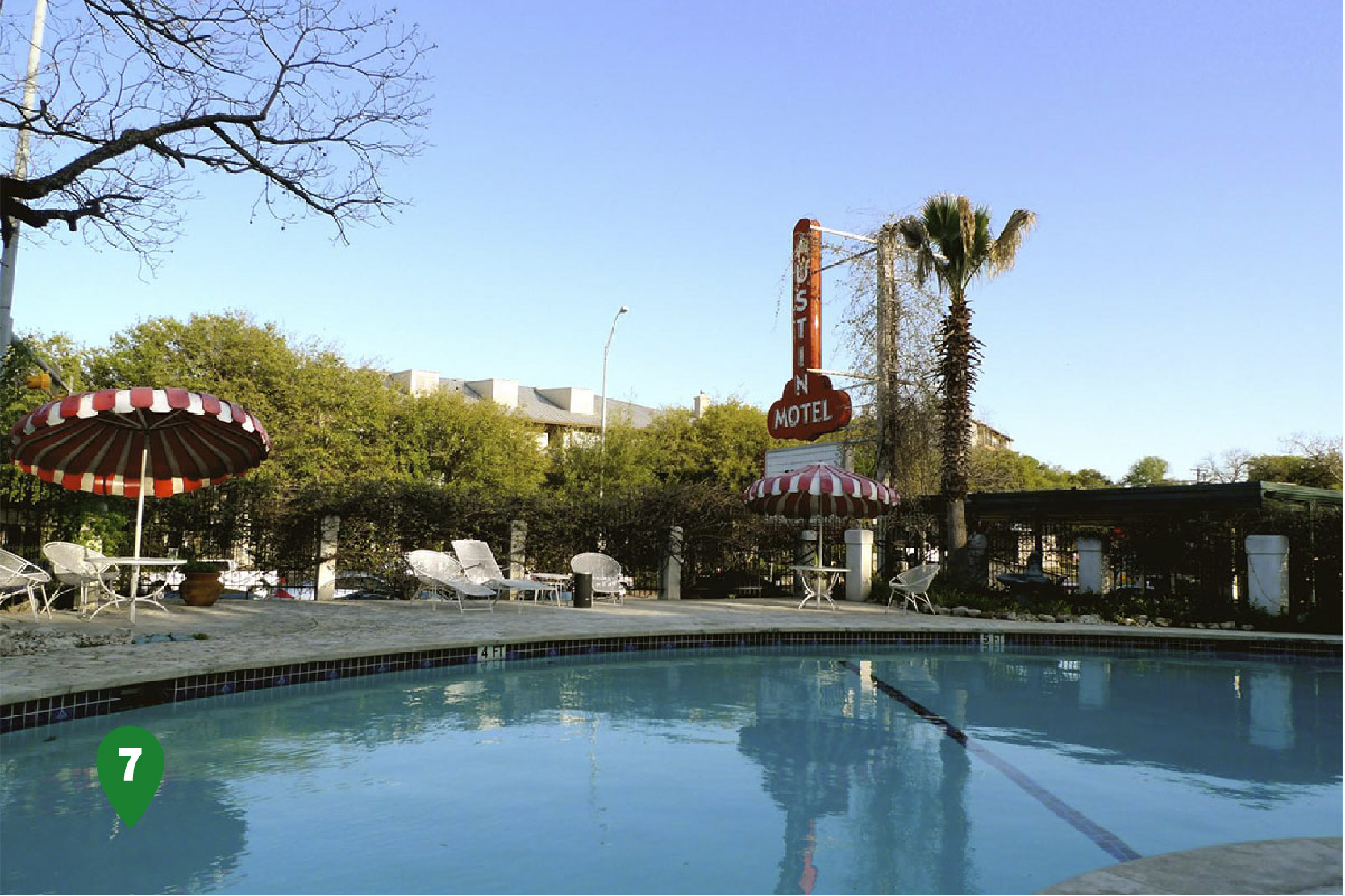 Austin benefits from balmy weather nine months of the year, which is why ATX hotels make a point of setting up attractive pool areas. The most enterprising of these operations also offer day passes to non-guests, including South Congress's iconic Austin Motel. For just $20, visitors can secure day passes to the pool, giving them the opportunity to swim, lounge at the shaded tables and in comfy lawn chairs, and purchase drinks at the outdoor bar.
During the Spring, Summer, or Early Fall, Visit the 'Bat Bridge'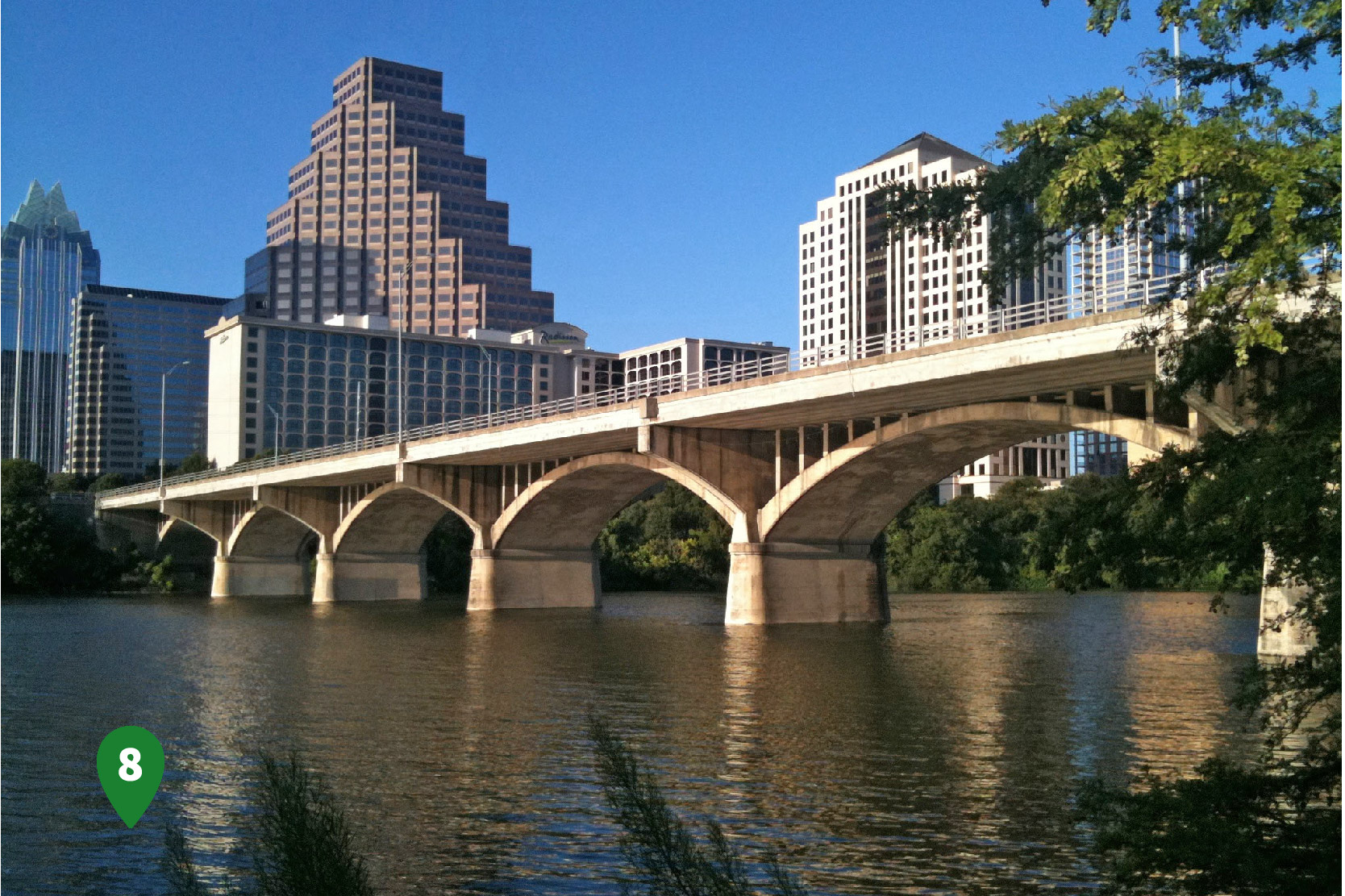 One of Austin's most well-known seasonal attractions, the Congress Avenue Bridge (which connects the South Congress neighborhood with Downtown Austin) also bears the title of "the Bat Bridge," thanks to the colonies of more than 1 million Mexican bats who form habitats beneath the bridge. From early spring to fall, the bats float out into the sky over the river on a nightly basis.
Catch a Show at the Continental Club
Since 1955, The Continental Club in South Congress has welcomed rock up-and-comers and legends alike to its stage, making an indelible impression on the Live Music Capital of the World. The venue hosts concerts on a nightly basis, so whenever you choose to stop by, you'll be treated to a raucous, tuneful good time.
Sing Your Heart Out at Ego's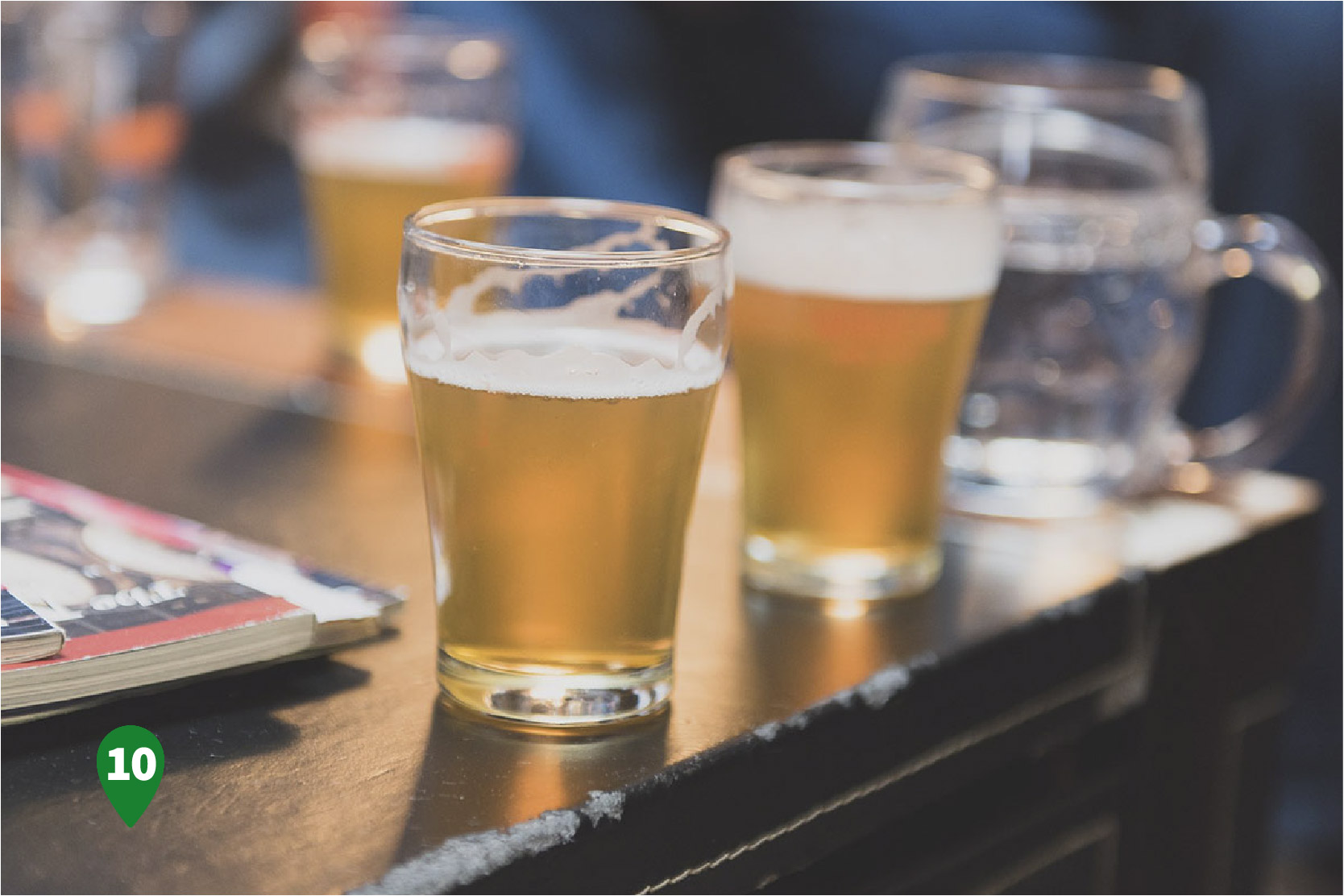 If a show at The Continental Club inspires you to take the stage yourself, you'll have the opportunity at Ego's Bar on South Congress Avenue, Austin's premier subterranean karaoke bar. This divey hole in the wall is massively popular among Austinites of all levels of musical talent, and the reasonably-priced libations help keep the crowd loose, enthusiastic, and more than ready to sing along at top volume.