Houston Local Life
The 10 Best Things to Do in Spring, Texas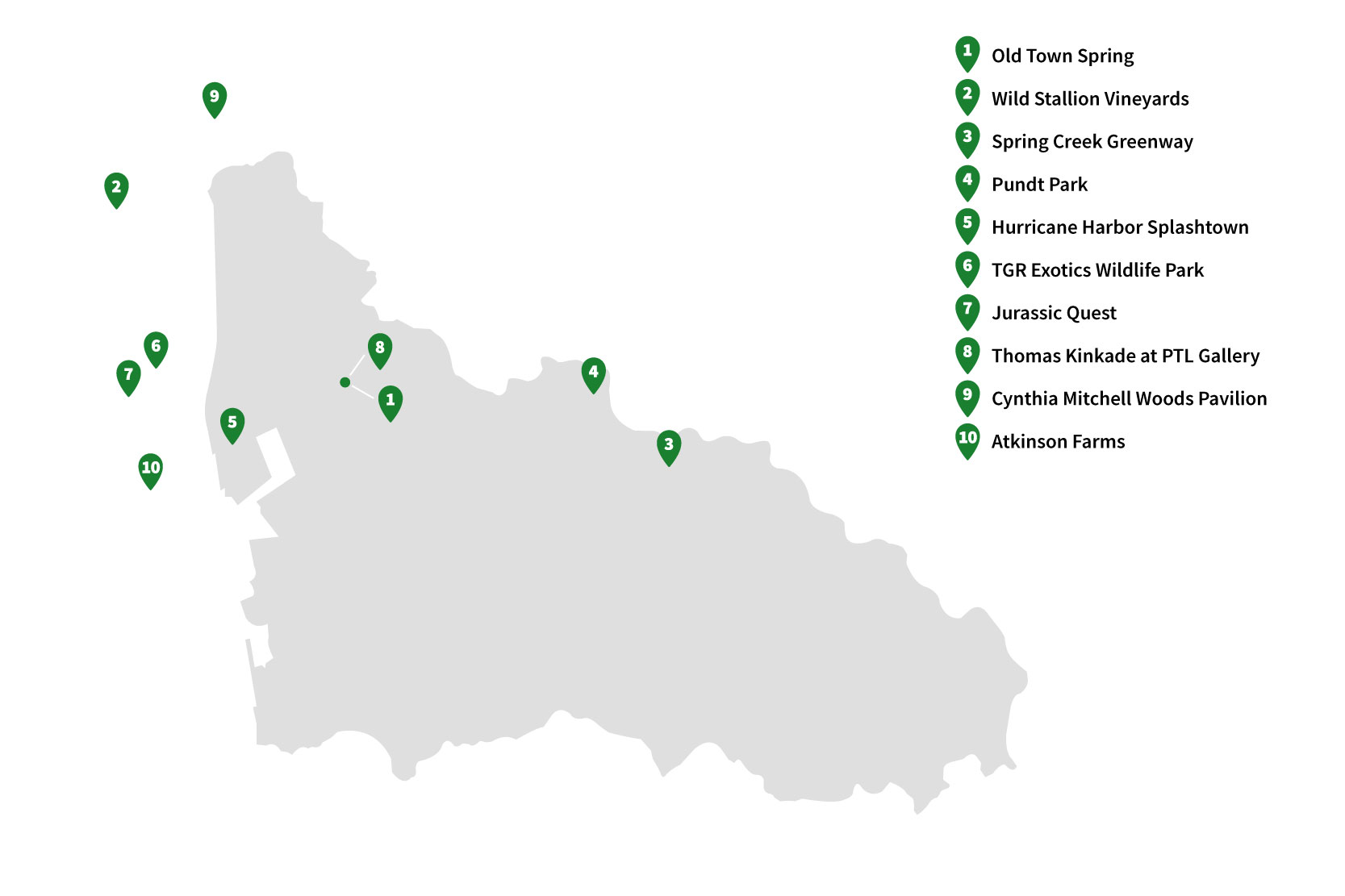 Spring is a beautiful, wooded suburb located northwest of Houston. Technically a census-designated place, this suburb is diverse, friendly, and affordable. Residents love being surrounded by lush greenery, giving the town a park-like feel.
Like most people who live in suburbs that feel like small towns, sometimes you may be looking for things to do. But you don't have to get on the congested beltways to drive the 25 miles into Houston to find family-friendly recreation, entertainment, or culture. Here's a list of the top things to do in Spring that prove you don't have to leave the suburb to have fun.
Spend Some Time at Old Town Spring
Old Town Spring is a collection of shops, galleries, and restaurants. It pays homage to the history of the town of Spring, which began in the mid-1800s as a railroad town and later became a farming community. Today, Old Town Springs offers over 120 shopping and dining opportunities, as well as community activities and festivals.
You'll love the vintage look of the buildings—which, perhaps not surprisingly—are said to be haunted. If you have an interest in the supernatural (or even if you're a skeptic) you might enjoy a ghost tour, like the Old Town Spring Ghost Walk. Also located in Old Town Spring is the Spring Historical Museum, a free museum established by the Spring Historical and Genealogical Society to commemorate the oldest African-American community in north Harris County.
Attend a Wine Tasting
You don't need to go to northern California to enjoy local wine when you can taste how we do it in Texas. The region is home to a handful of wineries that make for a fun way to spend the afternoon. Consider going to a wine tasting and tour at the Gadela Winery (which also does karaoke)or Wild Stallion Vineyards.
Take to the Trails at Spring Creek Greenway
Nature lovers will enjoy the Spring Creek Greenway, the largest urban forested greenway in the country. With trails for biking or jogging, lush forested areas, and a large creek suited for kayaking, this well-maintained greenway offers over 13 miles of fun in nature. The Piney Woods is one of the most beautiful features of the greater Houston metro area and this is your chance to get out there and enjoy it.
Visit Pundt Park
Connected to the Spring Creek Greenway is Pundt Park, which has well-used walking trails and a large dog park. Go fishing surrounded by gorgeous views of nature.
Cool Off at Hurricane Harbor Splashtown
If you like your adventures to be a little more exciting (or you just want to cool off from Houston's relentless heat), Hurricane Harbor Splashtown is a water park where the whole family will have a blast. With more than two dozen water slides and splash parks on 53 acres, this is a place where you'll definitely want to visit more than once.
Get Up Close and Personal With Some Wildlife
Spring is generally considered a pretty animal-friendly town, both for personal pets and for wildlife. If you want a chance to see some wildlife up close, the TGR Exotics Wildlife Park is a great place to do it. This large wildlife park is more personal than a zoo and its appeal isn't limited just to kids. Tours let you see the wide variety of animals, from otters to hyenas. You can even pay for extra up-close exhibits, like the widely recommended encounter with sloths.
… and Some Dinosaurs
Families with dinosaur-obsessed kids will love spending a day at Jurassic Quest. This large museum has more than 80 realistic-looking dinosaurs, ranging in size from baby to giant. The baby dinosaurs are interactive and some of the larger ones even walk. Kids aren't always excited about museums, but this will definitely be one they'll love.
Get to Know Some Thomas Kinkade Works
Fans of the charming style of painter Thomas Kinkade's landscapes will love the gallery at the Thomas Kinkade at PTL Gallery. It's the only place in the Houston area with a large selection of Thomas Kinkade paintings to view or to purchase. It's a must-stop for any fan of the painter's artwork.
See a Show at Cynthia Mitchell Woods Pavilion
Spring is located just across the freeway from The Woodlands, a more residential and upscale suburb. The Cynthia Mitchell Woods Pavilion is a great venue for seeing live performances, from concerts to more family-friendly events. People come from all over the Houston area to see shows at this stellar pavilion, and it's practically right in your backyard when you live in Spring.
Stock Up on Produce at Atkinson Farms
Atkinson Farms is more than just a farmers market. Open from March through October, this working farm is open to the public. Whether you want to stock up on fresh produce or pick your own strawberries, this is a great place to get the freshest of the fresh fruits and vegetables