The 4 Best Austin Neighborhoods For Freelancers
The 4 Best Austin Neighborhoods For Freelancers
With its creative vibes, deeply instilled love of artisanal coffee, and mild year-round temperatures, Austin proves an ideal city for remote contract workers with the liberty to set their own schedules and select their own workspaces—also known as "freelancers."
Because the freelance population in the Lone Star Capital is significant, the city of Austin and ATX business owners consider it in their best interest to provide spaces with free WiFi and abundant caffeinated beverages to fuel these independent professionals.
Certain neighborhoods take those demands especially seriously, including these five areas that boast everything that a "digital nomad" could need for comfortable and productive workdays.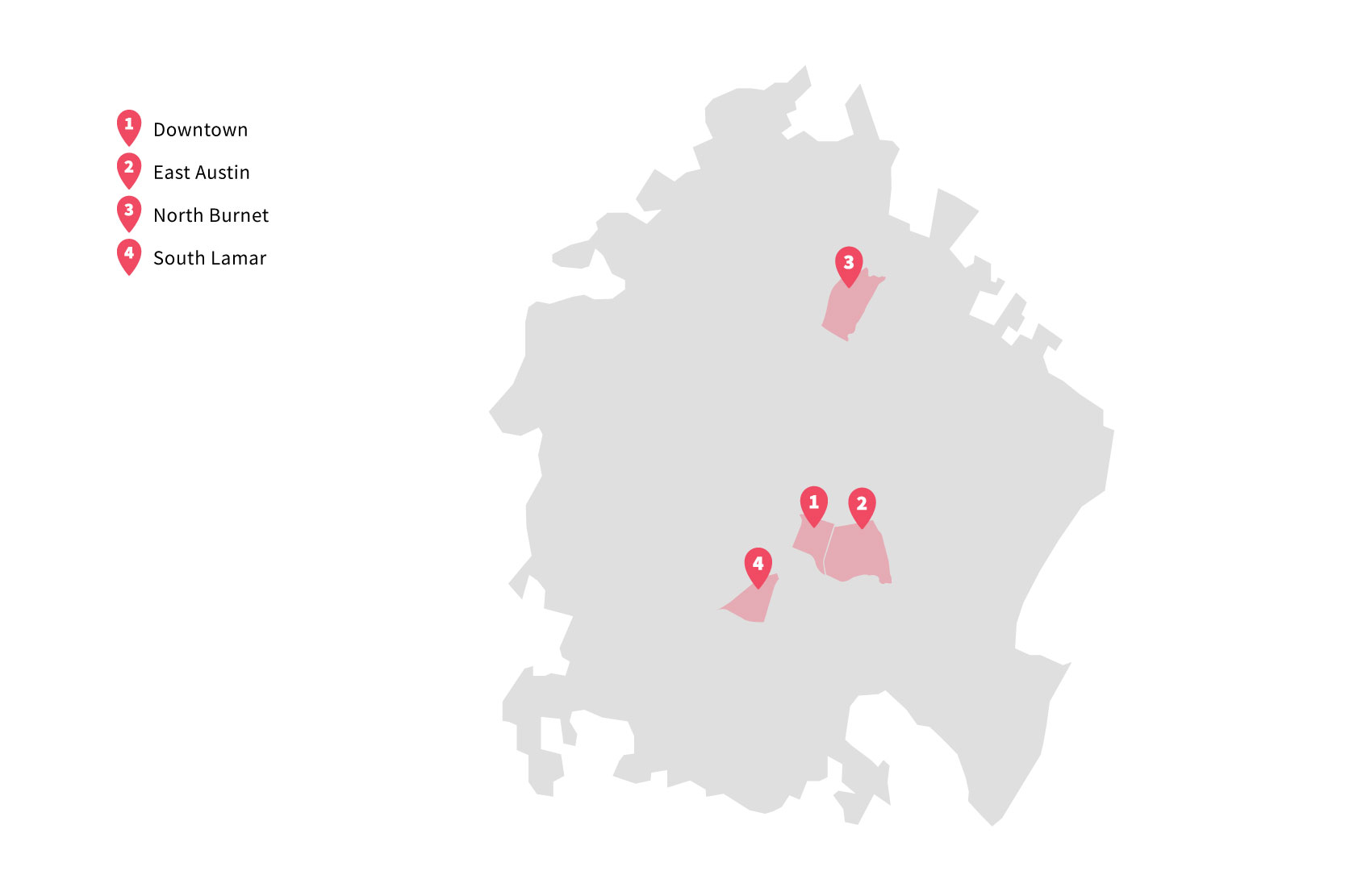 Many freelancers choose to invest in memberships at coworking spaces where they'll have access to speedy WiFi, printing services, private areas for phone conferences, and, in many cases, unlimited coffee. In Austin, the highest density of coworking spaces, by a large margin, can be found in the city's most classically urban neighborhood: Downtown Austin.
Spots to check out:
Industrious offers a convenient location just blocks from Republic Square, a choice of desks in a shared communal space or private offices for small businesses, unlimited free printing, an indoor parking garage, and a cafe serving local coffee, pastries, and beer.
Workers in the tech industry will find a welcoming community at Capital Factory, a coworking space near Congress Avenue focused on startups. Capital Factory includes membership options ranging from a "Hot Desk" in the common space to private offices, a VR lab, a kitchen offering unlimited draft beer and cold brew coffee, and a mentorship program pairing startups with established tech entrepreneurs and investors.
If you prioritize the opportunity to meet other freelancers and develop networking groups and connections, then The Riveter may be your best Downtown coworking bet. This space hosts regular events for mixing and mingling, welcomes guest speakers, and also offers traditional coworking amenities like desk space, high-speed WiFi, and printing capabilities.
Libraries make excellent workspace options for freelancers on a budget, as they don't require paid memberships or the regular purchase of coffee. Luckily for Austinites, the recently renovated Austin Central Library in Downtown features scenic modern architecture, clear window views of the surrounding area, a rooftop coworking space, and a VR lab for tech-industry visitors.
Downtown freelancers who prefer to work from a coffee shop can find plenty of possibilities throughout this neighborhood. A charming, windowed space just steps away from Republic Square, Halcyon includes both indoor and outdoor tables perfect for posting up with a laptop.
The coffee bar also serves freshly brewed coffee from local artisanal roasters, full breakfast, lunch, and dinner menus, and an array of cocktails, wines, and beers, many of which are available at discounted prices during Halcyon's afternoon happy hour.
A cozy and serene spot with wide windows and plentiful benches and chairs, Merit Coffee serves up its own specially roasted coffee, and freelancers working from this space can also enjoy locally made pastries.
A neighborhood defined by its commitment to creativity and free-spirited living, East Austin is a natural fit for the city's freelance population. Like Downtown ATX, East Austin hosts several coworking spaces where freelancers can purchase memberships.
Spots to check out:
With an industrial-chic vibe, an East Cesar Chavez Street address close to multiple bus stops, a chalkboard-painted "graffiti wall," flexible pricing plans, private meeting rooms, outdoor seating, free coffee, tea and snacks, and weekly happy hour events, Atmosphere is a popular spot for individual remote workers.
Createscape on Tillery Street appeals to clients with unconventional work schedules, thanks to its 24/7 access for members. It also features a vibrant decor scheme with quirky touches like a nested loft, an open space with natural light and communal desks, a full kitchen with free coffee and tea, outdoor picnic tables, and a dog-friendly policy.
A long-standing East Austin coworking space with a holistic approach and a focus on wellness, Soma Vida provides members with workspace, WiFi, snacks and coffee, and events like yoga classes and meditation workshops.
East Austin contains dozens of coffee shops, and many also feature ample space for freelancers to settle in with a cup of joe and their computers. Cenote is famous for its quaint, farmhouse-inspired environs, its complimentary WiFi, and its hearty menu with favorite items like a fully loaded breakfast burrito.
At Wright Bros. Brew & Brew, you'll find an open, industrial-warehouse space, tons of room to spread out with your work materials, and both excellent coffee and a diverse selection of local craft beers. The substantial outdoor patio at Figure 8 Coffee Purveyors makes it an East Austin institution, as does the potent coffee and breakfast tacos available for purchase.
The northern Austin neighborhood of North Burnet, a fast-growing area already well known for its burgeoning restaurant scene and rising popularity in the real estate market, offers up a few coworking spaces for freelancers, including a WeWork outpost and some independently-operating alternatives.
Spots to check out:
Poppy, a coworking venue specifically designed for working parents. Poppy members are encouraged to bring their children along, and the space contains an on-site daycare with educational programming.
Greenway Central, a fully equipped coworking space with a convenient North Austin location, attracts freelancers with its fiber internet, unlimited printing, cold brew on-tap, and regular mixers and networking events.
For freelancers who like to work in coffee shops, North Burnet's coffee landscape includes ideal laptop venues like Summermoon Coffee Bar, Houndstooth Coffee, and Machine Head Coffee.
Austinites living below Lady Bird Lake enjoy a wealth of options for coffee shops and coworking spots. In the ever-evolving enclave of South Lamar, however, residents have direct access to one of Austin's all-time favorite all-day hangouts for remote workers and the creative class: Radio Coffee & Beer.
This cafe and bar stays open from the early morning well into the night, and no matter when you arrive, you're likely to see a plethora of laptop-wielding freelancers perched at indoor tables or at one of the seats on Radio's expansive outdoor patio. Radio provides free WiFi access, and the indoor bar brews locally roasted coffees and pours pints of Texan beers while also offering wines and cocktails.
With an attractive design scheme, private study rooms, and an airy back patio, the Twin Oaks branch of the Austin Public Library largely appeals to freelancers in South Austin who like to keep their costs down without sacrificing internet speed, a convenient location, and a peaceful environment conducive to productivity.