Phoenix Real Estate
The 4 Phoenix Suburbs With New Homes Under $200K
Phoenix is the second fastest-growing city in the United States, according to Census data. With this growth, Phoenix has transformed from a quiet resort town into a full-fledged city with a vibrant downtown area and sprawling suburbs.
But the rapid population growth due to the city's booming economy has also driven housing costs up in areas like Scottsdale, Mesa, and Chandler.
While the median sale price for new construction homes in the Phoenix area hovers around the low $300s, home prices tend to be lower in several cities southeast of Phoenix. In these areas, homebuyers can still find affordable new homes for under $200,000 about an hour's drive away from Phoenix.
Here are four Phoenix Suburbs where homebuyers can find new construction homes under $200k.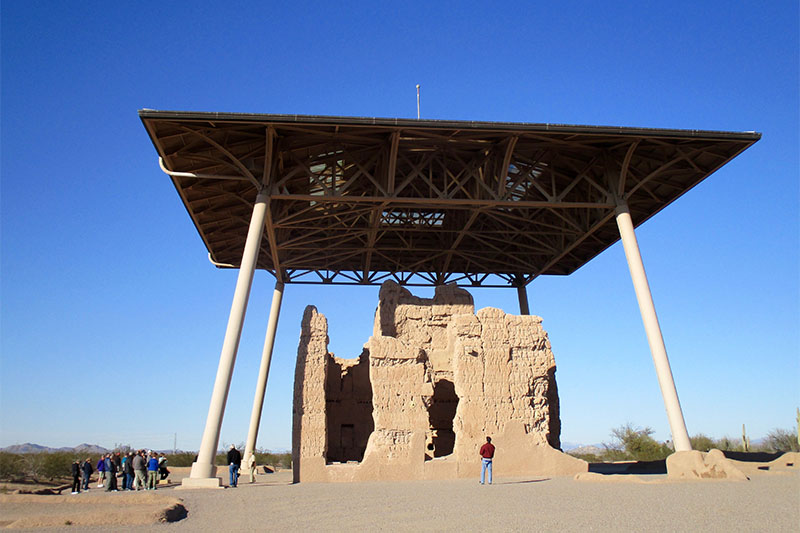 Coolidge is about 55 miles southeast of Phoenix, and it's home to the ancient Casa Grande Ruins National Monument. Centuries ago, natives lived in this area of the Sonoran Desert for about 1,000 years before abandoning it for unknown reasons and then vanishing. Today, the city is known as a hub of Arizona's cotton industry and celebrates Coolidge Cotton Days every year with a parade, food, cotton displays, and entertainment.
In addition to the city's rich history, Coolidge is one of the Phoenix area suburbs that's attracting homebuyers looking for affordable homes. The city has a number of homes below the median sale price in established communities such as North Coolidge. But for buyers looking for new construction homes, McClellan Meadows is the place to look. Developer Brown Homes plans to build just 27 homes in this neighborhood and offers homebuyers five designs to choose from with prices starting in the mid $100s. All homes will be single-story and offer up to 1,900 square feet of living space with at least two bedrooms, two bathrooms, and attached two-car garages.
Heartland Ranch is another neighborhood in Coolidge featuring moderately sized homes built in the early 2000s and priced starting in the mid $100s. These homes feature three to five bedrooms, two to three bathrooms, and include spacious backyards or private patios.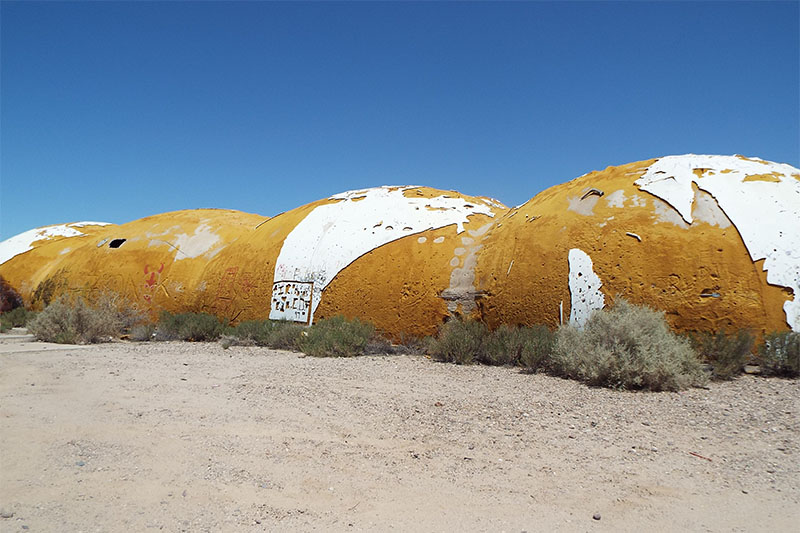 Ideally situated between Phoenix and Tucson, Casa Grande was actually named after the Casa Grande Ruins National Monument in Coolidge. This suburb in Pinal County also offers homebuyers one-of-a-kind attractions like the Pinal County Fairgrounds and The Domes of Casa Grande as well as affordable new construction homes.
Homes in Casa Grande are slightly more expensive than in Coolidge, with some neighborhoods having a median sale price above $300,000. But developer Wade Jurney Homes is building new homes in Tamaron that are priced starting in the high $100s. These new two-story homes feature modern and spacious designs with three to four bedrooms and two to two-and-a-half bathrooms. The community is also close to Interstate 10, making it easy for residents to travel to the Phoenix area for work or play.
Another new community being built by Wade Jurney Homes in Casa Grande is Monterra Village, which is also close to Interstate 10. In Monterra Village, homebuyers can choose from a variety of one and two-story floor plans that offer three to four bedrooms and two to two-and-a-half bathrooms. These homes are priced from the high $100s to the low $200s.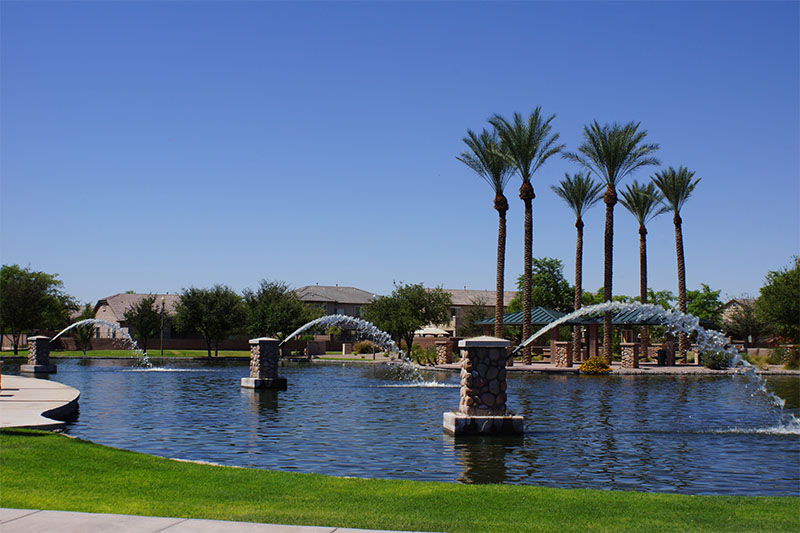 Located in the Gila River Valley directly south of Phoenix, Maricopa is the second most populous city in Pinal County. With its open spaces, multiple cultural venues, and quick access to Phoenix, Maricopa offers a great alternative to the busy Phoenix metro area. Here, you can find a variety of nearby attractions like the Dwarf Car Museum, a lively bar and restaurant scene in its downtown area, and Harrah's AK-Chin Hotel and Casino.
Thanks to its close proximity to Phoenix and the multi-purpose Copper Sky Recreation Complex, which offers numerous ways for residents to stay active, Maricopa is an ideal suburb that offers affordable housing near a busy metropolitan area.
Maricopa is also home to affordable new construction homes located in Juniper at Desert Passage, a neighborhood currently being built by KB Home. Homebuyers can find new construction two-story homes starting in the high $100s which feature spacious layouts, energy efficient construction, and modern finishes. Juniper at Desert Passage also provides residents with amenities like a swimming pool, a park, a baseball field, walking trails, and barbecue areas. The community is also located near I-10, Loop 202, and John Wayne Parkway, making it easy for commuters to get to Chandler, Mesa, and Phoenix.
Sorrento is another neighborhood in Maricopa where developer D.R. Horton is offering several floor plans that range from 1,200 to 2,400 square feet. These new single-family homes are priced starting in the high $100s and offer open layouts, gourmet kitchens, energy efficient designs, and smart home system features.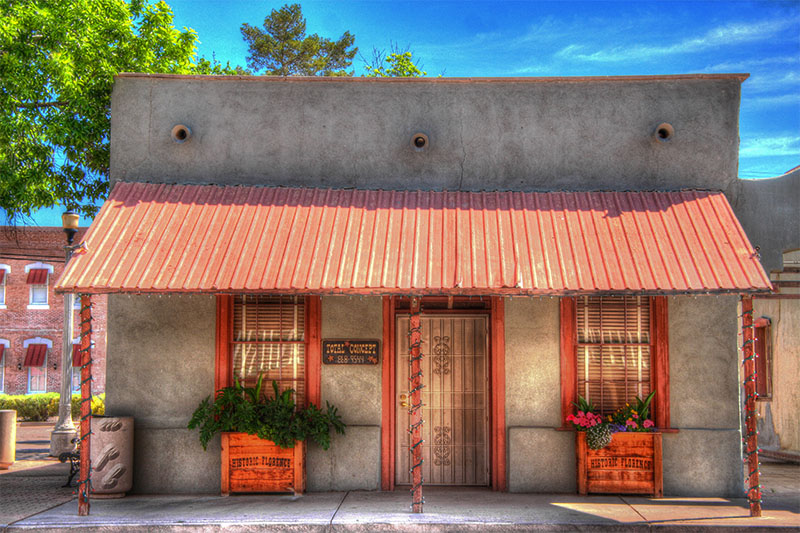 Located about 62 miles southeast of Phoenix, Florence is a western town with several historic landmarks—such as the Silver King Hotel and the Old Courthouse—and many other historic buildings, providing plenty of opportunities to learn about the city's rich culture and history.
But just because Florence is filled with historic buildings and old world charm, it doesn't mean buyers can't find new construction homes within this charming atmosphere. Florence has a number of neighborhoods where homes are priced well below $200,000, such as Oasis at Magic Ranch and Magma Ranch.
D.R. Horton's Magma Ranch offers new and reasonably priced one- and two-story single-family homes starting in the mid $100s with up to 2,242 square feet of living space. These new homes feature spacious great rooms, large master suites, covered patios, and gourmet kitchens. Magma Ranch also offers residents amenities like a pool and splash pad as well as access to Magma Ranch Elementary and Florence High School.