The Art of the Sonoran Hot Dog and the Best Places to Find Them
The Art of the Sonoran Hot Dog and the Best Places to Find Them
If you ask a random selection of people what a Sonoran hot dog is, those who haven't experienced the dining culture of the Southwest may not have a clue. Originating from Hermosillo, the capital of Sonora in Mexico, where the common hot dog was just a novelty from the states, street sellers sold them to locals and tourists. Over time, through culinary creativity and flavorful invention, the hot dog morphed into what Mexico knows today as Estilo Sonora hot dog, and what we call simply the Sonoran hot dog.
What is a Sonoran hot dog?
Over the last 30 years or so, there have been different versions, but ultimately the Sonoran hot dog with "everything on it" includes some variation of the following: a beef hot dog wrapped in bacon inside a lightly sweetened and toasted, oversized bun. But it's the cacophony of condiments spilling over the bun that awaken the taste buds. Think pinto beans with grilled onions, tomatoes, cotija cheese, salsa verde, cream sauce, jalapeño salsa, mayonnaise, mustard, and topped off with a grilled yellow chile. This is the Southwest's ultimate contribution to cross-cultural flavors, and it's done to perfection.
Making its way to the U.S. over the last quarter of a century, many restaurants in Tucson began offering the gourmet hot dog, which then made its way up Interstate 10 to Phoenix. It's estimated that there are over 200 joints where the Sonoran hot dog can be purchased in the Old Pueblo, including street-cart vendors called "dogueros." Though you really can't go wrong experiencing one from a street vendor or a brick-and-mortar restaurant, we've come up with a list of the best places to taste one in Arizona.
This is the Southwest's ultimate contribution to cross-cultural flavors, and it's done to perfection.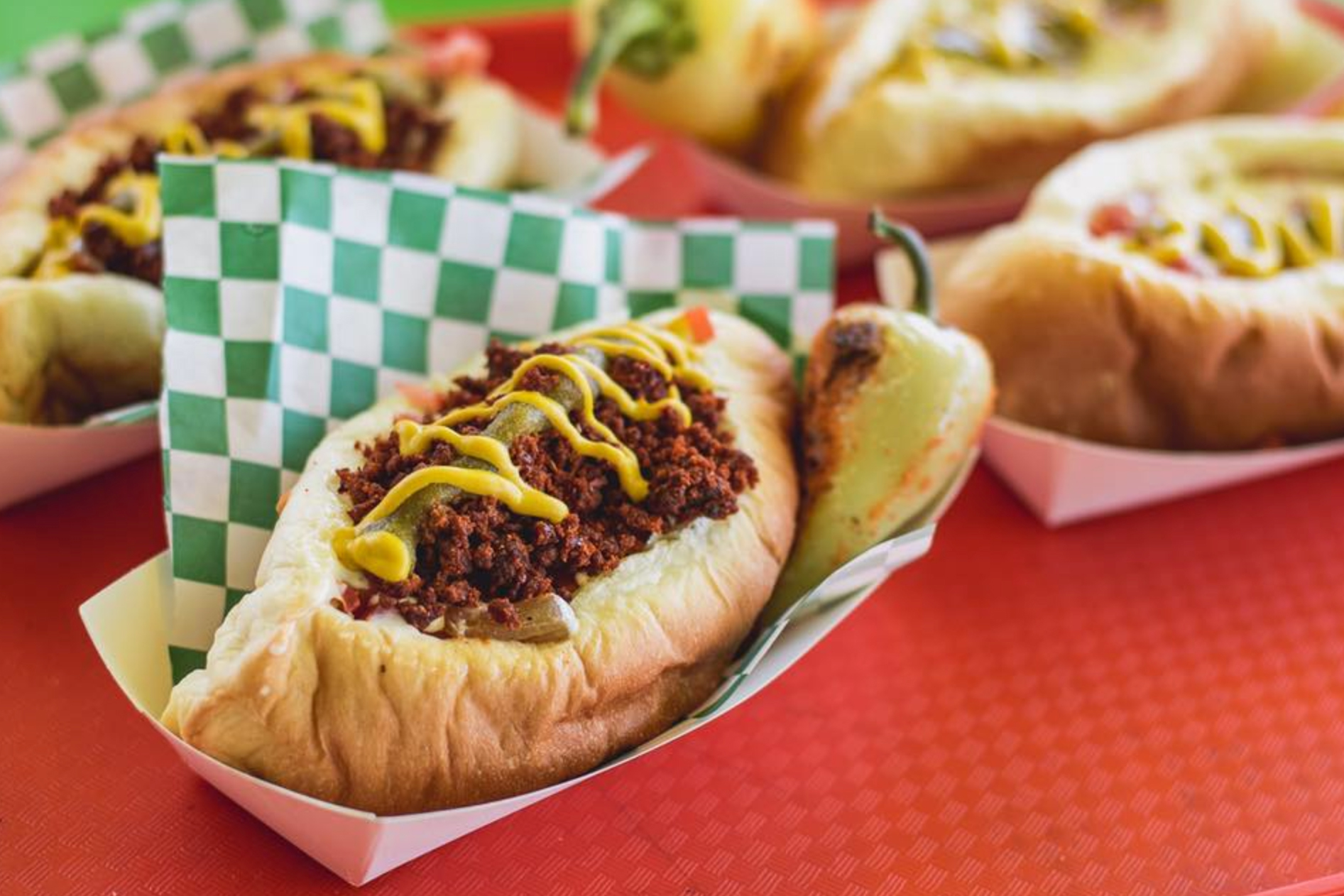 La Carreta Del Rorro
For several years, beloved local staple and member of the "dogueros" circuit, La Carreta Del Rorro has amazed regulars and tourists alike. The family-owned business offers a small seating area at the intersection of Camino De La Tierra and Orange Grove Road, near the Orange Grove Valley and Wildwood Park neighborhoods. The Sonoran hot dog is their top-selling plate but a close second goes to their El Sonorense carne asada taco. Both portions are enormous and the prices are more than reasonable.
El Guero Canelo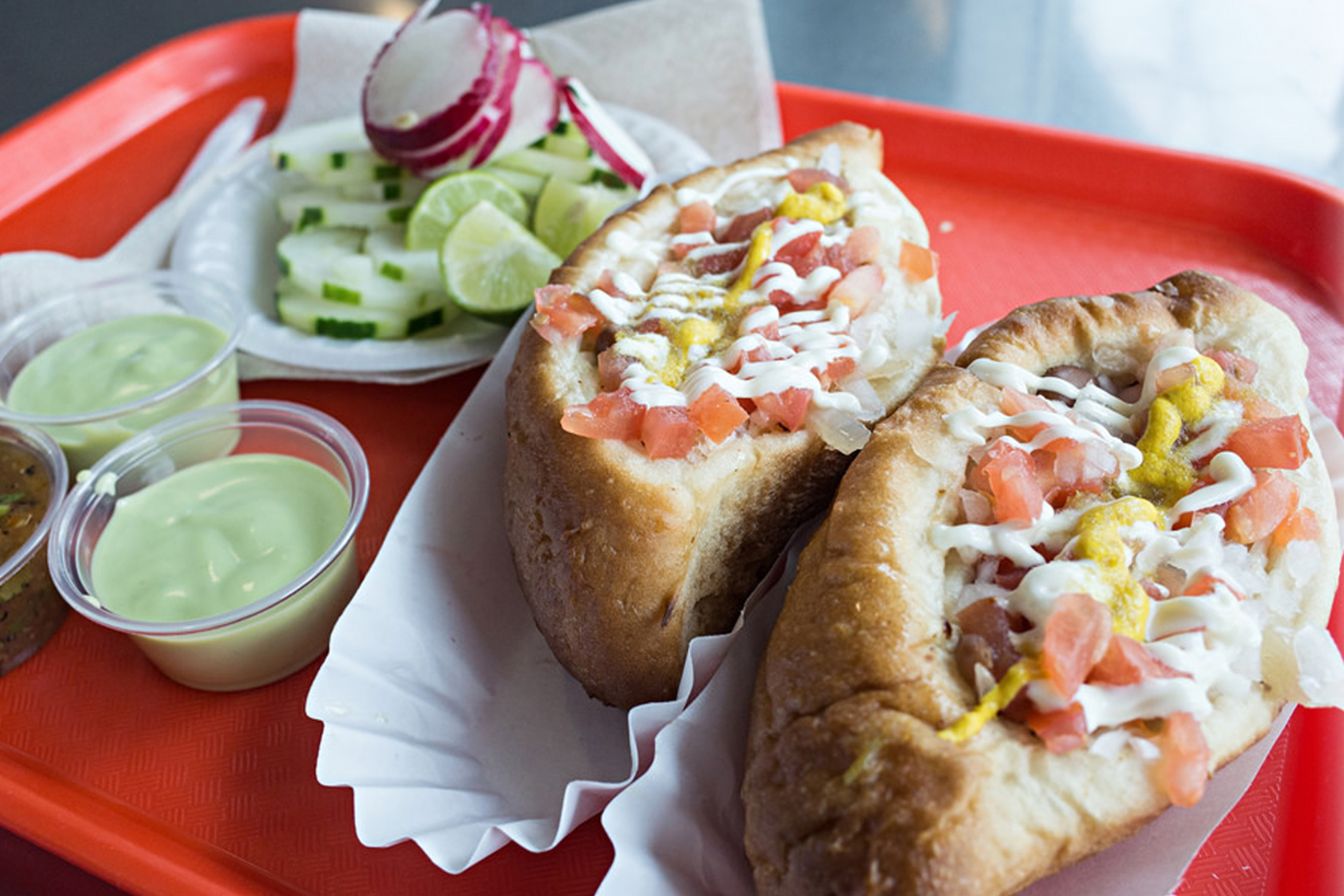 Owned by a Magdalena Sonora native, Daniel Contreras opened his first hot dog stand in Tucson in 1993. Since then, his love of food has expanded into multiple restaurants and Sonoran dog hotspot, El Guero Canelo. With locations in South and East Tucson, the North Tucson location by the Bronx Park neighborhood is always lively. Their prices can't be beat. Wednesday's special is always two Sonoran dogs and any drink for $8.
Calle Tepa Mexican Street Grill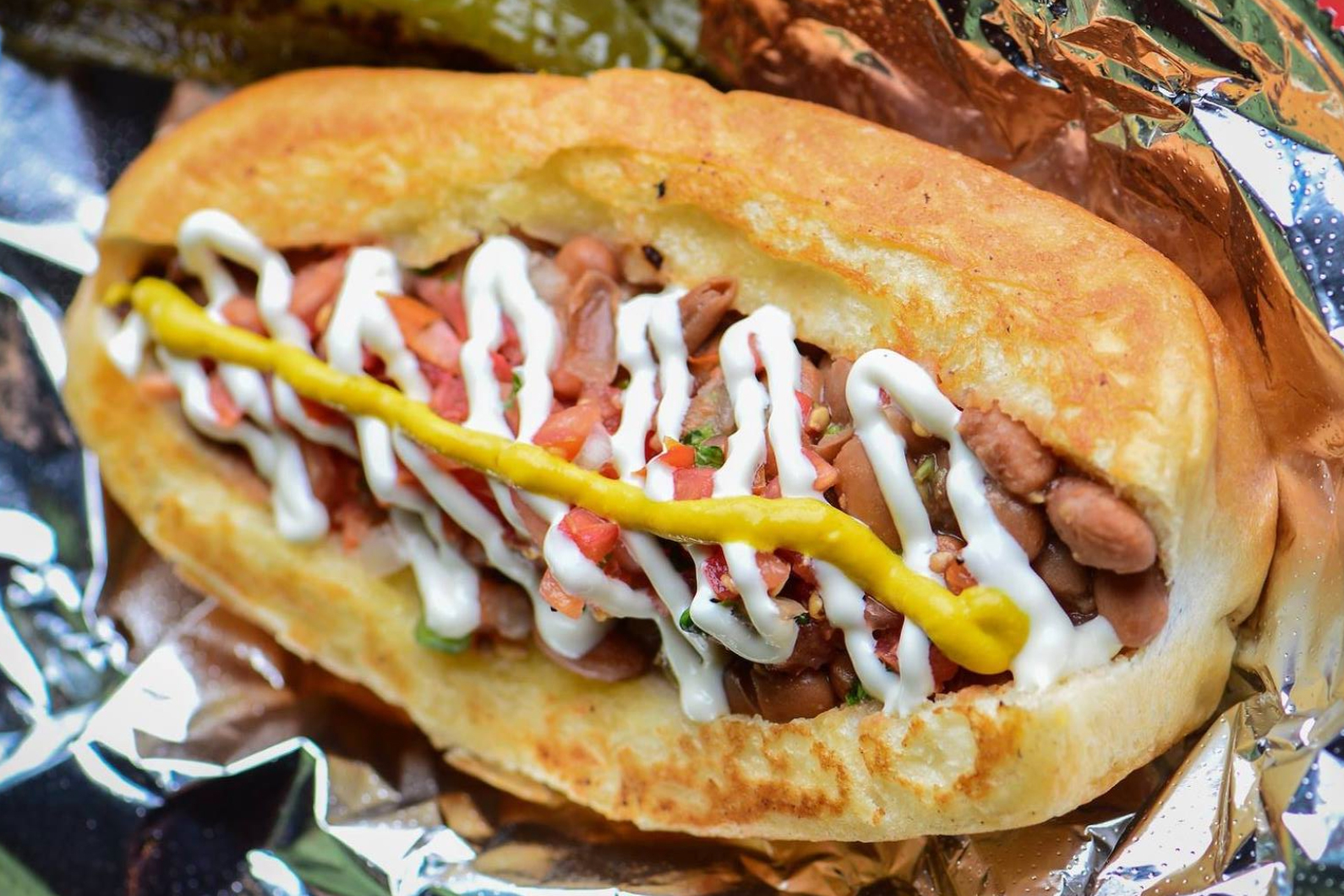 In East Tucson near Mesa Village sits Calle Tepa Mexican Street Grill. With a laid-back setting, this casual family-run outpost offers a friendly bar and roomy patio. The flavors provide a gourmet spin on Mexican classics and the Sonoran dog is no different. At just under $5, the Sonoran dog plate comes with their famous pico de gallo. Other fan favorites include being able to watch spit-roasting on-site and the kitchen staff making their specialty tortillas.
Taqueria Aqui Con El Nene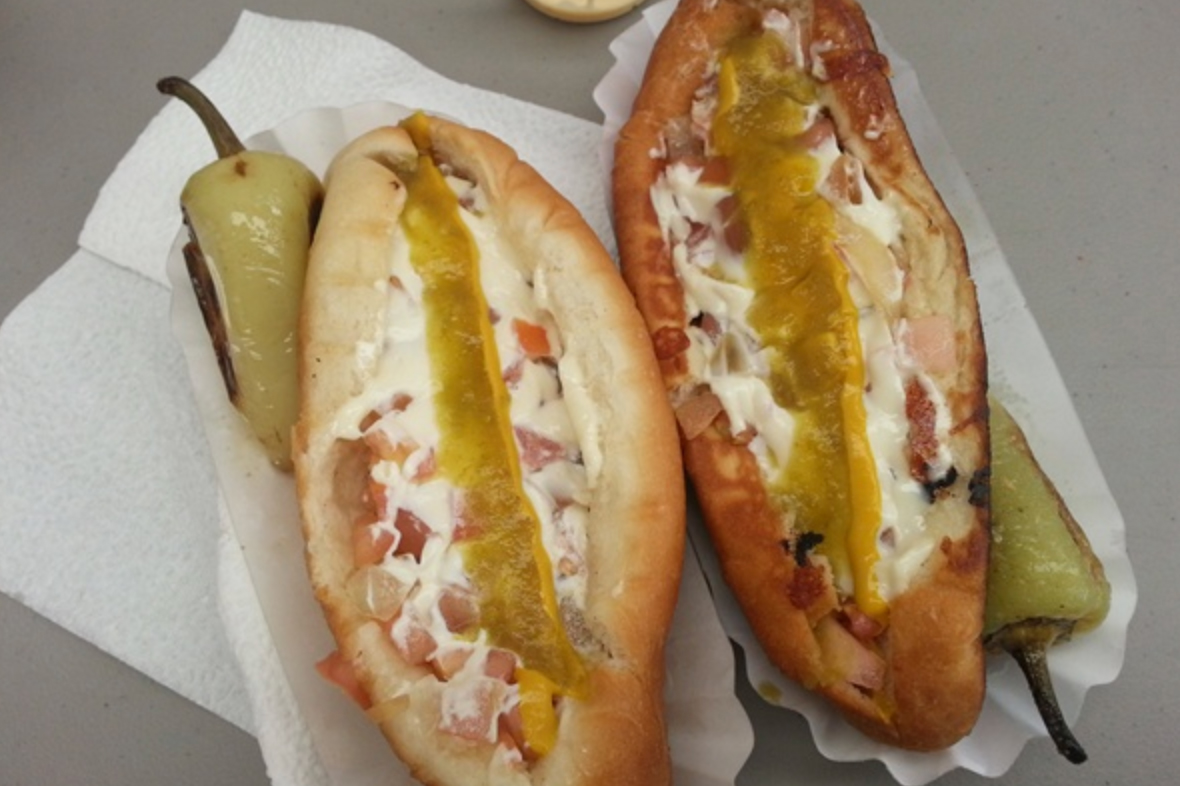 By the Vista Del Lago and La Mira neighborhoods, you'll find our final Tucson recommendation, Taqueria Aqui Con El Nene. So popular was their food truck that they decided to branch out into actual restaurants, located at 65 W. Valencia Road and 570 W. Grant. But hardcore Sonoran dog lovers still swear by the original truck at 4415 N. Flowing Wells Road. Open until 3 a.m. on the weekends, we should also mention this stand came in second place out of 64 nominees in Rachel Ray's quest for America's best hot dog.
Nogales Hot Dogs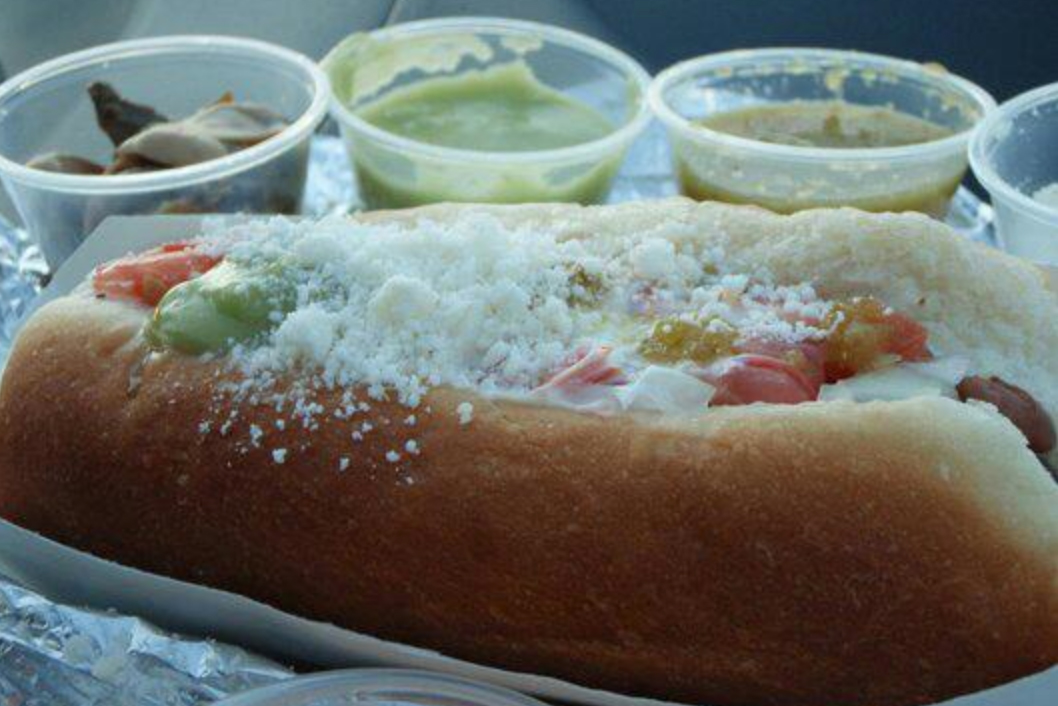 Heading north to Phoenix is Nogales Hot Dogs, located at 20th Street and Indian School Road in Camelback East Village. It's a mainstay for locals in the area as it hasn't moved locations for over a decade. This taqueria is one of the original locations in the Valley of the Sun offering Sonoran dogs and helped pave the way for numerous restaurants offering them.
El Caprichoso Hot Dogs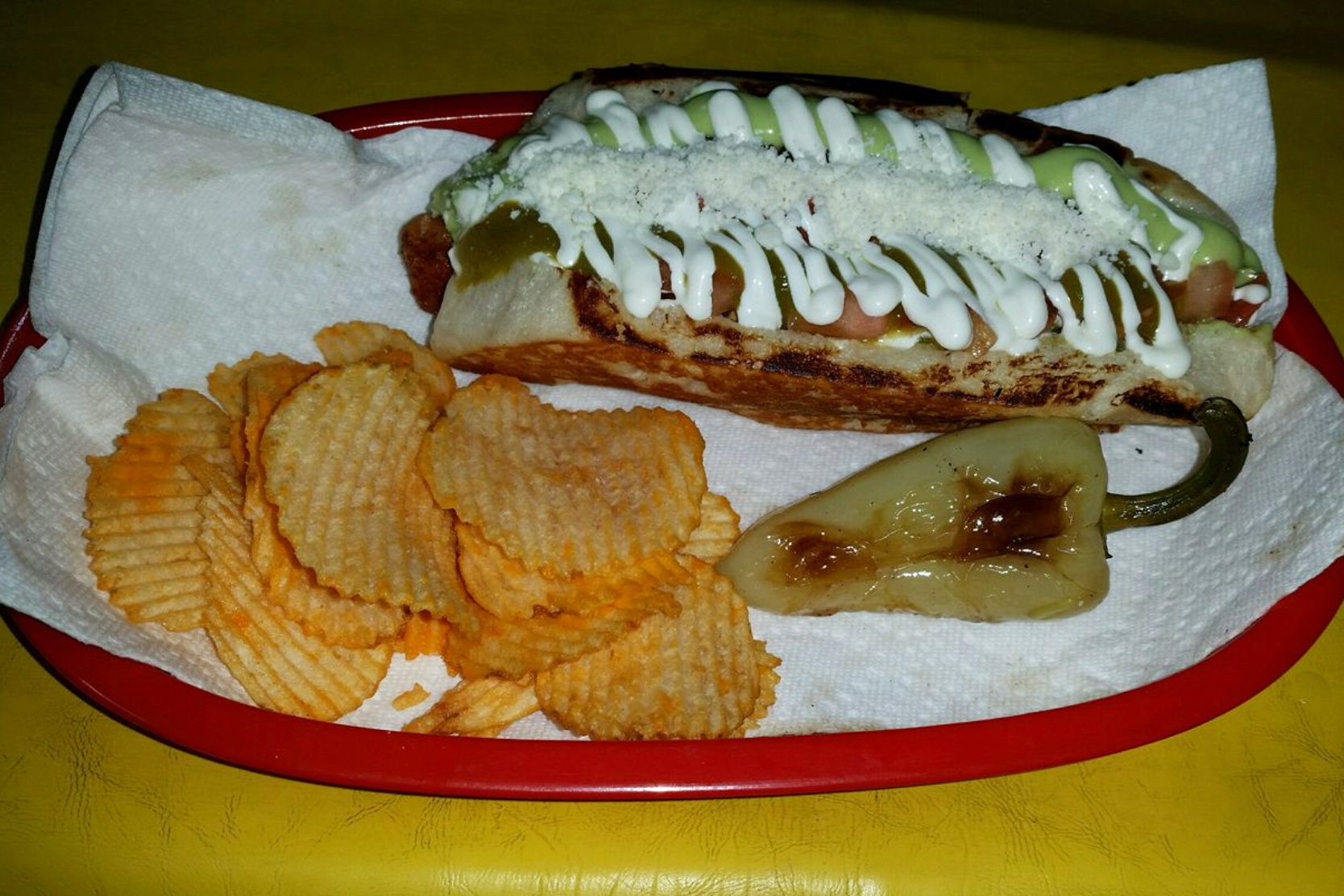 Our final spot is in the North Mountain Village on North 19th Avenue, called El Caprichoso Hot Dogs. Living proof of why one should never underestimate the quality of a food truck, this place is always packed. The service is quick and the price can't be beat. Several locations around town make for a convenient stop for dinner on your way home, or you can just sit curbside and enjoy the sights and sounds of the city. It's easily one of the best places to grab a bite for under $5 in town.