National Local Life
The Best Atlanta Neighborhoods for Coffee Shops
There's nothing like a good coffee shop. The best ones all have something uniquely special about them. That could be their positive and pleasant vibes, super cool interior design, especially friendly or quirky service, or an unusually good or unusual drink selection. They make an impression whether you're just going in and out or staying a while.
Atlanta, with its affinity for elevated food and beverage options and repurposed spaces, has excellent coffee shops, all of which have their own distinct draw. Check out the Atlanta neighborhoods with the best coffee shops.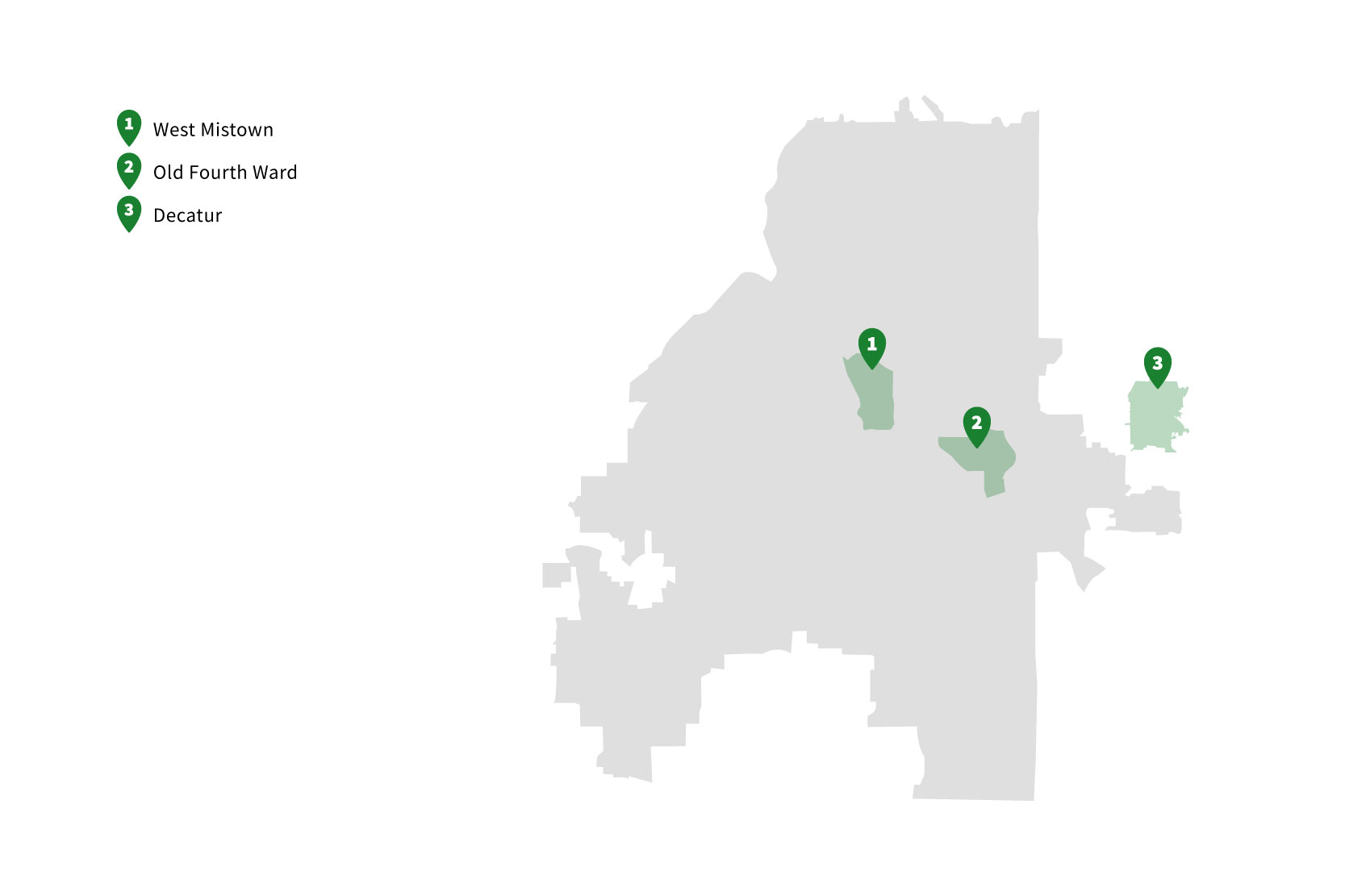 Over the years, West Midtown (also known as Westside) has transformed from an industrial area full of warehouses to the hip and trendy destination where local small business thrives. It still maintains its industrial style as many restaurants and shops have renovated old spaces while preserving the original structures.
Spots to check out:
Brash: Brash is located in the Westside Provisions District, a hotspot for food, drinks, shopping, and entertainment in West Midtown. Brash focuses on responsibly sourced beans from farms to produce their artisan coffee. This location, known as the "Brash Box," is their flagship shop made out of shipping containers. It's a delightful way to grab a coffee while exploring the rest of the Westside Provisions.
Octane: Octane was purchased by the boutique coffee franchise Revelator but still maintains its original name and brand identity. Octane began as a start-up, and that spirit can still be felt with the groups of collaborators and entrepreneurs who congregate there. In addition to craft coffee, they also serve cocktails for those who want to wind down instead of up.
Old Fourth Ward is where Atlanta street style and the adventurous consumer collide. Its historic roots and architecture blend with modern business and culture in a colorful, very Atlanta kind of way. O4W benefits from its proximity to the Eastside BeltLine Trail, with many of its shops, restaurants, and cafes conveniently located just off the popular pedestrian path.
Spots to check out:
Spiller Park: Spiller Park is leading Atlanta's new wave coffee scene with two locations, the original in Ponce City Market in O4W and a standalone shop in Toco Hills. The craftsmanship they put into their products is evident in innovative concoctions like the CocoStar, a star anise-infused coconut milk beverage steamed with a burnt orange syrup. They also have an entire section of their menu devoted to different variations of toasts.
Academy Coffee: Academy Coffee is a small operation with owner Connan Moody at the helm, a man with a dream and a passion for coffee. Academy has a premium location next to Jake's Ice Cream and just steps away from the bustling Eastside BeltLine Trail. They're known for making their own cold brew and rotating signature drinks like the White Lightnin': ginger beer with tiki bitters and espresso.
Condesa Coffee: Condesa is a neighborhood favorite in O4W located in the Tribute Lofts specializing in a range of craft beverages. Their menu includes Counter Culture coffee, local craft beer, coffee-based and traditional cocktails, small plates often with a sourdough toast base, and amazing local bagels from Emerald City.
Decatur has its own thing going on, so much so that it has its own city government separate from Atlanta but is still included in the Atlanta metropolitan area and just 10 minutes from Downtown. There's a great sense of pride and community among Decatur residents who enjoy excellent public schools, a downtown with some of the best dining options in Atlanta, and annual festivals.
Spots to check out:
Waller's Coffee Shop: Waller's is a special place. Much more than a coffee shop—though it does a great job at that—it also functions as a music venue, and most importantly, a mental health wellness center. Owner Jason Waller was inspired to open a community space after his own diagnosis with depression. He offers weekly workshops that include support groups and meditation exercises.
Dancing Goats: Dancing Goats is an Atlanta coffee staple under the Batdorf & Bronson Coffee Roasters umbrella. Founded in Olympia, Washington, in 1986, B&B later opened a roastery in Atlanta in 1994. Their coffee is now sold at several Dancing Goats locations in Washington and Atlanta. The Decatur location has a spacious, bright interior, expertly made coffee drinks, and outdoor seating.
Ebrik Coffee Room: Ebrik Coffee Room is the kind of classic beatnik coffee shop you've seen depicted in movies since the '90s. It's a progressive, inclusive, creative space that not only serves great coffee in a relaxed environment, but also hosts book talks and open mic nights. Ebrik has two other locations in addition to Decatur: the original in Downtown which doubles as an art gallery, and the other near Emory University.