The Best Family-Friendly Outdoor Eateries in Garden Oaks/Oak Forest
The Best Family-Friendly Outdoor Eateries in Garden Oaks/Oak Forest
Houston's Garden Oaks/Oak Forest neighborhood, collectively known to residents as "GOOF," attracts young families who aren't ready for the suburbs. The restaurant patio scene in this leafy enclave reflects that lifestyle. Many of the area's restaurateurs are raising families of their own and know firsthand how to accommodate groups of all ages. It's also why you're likely to see events from birthday parties to baby showers taking place at these spots.
Here's a guide to hanging out with your kids and having a delicious meal while getting to know your neighbors in Garden Oaks/Oak Forest.
Great Heights Brewing Company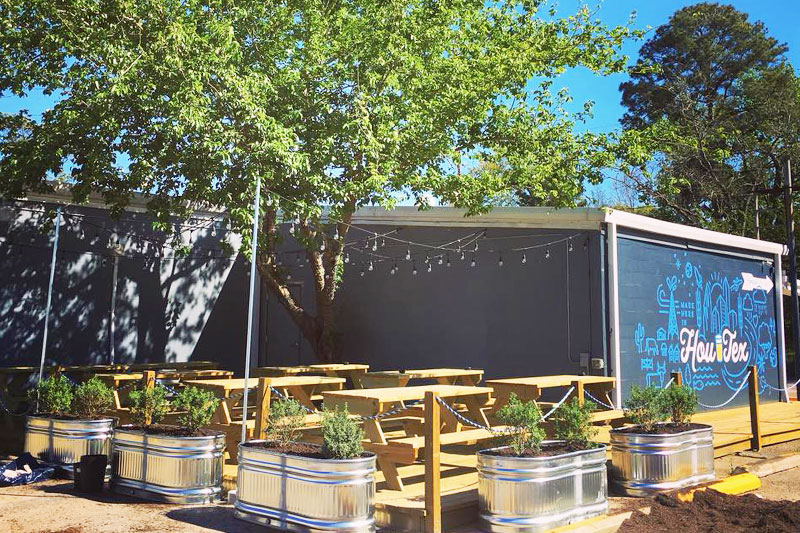 Great Heights Brewing Company is a newcomer to the Garden Oaks/Oak Forest area with a name that's a nod to its proximity to the Heights neighborhood. This craft brewery's industrial setting is tempered by a patio accented with string lights for when the sun goes down. Food trucks are a common feature but you can also pack your own picnic, whether it's a pizza or a bag full of Goldfish crackers. In the taproom, a variety of pours are available along with sodas for the kids. The Great Heights Brewing Company hosts a Friday Night Market with local vendors livening up the outdoor space from 5-9 p.m.
Cottonwood
Cottonwood is the perfect introduction to chilling out Texas-style with an ample covered patio featuring a mural depicting H-town icons like the Astrodome, St. Arnold Brewery, and a squirrel (the neighborhood's unofficial mascot). Take a seat at picnic tables and order from a menu of Americana fare like chicken fried steak bites, burgers, and tacos. Cottonwood often hosts live music, including Troubadour Tuesday where local and regional bands play on the second Tuesday of the month. There's even a playground conveniently located next door in Graham Park, if your crew needs some monkey bar action before settling in for an al fresco supper. But be mindful: Cottonwood's last call for kids is 9 p.m.
Petrol Station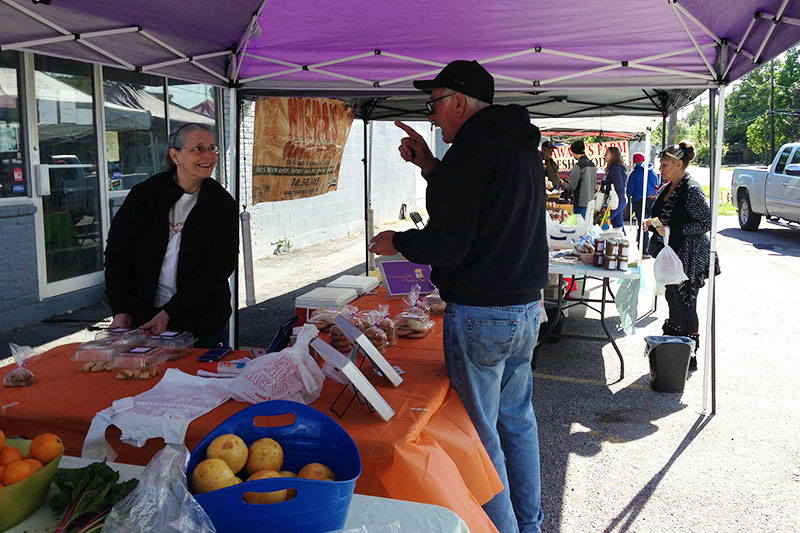 The Petrol Station, once a former filling station, is now filled with regulars (some with kids in tow) who come to kick back on the patio. Open for lunch and dinner, Petrol Station's menu of craft beers and burgers pairs well with the laid-back vibe of this pint-sized beer garden. Movie nights are a common occurrence when the backyard goes big screen with Monty Python, Moana, and Spongebob making appearances. In addition, the Petrol Station hosts a farm stand so you can shop for local produce, prepared foods, and crafts while catching up on the latest neighborhood news on Saturdays from 9 a.m.-1 p.m.
Berryhill Baja Grill and Cantina
Berryhill Baja Grill and Cantina started out as a roadside tamale stand in River Oaks before its emergence in the 1990s as a local, Tex-Mex empire with outposts in several Houston neighborhoods. Their corner location at Yale and W. 43rd Street is near the Oak Forest Elementary School and the area's public library, making Berryhill a reliable stop with kids in tow. Margaritas on demand please adult patrons and the beachy, thatched roof patio welcomes outdoor voices of all sizes.
Wakefield Crowbar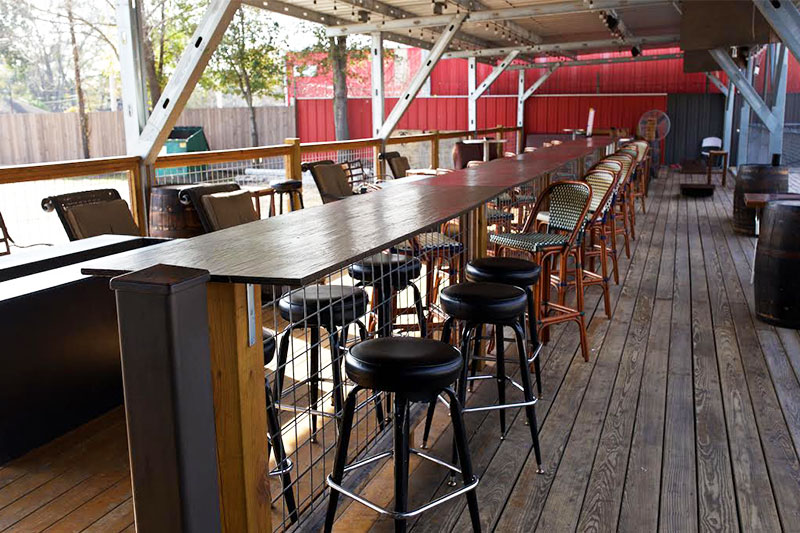 Wakefield Crowbar appeals to sporty types who sign up for matches on the full-sized sand volleyball courts while spectators cheer ringside from the large covered deck. Bingo and trivia nights add even more lively competition to the Wakefield Crowbar's clubhouse spirit. There's also a full kitchen offering breakfast, lunch, and dinner so early birds and night owls can take advantage of this neighborhood spot that's celebrating five years on this bustling block.
King's BierHaus
King's BierHaus is easy to spot with a Bavarian castle entrance standing out from the nearby White Oak Bayou Trail. This family-run business began as a car wash in the Houston suburb of Pearland where the staff would give away bratwursts to customers. In 2017, Garden Oaks/Oak Forest residents began crowding around the communal tables of their very own beer hall. Oktoberfest seems ready to break out any minute with wait staff outfitted in traditional German garb. But there's a Houston touch as well with as a mural of local celebs like Beyonce and J.J. Watt as you walk in. Outside, King's BierHaus becomes a beer garden where there's plenty of shade and giant sunflowers painted on a fence. Occasional live music and special events enhance the welcoming festive atmosphere.