Houston Local Life
The Best Houston Neighborhoods for Dog-Lovers
With ample greenspaces, designated dog parks, dog-friendly bars and restaurants, vets, and doggie daycares, Houston is a great place to be a dog-owner. There's even special "dog days" for Astros games at Minute Maid Park. However, some parts of town are more accommodating to furry family members than others. These five Houston neighborhoods overflow with puppy perks, and dog-lovers living there reap the benefits.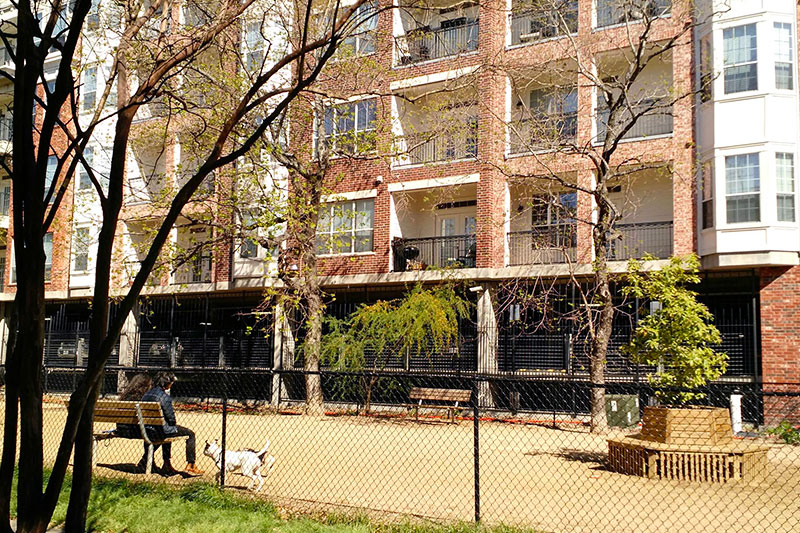 Historically a sanctuary for the city's LGBTQ and counter-culture contingents, Montrose is a diverse community of artists and professionals. The neighborhood isn't just dog-friendly, it's dog-centric thanks to the walkable oak-lined streets, multiple vets and doggie daycares, and pup-friendly patios.
Montrose's three vet clinics: Central Houston Animal Hospital, Montrose Vet Clinic, and Neartown Animal Clinic offer medical, dental, grooming, and boarding services while Central Houston Animal Hospital also provides daycare.
Houston's best-named doggie daycare, The Best Little Dog House in Texas, is a cage-free facility geared towards smaller dogs. Other notable doggie daycares in Montrose include Wag'n World, Dogtopia, and Daisy's Doghouse.
Houston's first designated dog park, Ervan Chew Dog Park offers 9,000 square feet of enclosed space for the neighborhood's four-legged friends.
Pet parents who don't want to dine and drink alone can bring their canine companions to many Montrose establishments. West Alabama Ice House and Piggy's Kitchen have huge dog-friendly patios, the dog-themed Barnaby's Cafe has two Montrose locations and serves treats and water to furry customers, and The Burger Joint whips up creamy puppy shakes topped with organic handmade dog biscuits.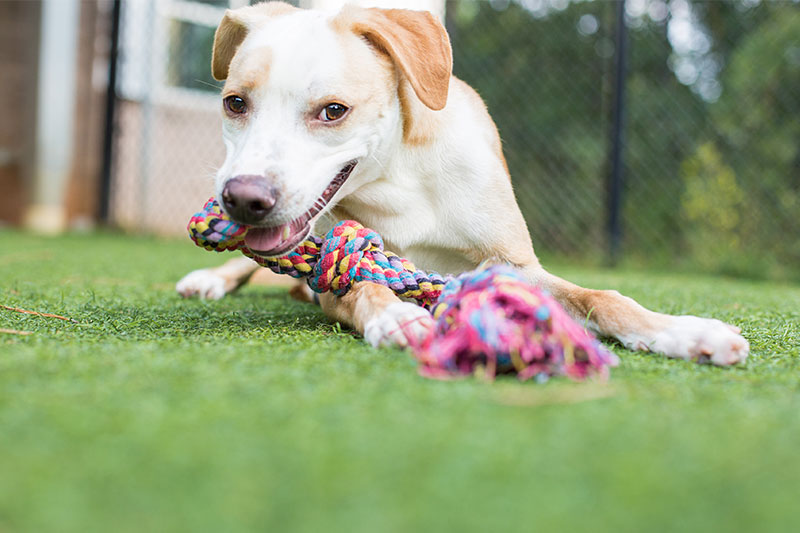 EaDo is a former industrial neighborhood that's gaining traction among millennials and urban professionals due to its affordability and proximity to Downtown. Also, a recent wave of development projects have helped revitalize the area for residents and their pets.
The Green Bone is EaDo's three-in-one grooming, doggie daycare, and an overnight boarding facility where lavender diffusers and soft music keeps pups calm and relaxed.
For medical concerns, EaDo Vet Clinic's small staff provides personalized care. When busy pet parents are unable to stop in for minor needs like behavioral questions, dietary issues, or limping, they can schedule virtual televisits to speak with a vet. Harrisburg Vet Clinic, in nearby Second Ward, offers wellness checks, vaccination, deworming, and heartworm testing.
One of Houston's newest dog parks, EaDog Park is divided into two areas, one for big dogs and the other for small dogs. The roomy fenced-in space is ideal for off-leash play. Also, Truck Yard and 8th Wonder Brewery are dog-friendly hangouts with sprawling enclosed patios.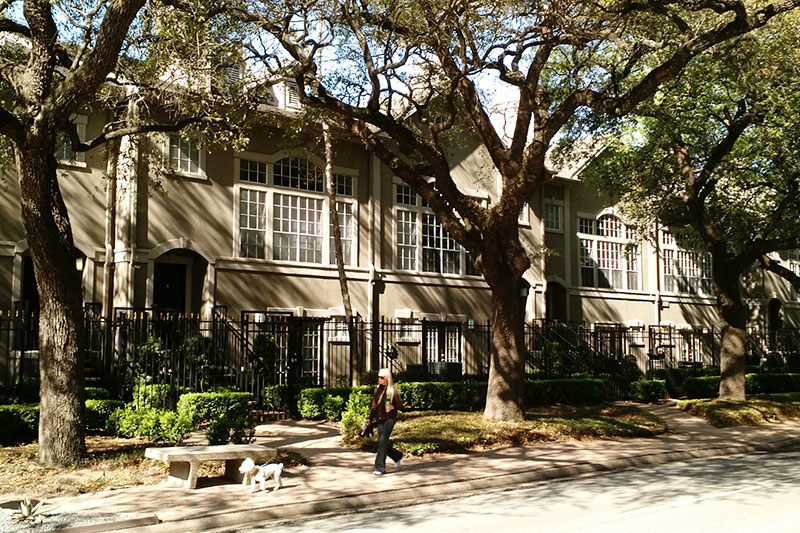 Midtown is an urban playground with a vibrant nightlife. Dotted with bars, restaurants, and shops, Midtown is a residential neighborhood with endless amenities. Like its neighbor Montrose, Midtown is a puppy paradise.
Head to The Pooch Pad or Midtown's Spot Fur Friends for boarding, daycare, and grooming. Urban Tails, another daycare facility, also offers swimming lessons and water play in their bone-shaped puppy pool. Puptown Houston houses a 15,000 square foot training facility and obedience school.
Midtown Park includes a dog run with sloped services for stimulating play, and Bagby Park has a large shaded dog park with monthly Yappy Hour, a free playdate featuring treats and prizes.
Axelrad Beer Garden has an expansive dog-friendly backyard brimming with hammocks and picnic tables.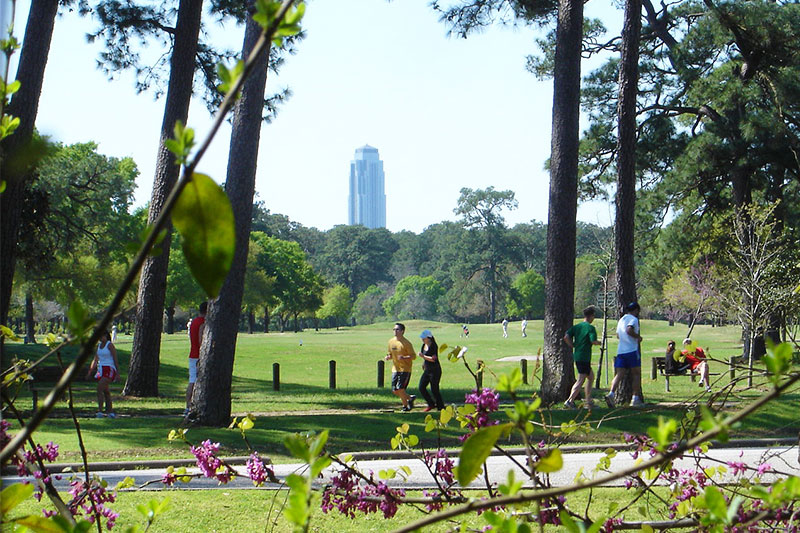 Though Washington Avenue itself is a strip of restaurants and businesses, the surrounding area is primarily residential. Abandoned warehouses that have been converted into studios attract artists and shop owners, and young people enjoy the neighborhood's vibrant nightlife.
Memorial/Washington boasts two of the largest parks in Houston: Memorial Park and Buffalo Bayou. With miles of hiking and jogging trails, Memorial Park is a dog-walking wonderland. Buffalo Bayou is home to Johnny Steele Dog Park, a 2-acre park with a pond in the center.
Like its location in the Heights, Houston Bark Park and Daycare is the neighborhood's pet boarding and daycare center. Club Canine teaches obedience and social skills to all age levels and temperaments. The Dog House Pet Salon is a full-service facility with boarding, daycare, grooming, and training camps.
Memorial/Washington has two first-rate vets: Bayou City Vet and Washington Heights Vet Clinic, both of which have knowledgeable staff and myriad treatment options.
Watch a game at FM Kitchen or play corn hole and bocce ball at Nettbar, two spacious pup-friendly patio bars near Washington Avenue.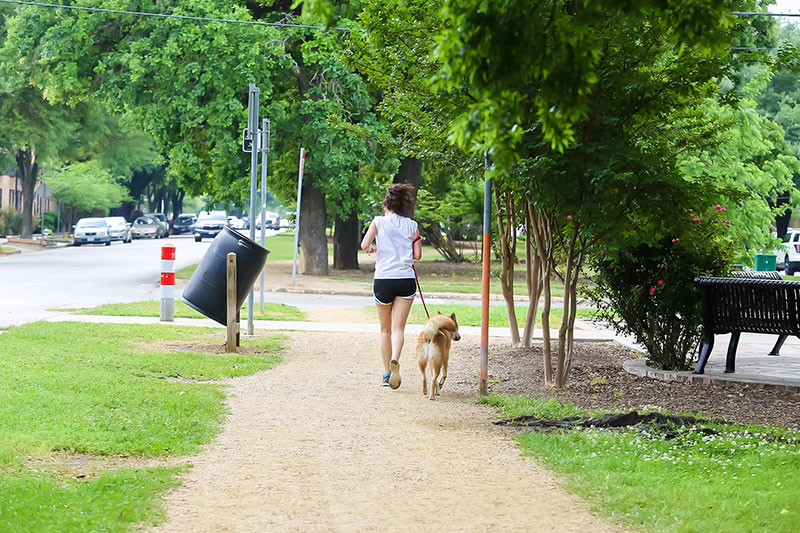 The Heights, a family community full of charming cottages and spacious yards, is an ideal place to raise kids, canines, or both.
The Heights' plentiful doggie daycare options include: Yuppie Dog which has an outdoor pool, Hoity Toity Dog Daycare with hand-scissored grooming, Yale Street Dog House, a cage-free spot for small dogs, 20th Street Grooming, and the web-cam equipped Houston Bark Park and Daycare.
Also in The Heights, Natural Pawz is a natural pet store with high-quality dog food brands and a gourmet "barkery" that bakes dog birthday cakes.
The Heights has upwards of five vet clinics, including the Heights Veterinary Clinic, Heights Hospital for Animals on 20th St, Urban Animal Vet Clinic, North Durham Animal Hospital and The Corner Vet.