Nashville Local Life
The Best Nashville Neighborhoods for Working Musicians
Everyone knows that Nashville is home to some of the world's most talented musicians. The range of skill goes far beyond country music though. From instrumentalists to singer-songwriters and performers of every stripe, Nashville is Music City in the truest sense.
Venues from every genre dot the landscape and locals love to discover new talent in unexpected places. Artists like Kings of Leon, Liz Cooper and the Stampede, Moon Taxi, and R.LUM.R all hail from Nashville and represent the best contemporary, alternative sounds the city has to offer.
If you want to be among Music City's finest, these are the Nashville neighborhoods to explore.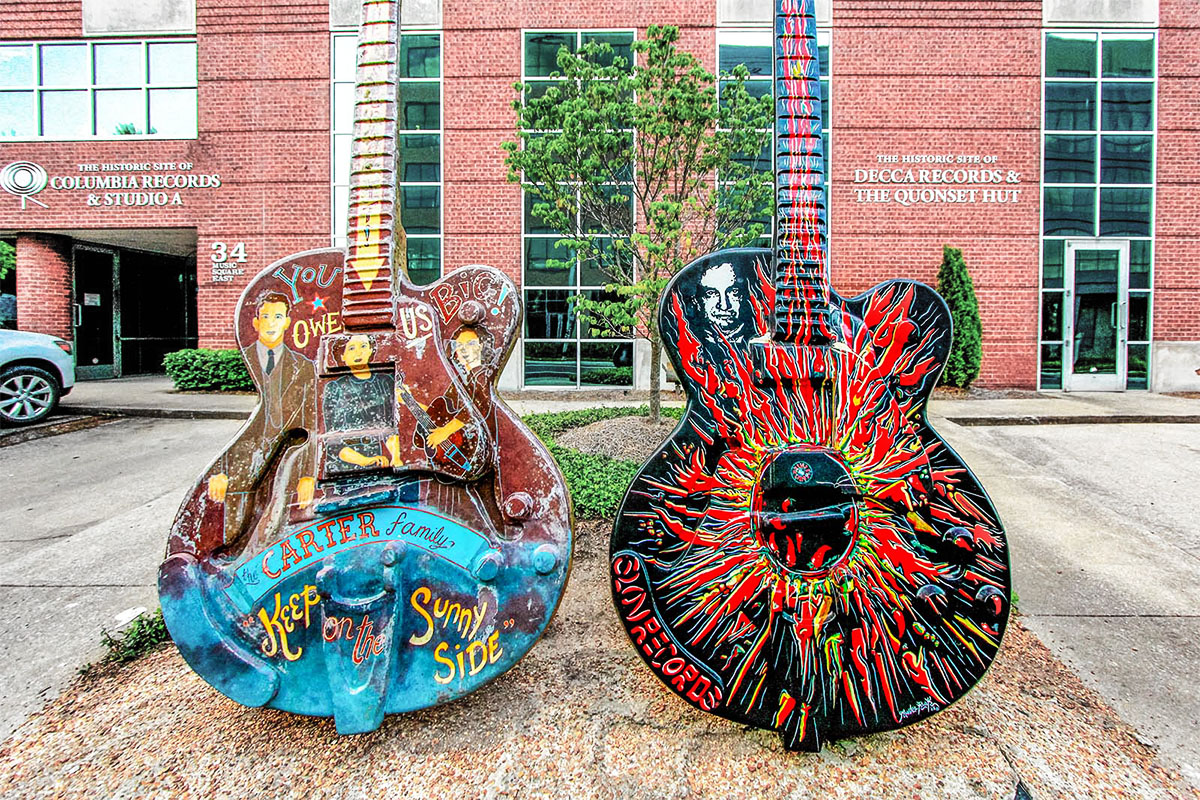 In Nashville, musicians might gather in the studio or at live venues, but the real meeting place is typically a guitar shop. 8th Avenue South has a wealth of the city's (and perhaps the nation's) best guitar shops, from Gruhn Guitars to Carter Vintage. Jason Isbell said it best in an episode of WNYC Studios' "Death, Sex & Money" podcast: "Carter's is my local guitar store, and in Nashville, your local guitar store is like…a dangerous, dangerous place."
The famed singer-songwriter goes on to tell the story of how he came to purchase a 1959 Les Paul standard sunburst formerly owned by Ed King of Lynyrd Skynyrd. King wrote the iconic opening riff of "Sweet Home Alabama," and it would be an understatement to say that the guitar is a priceless artifact.
Local artists also love Rudy's Jazz Room just down the street from Carter's, and no singer-songwriter has paid her dues until she has stepped on stage at Douglas Corner.
The true stomping ground of countless Nashville musicians, East Nashville is awash in local talent as well as record shops and live venues. The city's premier record store Grimey's is located on the east side and local audiophiles flock to Vinyl Tap where they can flip through new and vintage vinyl records while enjoying local, craft brews.
The density of music business professionals in East Nashville is staggering. Neighbors Steve Poltz and Scot Sax started a podcast called One Hit Neighbors about the phenomenal music scene on their street. The title refers to the duo's careers as songwriters. Poltz famously co-wrote the hit song "You Were Meant for Me" with singer-songwriter Jewel in 1996 and Sax co-wrote the Grammy Award-winning hit "Like We Never Loved at All" for country icons Faith Hill and Tim McGraw.
The neighbors live in an area dubbed "Little Hollywood" because of the hilly landscape and the Spanish Colonial Revival architecture. It's a truly puzzling wonder tucked deep in the heart of East Nashville, specifically in the Lockeland Springs neighborhood.
This one seems obvious, but it's worth highlighting how deeply rooted the city's music industry is in this strip of offices and recording studios along 16th and 17th avenues. For many musicians across the country, Music Row is seen as the place to catch a break and forge a career. While the area is only somewhat residential, this neighborhood is first and foremost the beating heart of an industry.
While tourists flock to the Historic RCA Studio B, working musicians and stars like Brandi Carlile, Maren Morris, and Sturgill Simpson are next door recording in Studio A. Decades of tradition mix with progress as new generations of creators collaborate in local publishing houses and perform together at writer's rounds.
While Bellevue isn't technically a neighborhood, it makes the list for one major reason. Home prices in the area are among the most affordable in the city, and with easy interstate access into town, many working musicians have decided to settle in this area. Specific neighborhoods like Bellevue Station and River Plantation are all popular for their affordability.
The median home price among the three neighborhoods ranges from the mid-$100s to the mid-$300s. While proximity to cultural landmarks is an important factor for many musicians, the reality is that home recording technology enables guitar players, bassists, vocalists, drummers, etc. to foster creative relationships without breaking the bank on Downtown prices.