Nashville Real Estate
The Best Nashville Suburbs for Starter Home Investments
It's time to buy your first home. In Nashville, that can be a bit of a challenge, with median home prices nearing $300,000. But the good news is, you can find plenty of starter homes not too far from the city to keep your commute at a minimum.
As you leave renting behind for homeownership, it's important to consider the investment you're making. Your first home will ideally allow you to build some equity, which means when you sell it, you'll have cash on hand that you can put toward your next house. Make sure you choose an area of town where home prices will increase. If you can buy low and sell high, you'll have a good start on your future.
Although, finding a low-priced home in the state's fastest-growing metropolitan area can be tough, it's still doable. Here are a few neighborhoods where you can still find a good starter home that's likely to increase in value.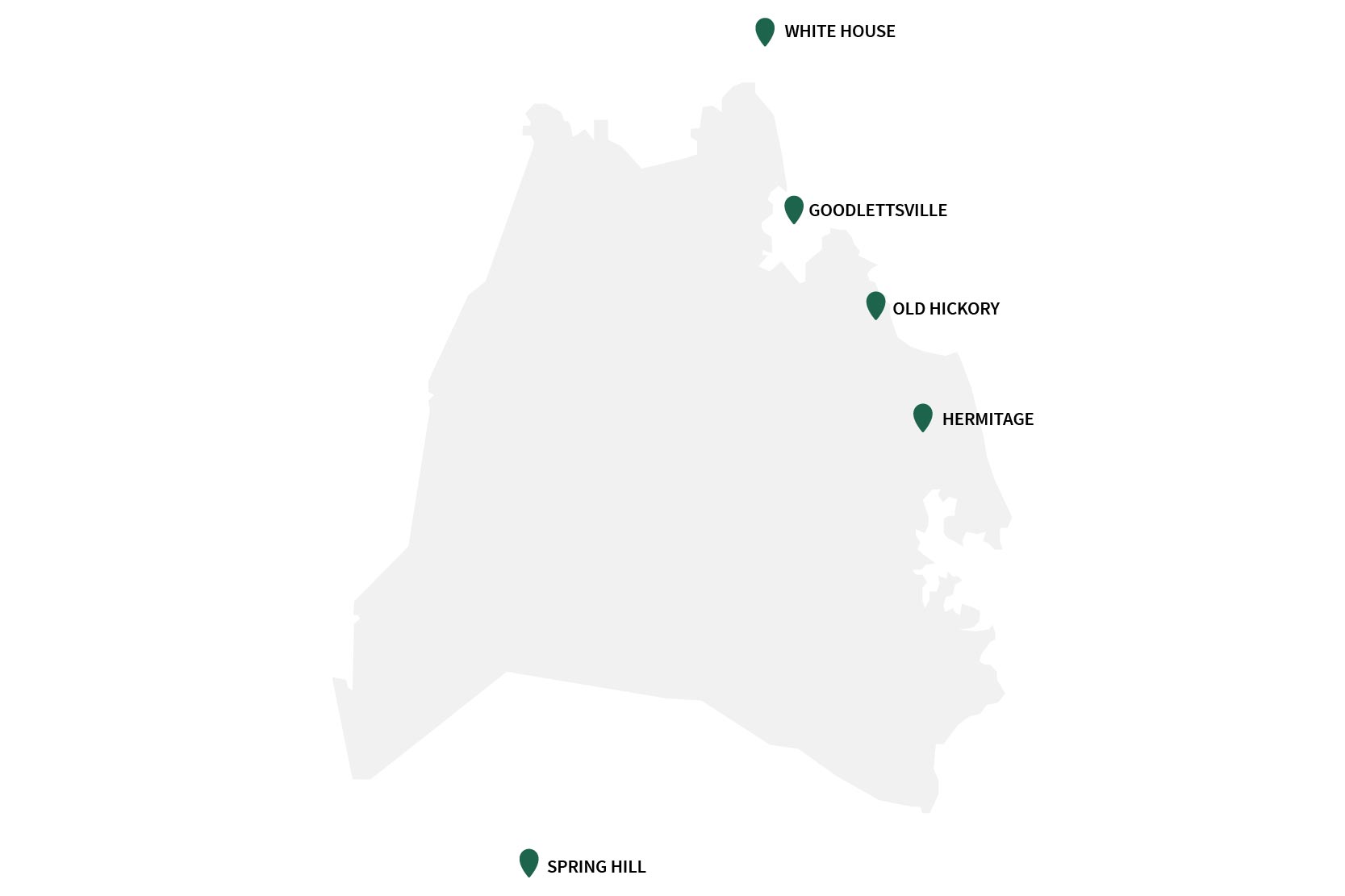 Located near the former home of President Andrew Jackson, Hermitage is popular due in large part to its proximity to Downtown Nashville. With access to Old Hickory Lake, the town is popular with those who enjoy spending time on the water. You'll also find plenty of shops and restaurants, both in Hermitage and at the nearby Opry Mills Mall.
There's no shortage single-family homes in Hermitage, and prices start in the mid $200s. For the best deals, look in reasonably priced neighborhoods like Roxborough and Camden Woods, where you can sometimes find three-bedroom homes on spacious lots in the mid-$200s. However, schools aren't as good in Hermitage as they are in some other Nashville suburbs.
If you don't have to commute to Nashville every day, consider White House, a once-small town that has seen rapid growth in recent years. You'll have a 28-mile commute downtown, which can be brutal in rush hour, but this suburb has enough amenities that you won't need to leave often. In the past couple of years, White House has attracted multiple new businesses while still maintaining a small-town feel.
Perhaps the best thing about White House, though, is the bargain you can find on a home in its neighborhoods. Northwoods, for instance, dates back to 1992, but it has seen considerable growth in recent years—much like White House itself. You can find three-bedroom homes on quarter-acre lots in the low $200s.
As prices rise in areas closer to Nashville, demand for more reasonably priced housing in areas like White House is likely to continue to drive prices upward, ensuring you'll make money on your investment.
Located in one of the richest counties in the nation, Spring Hill has all the amenities a first-time homeowner needs. You'll find plenty of restaurants and shops, including The Crossings of Spring Hill.
Although there are plenty of homes priced at $300,000 and above, you can find homes priced for first-time homebuyers on a budget. Spring Hill Estates, established in 1994, has two- and three- bedroom homes priced in the low $200s, and this neighborhood is zoned for highly rated elementary, middle, and high schools. You can also sometimes find three-bedroom homes in the low $200s in Whispering Woods.
Few areas of Middle Tennessee have the affordability and access to amenities you'll find in Goodlettsville. The city is home to popular grocery store chains, retail stores, and the family-friendly Moss Wright Park. Nearby RiverGate has even more shops, as well as an indoor shopping mall.
You'll find plenty of older homes in Goodlettsville, priced perfectly for the starter market. You'll find some of the best deals south of town, heading toward nearby Madison. The Blair Manor neighborhood is an established area that sometimes has three-bedroom homes for sale for less than $200,000. You can also find good deals on homes in Goodlettsville Heights. With easy access to Nashville, this is an area that's sure to become even more popular as the downtown population grows.
Not far from Hermitage, Old Hickory is a historic town that tends to fly under the radar. Due to this, you can get a good deal on a home located in a community only 16 miles from downtown Nashville. Despite its desirable location, the area still has a small-town feel, complete with community picnics.
You'll find many lower-priced homes in this community, which is likely to grow in the coming years as the Nashville population continues to increase. There are several affordable homes in Sherwood Forest, including some three-bedroom homes for less than $200,000.
---
No matter your budget, you can easily find a great community in Nashville that will bring a big return on your investment. Whether you choose an already high-priced area or an up-and-coming town, it's important to look at the potential earnings of any starter home you buy so that you can provide for your future homebuying goals.