Dallas-Ft. Worth Neighborhood News
The Future of Fort Worth's Stockyards
The Fort Worth Stockyards isn't just an entertainment area in Fort Worth's Northside neighborhood—it's a place full of the city's 'Old West' roots. Visitors can enjoy cattle drives twice a day, the likes of which would have been done in the late 19th-century, explore the exhibits of the Stockyards Museum, two-step with cowboys at Billy Bob's, and catch a rodeo at the Cowtown Coliseum. Though the Fort Worth Stockyards may uphold a lifestyle of the past, it has a current project underway that's looking to the future.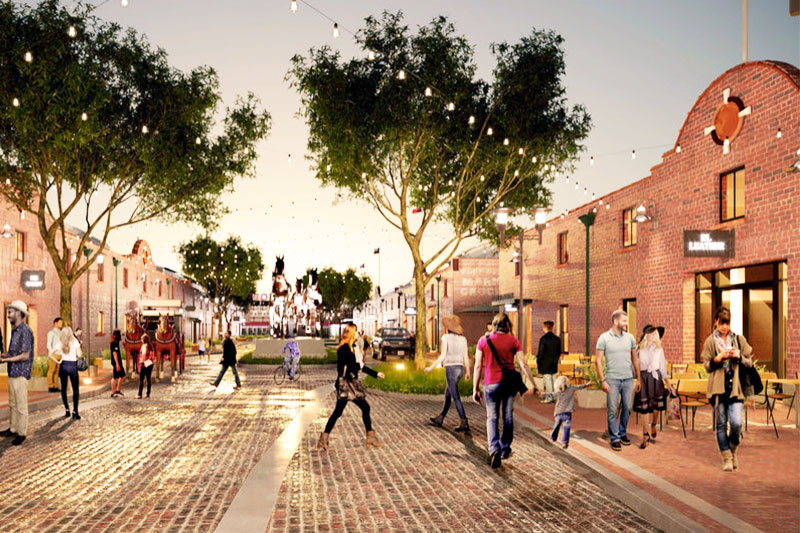 Mule Alley
Working with the City of Fort Worth and Tarrant County, the Stockyards Heritage Development Company has broken ground on a $175-million renovation and development project that will create Mule Alley, an entertainment area with bars, stores, restaurants, office buildings, and a hotel. It will be located in the historic Horse and Mule Barns.
The Stockyard Heritage Development Company are carefully selecting business, restaurants, and shops that want to make Mule Alley their home.
"We are taking our time, making sure new residents of Mule Alley fit the character of the Stockyards, and we're encouraging our leasing team to think creatively about the mix," stated Craig Cavileer, Executive Vice President of Majestic Realty Co./Stockyards Heritage Development Company, in a press release. "We're not looking to overly commercialize the Stockyards, we're looking to make it even more exciting and broaden its appeal for locals as well as guests from Texas, the U.S. and around the world."
With the introduction of Mule Alley, the Stockyards hopes to revitalize the district and continue to make it a destination for those seeking an Old West experience in Texas. While there are still plenty of spaces left in Mule Alley, there are some that have been approved. Let's take a look.
Hotel Drover
Hotel Drover will be the shining star of Mule Alley, and the first hotel in the Stockyards. With an expected opening date of 2020, Hotel Drover will be a four-star property within the Marriott Autograph Collection and will have 200 rooms and 15,000 square feet of meeting space. It will have a western, rustic aesthetic with decor that will pay homage to drovers, the men who herded cattle along the historic Chisholm Trail. Visitors can expect to see handcrafted decorative pieces, the likes of which will highlight Texas ingenuity and artistic expression.
This property will also have a restaurant, 97 West Kitchen Bar, which will feature Texas cuisine. Other expected amenities include a charming cafe that spills out into the hotel's courtyard and a backyard with fire pits, a pool, and walking paths. Like many places in the Stockyards, Hotel Drover will also have live music.
Food & Drink
So far, Mule Alley has three expected food and drink tenants: Shake Shack, Second Rodeo Brewing Co., and a new concept by Chef Marcus Paslay. Shake Shack is a popular hamburger chain, but this store will most likely have a Western style. Second Rodeo Brewing Co. will be a "brewpub meets live music hall" by Chef Jason Boso who created the Truck Yard and Twisted Root restaurants. It will be a 12,000-square foot barn with a patio and a retractable roof. The last concept doesn't yet have a name, but it will be headed by Chef Marcus Paslay, and it'll feature a menu of smoked meats and barbecue.
Shops
Right now, Mule Alley only has one shop on the ticket, MB Mercantile & Supply. It'll have curated goods that are rustic and western in nature, from home decor, stationery, and vintage finds to books, apothecary, and art. The store will have the look and vibe of an old general store. MB Mercantile also has plans to add a small food concept for those exploring Mule Alley.
Creative Businesses
The Fort Worth Stockyards has long been an entertainment area, but with Mule Alley, they'll be adding a business element too. Office spaces will be set aside for organizations and businesses, and currently there are three companies who will set up shop upon completion of the project. The American Paint Horse Association is the world's second largest international equine breed association, and with the building of Mule Alley, it'll have a new headquarters. In addition to office space, Mule Alley will have a theater, retail gallery, and museum area. Simpli.fi is the second business coming to Mule Alley. They're an Internet advertising company which will create a campus for over 400 workers. RFD is the third business, and it will open a broadcast studio open to the public in the Auction Barn in Mule Alley. The broadcast will focus on rural lifestyle, western sports and entertainment, and cowboy and cowgirl culture.