The Grown-Up's Guide to Wrigleyville
The Grown-Up's Guide to Wrigleyville
Wrigleyville is the unofficial party capital of Chicago. The streets are more often than not flooded with raucous college students and recent grads on their way to hit up bars like The Cubby Bear or to catch a show at the Metro. The party atmosphere only intensifies during baseball season, and it reaches a fever pitch when the Cubs win a game.
Naturally, people of all ages can enjoy a game at Wrigley Field and hot dogs from Wrigleyville Dogs, but sometimes it's nice to have a conversation without needing to shout or enjoy a meal that's a little less greasy—not to knock the classic Chicago hot dog. Discover a different side of Wrigleyville with this grown-up's guide to the neighborhood.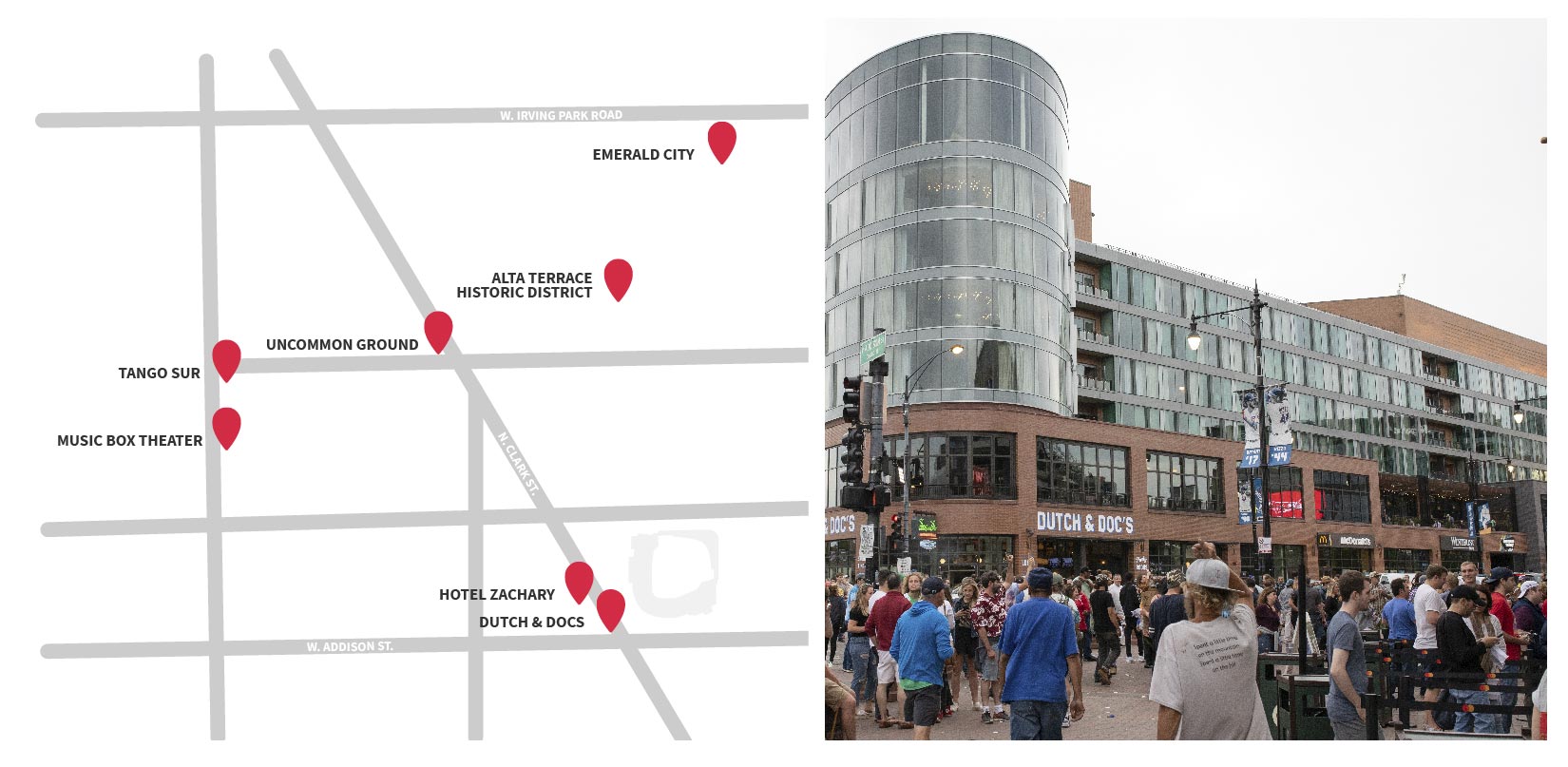 Alta Vista Terrace Historic District
It's hard to imagine a building with more historical significance than Wrigley Field with its ivy-covered walls and years of impassioned sports fandom. Yet, the neighborhood has an entire historic district just blocks from the iconic stadium. Alta Vista Terrace, also known as "A Street of Forty Doors" dates back to the early 1900s.
Stroll down this stretch of residential street for a picturesque view of classic Chicago row houses, 20 on each side of the street. Whether you're history and architecture buff or not, this piece of Wrigleyville feels pleasantly removed from chanting crowds and crowded bars. Take advantage of this peaceful slice of an otherwise rowdy neighborhood and enjoy a leisurely walk.
Dutch and Doc's
Eating out in Wrigleyville doesn't have to mean arguing about proper condiment etiquette for your hot dog. Right near Wrigley Field, Boka Restaurant Group (the brains behind Chicago favorites like Girl & the Goat in Fulton Market) opened the upscale Dutch and Doc's. The American-style menu covers lunch, brunch (possibly the favorite adult meal), dinner, happy hour, and cocktails.
Emerald City
Tucked away in the very northeastern corner of the neighborhood, it's easy to forget that Emerald City is actually part of Wrigleyville. Skip the masses of people exiting en masse from the Addison Red Line stop on game days, and step off the CTA at the Sheridan Red Line station. This small but charming coffee shop is just steps from the train, near the intersection of Irving Park Road and Sheridan Avenue.
Emerald City has all of the caffeinated menu staples of a good coffee shop, plus some drinks that stray from the beaten path. The cafe also serves sandwiches and desserts. You can linger over a coffee and food while catching with an old friend, or bring your laptop for a workday change of venue. It's restaurants like Dutch and Doc's that are putting Wrigleyville on the foodie map.
Hotel Zachary
Hotel Zachary, masterminded by the Ricketts family, was a major change for the neighborhood. Although it's touted as a great place for Cubs fans to stay (it's right across from the field), the boutique hotel offers a decidedly adult option for a Chicago staycation.
The hotel has suites and guest rooms with modern, sleek designs and amenities worthy of an indulgent trip away from home. The hotel bar does local food, signature cocktails, and live music. You can even sit down to afternoon tea on Saturdays and Sundays. If you want a quieter experience at the hotel, plan your stay outside of baseball season.
If you want to venture outside of the hotel for food, Mordecai and Big Star Wrigelyville are at your fingertips. Both spots are known for their whiskey. In terms of food, Mordecai is styled as a grill restaurant, while Big Star does tacos.
The Music Box
Big blockbusters are no doubt a fun time at the movies, but this Wrigleyville theater isn't scheduling back to back showings of the latest Avengers flick. Instead, the Music Box, immediately recognizable thanks to its towering marquee, specializes in cult favorites, independent films, foreign films, and classic cinema.
The theater dates back to 1929, making it one of Wrigleyville's notable pieces of history. The Music Box also does events along with some its showings (think a viewing of the "Princess Bride" where the audience is encouraged to quote along with the movie). The theater has full concessions and a bar to complete your adult night out to the movies.
As an added bonus, the theater's location on Southport Avenue means you can sample your way through the restaurants that make up "empanada row."
Tango Sur
Tango Sur on Southport Avenue is a part of the neighborhood's empanada row, but it's mainly known as a Latin American steakhouse. Look for Argentinian dishes on the menu, like chorizo and morcilla. Expect to find most dishes centered on some kind of meat (it is a steakhouse after all), but the menu also serves up pastas and salads. Come to Tango Sur hungry. This restaurant is a far cry from a casual hotdog stand.
Uncommon Ground
Enjoying beers at Wrigley Field on game day is one thing, and Uncommon Ground is something else entirely. This Wrigleyville brewery is certified organic, and it has a rooftop farm complete with planter boxes and beehives.
Tour the Greenstar Brewery at Uncommon Ground, or book a table to enjoy food with your brews. The brunch, lunch, and dinner menus offer up shared plates, egg dishes, burgers, salads, soups, and a mouthwatering variety of entrees—all tied to the farm-to-table ideal. The menus even cater to dietary needs (think gluten-free and vegetarian).
---
Chicago neighborhoods are often so big and varied that your experience can unique to your specific interests. Wrigleyville can be a nonstop party or a sophisticated adult's choice for a night out. The choice is yours.