Houston Local Life
The Houston Neighborhoods With the Best Nightlife
Houston has a rich and vibrant nightlife full of bars, dance clubs, concert halls, and entertainment venues. On weekends, the city hums as the workweek crowd unwinds. These Houston neighborhoods have all the ingredients needed for an unforgettable urban night out.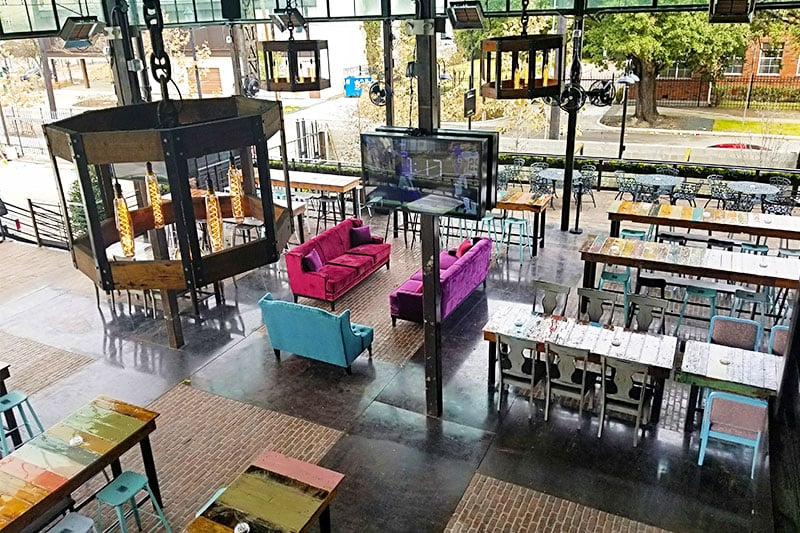 Midtown is Houston's nightlife nexus. As the name suggests, Midtown is centrally located, and residents from adjacent neighborhoods flock to Midtown nightlife offerings. Crowds from all walks of life—Downtown's oil tycoons, Montrose's artists, UH's undergrads, and Midtown's own young professionals—converge on Midtown.
Hit up Holman Draft Hall on weekdays for happy hour and grub. Sample from a selection of 100 taps for a mere $3 a glass. On Thursdays visitors to Little Woodrow's are in for a strange treat: turtle racing. The Midtown tradition has grown into a rollicking, crowd-drawing event. Gather round the track, pick a turtle to root for, and see which one scurries out of the circle first.
Head to The Continental Club, a live music venue showcasing local rock, rockabilly, and soul musicians, or lounge in one of the many hammocks beneath the iconic neon-lit tree in Axelrad's backyard with a cold craft beer and a jumbo slice of Luigi's pizza in hand. Axelrad also hosts open mics and outdoor movie nights throughout the week. End the night at Barbarella, which stays open until 3 am. Barbs is an electrifying dance club where DJs spin everything from 80s and 90s to emo, indie, and K-pop as music videos flash across the walls. For a midnight snack head to Boombox Taco, parked in Barb's lot and serving up succulent street tacos.
Downtown, Houston's busiest and buzziest neighborhood, presents a truly cosmopolitan night in the city. As the city center, Downtown contains the business district so residents run the gamut from young urban professionals to established entrepreneurs. Those living in Downtown have no shortage of amenities including an array of nightlife options.
Feast at The Conservatory, an underground food hall with pizza, poke, barbecue, a 60-tap beer garden, and a wine bar. See a stage play, musical, ballet, or an opera in Downtown's Theater District. The ritzy Prohibition Supper Club offers racier performances in the form of burlesque dinner theater. Generous Houstonians dine at Okra Charity Saloon where guests purchase drinks and receive votes to cast for one of four local charities. At the end of the month, the winning charity is awarded the proceeds.
Downtown is also home to a smattering of intimate speakeasies like Tongue-Cut Sparrow, Houston Watch Co., and Char Bar—a 1930s martini bar tucked away in a tailor shop. Downtown's rooftop bars backdropped with towering skyscrapers include Capt. Foxhearts Bad News Bar, the tiki-hut themed Live Sports Bar, and Hoggbirds which offers breathtaking views of the city from 23 floors up.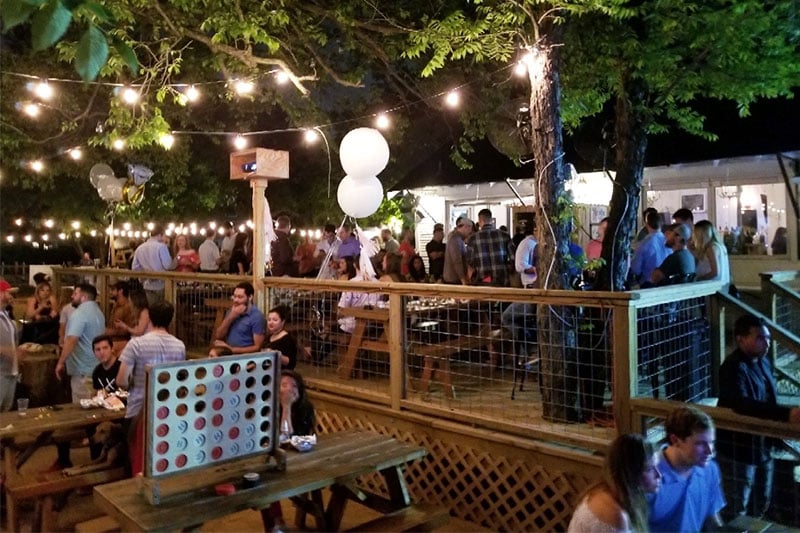 Memorial Park/Washington Corridor has experienced a resurgence in recent years. The abandoned industrial warehouses and rice silos at Sawyer Yards have been converted into creative workspaces and art galleries. Aside from artists, the neighborhood attracts young professionals who value easy interstate access, urban greenspaces (Memorial Park and Buffalo Bayou), and an active nightlife.
Washington Avenue is a bar-hopper's paradise. There's Austin import HandleBar with mustache-themed decor, an adult seesaw, and even a hidden tiki bar in the back. Lesbian bar Pearl Bar hosts weekly movie nights, karaoke, drag king performances, weekend dance parties, and Melissa Etheridge is scheduled to perform this October. FM Kitchen is a laid-back patio bar with multiple screens to watch sports. Play corn hole, bocce, and ping pong while drinking $5 frozen cocktails and munching unlimited free popcorn at NettBar—a revamped house with a large dog-friendly backyard.
Montrose is a residential neighborhood with blocks of early 20th century bungalows and oak-lined streets. Though not the haven for hippies, activists, and the LGBT community it once was, the area retains a bit of its classic bohemian culture. Artists and musicians continue to populate Montrose—the city's core of cool.
Montrose contains two nightlife meccas that often overlap: the historic LGBT area around Fairview Street and the hip strip of Westheimer Road populated by artists. The gay bars circling Fairview serve a variety of clientele. George (a country-themed sports bar), JR's, and Crocker have a more laid-back neighborhood dive vibe while spots like South Beach, Blur, and Ripcord offer an energetic dance club scene.
Along Westheimer, Boondocks and Poison Girl are popular dive bars with casual patios, cheap drinks, and easygoing crowds. Numbers is a 40-year-old concert venue and lively video dance club. The all-encompassing lounge, AvantGarden hosts comedy routines, open mics, live jazz, and belly dancing, and the garden patio provides a picturesque setting for hanging out on breezy Southern evenings. Also, Present Company is a colorful oasis decorated with lush greenery, neon signs, and painted bird cages. Enjoy a refreshing La Croix-based cocktails—Present Company's signature drink.