Las Vegas Local Life
The Strip or Paradise: Which neighborhood is best for Golden Knights fans?
For Vegas Golden Knights fans, there's no shortage of things to do in Las Vegas before, during, or after hockey games. Whether you're looking for good eats before cheering on your hometown team or a sports bar that serves up the right brew for your viewing party, you'll find it on The Strip or in Paradise. But which neighborhood is best for Golden Knights fans?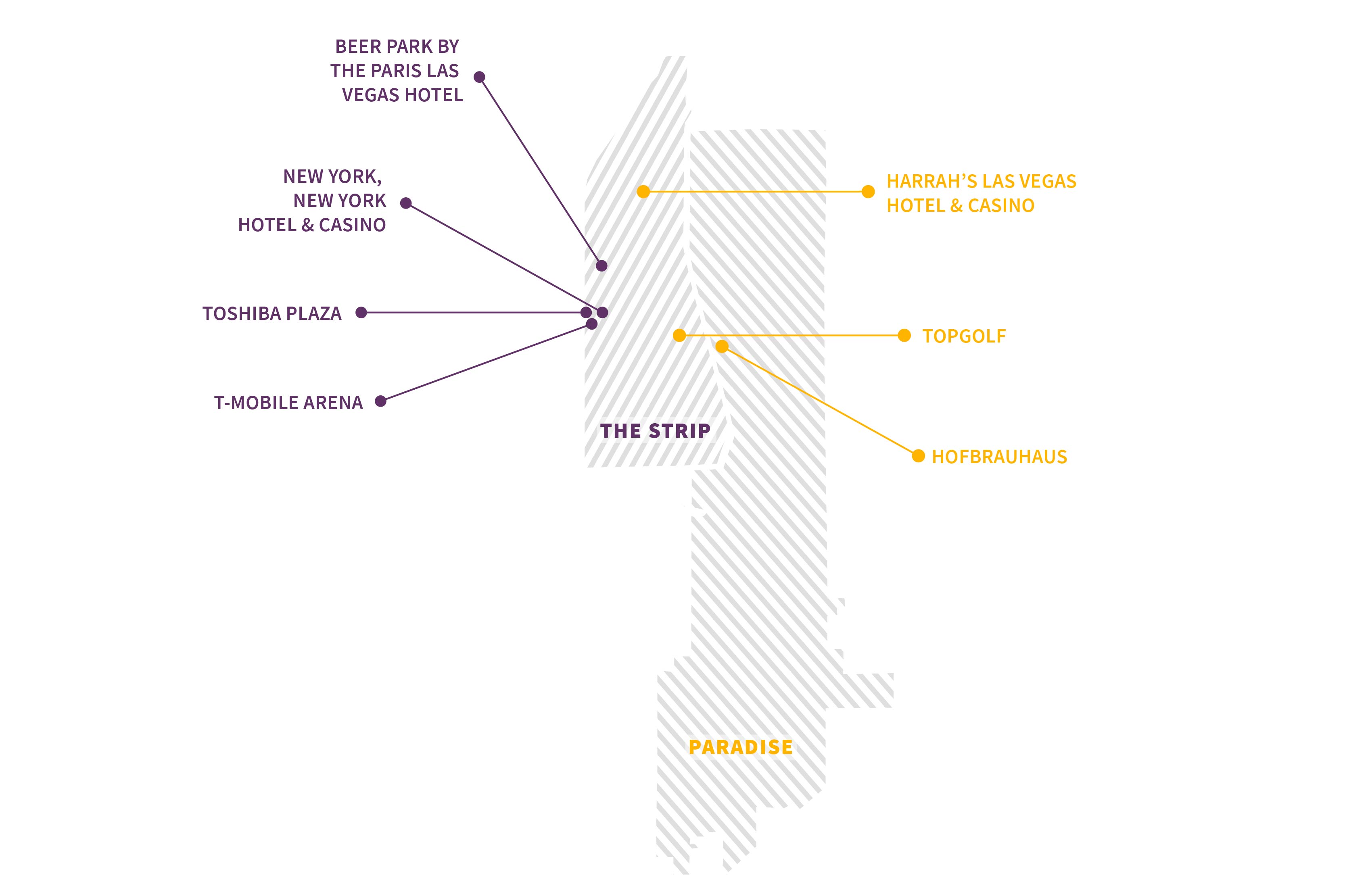 It goes without saying that The Strip is a great place for Golden Knights fans. After all, it's the neighborhood where you'll find the T-Mobile Arena, the Knights' home stadium. Located on the south side of The Strip, the T-Mobile Arena is situated within The Park, an outdoor destination for dining and entertainment. From art installations to restaurants, The Park is also home to the Park Theatre and the recent addition Eataly, the Italian-inspired market with everything from wine to gelato to pasta.
An hour before the game, locals and visitors alike can drop by Bar at Times Square in the New York New York Hotel and Casino to watch the puck drop. You'll hear the official goal score horn and a rendition of the Vegas classic "Viva Las Vegas." Also at the New York New York Hotel, check out Nine Fine Irishmen to get your fix of whiskey, live music, and shepherd's pie. After ordering a lager, settle in and cheer on the Knights.
Before you line up in Toshiba Plaza at the arena to prep for the game, stop by Beerhaus for craft beers, savory snacks, and giant Jenga on the patio. Beerhaus also has live music on Fridays and Saturdays. On game night, Beerhaus offers hockey drink specials.
Across the street and a short walk or drive away, Beer Park by the Paris Las Vegas Hotel offers dozens of craft beers and a relaxed, laid-back patio where you can watch the game or play pool. On game night, Beer Park offers viewing specials and celebrates every goal with horns and cryo blasts from carbon dioxide jets.
Often confused with Las Vegas proper, Paradise is The Strip's lesser known but equally iconic neighbor. What most people don't realize is that part of what we think of as The Strip is really part of Paradise. It's a large neighborhood reaching into the east Valley. Near the university, it has a college vibe, but closer towards Whitney, the neighborhood feels more suburban.
Although TopGolf is known for its high-octane golf experiences, concerts, and other events, it's also a great place for a viewing party. On select game nights, hockey fans can get player autographs and win prizes. The first 50 fans get a VGK t-shirt, and TopGolf raffles signed memorabilia during game intermissions.
Hofbrauhaus is also a great bar for Vegas Golden Knights fans who want a supersized stein and authentic German/Bavarian cuisine before the game. Hooters Hotel-Casino, also in Paradise, offers beer specials one hour before the game at The Underground Lounge. It's also a great place to get free parking within walking distance of the stadium.
Located inside Harrah's Las Vegas Hotel & Casino is Toby Keith's I Love this Bar & Grill, a top country bar in Las Vegas that has regular viewing parties for Golden Knights fans where they can not only enjoy drink specials and a lively environment but also enter raffles and contests to win some swag.