The Top 10 Best-Selling Master-Planned Communities in Arizona
The Top 10 Best-Selling Master-Planned Communities in Arizona
Wanting to move to or relocate in Arizona, but not sure where to start your home search? Most prospective homeowners would probably say they're looking for safe, community-centered neighborhoods that have been thoughtfully planned, constructed, and maintained—and master-planned communities have it all.
These artfully crafted communities feature tons of amenities, a wide variety of price points, and little details like winding roads, well-kept landscaping, and cohesive design choices that you just won't find in your typical neighborhood setting. If you're curious about what master-planned community living looks like in Arizona, then keep reading to learn more about the best-selling master-planned communities in the state, according to MLS data from the last 12 months.
Median Home Sale Price: $215,000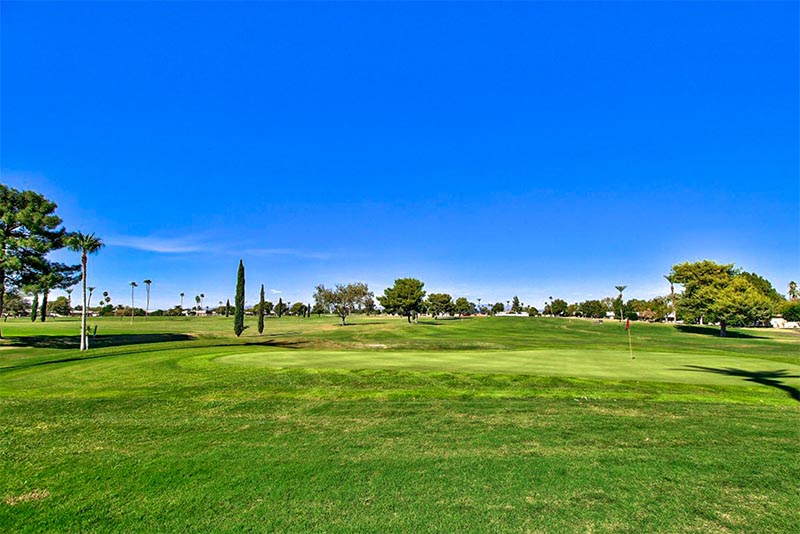 Sun City is its own census-designated city and active adult community in the Phoenix metropolitan area. Sun City is the highest-rated senior living community on this list per neighborhoods.com users, with an impressive 5-star rating, and it's easy to see why. The community encourages fulfilling, active, and engaged social lives with its abundance of recreation centers, golf courses, open-air amphitheater, over 130 chartered clubs, and more.
Homes in Sun City are affordable and come at a wide range of price points, currently selling from below $100s to mid $500s. Overall, this community is a top choice for active adults looking for an affordable place to live that also comes with an abundance of amenities and a strong sense of community.
Median Home Sale Price: $275,000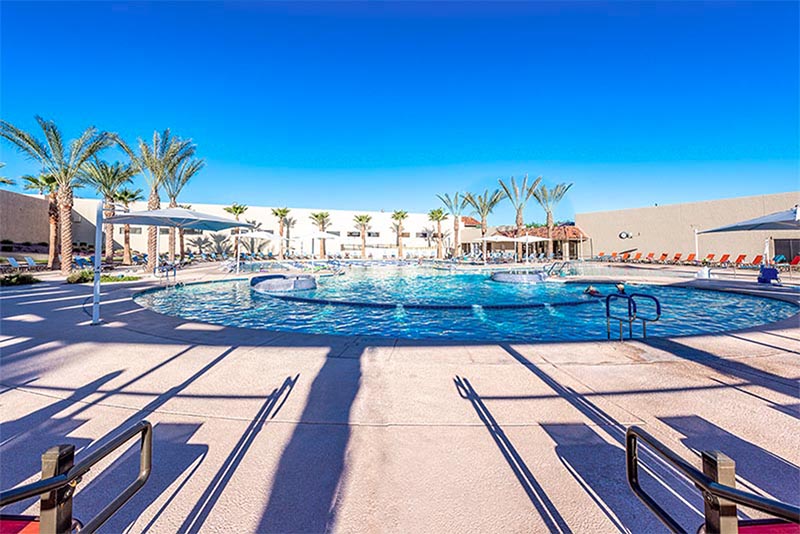 Sun City West is an extension of Sun City divided by the Agua Fria River. The community features newer homes than the original Sun City that come at a bit of a higher price point. Like Sun City, Sun City West houses multiple recreation centers and beautiful golf courses, and even has its own bowling alley, movie theater, and plenty of other activities and scheduled events for community members.
Median Home Sale Price: $380,000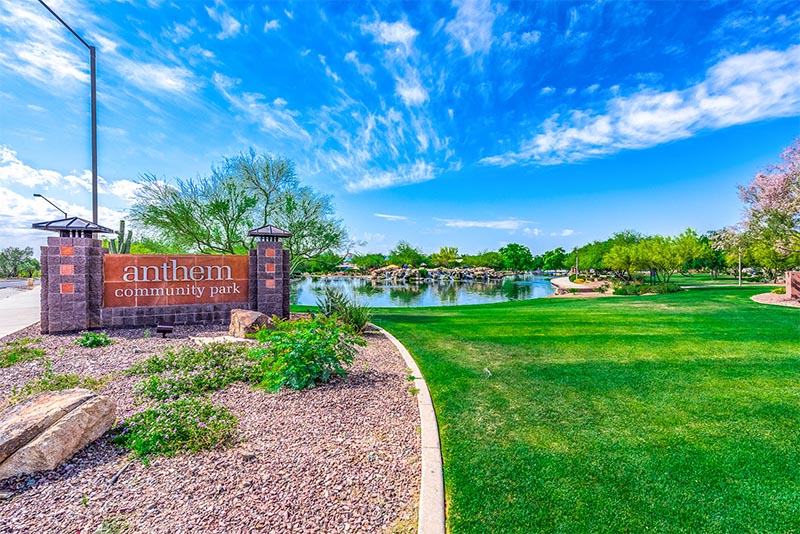 Anthem is a newer community that was clearly designed with families in mind. Homeowners have convenient access to a community center (which offers state-certified child care programs and camps), three community parks, a golf course, and a civic building that's perfect for holding events, attending classes, and enjoying live music.
There are also plenty of hiking, biking, and walking trails that allow you to explore the natural desert splendor surrounding the development. One can find homes that fit nearly any budget, with prices starting in the high $200s to new builds going up to $2 million. Anthem is the perfect community for families or individuals who prefer to enjoy the idyllic peace that comes with Arizona desert living without the noise and congestion of the bigger cities like Phoenix and Tempe.
Median Home Sale Price: $435,000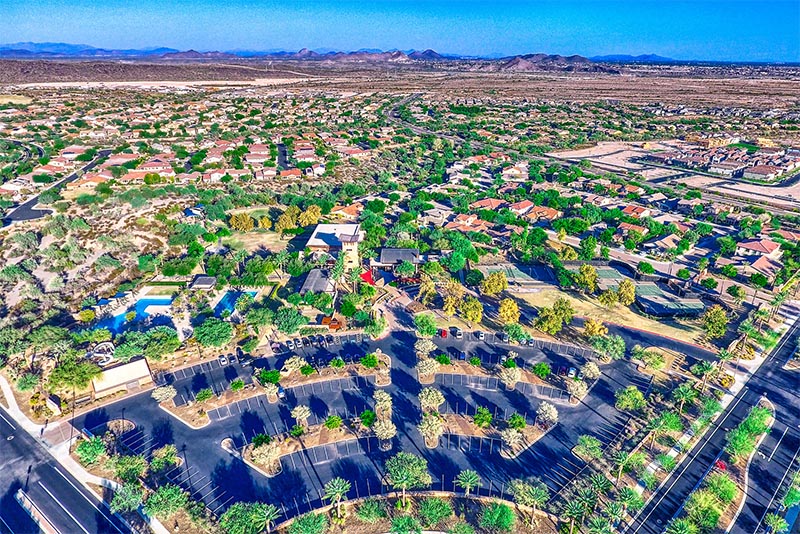 Vistancia is a favorite in Arizona due to its all-in-one nature and family-friendly environment. Vistancia consists of four neighborhoods, each with its own unique characteristics. The Village at Vistancia has two recreation centers that offer an indoor basketball court, four tennis courts, a game lawn, and an aquatic park with three pools and two water slides. The great schools and amenities within this community were designed with families in mind, which make The Village an excellent place for kids to grow up.
Blackstone has similar amenities and is also great for families, but offers increased security by way of a 12-hour guard-gated private entrance. Northpointe is the newest development within Vistancia with an emphasis on elevated, luxury living. The homes in this subdivision boast sweeping desert views, a selling point for many residents. Finally, Trilogy is an age-restricted, resort-style community geared towards active adults and retirees.
Vistancia's luxury amenities and new builds do come with a higher price tag compared to other communities on this list. Expect to see homes for sale in this community with price tags between mid $300s to over $1 million.
Median Home Sale Price: $345,000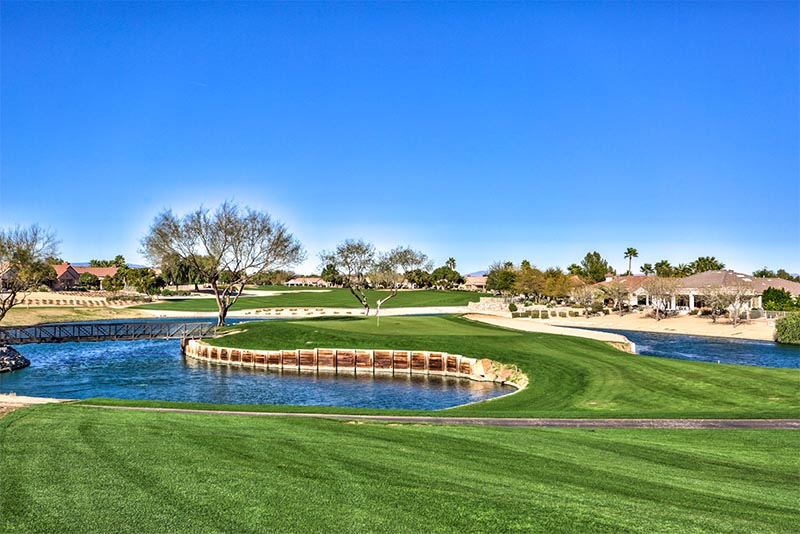 Sun City Grand is another offshoot of the aforementioned Sun City active adult communities, located in Surprise. Because this community is much newer compared to its more established counterparts, future residents will find that Sun City Grand has all of the things residents of Sun City and Sun City West love best, including the tight-knit neighborly atmosphere, as well as additional amenities.
Median Home Sale Price: $342,000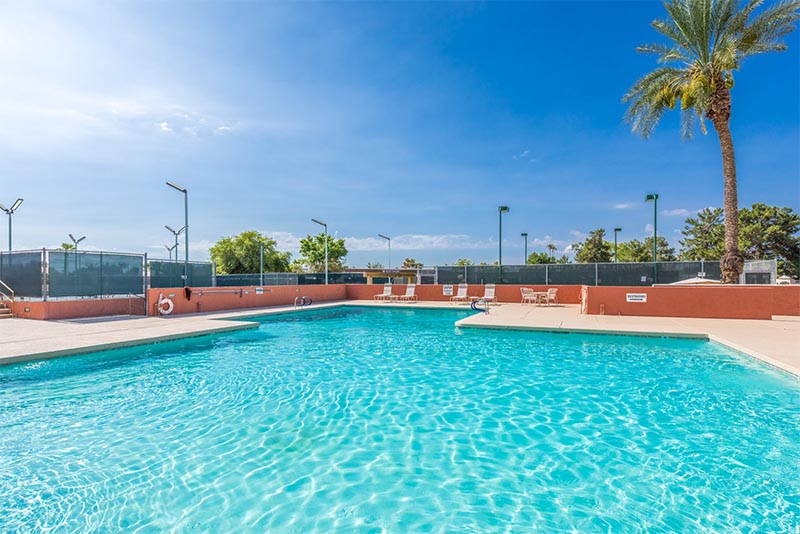 Sun Lakes is another great active adult community located farther south. What this community may lack in terms of amenities compared to other retirement communities like Sun City, it makes up for in its beautiful, well-built, but competitively priced homes. And that's not to say amenities don't exist here, because there are plenty—including a golf course, large clubhouse with an outdoor pool and fitness center, and multiple tennis and pickleball courts.
Median Home Sale Price: $355,000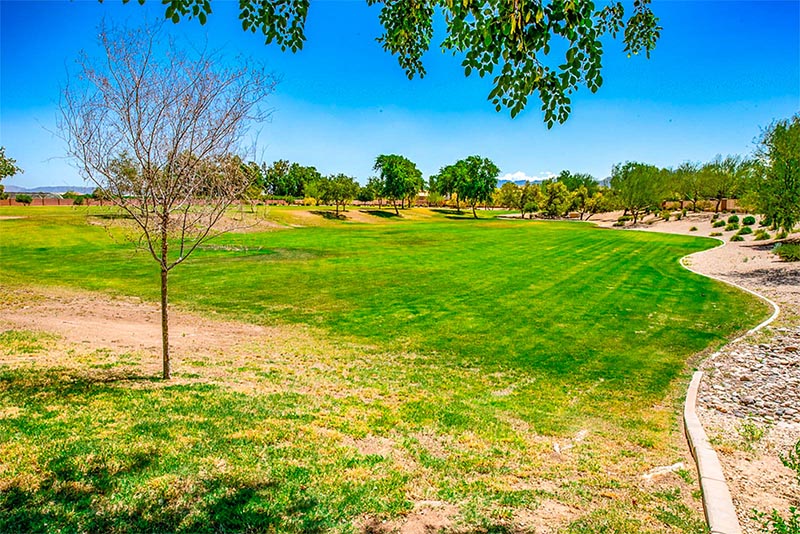 Estrella Mountain is a master-planned development made up of three distinct communities: Mountain Ranch, Montecito, and the 55+ CantaMia. The mix of Spanish Colonial and Ranch-style homes here gives the neighborhoods that traditional southwestern feel. A favorite feature of the residents of Estrella Mountain are the two lakes on the north and south—an oasis amid the natural desert landscape. Estrella Mountain even has a yacht club, and you will frequently see families taking small boats out on the water.
Residents also have access to amenities such as a fitness center, pools, cafes, and a splash pad and waterpark for kids. Homeowners can stroll along the many walking paths that surround the lakes, play golf on the lush greens, and spend time outdoors on the nearby hiking trails or at one of the community parks.
Median Home Sale Price: $507,000
McCormick Ranch is located in swanky Scottsdale. Because Scottsdale is one of the pricier cities in the Phoenix Metro area due to its luxe amenities, anticipate investing in the high $500s on a home in this community. However, the higher price tag is worth it because of the 18-hole golf courses, bicycle paths, parks, public tennis courts, and seven picturesque lakes. This community is also central to many gourmet eateries, bars, and luxury shopping centers like Scottsdale Quarter and Kierland Commons.
Median Home Sale Price: $389,000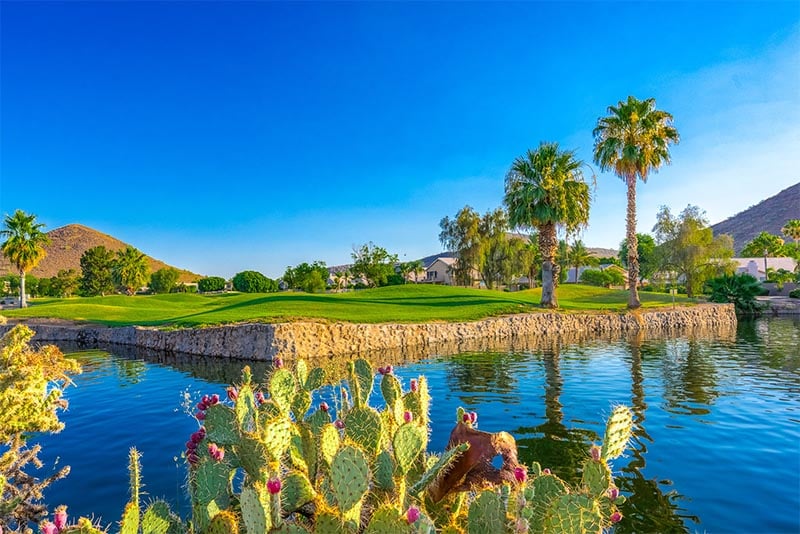 Scenic Arrowhead Ranch in Glendale is a gem of a community that backs up to the Thunderbird Conservation Park, an area dedicated to preserving natural desert habitats. Because of this, the views and surrounding area of many of these homes are absolutely breathtaking.
As is the case with many Arizona master-planned communities, Arrowhead Ranch houses championship golf courses. But unlike the others, these were designed by beloved golfer Arnold Palmer. In addition to the country clubs, fitness center, sports courts, etc, Arrowhead Ranch residents can partake in all sorts of outdoor recreational activities without ever stepping outside of the community. Current home prices represent a range of affordability, ranging from the low $300s to high $700s.
Median Home Sale Price: $340,500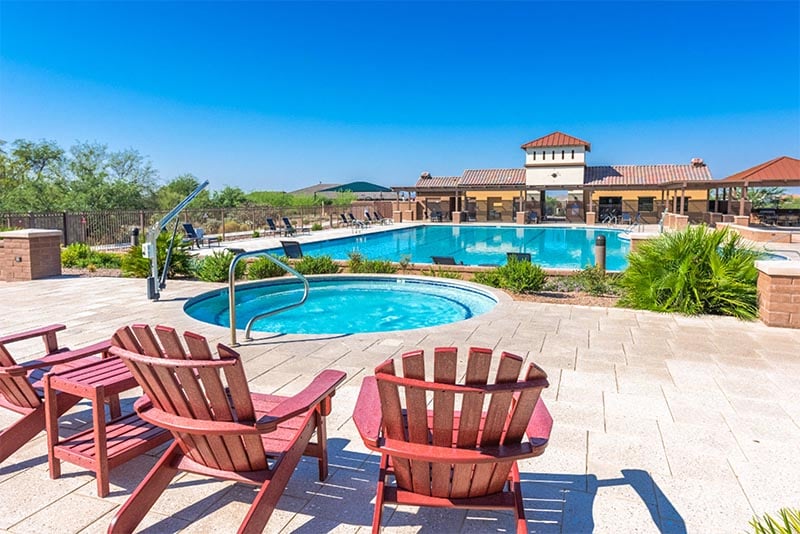 Travel farther south and you'll be in Oro Valley, home to Rancho Vistoso. This community features eclectic yet modern architecture with a traditional southwestern flair. According to the builder's site, these homes "weave modern convenience with upscale finishes to create fresh, inviting, and sustainable living spaces." Rancho Vistoso is still undergoing development, which means you have the opportunity to snatch up a new build while prices are low. With views of the Catalina Mountains and access to brand new amenities, this community is worth looking into.