Master-Planned Communities vs. Suburbs
Master-Planned Communities vs. Suburbs
Thinking about master-planned communities and suburbs is kind of like thinking about squares and rectangles: All squares are rectangles, but not all rectangles are squares. Similarly, not all master-planned communities are part of the suburbs, but not all suburbs are master-planned communities.
It's not quite as simple as that, though. Now that we've outlined the "where" of suburbs and master-planned communities (answer: outside an urban center), let's delve deeper into the "what" and "why." Understanding the differences between these two popular living choices— both subtle differences and very obvious ones—can help buyers decide if they'd rather purchase in a suburb or specifically a master-planned community.
What makes a master planned community different than a suburb?
While suburbs have the word "urban" right in their name, it's often master-planned communities that tout the more urban feel. Today, most master-planned communities have urban-like centers with restaurants, coffee shops, drugstores, boutiques, salons, grocery stores, art galleries, and more.
Whereas older master-planned communities might center around a golf course and its accompanying country club, newer master-planned communities are more focused on millennial homebuyers and their desire for city-like living with more conveniences—and at a more affordable price point. Basically, master-planned communities offer a taste of urbanism in the suburbs.
In addition to small town centers, master planned communities also feature leisure amenities like pools, tennis courts, aforementioned golf courses, and more. While some suburbs offer these same types of amenities, they're not a guarantee. By contrast, in a master-planned community, they're a selling point.
Where are master-planned communities located compared with suburbs?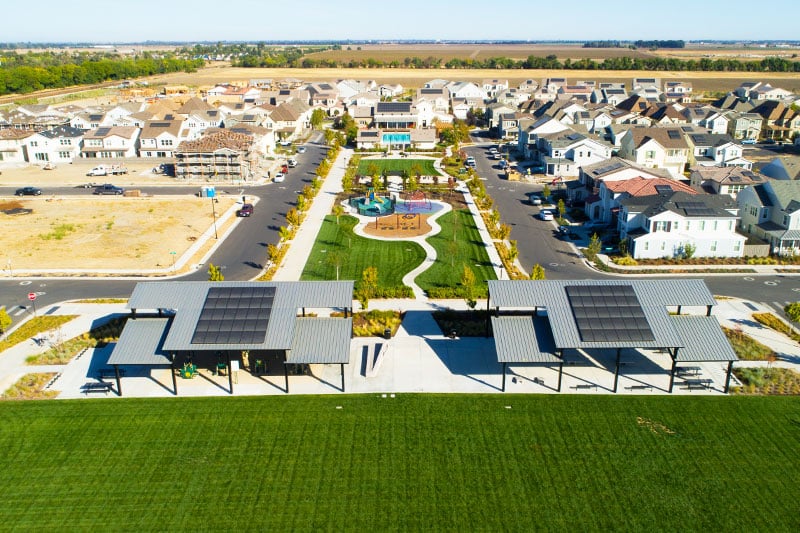 This depends on how far your "suburbs radius" extends. Typically, a master-planned community requires ample space and thus will be farther away from any given urban center or city compared with that city's established suburbs. That's certainly something to consider if you're commuting to your city's downtown every day, where even a few extra miles can mean lots of extra time stuck in traffic.
Why would someone choose a master-planned community?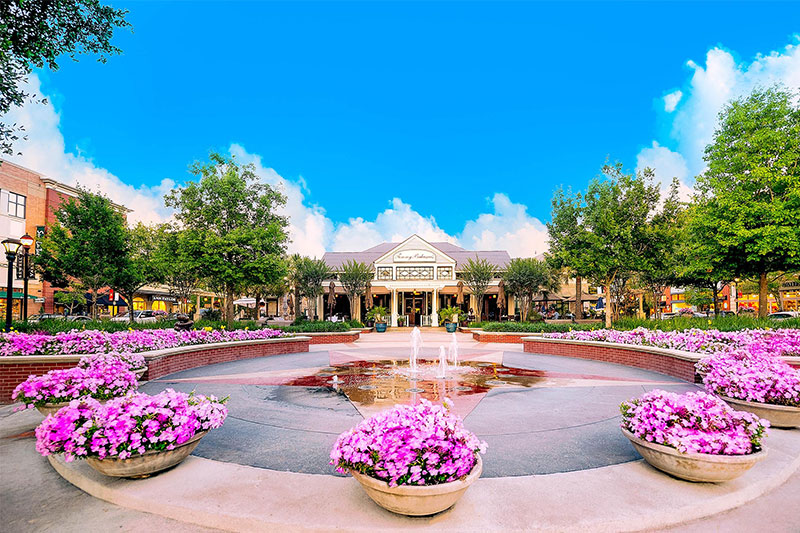 Master-planned communities usually have many housing options, including condos, townhomes, and single-family homes ranging from modest to quite large in square footage. While they're typically located farther away from a major urban center, they're often self-sustaining with a centrally located hub of conveniences and entertainment.
Master-planned communities also often cater to families—they might include elementary, middle, and high schools within the community as well as daycare facilities.
Master-planned communities often feature less-tangible but just as important features for buyers, such as thoughtfully designed streets and thoroughfares, wide sidewalks, ample parking, landscaping, and security. A master-planned community may or may not feature a security gate, but almost all will have well-lit streets and some sort of after-hours security presence.
Buyers can also choose a master-planned community tailored to their lifestyle. For example, older buyers can look for master-planned communities designed with active, retired seniors in mind. Golf-centered communities are ideal for buyers seeking leisure options or a golf-course view, while young professionals may crave the downtown feel of newer master-planned communities that include condominiums and a busy town center.
In Florida, Babcock Ranch is a prime example of a niche master-planned community. It's completely solar-powered and features sleek, sustainably built homes at a variety of price points, attracting green-minded buyers. Babcock Ranch sits about 16 miles outside of the nearest urban center, Fort Myers.
Compare that with the suburb of Gateway, located about 10 miles outside of Fort Myers. While the suburb is a bit closer, the master-planned community offers specific draws designed to bring in environmentally conscious buyers.
While Babcock Ranch might be an extreme example of the niche offerings available—it's the nation's first and only solar-powered town so far—it illustrates the way developers seek to build varied master-planned communities with particular buyers in mind from the start. Similarly, there are also master-planned communities labeling themselves as "agrihoods" that tout a farm-to-table ethos (like The Cannery in Davis, California).
Are there any downsides to all this planning?
It depends on your wish list as a buyer. If you're looking for amenities and new construction, a master-planned community might be just the ticket. Sometimes, because a master-planned community is farther from a city center, you'll find better price per square foot too (remember, that's not always the case if you choose a niche community such as aforementioned Babcock Ranch, where higher prices reflect the cost of sustainable practices).
If you're truly looking for that urban feel, a master-planned community's small-town center might not cut it. Choosing a suburban area closer to a city's downtown would give you better access not only for real-deal urban offerings but also a quicker commute.