Bay Area Local Life
The Top 4 San Francisco Neighborhoods for Commuting on BART
The Bay Area has some of the worst traffic in the country. With a growing number of residents commuting in and out of San Francisco via the Golden Gate and Bay bridges, the Bay Area now has the most commuters in the U.S. who travel at least three hours per day to get to work and back.
While the commute doesn't look like it'll be improving any time soon, the Bay Area Rapid Transit system (called BART) can help cut your commuting time down. The Bay Area's main rail system connects San Francisco with the East Bay and Daly City, but it doesn't serve all San Francisco neighborhoods.
If you're planning on taking advantage of BART for your commute, these are the San Francisco neighborhoods with accessible BART stations.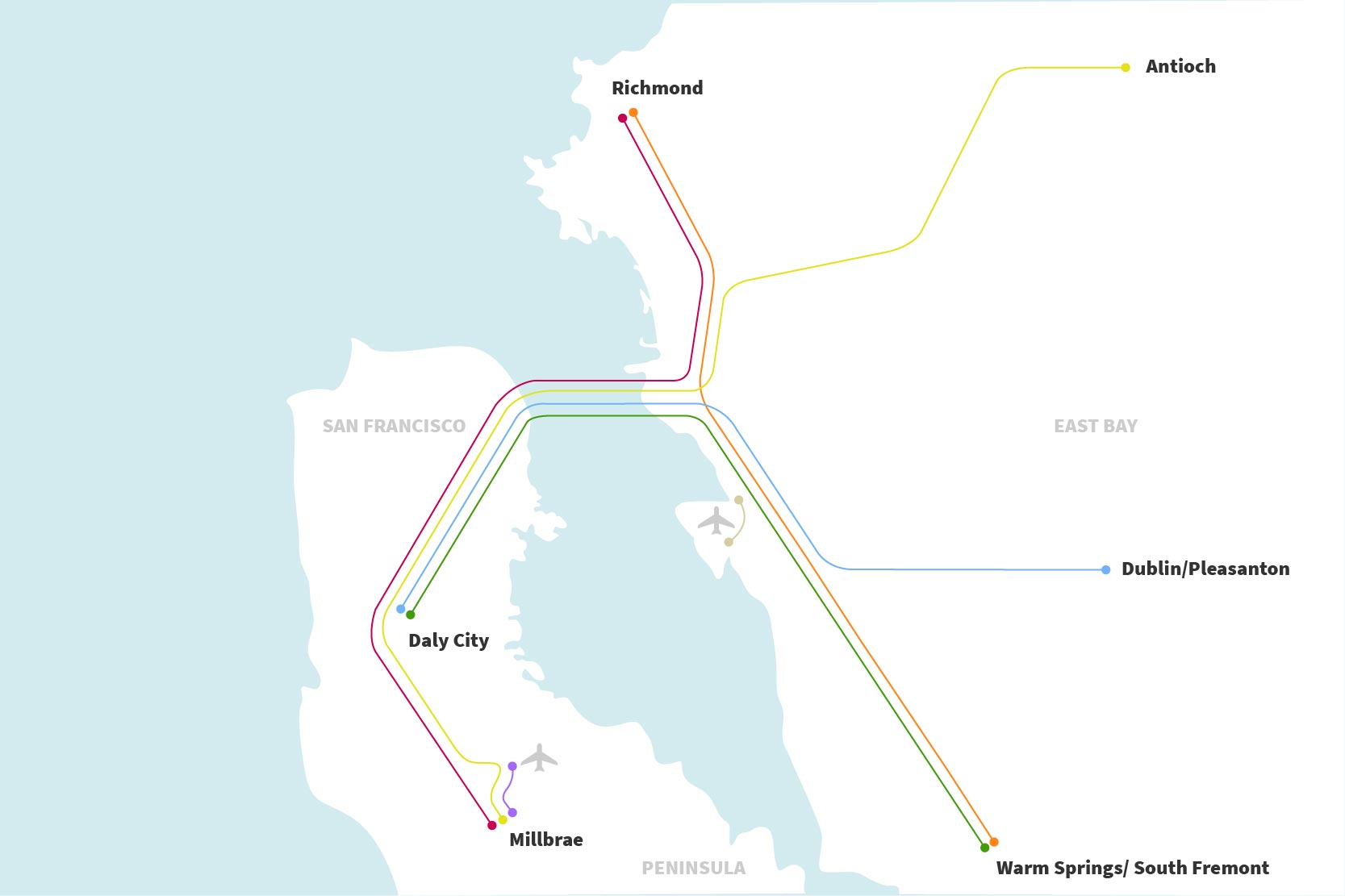 South of Market, known as SoMa, sits between Market Street and San Francisco Bay. Originally an industrial warehouse district, SoMa has grown into one of the city's newer, trendier spots to live. Home to bars, clubs, and some of San Francisco's best restaurants, SoMa offers easy access to paths along the waterfront with great views of the bay.
SoMa features more high-rise, condo, and loft living options than most other neighborhoods in San Francisco. Home to Oracle Park, Yerba Buena Gardens, and the San Francisco Museum of Modern Art, this downtown neighborhood is active and lively year-round. SoMa is also the headquarters for many of the city's tech companies, attracting its share of tech workers and entrepreneurs.
The Montgomery, Powell, and Civic Center stations serve the SoMa area along Market Street, and residents can jump on all BART lines to head into East Bay or down towards South San Francisco. These centrally located BART stations serve commuters to and from San Francisco's Financial District, along with those traveling into the city to see a Giant's game or tour a local museum.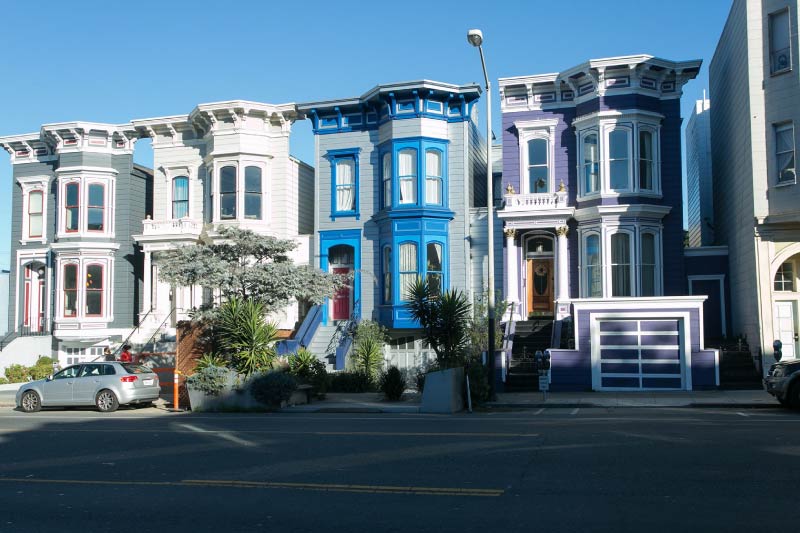 The Mission is one of San Francisco's favorite neighborhoods for food, art, and nightlife. Home to some of the city's best Mexican food, murals and street art, and eclectic dive bars, the Mission also happens to be home to two BART stations that make it a convenient neighborhood for commuting.
The 16th Street Mission and 24th Street Mission BART stations are located along the neighborhood's main thoroughfare—Mission Street—and they're surrounded by local shops, bars, and eateries. The 16th Street Mission station is located at the north end of the neighborhood and 24th Street Mission station is located at the south end, so a BART station is within walking distance for many of the Mission's residents.
The centrally located neighborhood is also bordered by Highway 101, and it's home to popular spots like Mission Dolores Park and the Roxie Theater. The lively Mission has a flat and easily walkable main thoroughfare, quieter tree-lined streets with classic Victorian homes, and sunnier weather than other San Francisco neighborhoods.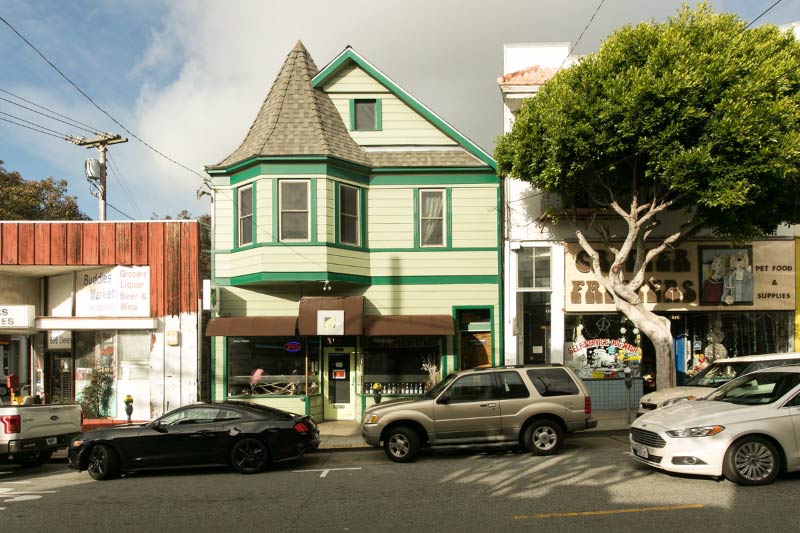 The small residential neighborhood of Glen Park sits just southwest of the Mission and next door to Glen Canyon Park. Glen Park is full of mom-and-pop stores, small coffee shops, and organic markets. The somewhat secluded neighborhood has a family-friendly, village-like atmosphere.
While the neighborhood is definitely on the quieter side, the local BART station keeps it accessible and convenient for commuters. The Glen Park Station is located at the southern edge of the neighborhood on Diamond Street, next door to Highway 280 and surrounded by local shops and eateries. The station and its nearby amenities are just a short walk away for most Glen Park residents.
Not far from Glen Park's local BART station is Glen Canyon Park, 60 acres of open space with hiking and walking paths, outdoor recreation, and great views. Between the local BART station, vast open space, and the quaint residential streets, Glen Park offers a mix of quiet and commuting convenience that many other San Francisco neighborhoods lack.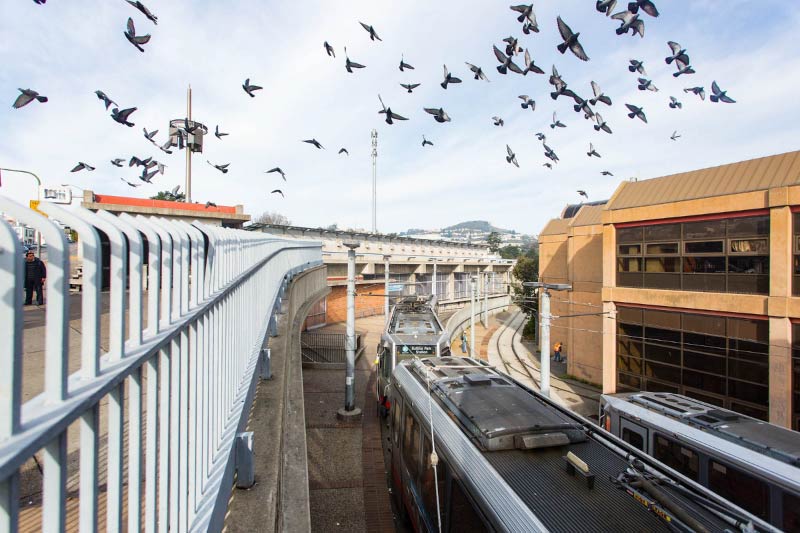 Mission Terrace is a small residential neighborhood in southwest San Francisco. Bordered by Highway 280 and home to the Balboa Park BART station, the neighborhood is a hub for transportation. Still, Mission Terrace has maintained a quieter, community-oriented vibe, home to local markets and eateries, parks, and colorful homes with gardens and backyards.
The Balboa Park BART station is located on Geneva Avenue, just below the namesake Balboa Park, and it takes commuters south towards Daly City or north towards the East Bay on all BART lines.
Besides access to transportation, Mission Terrace hugs the greenspace of Balboa Park and isn't far from the vast Glen Canyon Park. This quieter neighborhood also offers easy access via transit to some of San Francisco's livelier neighborhoods, like The Mission or The Castro.