National Homeownership
The Ultimate Household Essentials Checklist for When You Move In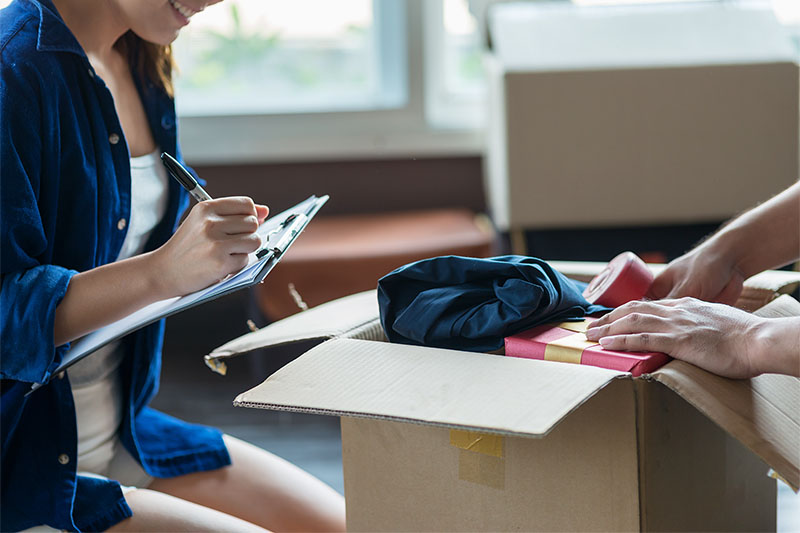 There is so much beauty and joy in owning your own home. For the most part, you can paint the walls any color you like (and you don't have to paint them back if you ever move out). You can purchase and arrange art, furniture and decor to your heart's content. You can completely gut and renovate the kitchen. However, all of these things aren't immediately necessary—and there's plenty else that takes precedence in those first few days and weeks of living in your new home.
When you first move into a new space, you'll be thinking less about long-term projects and more about immediate needs, from towels and toiletries to cleaning supplies and surge protectors. While moving day might not be completely seamless, this checklist of household essentials will help you transition into your new home now so you can focus on the fun stuff later.
This checklist of household essentials will help you transition into your new home now so you can focus on the fun stuff later.
Get Things Up and Running in Advance
I can tell you from personal experience: Don't forget to get the water turned on. In the two weeks leading up to your move, contact local utility companies to make sure power and water are ready to go. Does your home have gas? You'll also need to know this in advance so you can get set up with a provider and have them do an inspection.
If your internet provider allows, get cable and internet transferred in advance as well—or schedule a transfer the day of your move. Also, don't forget surge protectors, ethernet cables, and routers.
Consider Safety and Security
Whenever you're in a new place, it's important to take note of your surroundings and take precautions where applicable. Your new home will house all your valuables—including your loved ones—so you might consider taking measures to bolster security. That means hiring a locksmith to change the locks when you first move in. You might also consider a home security system; Ring, Nest, and SimpliSafe are all popular options in addition to traditional monitoring services like ADT.
Have Household Essentials Handy
When I moved into my new home, I didn't think much about cleaning supplies since the previous owners had moved out months prior and graciously had it professionally cleaned. But between inspections, a few minor repairs, and movers lugging furniture upstairs, my new house required an unexpected deep clean. I also found out quickly I needed household essentials like toilet paper, a first aid kit, and a box cutter to help me break down all those empty boxes once I unpacked them.
Here's What to Have on Hand:
Mop
Vacuum
Broom
Dustpan
Cleaning products such as Windex, Clorox, etc.
Paper towels
Garbage bags
First aid kit
Toilet paper
Box cutter
Light bulbs
Batteries (get a variety of sizes for new remotes, smoke detectors, wireless devices and more)
Laundry detergent
Soap
Rubber gloves
Stove cleaner
Oven cleaner
I'd also personally recommend packing a separate bag to tide you over the first few nights in a new home. You'll want to include items like clothes, medication, chargers, contact lenses, and anything else you know you'll need—and can't afford to lose in the hubbub of unpacking.
Stock the Toolbox
Whether you're hanging artwork or carrying out a simple DIY repair, you'll want home basics like a hammer, nails, screws, screwdriver with multiple heads, a hex key, a wrench, tape measure, level, wire cutters, spackle, putty knife, utility blades, a flashlight, and a cordless drill.
Equip the Kitchen
Often, homeowners who create a new home registry ask for kitchen items. It's easy to see why: There's a lot you need to get a kitchen up and running. Here are a few ideas for items to consider when stocking the kitchen:
High-quality pots and pans
High-quality knives
Flatware
Plates
Bowls
Mugs
Glassware
Stemware
Trivets (don't ruin any countertops!)
Utensils like whisks, tongs and spatulas
Cutting boards
Baking sheets
Corkscrew
Can opener
Packaging like plastic bags, food storage containers, aluminum foil, and plastic wrap
Toaster oven or microwave
Blender
Food processor
Colander
Oven mitts
Coffee maker
Serving platters
Bed, Bath, and Beyond
True story: When I moved into my new home, all of the rooms had existing (if a bit shabby) blinds. All the rooms except one, that is. The master bathroom had no blinds and no windows—something I didn't even think about at any point during the home-buying process. It was fine for one night, but I promptly went to Home Depot the next morning for curtains.
I also quickly learned that life in a historic home meant not-so-optimal outlet placement. For me, extension cords were a must, especially in the bedroom. Here are a few other home basics for the bedroom:
Lamps
Sheet set
Extra bedding
Mattress pad
Full-length mirror
Laundry hamper
Fan and/or space heater
A lot of the previously mentioned household essentials can be used in the bathroom. However, here are a few more items to consider for those first few days in your new home:
Shower curtain liner
Shower curtain rod and clips
Shower curtain
Hand soap
Body soap
Bath mat
Plunger
Set the Tone for Your Home's Interior
Big-ticket items like a sofa, dining table ,or dresser are worth researching and waiting for seasonal sales. Similarly, special decor items like artwork, photos, and objects d'art can take years to curate. There's no reason to rush into buying items for your home—it's yours for many, many years to come.
But there is one place where you can get your home decorating fix, quick: the front door and entryway. This relatively small space is affordable to spruce up and can make an impact on guests and your own sense of place when you walk through the door. Here are a few things to consider:
Door mat
Potted plants
Area rug or runner
Coat rack or hooks
Mail organizer
Storage bench