Chicago Local Life
This Greenhouse Is Planting the Seeds of Community Engagement in Kilbourn Park
Major urban cities like Chicago might not make you immediately think of greenspace, but the city's parks are considered some of the best in the country.
While Millennium Park, Humboldt Park, and Jackson Park are some of the city's biggest and most widely recognized parks, smaller greenspaces throughout the city make big differences in their communities.
In the small North Side neighborhood of Kilbourn Park, located just south of Old Irving Park, the Friends of Kilbourn Park Organic Greenhouse grows thousands of plants, showing its community the beauty and benefit of gardening.
The Greenhouse Mission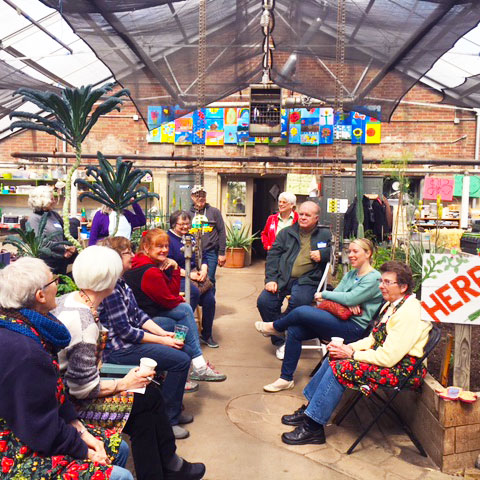 The greenhouse, located within the larger Kilbourn Park, was designed in the late 1920s. In 2007, Friends of the Kilbourn Park Organic Greenhouse formed as a volunteer group dedicated to securing funding and support for the greenhouse.
"The mission of the organization is first and foremost to teach gardening practices that are organic and environmentally sustainable," Friends of Kilbourn Park Organic Greenhouse President Lourdes Valenzuela told Neighborhoods.com.
Valenzuela got involved with the greenhouse in 2013, first as a visitor and then as a member and leader of the core group of volunteers that makes up the Friends organization. That core group of about 10 people meets monthly to discuss fundraising and event planning for the greenhouse.
Beyond that core group, hundreds of people volunteer their time and attend workshops on sustainable gardening and healthy eating—many of which are organized by Friends volunteer Renee Costanzo.
Engaging the Community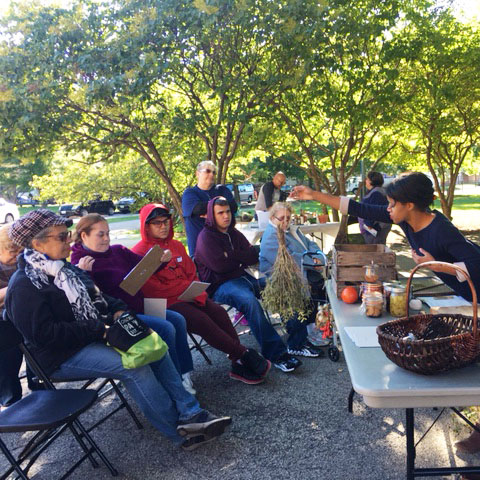 "Some people feel like they have to go somewhere far away to learn about organic food and gardening, but there is something right here in their own neighborhood," Valenzuela says.
Friends of Kilbourn Park Organic Greenhouse makes organic gardening accessible. People and families who never planted anything before can come learn the basics of healthy growing and cooking with fresh, organic food. The greenhouse also holds classes on topics, such as propagation, for more advanced gardeners.
People can take those skills home or put them to use right at the park. The greenhouse has community garden plots available for rent, ensuring no one has to be limited by a lack of space at home.
An annual plant sale is Kilbourn Park Organic Greenhouse's biggest event of the year. Starting in January and February, volunteers begin the growing process for the sale in May. Hundreds of different plants—including vegetables, herbs, and flowers—are grown from seed to meet the demands of the community. Each year, the Friends group reevaluates what to grow based on what people want. One year there was too much kale, and another year, there weren't enough jalapeños.
After the sale is over, Friends ensures nothing goes to waste. "We give whatever is leftover away to churches, nursing homes—anywhere that can use and plant what we have," Valenzuela says.
Beyond learning how to garden, Friends of Kilbourn Park Organic Greenhouse also hosts events just to get people into the garden. Over the summer, they hosted an Evening in the Garden with live music, food, and drinks. They've also organized yoga classes in the greenhouse.
Friends of Kilbourn Park Organic Greenhouse also actively fosters partnerships to get people involved. The group works with the Kilbourn Park Advisory Council and the office of Ald. Ariel Reboyras (30th Ward) to keep in touch with the community's needs and support the greenhouse's activities.
Friends also connects with local high schools as well as the University of Illinois Extension: Illinois Master Gardeners program. Next, the greenhouse is looking to form a lasting relationship with a food bank.
"The community is growing and changing. Townhomes are being built, and more young families are coming here. We want to get to know the new community and make sure they are aware of the greenhouse," says Valenzuela.
Finding New Ways to Be a Valuable Resource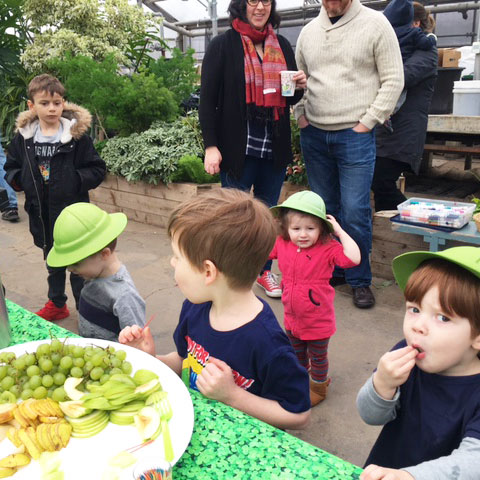 In addition to running events, Friends of Kilbourn Park Organic Greenhouse actively seeks funding for the greenhouse. Recently, they secured a $25,000 grant to create a natural play space for kids. Work has already begun on the play area, and it's expected to be done in early spring. The greenhouse is also upgrading some its children's planting areas.
Friends uses everything at its disposal—from social media to word of mouth—to get people involved. While some people come from within the community and others from even farther away, Valenzuela still wants to find more ways to bring the neighborhood's residents to the greenhouse.
"You would be amazed at how many people said they didn't know the greenhouse existed," she says. "It is a beautiful spot that is only getting better through the years."