Bay Area Market Trends
Top 10 Selling Neighborhoods in San Francisco
San Francisco has one of the hottest real estate markets in the U.S., but the number of neighborhoods (and micro-neighborhoods) in this city can make it hard to navigate. Using data from Neighborhoods.com, we've compiled a list of San Francisco's top-selling neighborhoods to give you an idea of where people are moving and what's going on in these neighborhoods.
Here are the top 10 selling neighborhoods in San Francisco (in order of lowest to highest selling).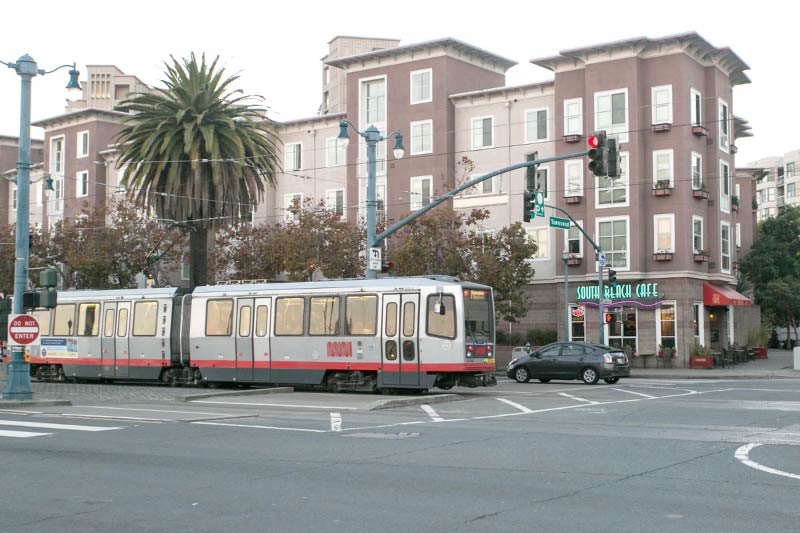 Once an industrial shipping area, South Beach has morphed into a trendy neighborhood full of eateries and nightlife. Sitting on San Francisco's waterfront, South Beach is home to Oracle Park—where the San Francisco Giants play—and has great views of the Bay Bridge. South Beach is especially lively during baseball season, but the neighborhood offers some of San Francisco's top-notch restaurants and a variety of nightclubs and bars.
Unlike many other San Francisco neighborhoods, South Beach offers mostly new or renovated lofts and condos in an industrial, high-rise setting. South Beach's waterfront location also makes it ideal for cycling, walking, or jogging along the bay. The median sale price here is in the mid $1.1 million range.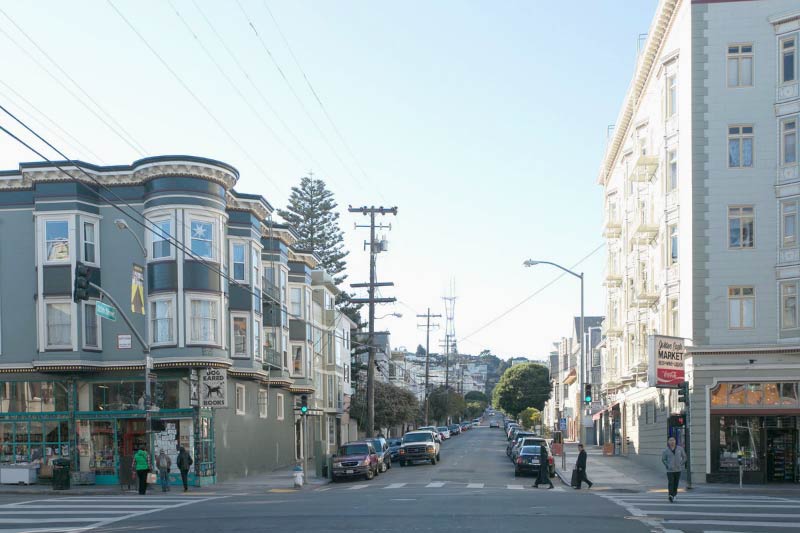 The Mission is San Francisco's go-to neighborhood for art, food, and nightlife. The Mission is home to a cultural community well-known for its authentic Mexican and Central American cuisine, outdoor murals and street art, eclectic local shops, and numerous dive bars. New eateries and bars are constantly popping up in this neighborhood, and the Mission's main drag is flat, which is almost unheard of in San Francisco.
The weather in the Mission also tends to be sunnier and warmer than the rest of the city so locals take advantage of Dolores Park, a popular weekend hangout for picnicking or relaxing on the grass with a great view of downtown. The current median sale price here is over $1.2 million.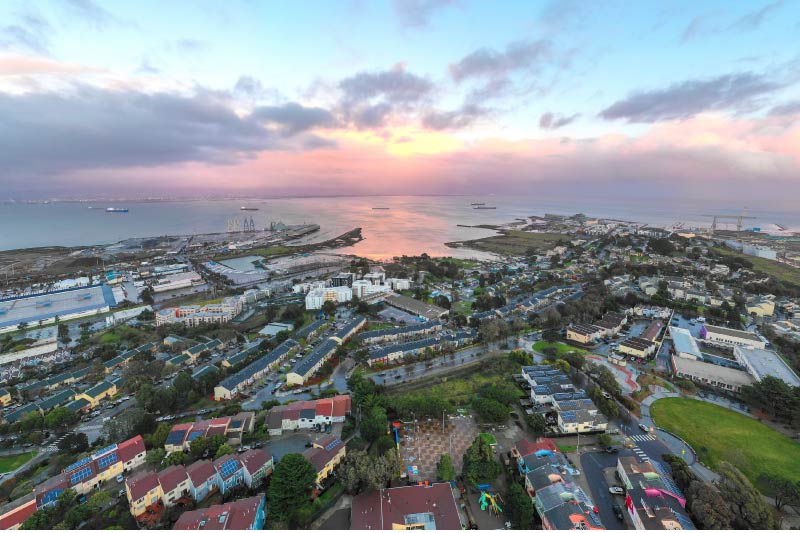 Hunters Point sits in San Francisco's southeast corner on the site of a former naval shipyard. The neighborhood is probably the most isolated in the peninsula, but it has always been community-oriented, full of locally-owned businesses and mom-and-pop stores. Hunters Point is home to close-knit residents, families, and a large collection of artists who work out of the former shipyard and open their studios to the public a handful of times per year.
Still, Hunters Point hasn't been spared from the massive redevelopment that's taken place across the city. Developers have moved into Hunters Point to address the city's housing shortage, signaling a major change for this waterfront community as plans for new homes and buildings are drawn up. The current median sales price here is in the high $800s—significantly less than many of the city's other neighborhoods, but probably not for long.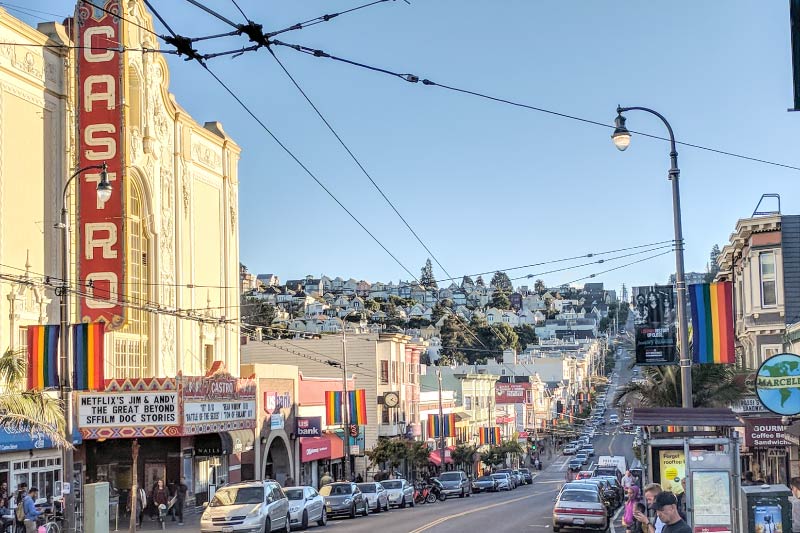 Famous for being San Francisco's LBGTQ epicenter, the Castro is a vibrant neighborhood full of bars, shops, restaurants, street fairs, and festivals. Between a great food scene and plenty of things to see, the Castro is also a bit of a tourist attraction—but if you don't live on the main strip, the Castro offers quieter residential streets with refurbished Victorian and Edwardian homes and a friendly, community-oriented vibe.
The Castro is home to a diverse community of residents, but it has seen its share of new residents from San Francisco's tech boom. The lively neighborhood atmosphere and easy commute to tech offices in the South Bay has driven up real estate prices in this already popular neighborhood, and the current median sale price sits in the high $1.5 million range.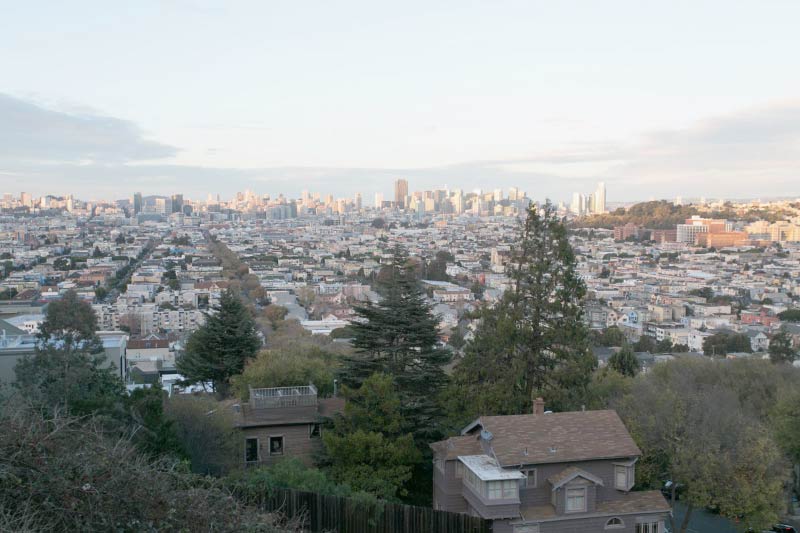 Across town is Bernal Heights, one of San Francisco's primarily residential neighborhoods that's known for its steep hillsides, homey atmosphere, and namesake Bernal Hill overlooking the city. Bernal Heights is popular with families (earning it the local nickname "Maternal Heights") and provides quieter residential streets, playgrounds, and dog-friendly parks.
Bernal Heights has the feel of an urban village—the neighborhood's main thoroughfare Cortland Avenue is home to cafes, fruit stands, small markets, shops, and a mix of trendy boutiques and bars. Residents value the small-town, quirky vibe that the neighborhood has maintained despite the significant rise in home prices and the influx of new residents. The median home price in Bernal Heights is in the high $1.4 million range, and some pre-earthquake homes still exist in the neighborhood alongside bungalows and community gardens.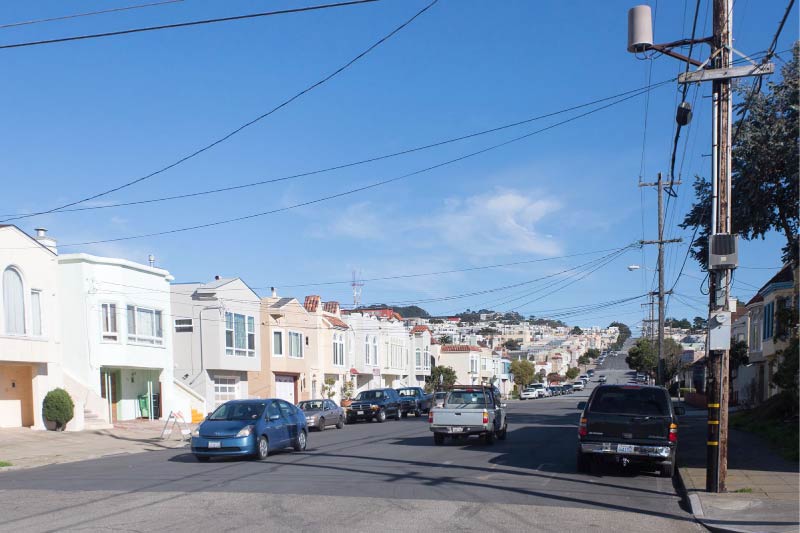 Outer Sunset sits west of 19th Avenue in the Sunset District. Bordered by Ocean Beach to the west and Golden Gate Park to the north, Outer Sunset is a relaxed neighborhood known for its surf shops along the water, scattered dive bars, locally owned shops, and American and Asian restaurants along Judah Street and 9th Avenue. The Outer Sunset is notorious for its fog, and its location on the fringe of the city helps it retain its quieter, low-key atmosphere.
The Outer Sunset has always been home to families, students, and surfers, but an increasing number of newcomers, like professionals and families, have moved into Outer Sunset to avoid the high prices in other San Francisco neighborhoods. Outer Sunset offers oceanside living and unbeatable proximity to Golden Gate Park. Home prices here have gone up with the rest of the city, but the median home price in this neighborhood is currently about $1.4 million.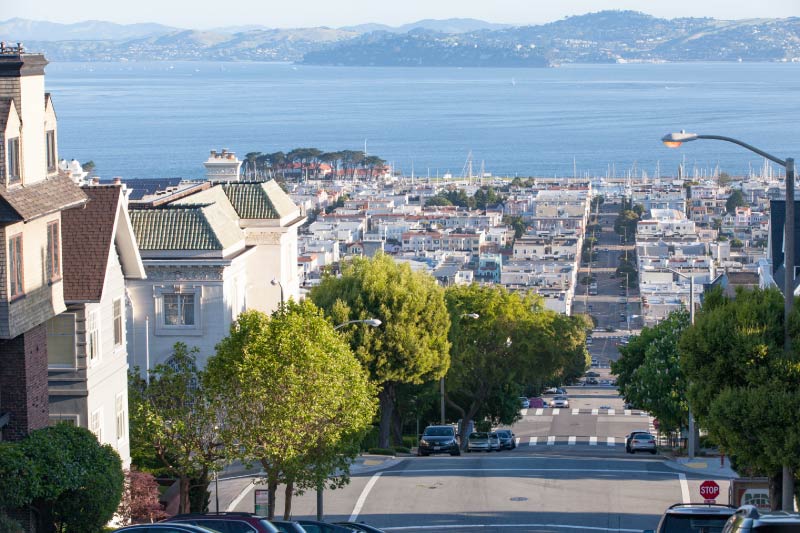 San Francisco's upscale Pacific Heights neighborhood is home to some of the city's grander estates—like the extravagant homes along "Billionaires Row," where you'll find old-money residents living alongside newer tech billionaires. This hilltop neighborhood also boasts some of the best views in the city, including those of the Golden Gate Bridge, Alcatraz, and the San Francisco Bay. You can usually see the amazing views here too—the elevated Pacific Heights neighborhood happens to have a microclimate with much less fog than other areas of the city.
Besides impressive real estate, Pacific Heights is known for its dining and shopping, offering some of the city's top restaurants and high-end boutiques. Alta Plaza Park and Lafayette Park anchor this neighborhood and offer panoramic views and walking paths, and locals take advantage of the Lyon Street Steps for exercise (and the view). The median sale price in Pacific Heights is currently $1.7 million.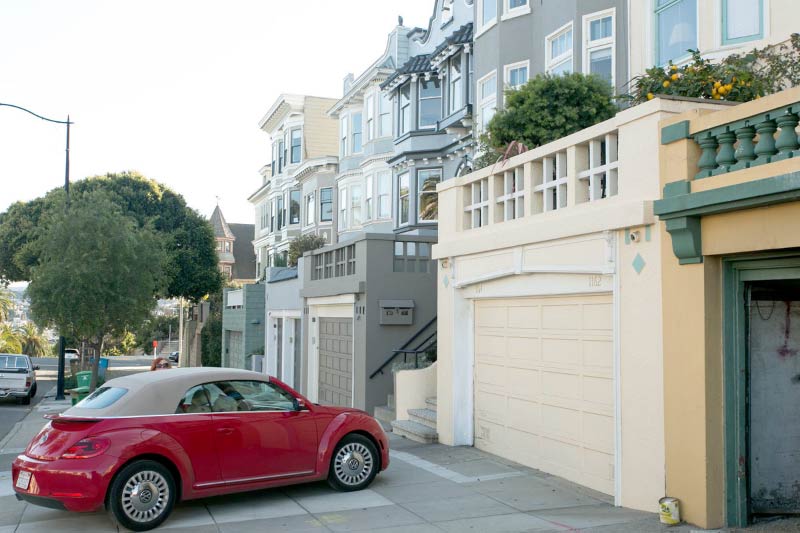 The hilly neighborhood of Noe Valley is known as one of San Francisco's most family-centric spots. Parents with strollers and school-aged children populate the neighborhood's quaint streets, frequenting the farmers market as well as the restaurants and shops along lively 24th Street. But the neighborhood isn't only for families—plenty of working professionals have moved in, taking advantage of the walkable amenities and close proximity to nightlife in the Mission, which is right next door.
Noe Valley's blocks are lined with well-maintained Victorian and Edwardian homes, parks, and shops. Locals love the small-town atmosphere and the quiet residential streets, but just like the rest of San Francisco, home prices in Noe Valley have skyrocketed—the current median sale price in this neighborhood is over $1.8 million.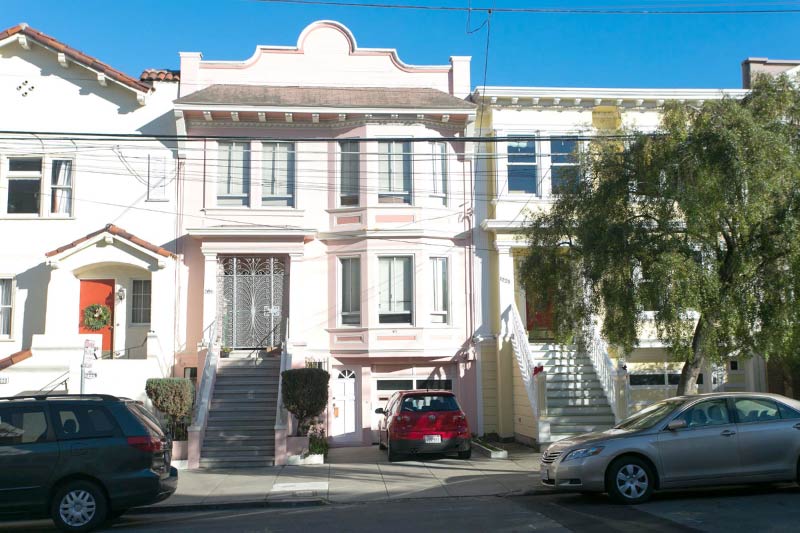 Just below the Richmond District is San Francisco's Sunset District, known for its fog and location alongside the Pacific Ocean. It's also home to the San Francisco Zoo, next door to Golden Gate Park, and home to a mix of coffee shops, dive bars, Asian restaurants, and surf shops along the waterfront.
Sunset is lined with colorful, single-family row homes and Mediterranean-style homes, many of which have been renovated as new residents move into this neighborhood. Even as real estate prices have shot up around San Francisco, the Sunset District is still one of the more affordable neighborhoods in the city. Sunset has a current median sale price of $1.4 million.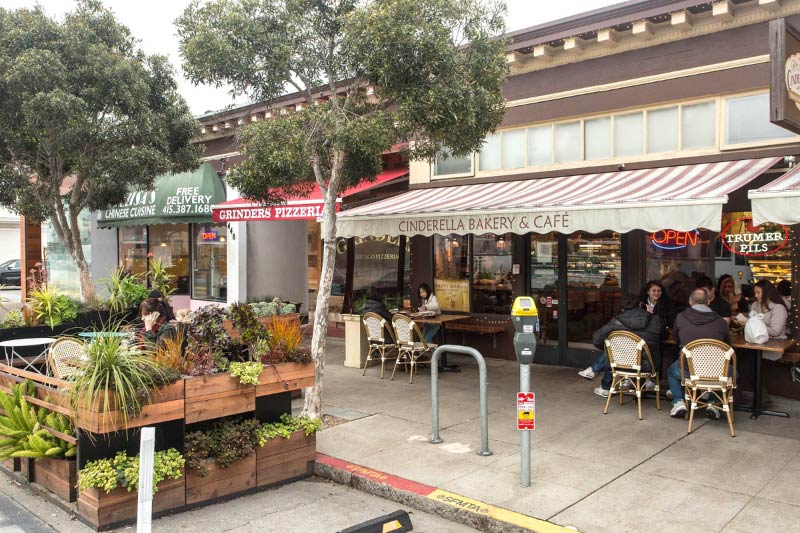 In the most northwestern corner of the San Francisco Peninsula, the Richmond District is surrounded by greenspace and outdoor activities, including Ocean Beach, Golden Gate Park, and the Presidio. This laid-back, culturally diverse neighborhood is home to some of San Francisco's best ramen and dim sum, and the eastern section of the neighborhood (also known as Inner Richmond) isn't far from Pacific Heights or the Haight.
The Richmond District is home to the University of San Francisco, making it a popular spot for university students and staff as well as families, surfers, and artists who have lived in this low-key, oceanside neighborhood for years. Many of the Edwardian-style homes in the Richmond are being renovated, and according to Neighborhoods.com data, the median home price sits at $1.7 million.