Las Vegas Market Trends
Townhomes Help Grow Luxury Market in Las Vegas
While townhouses are often touted as the reasonably priced answer to a full-fledged home, the luxury market in Las Vegas is redefining them, both architecturally and in terms of market value. MacDonald Highlands in Henderson recently debuted Vu, a townhome community from Christopher Homes named after the excellent views buyers can expect of both The Strip and the natural surroundings of Black Mountain. Targeting upwardly mobile young professionals, Vu is a guard-gated community whose prices start at $735,000 and go to $925,000. This 2-bedroom is listed at $895,000.
Although there is no shortage of luxury homes in the Valley, buyers now have more options. Vu and other townhome communities like it challenge the McMansion norm of the upscale market. While high-end buyers have often favored conventional layouts, these townhomes feature open-concept levels that don't have the look you'd expect of a nearly $1 million home.
Properties listed as townhomes in Las Vegas are both single- and multiple-story properties, but the difference from other homes in the same price range is the economical use of space. The luxury touches like waterfall-edge kitchen islands, grand fireplaces, and top-of-the-line appliances recreate the experience of a larger home, as these residences range from 2,841 to 3,652 square feet.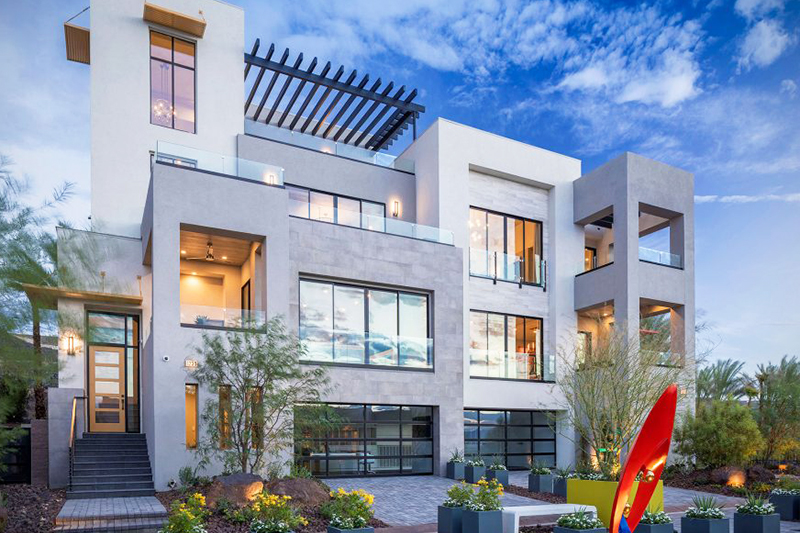 Besides these extras, architectural styles in Vegas are changing, as current buyers are turning their interest to contemporary styles with clean lines. As Vegas Magazine reports, Mediterranean and Spanish styles are falling out of favor for modern design, a trend that comes with a price tag.
According to Home Builders Research, 470 existing home sales last year were in the $1 million and above price bracket and 875 in the $750,000-plus range, which is a 44% and 55% respective increase from 2016, per the Review-Journal. This means that more luxury buyers are entering the Las Vegas market, even as home prices remain below pre-Recession levels.
"I think 2018 is setting up to be another great year for the luxury market," Ken Lowman, broker and owner of Luxury Homes Las Vegas told the Review-Journal. "I think we will see another wave of Californians now that tax reform is passed."
Yet luxury townhomes have been an important part of the Post-Recession growth in the Valley. Fairway Hills Townhomes in The Ridges also feature modern design touches with a premium price tag hovering just under the $1 million mark, worth the extra cost to buyers who want posh city views. This one is listed at $841,995. Others like The Summit may not expressly sell townhomes, but their clubhouse suites, golf cottages, and club villas take advantage of innovative floor plans with 2,000 to 3,000 square feet.
Affluent professionals and empty nesters may enjoy these homes, but developers are also implicitly catering to California residents who may be eager for a change from unpredictable weather. Because of their equity in the higher-priced homes in the California market, these buyers find Las Vegas prices more affordable.