Trump Tower Will No Longer Be Chicago's Second-Tallest Skyscraper
Trump International Hotel and Tower in Chicago rises 1,389 feet into the air, making it the second-tallest building behind the 1,451-foot-tall Willis Tower, but that's about to change. Developers are planning to build a new, 1,422-foot-tall building near Tribune Tower, according to the Chicago Tribune.
The new skyscraper plan is a part of the same project that will convert the Tribune Tower into luxury condos, according to Curbed Chicago. The development will create more than 700 units and 200 hotel rooms, according to the Chicago Tribune Report.
Two years ago, Developers Golub & Co. and CIM Group bought the project property from Tribune Media for $240 million, according to the report. Now, the condo conversion and construction of the new towering skyscraper is expected to cost approximately $1 billion.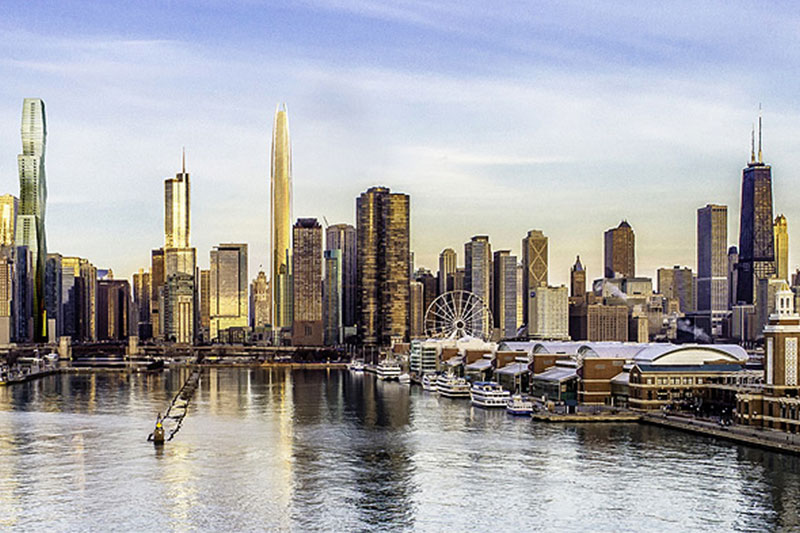 Renderings for the new tower show a slender building that ends in two points, which "resemble the top of Batman's mask," according to the Chicago Tribune report. When asked why the project didn't push past the height of Willis Tower, Lee Golub, executive vice president of Golub & Co., told the Chicago Tribune, "It just turned into what it is. Why didn't we do it? We don't have that big of an ego."
The condos in the new building are expected to average 3,000 square feet, while condos in the Tribune Tower are expected to average 2,700 square feet. According to the Chicago Tribune report, he units will likely sell for more than $1,000 per square foot.
The neo-Gothic Tribune building is the eastern neighbor of the proposed skyscraper. The "Chicago Tribune" sign is an iconic feature, and it might remain there. The developers and the newspaper are engaged in a legal dispute over the fate of the sign, according to the Curbed Chicago report. The developers are arguing that it's part of the real estate they acquired, while the newspaper is claiming the sign as intellectual property.
The new tower is slated for construction next year, but, as the Tribune report points out, funding for the mega-development remains a question. While the future for this project is not set in stone, it's hardly the only skyscraper remaking the city's skyline. Vista Tower, an 1,186-foot skyscraper planned for the Loop, already has a full construction permit. One Square Chicago, an 1,011-foot tower, is in the works for River North, and construction has already begun on the 892-foot One Grant Park project in the South Loop. If these buildings are completed at these heights, they will join the list of the 10 tallest buildings in Chicago, with Vista Tower taking the number three slot.
So far, no plans have been announced that would dethrone Willis Tower, at 1,451 feet, as the tallest building in the city.