Phoenix Local Life
Tucson Neighborhood Guide
Tucson is known for its beautiful Sonoran Desert that offers the best of both worlds: preserved nature and a growing city. But Tucson is unlike any other city.
Due to light pollution laws, the city lights are regulated to better enable astronomers in the surrounding area to study the stars, which means there are always clear skies and opportunities for star-gazing.
On the flip side, major companies like Amazon, Caterpillar, and Raytheon are creating more jobs in the area and strengthening Tucson's workforce. In addition, the Tucson International Airport is continuously adding more direct flights, making it a suitable airport for business or leisure travel.
Aside from astronomy and its workforce, Tucson is recognized as the first UNESCO City of Gastronomy, thanks to its culinary and agricultural efforts. The city's culinary talents have also received James Beard nominations, and one restaurateur even won "Guy's Grocery Game" on the Food Network. So, if you're dining in this city, you'll more than likely be eating at a top-rated restaurant.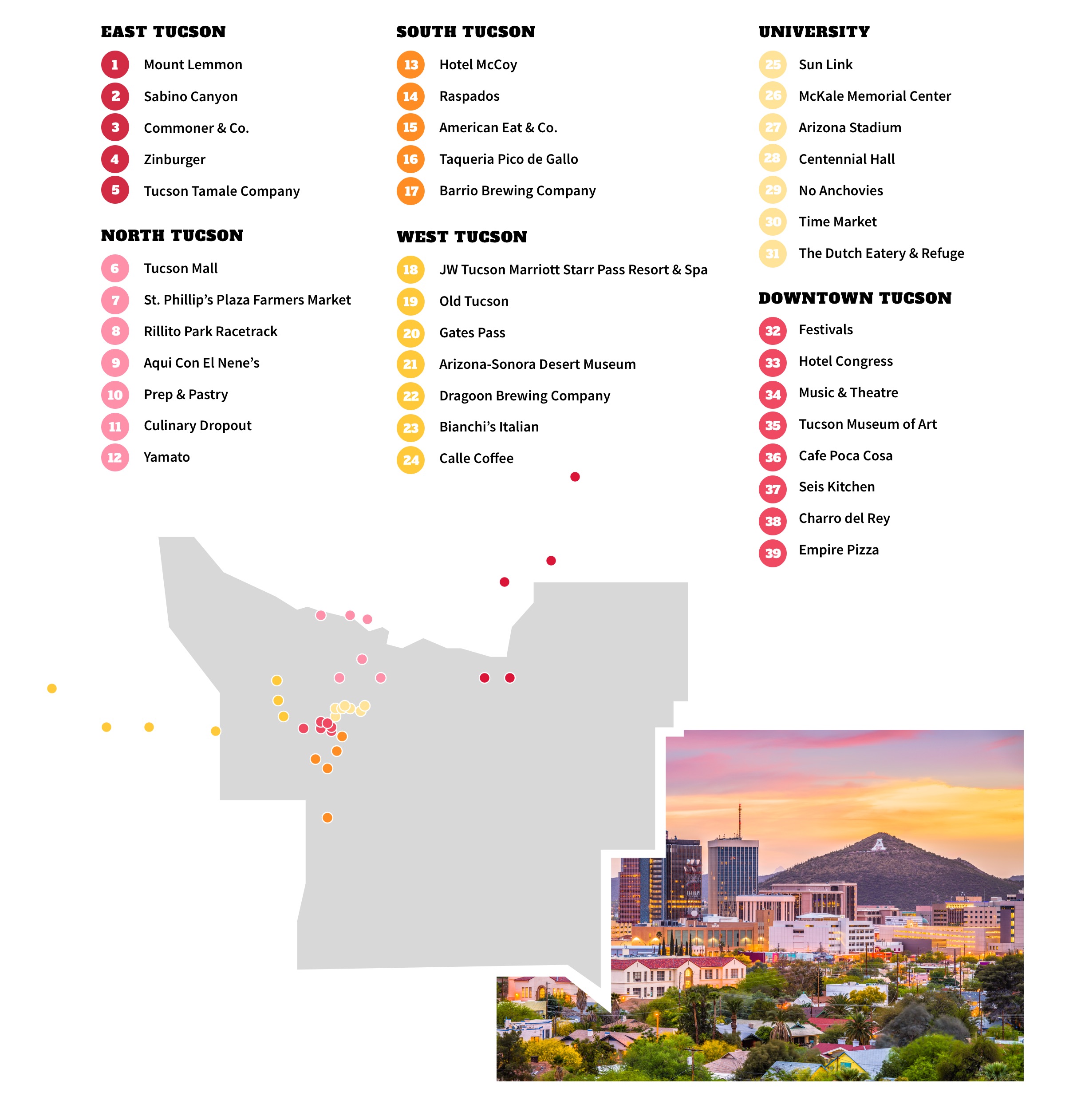 Tucson at a Glance
Homebuyers find an attraction to Tucson for reasons beyond its vibrant culinary scene and beautiful, mountain-framed setting. Families find peace in sending their children to private schools or highly ranked public schools, and people often want to live in Tucson when they discover the city's many neighborhoods offer a welcoming atmosphere.
With mostly sunny weather, it's also common for outdoor adventurers as well as professional cyclists and triathletes to train in Tucson. A bike path, called The Loop, offers more than 100 miles of shared-use paths, connecting to Rillito River Park, Santa Cruz River Park, and Pantano River Park with the Julian Wash and the Harrison Greenway. This paved trail meanders throughout the city and makes it possible for cyclists as well as pedestrians to safely train or just enjoy a leisurely walk outdoors.
Here's what you can find in the many neighborhoods of Tucson.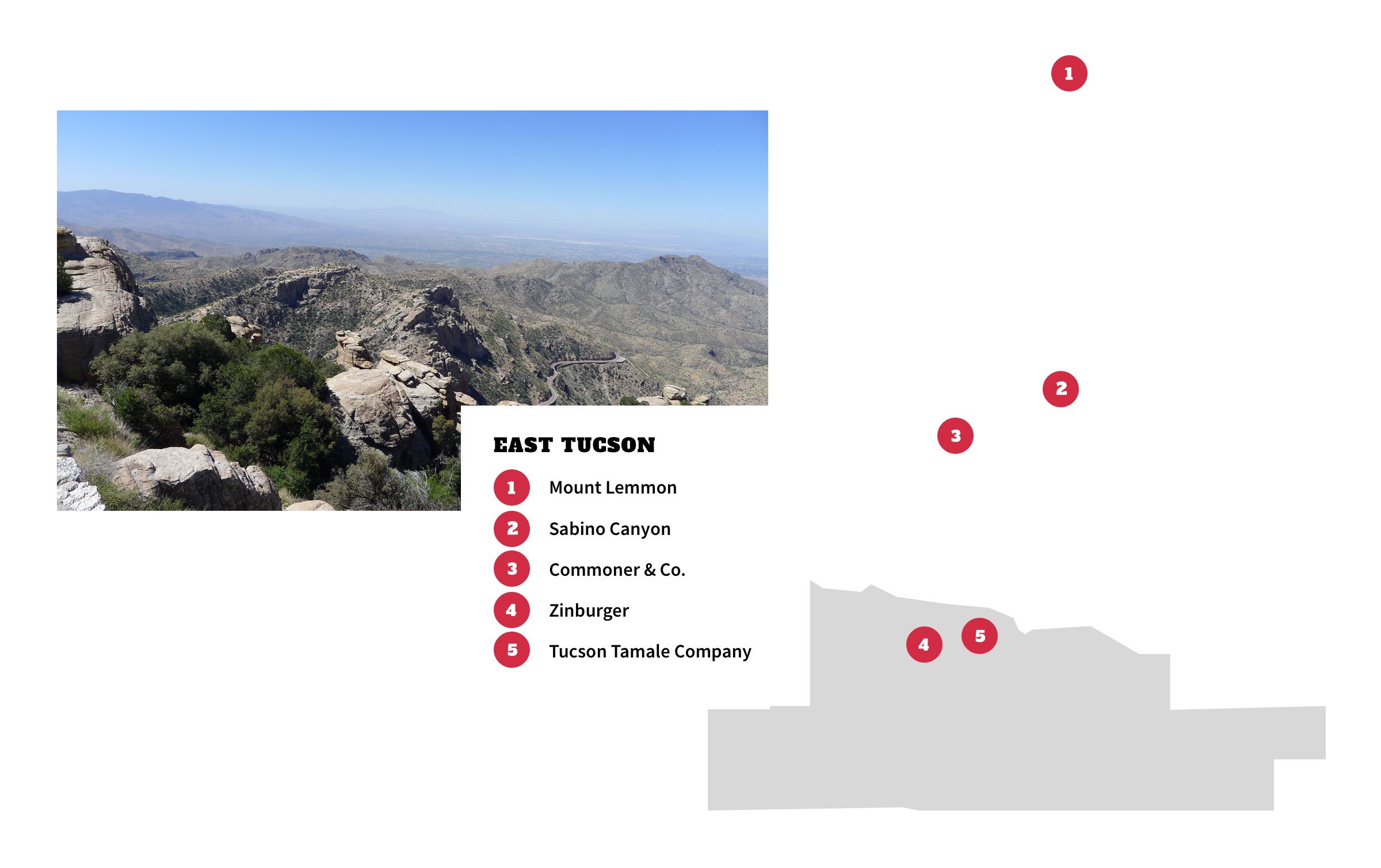 The biggest perk of living in East Tucson is its proximity to Mount Lemmon and Sabino Canyon, which provide plenty of opportunities for outdoor recreation. Residents enjoy breezy days in the summer and snow-covered trees and mountains in the winter. Aside from scenic mountain views, the community's restaurants and parks are also popular among locals, with many club sports played in the parks on this side of town.
What to Do
Residents often visit Mount Lemmon during the summer months because the temperature at the peak of the mountain is typically 30 degrees cooler than in the city. In the fall and winter, locals also go to Mount Lemmon to view the rich-hued autumn leaves or to play in the snow. Hiking, picnicking, camping, rock-climbing, cycling, and mountain-biking are just a few of the many outdoor activities ideal for families and outdoor enthusiasts in this area. If you're a cyclist, ride up from East Tucson to the Cookie Cabin and reward yourself with giant homemade cookies.
Whether you're a runner, cyclist, or hiker, Sabino Canyon offers a great outdoor workout with beautiful views of the Santa Catalina Mountains. There are multiple trails for different hiking levels, and there are plenty of bathroom stations throughout some of the paved areas. The canyons are filled with wildlife, and the paths are heavily trafficked. It's recommended to avoid hiking in extreme heat, especially during the 100+ degree weather in the summer.
Where to Eat and Drink
This restaurant is known for its delicious brunch and dinner Commoner & Co. offers an elevated brunch with flavorful and creative items like the bruleed goat cheese tart. The creaminess of the goat cheese contrasts well with the strawberry jam, and the lemon and thyme flavors make this dish perfect to enjoy as an appetizer or dessert.
This isn't your regular burger spot. Zinburger offers craft burgers, made of high-quality ingredients like Kobe or Wagyu beef, accompanied by tasty milkshakes and truffle fries. They do multi-course community dinners, which is worth experiencing. Also, the turkey burgers are a healthy alternative, if you're counting calories.
Tucson Tamale serves up classic favorites like green chili pork and red chili beef, but they also serve innovative creations like the blue corn and cheese vegetarian tam If you're feeling semi health-conscious, order the salad and tamale combination. And if you want to take some to-go, order a pack of frozen tamales that you can heat and serve in the comfort of your own home.
Why Locals Live Here
Locals live here for the beautiful views of the surrounding mountains and the highly ranked public schools. Residents love having quick access to Mount Lemmon and Sabino Canyon for an escape from city life. East Tucson is mostly made up of quiet and residential neighborhoods. Many of the homes in the area are custom-built within gated communities, although there are a few condos and attached homes in certain pockets of the neighborhood.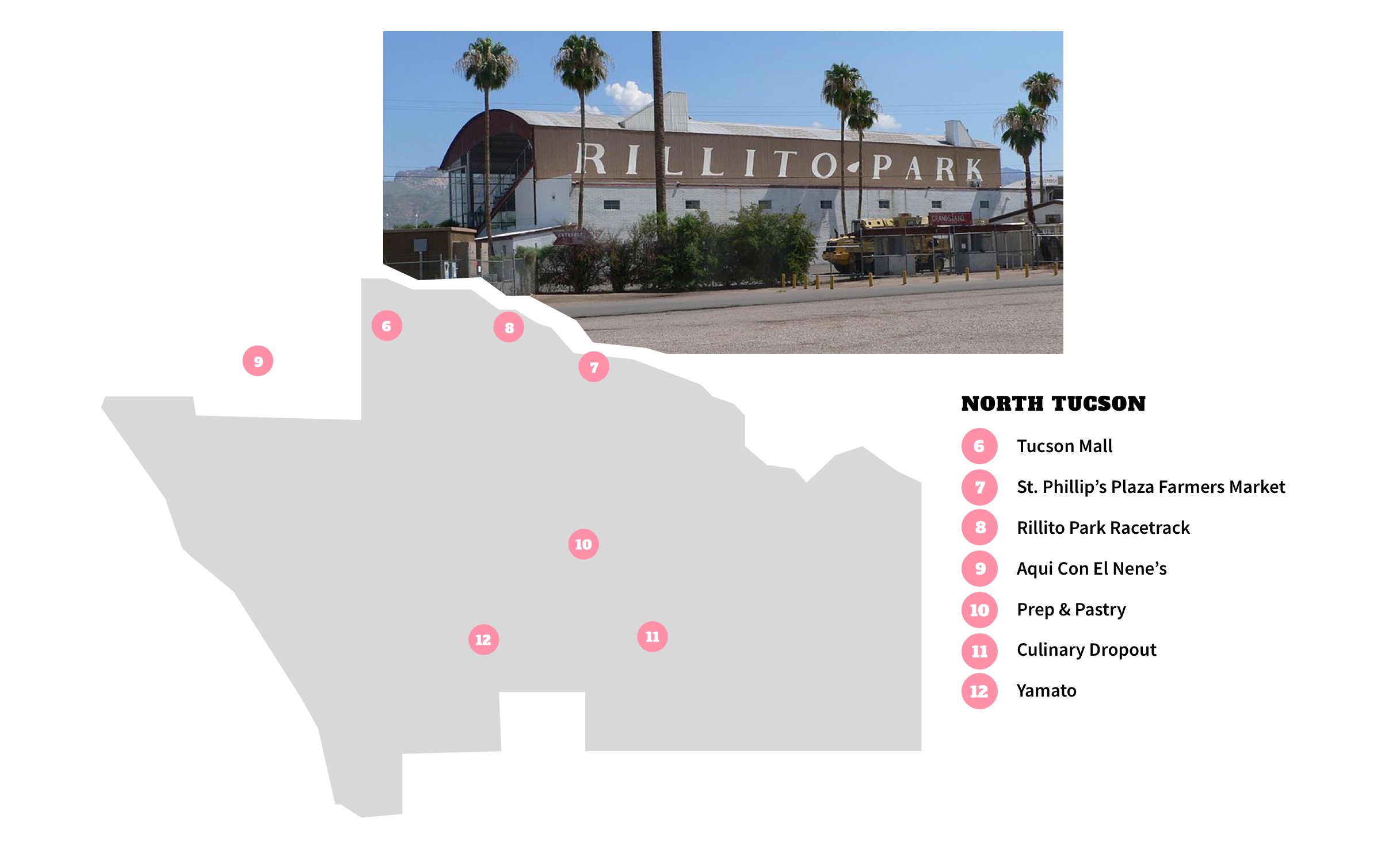 North Tucson is what most people consider the central part of the city. It's also one of the most family-friendly areas as well because of the nearby schools, restaurants, and shopping. While the neighborhood isn't necessarily walkable, you can easily get to a store or restaurant within a five-to-ten-minute drive.
What to Do
If you rather do in-person retail (or window) shopping than online shopping, then you'll have plenty of options at the Tucson Mall on Oracle Road. The Tucson Mall offers major department stores like Dillard's, Macy's, and JC Penny's as well as other popular big-brand clothing stores like Forever 21, H&M, American Eagle, and Banana Republic.
The farmers market in the St. Phillip's Plaza is a central gathering place where you'll find an assortment of vendors selling unique items, quality coffee, and fresh produce. Indulge in baked goods and artisanal bread or find a handmade gift for an out-of-town friend. With the nearby bike path loop, you'll see cyclists refuel here with a snack or a drink before hopping back on their bikes.
Since 1943, the Rillito Park Racetrack has been home to a variety of activities and events such as horse races, concerts, nonprofit walks, farmers markets, and club sporting events. This iconic establishment has also been listed on the National Register of Historic Places, making it a true gem in the community. During the Kentucky Derby, the racetrack hosts a viewing party and features derby classics like mint juleps and best-dressed contests for bow ties and hats.
Where to Eat and Drink
It's quite controversial to mention your favorite Mexican restaurant, but this place offers high-quality Mexican food that won't disappoint. You can choose from over 10 different Sonoran dog spots in Tucson, but this location has been my go-to for the last decade. But if you crave tacos, try the classic carne asada taco or the specialty Taco Yaqui, which comes with two tortillas and a green chili stuffed with meat, cheese, bacon, and mushrooms.
Prep & Pastry is one of my favorite brunch spots in Tucson. The menu offers a variety of healthy, indulgent, vegan, and breakfast favorites. Not only is the restaurant Instagrammable thanks to its chic decor, but the food is as well. Make your friends jealous by letting them know you grabbed brunch at Prep when you snap a pic of your Nutella and bruleed berries French toast. If the line is too long, I recommend grabbing a pastry and enjoying it while you wait for a table. As you may have guessed, the pastries are made in house.
The setup of this restaurant is a fun, family-friendly environment that features games like cornhole, ping pong, and more. This spot is especially popular with college kids because of the happy hour specials and the yard house setup. Crowd pleasers include the fondue pretzel bites and the fried chicken that comes with a warm, buttermilk biscuit and honey drizzle—it's definitely worth the wait.
The price point is steeper here than other sushi spots, but you get the quality you pay for at Yamato. Those who eat sashimi or nigiri will especially enjoy this neighborhood hotspot. I recommend ordering the Chef's Choice for the sashimi. The owner and chef, Noboru Nakajima, is the only person you will ever see touching the sushi—absolutely no one works behind the sushi bar but him. He has a separate kitchen team to cook hot items like the pan-seared gyoza or ramen. If you don't want sushi, try the Beef Sukiyaki.
Why Locals Live Here
The mixture of national and local businesses in this area is diverse. Maybe you feel like going to the Cheesecake Factory or shopping at the mall, but then maybe you feel like grabbing a margarita from a local dive bar. Either way, residents appreciate having plenty of options at their fingertips whenever they need an escape from their ordinary routine. Aside from restaurants and stores most of which can be found in the commercial zone centered around Oracle Road, North Tucson is comprised of a variety of home styles that range from apartments, condos, and townhomes to single-family homes and custom-built estates. There's also access to both private and public schools in the area.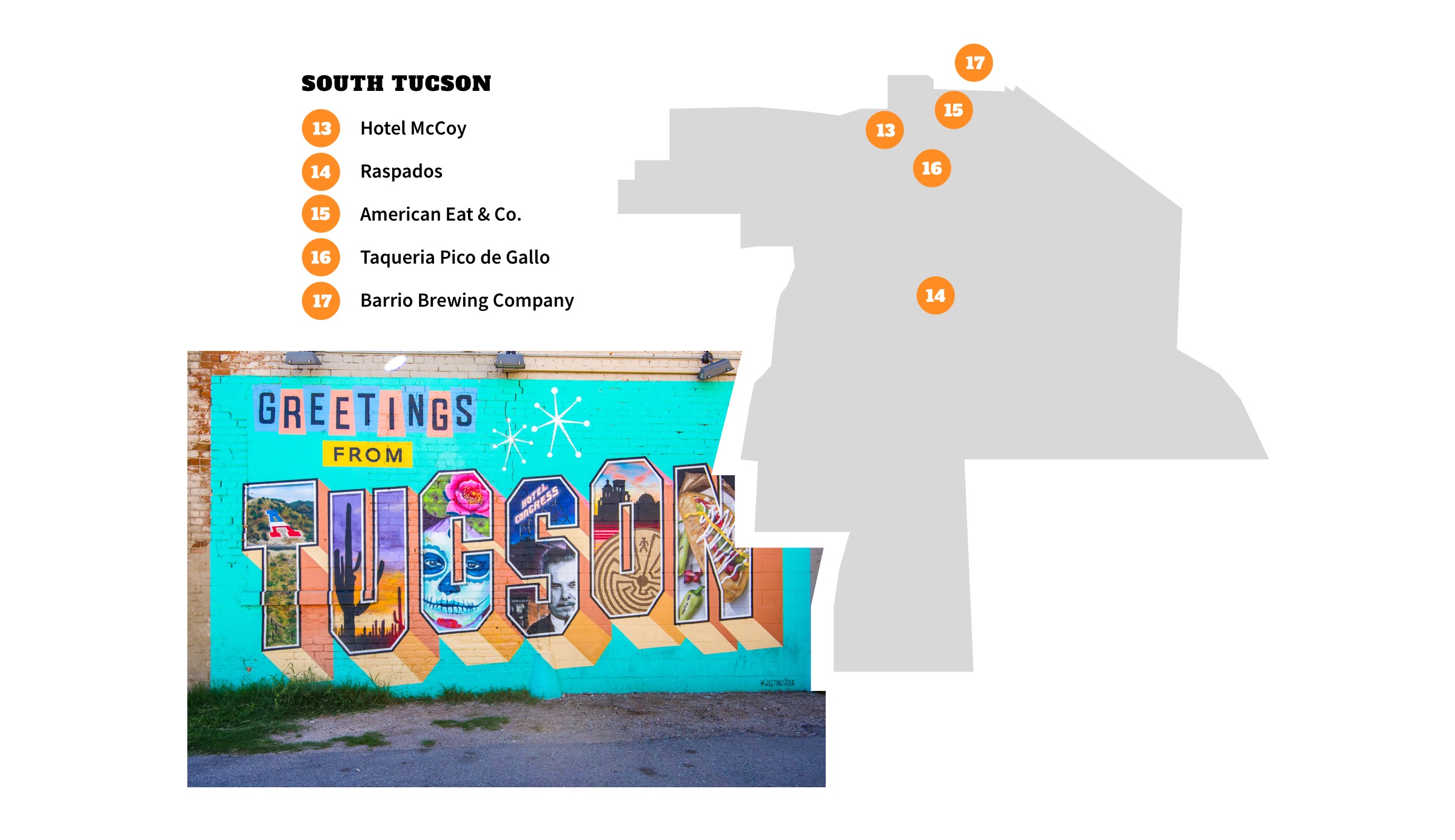 South Tucson is easily recognized for its strong Mexican influences that are expressed in the delicious food and the vibrant art scene within this neighborhood. You can view colorful murals and public works of art, watch local musicians and street performers, and eat authentic Mexican food at family-operated restaurants. A stop in South Tucson will enhance your knowledge about this culturally rich community on this side of the border.
What to Do
This mid-century modern art hotel is filled with photogenic captures and offers unique vintage vibes. The property was renovated and preserved to create a living art experience of 1960s motel rooms while providing high-end amenities. The hotel is eco-friendly, features lobby decor done by Arizona artists, and only serves locally sourced beer, coffee, and wine. It's the perfect spot for a staycation in Tucson.
Where to Eat and Drink
14. Raspados
Raspados can be found all over South Tucson. This delicious Mexican-style frozen treat is made of shaved ice, fruit syrup, and fresh fruit. You can enjoy these year-round thanks to the warm Tucson climate. One of the local favorites is mango with chamoy, a savory sauce made with fruit, chillies, and lime. Don't be surprised to see Tajin, a seasoning of chili peppers, lime, and salt, sprinkled on top either. It's very common to mix this chili spice with fruit in Mexican sweets.
This is essentially a food court setup with local brands and restaurants offering a variety of food and bringing people together. Your choice of food can be anything from sliders and beef kabob to pan dulce and tacos. One of the local restaurants in the food court is Upper Crust pizza, a popular pizza spot on Speedway Boulevard.
If you're looking for an authentic and flavorful experience, then Taqueria Pico de Gallo is the spot. Enjoy affordable tacos along with homemade corn tortillas and horchata (a semi-sweet Mexican drink made out of rice milk, vanilla, and cinnamon). Most individual tacos run $1.50 each, and they're made with fluffy corn tortillas.
Tucson is home to several breweries and unlike some other breweries in town, Barrio Brewing Company not only serves craft brews but also This local brewery offers a taproom menu that serves bar-type food like craft burgers, fries, buffalo wings, and salads. You can't go wrong with their classic handcrafted burger and a pint of Barrio Blanco. I came here after I ran a half marathon, and it did not disappoint. Although it gets busy at night and on weekends, it's worth the wait.
Why Locals Live Here
South Tucson is known for having some of the best Mexican cuisine in the city, but it's also one of the more affordable places to live. Housing includes single-family homes and even some custom-built homes. This community also has easy access to the airport as well as the amenities found in Downtown Tucson.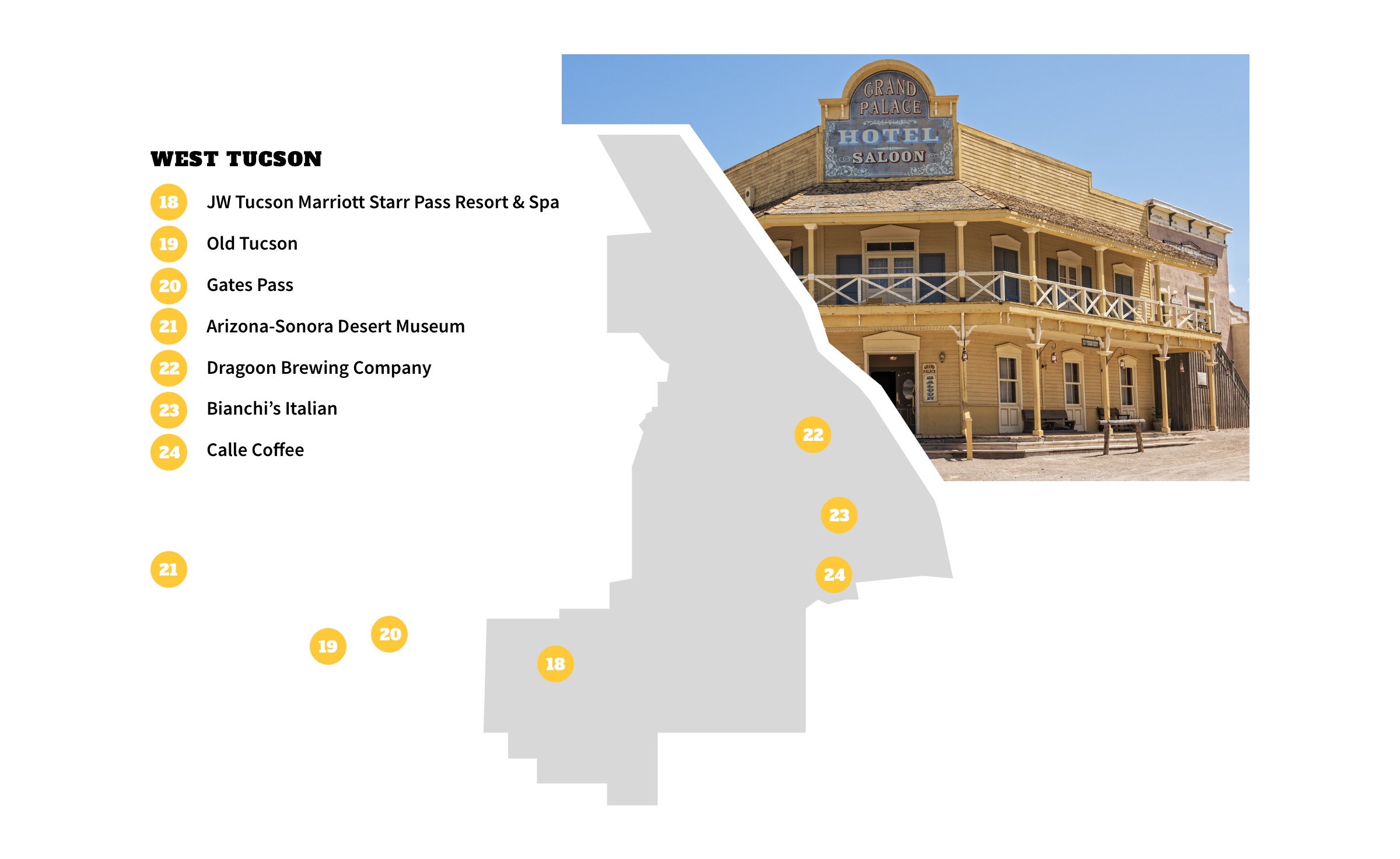 West Tucson offers both high and low housing options, and those with a higher budget may be attracted towards the homes in Starr Pass near the JW Marriott Tucson Starr Pass Resort. Hiking, cycling, and golf are popular activities in this part of the city.
What to Do
This resort features a lazy river, allowing guests to leisurely float while catching some sun. Some of the luxurious amenities at the resort include three nine-hole golf courses designed by the legendary Arnold Palmer as well as on-site restaurants that serve the finest Mediterranean, American, and Mexican fare. Providing a natural and tranquil atmosphere for guests, the resort boasts a scenic view of Tucson with a beautiful desert and mountain backdrop.
The nearby Old Tucson recalls the old west experience of what Tucson used to be. As a child, I enjoyed seeing the costumes of the saloon girls and watching the gun fight reenactments. It's a bit outside of the neighborhood, but it's worth experiencing because of the history and learning opportunities. It's also a great family outing because the children get to see the horses and enjoy the petting zoo.
Gates Pass, located within the Tucson Mountain Park, is an extremely popular yet challenging cycling route. The narrow, winding roads are shared with cars and are only recommended for more experienced cyclists. If you must ride this path, I recommend going early in the morning when the traffic is lighter.
The Sonoran desert is said to offer the greatest biodiversity in North America.This family-friendly outdoor museum features gardens, an aquarium, walking trails, and collection of more than 200 native mammals, reptiles, birds, and insects as well as more than 1,000 native plant species. It's a fun place where you can view live animal exhibits like bobcats and ocelots in the Cat Canyon section or watch black bears and mountain lions in the Mountain Woodland section.
Where to Eat and Drink
Dragoon Brewing Company brews one of the most well-known IPAs in the area, Dragoon IPA. If you want to tour the taproom, you'll have to come on Saturdays at 4 p.m., which is the only time tours are available. Although they don't serve any food, the do allow you to bring in outside food as well as order from a variety of rotating food trucks that are parked just outside of the brewery's
Family-owned and -operated since 1977, this restaurant serves pizza and Italian food the whole family is bound to enjoy. With a quarter pepperoni, a quarter cheese, a quarter mushroom and ham, and a quarter black olives and green peppers, the Four Seasons pizza is a really popular choice among visitors. The restaurant also has a full bar and large screen TVs showing all of the latest sporting events—a perfect hang out on game days.
This newcoffee establishment is a mobile coffee truck that can be found parked on Speedway Boulevard and Greasewood Road. If you're in the mood for something other than coffee, you can try their refreshing Italian soda options. Calle Coffee also brings their brand across town for special events, so you may spot it in a different neighborhood.
Why Locals Live Here
Locals enjoy living out in West Tucson for the breathtaking sunsets, tranquil atmosphere, and open space. Unlike some other areas in Tucson, it's possible for homebuyers to find larger homes and outdoor space. Although the price may be higher than other places in the city due to its prime location, for some families, it's worth it.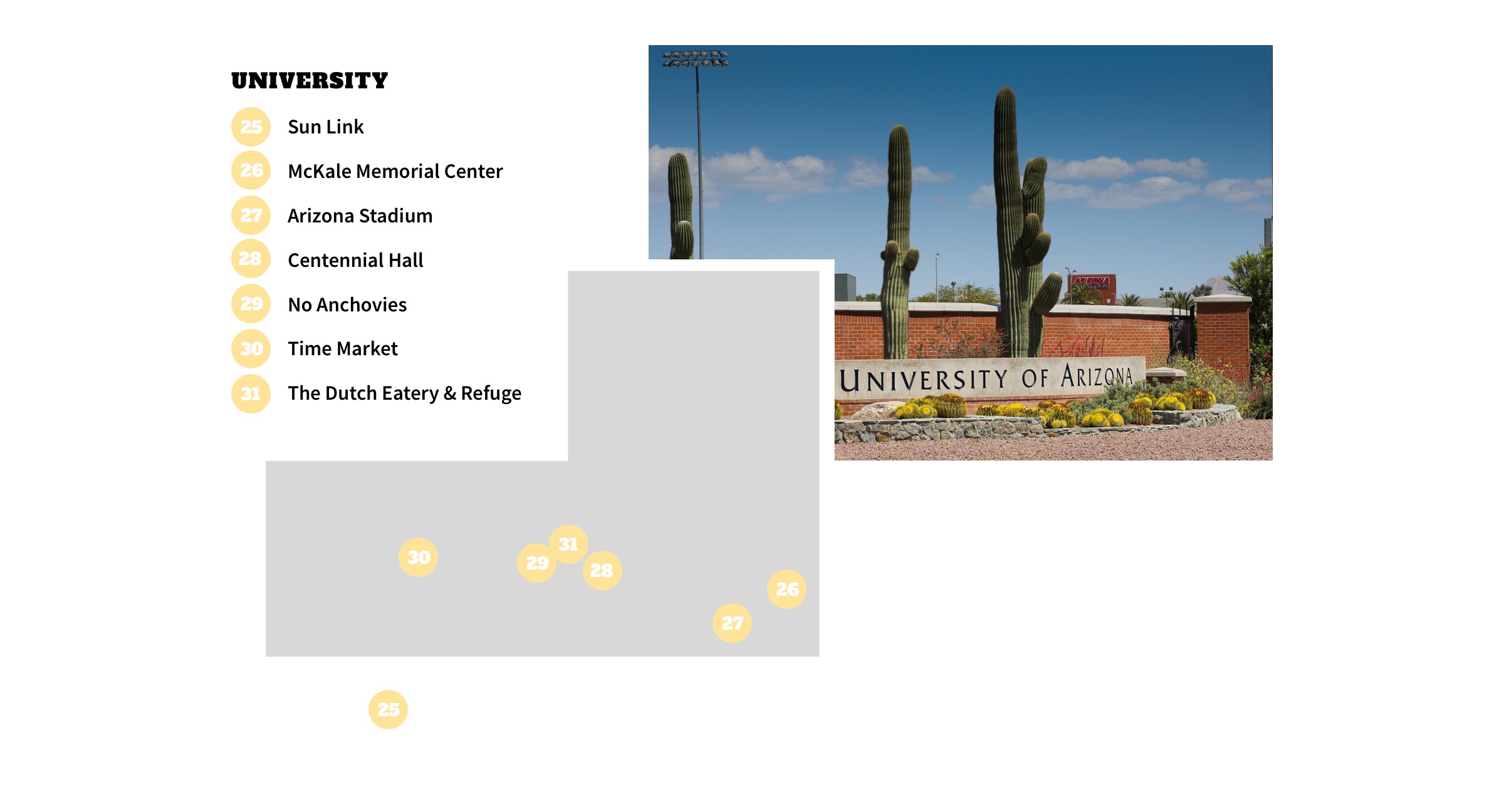 University is a lively neighborhood located near the University of Arizona. While Tucson no longer has its main recognition as a college town, you'll still see college fans sporting their Wildcats attire. The University neighborhood also offers a robust dining scene showcasing flavors beyond that of a college budget.
What to Do
The Sunlink streetcar provides a scenic way to navigate through the University and Downtown Tucson neighborhoods. When walking isn't an option, use this affordable transit service to go to a restaurant, school, work, or a special event. Riders can also connect to other public transit services like Sun Tran or Sun Shuttle.
Get ready to get invited to at least one UA sporting event when you live in Tucson. Whether we win or lose, the love for our Wildcats never falters. Go to McKale Center during the much-anticipated basketball season and cheer on our Cats during March Madness. Basketball is popular at the UA where legends like Basketball Hall of Fame coach Lute Olson and Arizona Wildcats coach Sean Miller are common household names.
The renovations at the Arizona Stadium offer diverse culinary options; you can eat tacos from a local establishment or indulge your sweet tooth with some Pink Berry. And tailgating before the football games is just as fun as watching the game. Sports fans can enjoy themselves on the mall, which is a large, grass strip in the middle of the university campus.
Centennial Hall is a historic landmark at the university that offers a variety of performances ranging from professional ballets and musicals to comedy shows. Iconic performers like opera singer Renee Fleming and pianist extraordinaire Lang Lang have both performed in this large auditorium.
Where to Eat and Drink
With the recent remodel, this updated pizzeria is now a lively social scene with pool tables, ample seating room, multiple big-screen TVs, and bars on two floors. During the World Cup and other broadcasted sporting events, you'll find the building packed with fans cheering on their beloved teams.
To get a little bit away from the college campus environment, head over to Time Market. This one-stop-shop has everything from fresh produce and quality coffee roasters to upscale food and a great beer and wine selection. With homemade bread, sandwiches, giant pizzas, and happy hour specials, you'll feel very satisfied. Bonus: Grab a bottle of wine from their market before you leave to enjoy at home.
The Dutch is known for their Poffertjes, or baby pancakes. These are essentially mini pancakes dusted with powdered sugar and served with dipping options. All over town, these pancakes are famous at gala and food events. If you're looking for something on the healthier side, I recommend the breakfast bowl, which consists of items like kale and chicken sausage.
Why Locals Live Here
Whether you're looking for a house dating back to the 1920s or a modern condo, housing in the University neighborhood is very diverse. The neighborhood is also within walking distance to many events and restaurants, making it a prime spot for those who don't drive or own a car. Locals enjoy walking the underpass to the downtown area for even more attractions.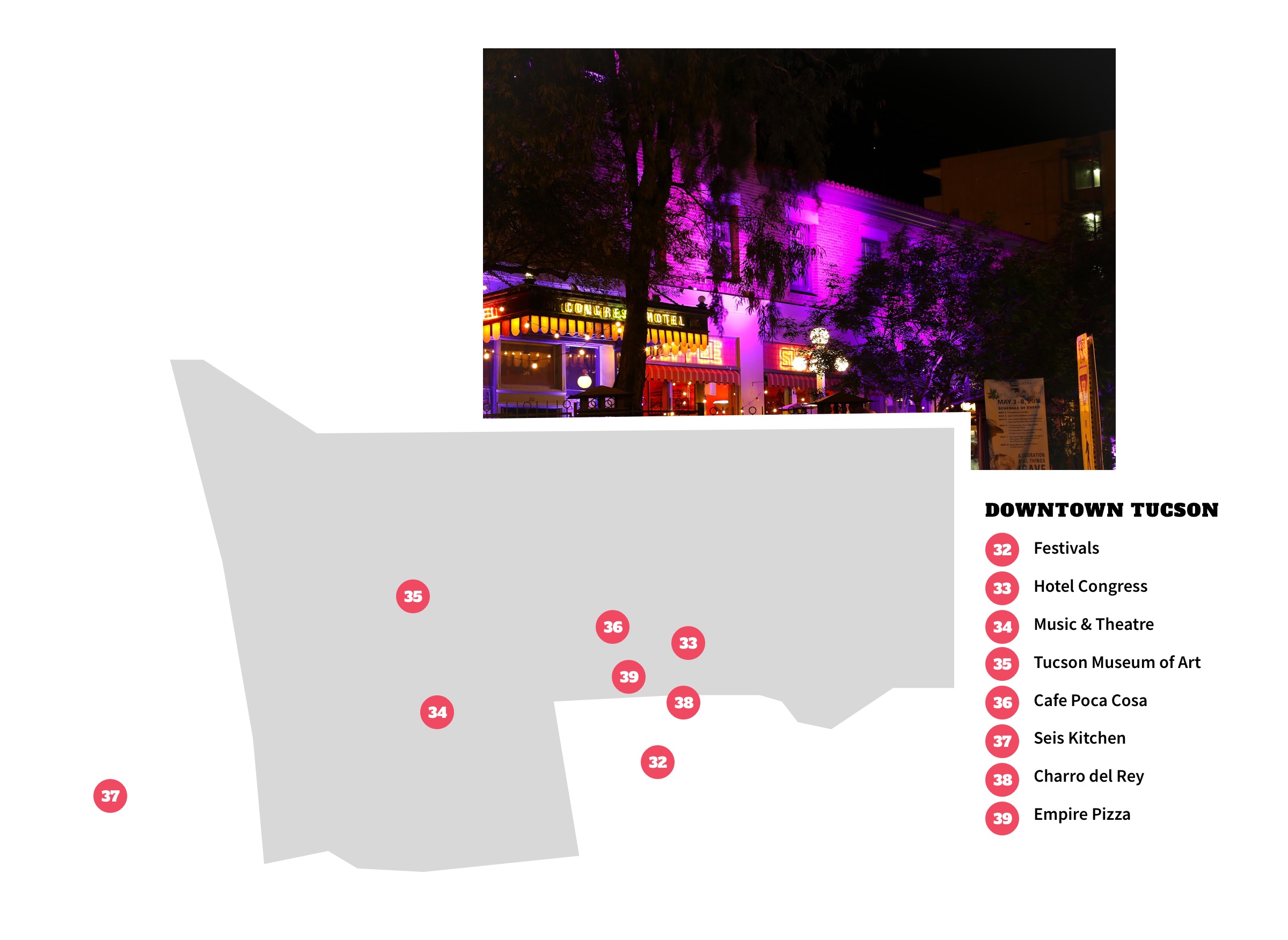 Downtown Tucson has transformed over the last 10 years. Growing up in the city, I didn't frequent Downtown due to the lack of amenities. But today, there's a variety of restaurants, retail stores, and coffee shops that showcase Tucson's local flavor.
What to Do
32. Festivals
From the Baja Beer Festival to Agave Festival to HOCO Music Festival, you can expect to find something going on in downtown throughout the year. These special events and festivals bring residents together in a lively and welcoming environment.
The locally owned and operated Hotel Congress recently celebrated its centennial, making it a long-standing staple in the community. The hotel's claim to fame came during the early 1930s when Public Enemy No. 1 John Dillinger was captured here. Because of this moment in history, the hotel began hosting Dillinger Days in the 1990s where everyone dresses up in vintage clothing, drinks whiskey, listens to jazz, and watches live re-enactments of John Dillinger's capture. Aside from this historical aspect, musicians regularly perform at Hotel Congress and attract large crowds.
34. Music and Theatre
Whether you're a fan of concerts, operas, musicals, or dramatic plays, you can never go wrong with attending a live performance in D Catch a performance by the Arizona Opera or the Tucson Symphony at the Tucson Music Hall. If classical music isn't your vibe, head to the Rialto Theatre for some rap and hip-hop performances or to the Fox Theatre for acoustic bands. Also, The Temple of Music and Art is a refurbished 1927 Spanish-Colonial style theater, and it's home to the Arizona Theatre Company that features engaging and intimate performances within its small venue.
The curated art is impressive, especially because you don't expect to come across famous works of Rodin, Renoir, Warhol, or Picasso in Tucson. In addition to these famous works of art, you'll also get to see rotating exhibits that range from East Asian art to Pre-Colombia and Spanish Colonial art. Before you leave, stop at Café à la C'Art for one of their savory salads and indulgent pastries.
Where to Eat and Drink
Owner/executive chef Suzana Davila creates a daily menu of upscale Mexican cuisine within a casual and urban bistro setting. The gourmet Mexican cuisine draws from flavorful ingredients from the chef's native country to provide diners with a unique culinary experience. The Chef's Plate features three items on the daily menu. Their mole sauce is one of my favorites, and don't forget to order a margarita.
The beautiful Mercado San Agustin is the perfect location to enjoy a refreshing glass of horchata and street tacos from Seis Kitchen. Seis is unique in the sense that it features a range of Mexican street food from different regions of the country. If you want to try some of their best, go for their breakfast burritos, which are some of the best I've had in town.
While this restaurant may be new to Tucson, the Charro family name spans over three generations in this City of Gastronomy. Before you judge how fresh seafood could be in a desert town, let me tell you it really is fresh. While I tend to be selective with where I get my seafood in Tucson, I know I never need to worry at Charro del R Their scallop ceviche is a great pick for those who like things on the spicy side, and I highly recommend their mussels too.
I have been obsessed with this place since I was in college. Even after eating pizza in Italy and New York, Empire still continues to be one of my favorite Tucson pizza spots that really nails its ingredients for tasty pizza. They create a fantastic New York-style cheesecake as well.
Why Locals Live Here
Filled with diverse dining options as well as plenty of art and music venues, Downtown is one of the most prosperous neighborhoods in Tucson. The neighborhood is alive with residents from all walks of life, ranging from social butterflies and families to art enthusiasts and professionals. Locals enjoy the neighborhood's entertainment options and families flock to this area for its many museums and cultural attractions that educate and excite children of all ages.