Washington D.C. New Development Drilldown February 2019
Washington D.C. New Development Drilldown February 2019
In Washington D.C., construction is a constant with nearly 50 major developments breaking ground in 2018 and approximately 430 projects still in the pipeline. In recent years, with the persistent rise in density, it can be difficult to know which projects to keep an eye on.
Below, learn about some recently opened developments and the projects that are still under construction—many in adjacent neighborhoods NoMa and Mount Vernon Triangle—all of which will change the nation's capital in major ways.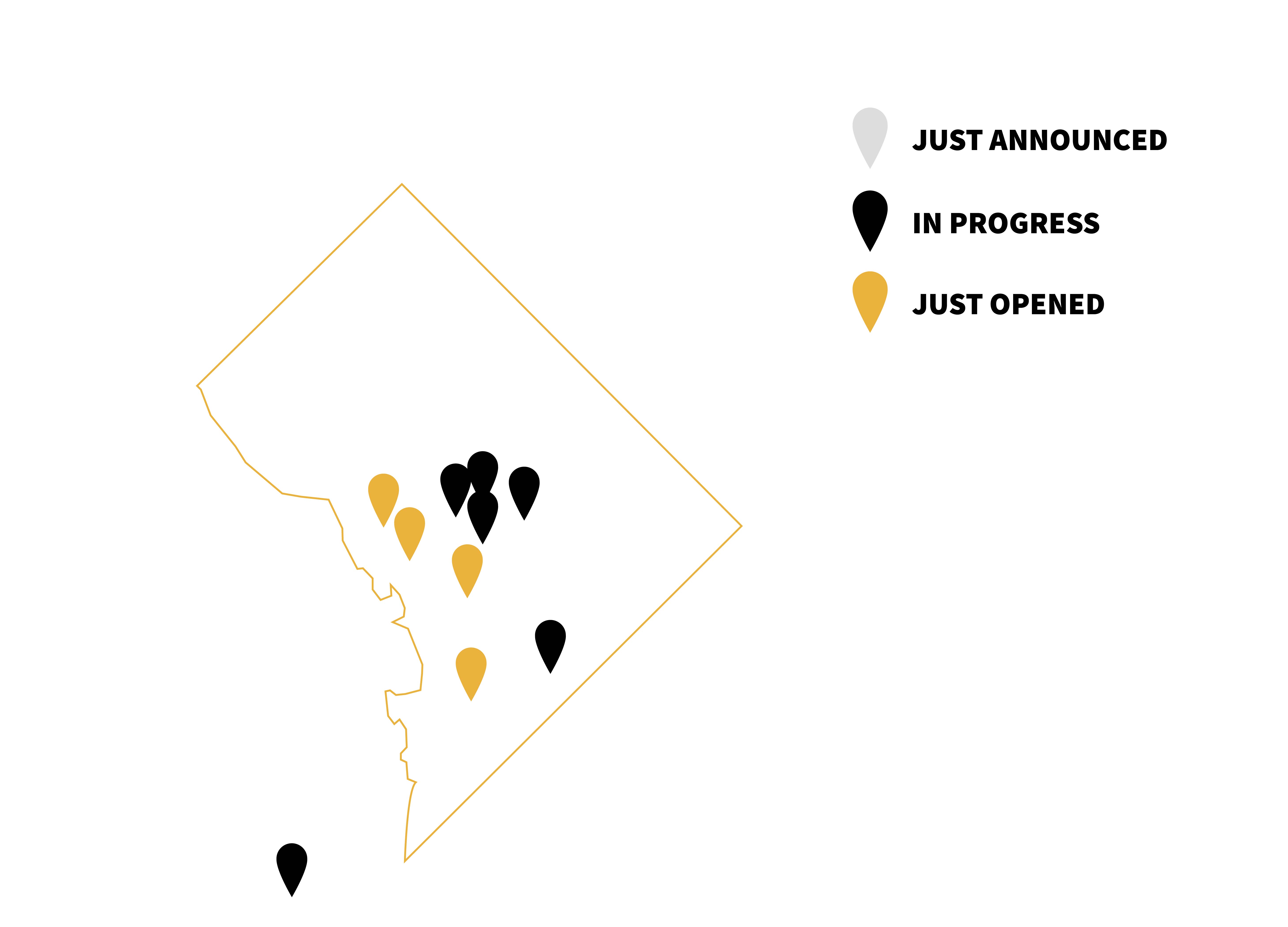 In Progress
Carnegie Library/Apple Flagship Store
The Apple flagship store in Mount Vernon Triangle will be located in the newly renovated, historic Carnegie Library building with a lease term of 10 years and two additional five-year extension options.
Foster & Partners and Beyer Blinder Belle Architects & Planners plan on the retailer not only selling their products, but also empowering local youth with job training and educational programming. The Historical Society of Washington will occupy the second level.
Sentinel Square (Third Phase)
With a completion set for December 2019, this third phase is part of a 1.3 million-square-foot, multi-phase office development that's planned to achieve LEED Silver certification. The Federal Communications Commission (FCC) will occupy nearly 473,000 square feet of the building. Sentinel Square is the work of Trammell Crow Company, one of the most active developers in NoMa.
250 Massachusetts Avenue NW
This building is only the beginning. Property Group Partners is planning for this nearly 564,000-square-foot office and retail building to be part of the multi-phased, master planned community, known as Capitol Crossing. Once complete, the entire project is expected to total more than 2 million square feet of five Platinum LEED-certified buildings connected by landscaped public areas on seven acres of land. The location is near the Mt. Vernon Triangle neighborhood.
Four Constitution Square
Located at 150 M Street NE, this mixed-use development in NoMa is planned to offer over 500,000 square feet of office space. The U.S. Department of Justice will lease both Four Constitution Square and Three Constitution Square. This will be the last phase of StonebridgeCarras' Constitution Square development, which is planned to total 2.7 million square feet of mixed-use space.
Skyland Town Center
Since February 2018, developers WC Smith and The Rappaport Cos. have been in construction on this town center, located at the intersection of Good Hope and Naylor roads SE and Alabama Avenue SE.
Within approximately two years, the first phase of this Skyland project is expected to complete with more than 260 residential units and 80,000 square feet of retail. CVS Pharmacy will lease 10,000 square feet. When the multi-phase project is complete, it will be the biggest retail development in the Southeast D.C. quadrant.
Elon Musk's Loop
A high-speed, underground transportation system between Washington, D.C. and Maryland is in the works, known simply as Loop. With speeds up to 150 miles per hour, the Boring Company's transportation system will involve a set of parallel, twin tunnels that are poised to decrease commute time and urban congestion.
Already, the approximately 35-mile route has been planned beneath New York Avenue and the Baltimore-Washington Parkway. All of the funds for this project are coming from The Boring Company.
Amazon in the 'Hood
In preparation for its new headquarters, Amazon is planning on redeveloping Crystal City and Pentagon City in Virginia in order to create the newly defined neighborhood National Landing.
This new project with the largest landowner in the area, JBG SMITH, will have a forthcoming Central District Retail development. The site will offer a 130,000-square-foot entertainment and shopping hub with retailers alongside a 49,000-square-foot Alamo Drafthouse Cinema, a specialty grocer, and restaurants.
Now Open
Midtown Center
When this major development opened, Washington Business Journal described it as "refreshing" due to its hospitable public areas, well-designed private spaces, and plentiful amenities.
At 1150 15th Street NW in Downtown, Midtown Center spans more than 867,000 square feet with both office and retail space. The site was previously The Washington Post's headquarters, but Fannie Mae now occupies most of the building. The developer behind the building is Carr Properties.
Alexander Court
Developers Rockrose Development and Spitzer Enterprises teamed up to complete this approximately 800,000-square-foot redevelopment of two buildings in Downtown that have been combined into one. Formerly 2000 L Street NW and 2001 K Street NW, Alexander Court includes a Ruth's Chris Steak House and a Bright Horizons Daycare Center with amenities like a rooftop lounge and a 7,500-square-foot fitness center with a yoga studio and weight room.
Agora
Near the end of 2018, this 334-unit apartment building completed at 800 New Jersey Avenue SE in Navy Yard. Anchoring the property is a Whole Foods, which residents can enjoy along with amenities like a virtual golf simulator, fitness room, spa and massage rooms, and a conference room. Developer WC Smith also outfitted the building with bike racks.
655 New York Avenue NW
With both office and retail space, this 756,000-square-foot building is the work of Douglas Development Corporation and Brookfield Properties. This Mt. Vernon Triangle project at 655 New York Ave. NW incorporates 19 historic properties into an 11-story glass office building and includes tenants like The Capital Burger and Compass Coffee.