Washington D.C. Real Estate Development
Washington D.C. New Development Drilldown October 2018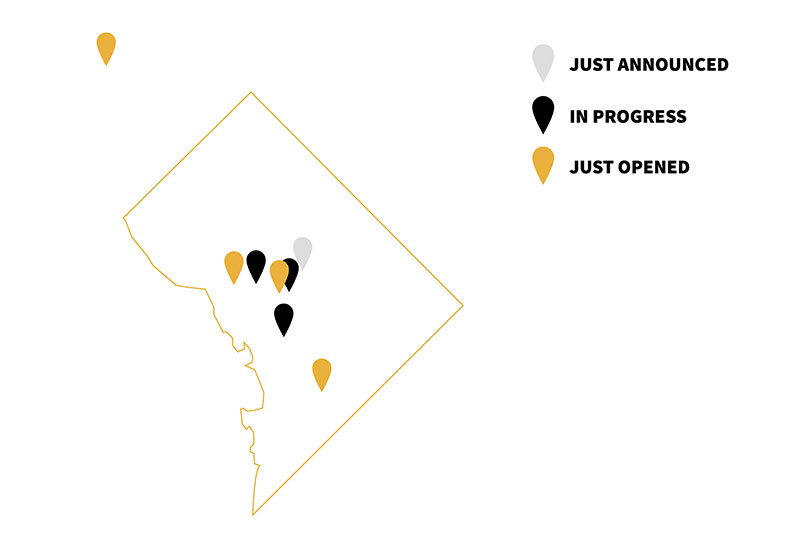 Washington D.C. is continuing to experience new developments popping up around the city. Entertainment hubs are becoming quite popular, such as walkable European-style neighborhoods—including Pike & Rose in North Bethesda and Bethesda Row in Bethesda—with restaurants, bars, and retail all within a few blocks.
What were previously sprawling, abandoned industrial spaces are becoming prime land for developments. Luxury condos continue to pop up, filling the need for housing options as businesses continue to grow. In fact, the available and upcoming housing developments in the area, combined with good transportation options have made it ideal for major companies like Amazon to consider setting up shop here (the D.C. area is on the shortlist for Amazon's HQ2).
Here are seven developments just announced, in progress, or newly opened in the D.C. area.
Just Announced
A mixed-use development costing over $25 million will replace an Exxon at the corner of North Capitol Street and Florida Avenue NE in the NoMa neighborhood, according to Curbed D.C. Aria Development Group hopes to make the corner a center of housing and retail. D.C.'s Comprehensive Plan for growth, last updated in 2011, referred to the area as suffering from a "lack of neighborhood-serving businesses." According to the Curbed DC report, there are plans for revision of the document this fall, especially given recent positive neighborhood additions like the cocktail bar Wicked Bloom and the barbecue joint DCity Smokehouse.
Developers are hoping the area will see the same growth that close development Union Market did, resulting in the slow and steady revitalization of the NoMa neighborhood.
In Progress
Capitol Crossing, a major redevelopment connecting the East End area and Capitol Hill, is currently in construction. The 2.2 million square-foot mixed-use development will span five buildings and seven acres. Privately funded, the project is expected to cost $1.3 billion, and it's projected to be complete by 2021.
Capitol Crossing will aim to be eco-friendly, with five platinum LEED-certified buildings, centralized recycling, and cisterns that will harvest over 90 percent of stormwater runoff. There are also plans to implement cogeneration power, the concurrent production of heat and electric. Ecochimneys—chimney-like objects that will clean car exhaust from a parking lot below and the Beltway—will also dot Capitol Crossing. The development will include 150 residential units, with a minimum of 50 units designated affordable housing. Amenities at Capitol Crossing include a roof terrace with outdoor seating, an on-site childcare center, and a fitness center.
With construction set to begin in fall 2018 and an opening set for late 2020, SLS will bring its brand of luxury hotels to the Mount Vernon Triangle neighborhood, providing Metro Center's W Hotel some competition. In addition to the 176-room hotel, the development will include a 45-unit condo building and thousands of square feet of retail. Sushi chef Katsuya Uechi, whose Katsuya restaurants are sprinkled across luxurious global locales like Las Vegas and Dubai, is opening a location there.
The Peebles Corp., who is managing construction, has also agreed to build 61 units of affordable housing off-site. This designation is similar to many other newer developments; The Wharf, for example, includes affordable housing in their residential buildings.
Now Open
This near-complete 655 New York Ave. development, also in the Mount Vernon Square neighborhood, is a modern mid-rise glass building mixed in with historic row buildings. The Douglas Development Corporation and its partner Brookfield Properties have spent nearly 20 years integrating 19 historic buildings into an 11-story glass office building. The anchor tenant of 655 New York Ave. is the Advisory Board Company. The project includes 80,000 square feet of restaurant and retail space including a farm-to-table restaurant and high-end steakhouse. Given the proximity of the development to the Convention Center, the restaurants will give new options for those attending events there.
Just opened Sept. 22, the Entertainment and Sports Arena (ESA) is on the former St. Elizabeth's Hospital site, near the Congress Heights Metro Station. The arena is the practice facility for the Washington Wizards and the home court for the Mystics and Capital City Go-Go, an NBA G-League team. The venue will also serve as a concert venue—October performers included Mary J. Blige and Cage the Elephant.
Founder, chairman, and CEO of Monumental Sports and Entertainment Ted Leonsis has invested $10 million into the arena and the community as a whole. The arena is expected to provide hundreds of new jobs. Congress Heights fell victim to urban decay and neglect in the 1940s, but in the past decade, they've seen a revitalization—over a dozen new projects are coming to the area.
North Bethesda development Pike & Roseis now open, with more retail and restaurants being added by the day. Condos within the development are located at 930 Rose. The condosmix modern with vintage, featuring floor-to-ceiling windows, baths with cast-iron tubs and customizable options for flooring, countertops, and kitchen cabinets. Current restaurants include Stella Barra Pizzeria, Jinya Ramen Bar, and City Perch Kitchen and Bar. Restaurants opening in the next few years include an outpost of tacos and cocktail chain Nada, an Indian restaurant, and an Asian food hall. Retail options include an H&M, Gap, and—the newest addition—an expansive Uniqlo store.
Also adding to D.C.'s new luxury living scene is Westlight Condos. Connecting Georgetown, Dupont Circle, and Downtown, the West End condo building, Westlight, began leasing units in June 2018. The condos boast luxurious amenities, including a heated rooftop pool, dog washing station, and a private club room with a catering kitchen and outdoor terrace. The one-, two-, and three-bedroom condos run from 600 to 3,000 square feet with prices from $1.4 to $4.5 million. The residences offer modern design elements, too, with a 50-foot living green wall and a light sculpture by German designer Ingo Maurer.