What It's Like Living in The Buchanan Arts District, Nashville
What It's Like Living in The Buchanan Arts District, Nashville
Dating as far back as the 1920s, neighborhoods in North Nashville have cultivated a collective reputation for being hubs for music and the arts. From the visually stunning murals that dot the urban landscape to the culinary scene in Germantown, the northern edge of Davidson County lies at the heart of Nashville's progressive art scene.
Just south of town, Wedgewood-Houston has gained a reputation for its galleries and fine art openings, but the Buchanan Arts District is both a compliment and rebuttal to that arts scene with its altruistic, grassroots vibe. For example, Norf Art Collective strives to hold up a mirror to Nashville by presenting works that depict issues affecting the community.
While the area's reputation has developed over decades, a recent influx of new local businesses and housing options have drawn attention to this relatively small district on the north side, and it's quickly becoming known for its cultural contributions and forward-looking vision. The Buchanan Arts District is a favorite among makers and creatives city-wide, and it's home to some of Nashville's most innovative businesses and social enterprises.
The Neighborhood Culinary Culture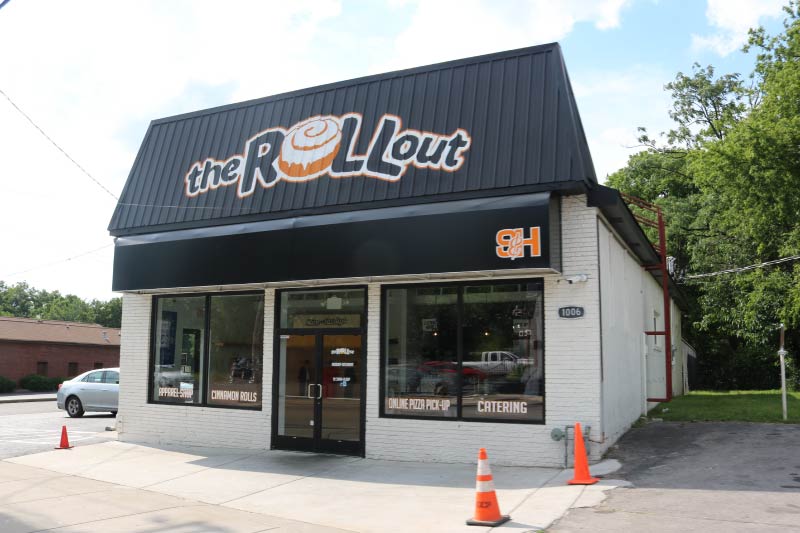 The Southern V
Owned and operated by husband and wife team Tiffany and Clifton Hancock, The Southern V is a revelation for plant-based Nashvillians looking to enjoy familiar southern staples within the boundaries of a vegetarian or vegan diet. In 2018, Tiffany told Essence Magazine, "Our goal is to create an appealing dish that is both familiar visually and familiar in taste."
Dear reader, I have to tell you that The Southern V accomplishes this goal and then some. Their "chick'n biscuit" unlocked flavor doors that I thought had been closed for good when I switched to a vegetarian diet. That said, their dishes are beloved by diners of every dietarian persuasion, but don't take my word for it—ask The New York Times.
Slim & Husky's
The undisputed culinary crown jewel of the neighborhood is Slim & Husky's pizza and beeria. This local concept developed by some friends from the neighborhood has turned into a network of eateries with three locations in Nashville and two in Atlanta.
Their slogan is "pizza.art.music." and the experience in their dining hall on Buchanan Street perfectly reflects their values. Hip-hop music booms and murals and quotations are splashed across the walls while communal seating gives patrons a chance to look across the table to their neighbor and nod with a mouthful of pizza.
The Rollout
If the pizza wasn't enough, the team has added a takeaway cinnamon roll shop called The Rollout to their list of delicious offerings. Basically, there's no reason not to love everything Slim & Husky's.
A Socially Minded Retail Experience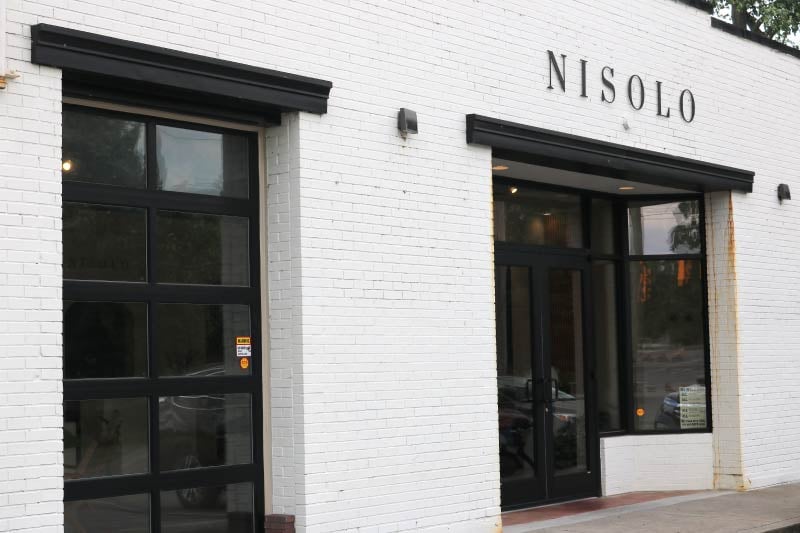 The driving force behind many of the Buchanan Arts District's most successful businesses is a mission to contribute to the greater good on both a local and global scale.
Nisolo
One of the area's first social enterprises, Nisolo opened its doors on Buchanan Street in 2015 and has been Nashville's favorite purveyor of leather goods ever since. Unlike other popular retailers though, Nisolo sources their goods from artisans in Kenya and Peru, who receive wages that fit Fair Trade requirements and then some.
Maple Built
Just across the street, Salemtown Board Company applies its social enterprise to the local community by employing area youth and working under the umbrella of Maple Built, a nonprofit woodworking apprenticeship program that employs and trains young men in Nashville. Founded in 2012, Salemtown Board Company makes high-end, handcrafted skateboards and a small, curated selection of homegoods.
Socially minded enterprises like these are what make the retail experience on Buchanan Street engaging in a different way. If 12 South has a frantic "shop 'til you drop" energy, the Buchanan Arts District brings a different level of intention and conscious consumption.
What It's Like to Live Here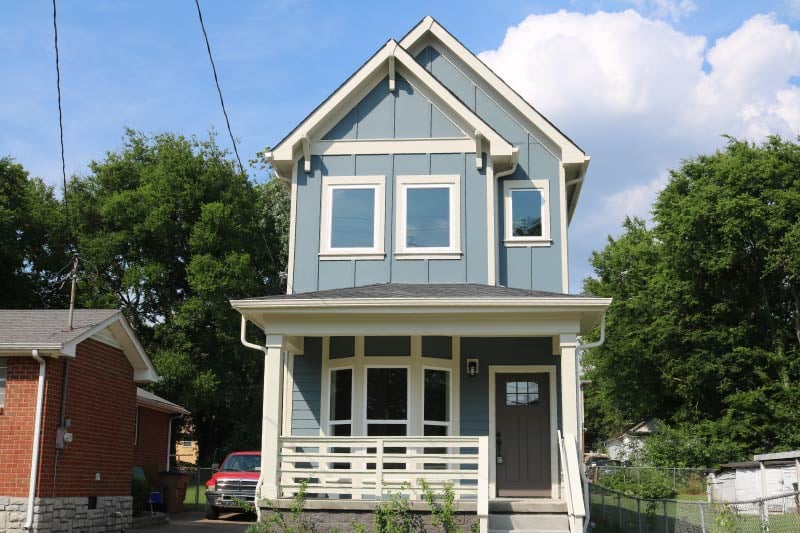 To be clear, while the Buchanan Arts District is currently experiencing a renaissance of sorts, it's not a "new" neighborhood. The area is a blend of brand-new builds and homes that date as far back as 1899.
A median sale price in the high $300s makes the neighborhood an accessible option for many homebuyers, especially as the market in Nashville becomes more competitive.
Numbers aside, the Buchanan Arts district is a beloved corner of the larger North Nashville universe with neighbors like Buena Vista Heights, Salemtown, and Osage-North Fisk. The housing options vary, but the community and local businesses are tightly woven together. Just a stone's throw from Downtown Nashville, the area offers everything one could want in urban living from arts and culture to dining and retail.