What It's Like Living in Charles Village, Baltimore
What It's Like Living in Charles Village, Baltimore
Charles Village is almost like a little college town within Baltimore. The young professionals bring a hipster vibe, while the professorial-types bring an intellectual eccentricity. A yard might have young kids playing or a college party. The area has some nightlife options, but it doesn't get too rowdy.
On Halloween, expect to see lots of decorations and kids jaunting from house to house, while the Charles Village Festival brings everyone out for a neighborhood block party once a year. Revitalized by the presence of Johns Hopkins University's Homewood Campus, Charles Village has a friendly neighborhood vibe.
Charles Village Real Estate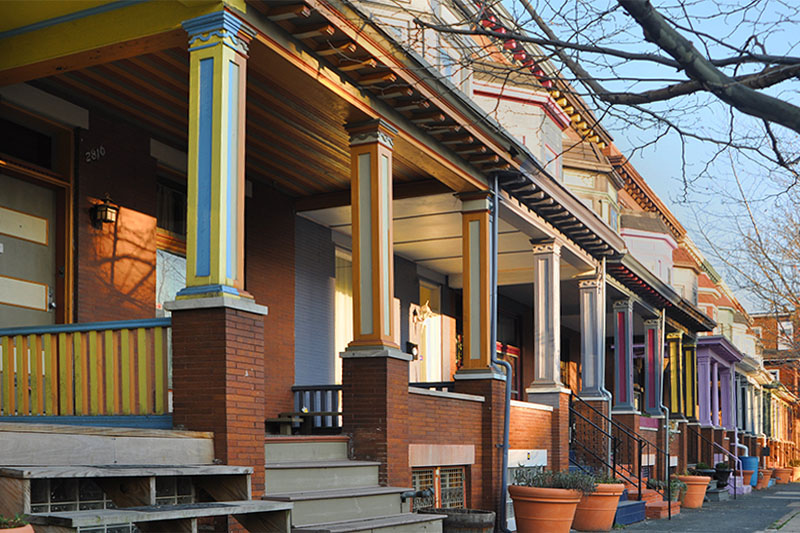 Google Charles Village and you'll get a quintessential picture of quirky Baltimore rowhomes: brick with bay windows and intricately colorful paint on all the trim. This is definitely what people think of when they think of homes in the neighborhood. The rowhomes were built anywhere between the 1900s and the 1930s, meaning they vary in style. The earlier ones tend to be narrower with less light, while the later ones have bay windows and front porches. Three-story homes can have as many as five bedrooms, while two-story homes usually have two or three.
The neighborhood also has some older 1920s-era apartment buildings with spacious two- and three-bedroom apartments. Most of the brand-new buildings are apartments designed as student housing. However, a few old and new multi-story buildings offer condominiums ranging from one to three bedrooms.
Although almost all of the homes are rowhomes or condos, their varied sizes, conditions, and locations result in homes for almost any budget. The range is pretty wide: A two-bedroom condo can list anywhere from the low $100s to the mid $300s, while a three-bedroom rowhouse can list between the low $100s and the low $300s.
Full-time employees of the Johns Hopkins Health system are eligible for up to $5,000 in grants to purchase homes in parts of Charles Village through the Live Near Your Work program. The University of Baltimore also offers incentives for employees to live in Charles Village.
Where to Eat and Drink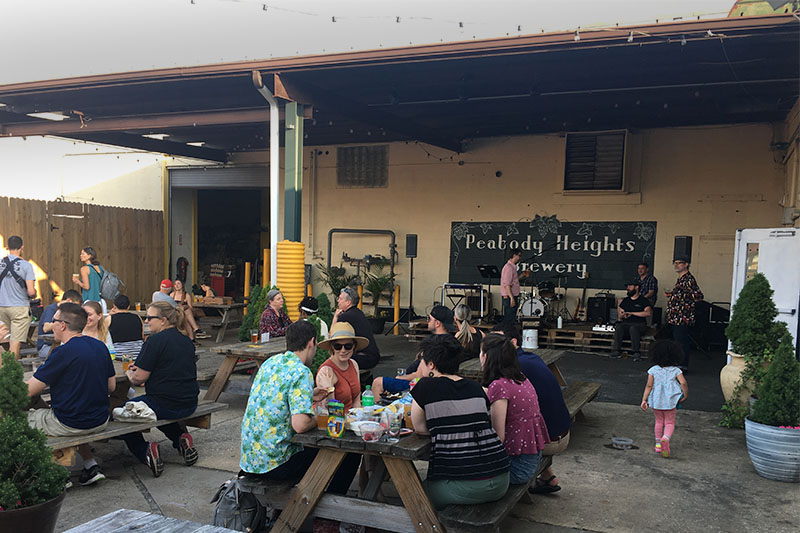 Although St. Paul Street has always been a commercial corridor in the neighborhood, Johns Hopkins University has invested heavily in bringing a college-town feel to these few blocks. Fast-casual restaurants include chains like Jimmy Johns, Chipotle, honeygrow, and Starbucks, while locals have opened PekoPeko Ramen, Döner Bros, Towson Hot Bagels (THB), and Bird in Hand coffee shop. You can also eat at more established neighborhood favorites like Carma's Cafe, Tamber's, and Orient Express.
And we'd be remiss if we didn't mention the eponymous Charles Village Pub. A kitchen fire last year closed the bar/restaurant down, much to the dismay of the neighborhood. But the almost three-decade-old establishment is now back, and on Friday nights, you'll see regulars at the patio tables and inside the bar. You just can't beat their classic American pub menu and cheap beers on draft.
Peabody Heights Brewery offers another community gathering spot. The tasting room is only open on Wednesdays, Fridays, Saturdays, and for special events, but the brewery has become a neighborhood living room. On Friday nights, expect to find families with young kids enjoying the beer garden or the game room while live bands play outside. Fridays and Saturdays are also popular days for birthday parties, while politicians running for office might host a fundraiser or stop by to say hi to neighbors.
Things to Do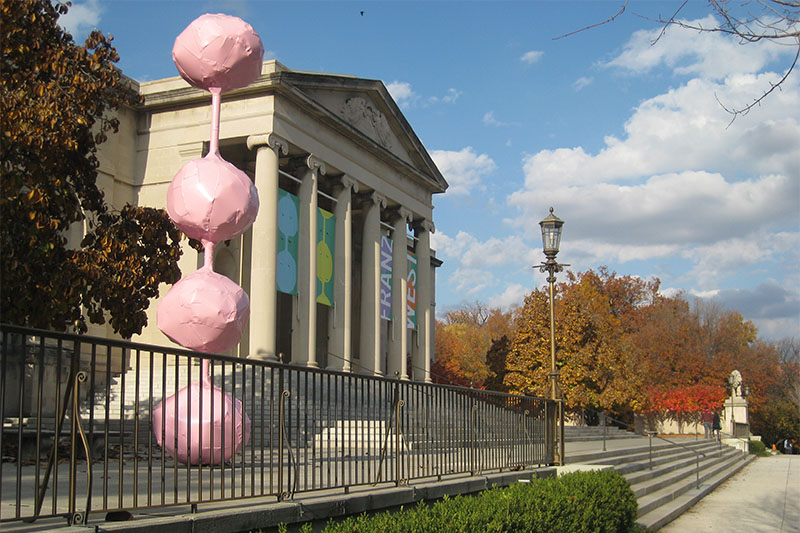 One of the highlights of Charles Village is the 32nd Street Farmers Market. Open year-round from 7 a.m. to noon, the market draws vendors from across the region and residents from across the city. Pick up your coffee, baked goods, pickles, and farm-fresh veggies, eggs, and meat. Or, stop by for special pop-up food vendors like Blacksauce Kitchen and Dangerously Delicious Pies.
Another neighborhood gem is the Baltimore Museum of Art (BMA), located right off the Wyman Park Dell. The free art museum hosts a world-class permanent collection and rotating special exhibits. Wyman Park and the Wyman Park Dell are great places to take dogs for a walk or run.
Getting Around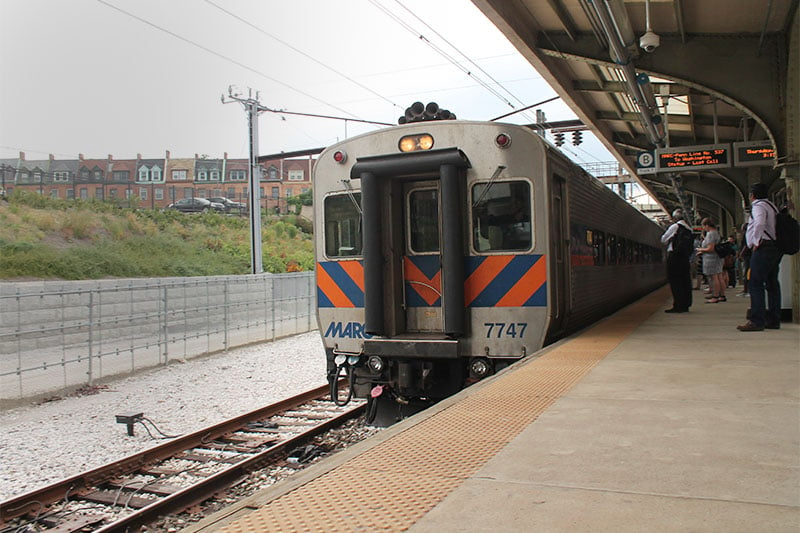 Charles Village's location almost in the exact center of the city, giving residents easy access to the whole city. The neighborhood is minutes away from I-83, which allows for a short commute south to Downtown or north to Towson and Timonium.
If you work farther south and don't want to drive, you have lots of bus options in Charles Village. You can hop on the free Purple Line circulator bus, which makes a loop between Charles Village and Federal Hill. The route also makes a stop at Penn Station, where you can ride the Amtrak to Philadelphia or New York or take the Marc Train to Washington, D.C. The Silver Line and Number 51 city busses follow a similar route downtown and cost $1.90 per ride. Also, anyone with a Johns Hopkins ID can take advantage of the (private) buses that run from the undergraduate Homewood campus to the hospital and select other locations around town.
Although Charles Village offers lots of places to eat, drink, and go out, it's also easy to get to other neighborhoods. About a mile and a half south is the Station North Arts and Entertainment District. Head the same distance west, and you'll find Hampden, while Remington is just a few blocks southwest. These neighborhoods are a bikeable or scooterable distance away or a cheap Lyft or Uber ride.