National Local Life
What It's Like Living in Edgewood, Atlanta
Atlanta's Edgewood neighborhood is a residential pocket tucked into the thick of the active city scene. Edgewood is an intown neighborhood, adjacent to Kirkwood, Reynoldstown, and Little Five Points, just off of busy Moreland Avenue. A prominent commercial corridor borders the outside of the neighborhood, providing an abundant source of amenities for residents living in the depths of Edgewood's quiet interior.
One common misconception for Atlanta newcomers is that the popular entertainment strip along Edgewood Avenue is part of the Edgewood neighborhood. However, the hip bars and restaurants on Edgewood Avenue are actually in the Old Fourth Ward neighborhood, which isn't far from Edgewood but still totally separate.
Edgewood was built around the turn of the 20th century to accommodate Atlanta's rapid growth, constructed with modest-sized craftsman homes. Its diverse community, access to plenty of attractions, and affordability compared to surrounding neighborhoods makes it an appealing destination for those in the market for a starter or budget-friendly home in the city.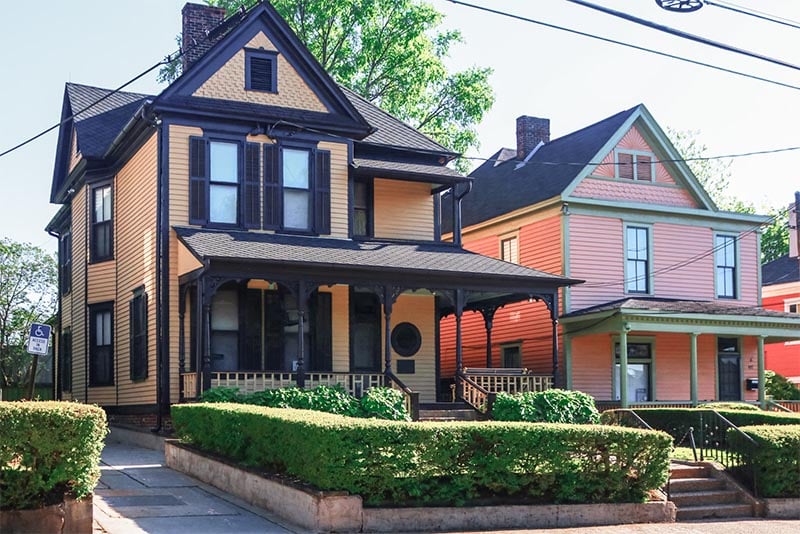 Edgewood Real Estate
Since its inception, modest-sized single-family craftsman homes and bungalows have populated Edgewood. Most have two to four bedrooms. Lately, some more modern apartment buildings and townhomes have emerged as well. The Arizona Lofts condo community, including the newer AZ2 mid-rise, includes 115 loft units built in a converted warehouse building on the edge of the neighborhood where Edgewood meets Candler Park.
According to neighborhoods.com, the median home sale price in Edgewood is in the high $300s with current prices starting in the mid $200s and going up to the high $700s.
Edgewood Shopping
The biggest landmark that anchors the Edgewood neighborhood is undoubtedly the Edgewood Retail District, providing residents with access to groceries, clothing, home improvement, and all kinds of other shopping options. Some of the major retail businesses include big-box stores like Lowe's; Target; Bed, Bath and Beyond; Barnes and Noble; Office Depot, and Kroger. The Edgewood Retail District is a popular destination for families on the weekends to shop and grab lunch. Right behind the shopping center are apartment buildings.
Edgewood Food and Drink
Edgewood has a mix of national and regional chains as well as a couple of true local gems. El Tesoro is one of the more exciting new additions to the Atlanta restaurant scene in the past few years. It has plenty of outdoor seating on its front and side patios, making it a more COVID-safe dining option, and the menu has a delicious selection of taqueria staples. Some standouts include the tostada de tinga de pollo, a variety of tamales, burros and mulitas. El Tesoro delights fans of bold flavors and just straight-up delicious food.
Ration & Dram is a modern, stylish neighborhood bar and restaurant located in the Arizona Lofts complex. Ration & Dram serves creative, upscale pub food, like a smoked trout dip with Zapp's potato chips, roasted snails and bread, a spicy Southern chicken sandwich, and more. They also have a wide selection of craft cocktails, beer, and wine.
Chop Shop is a bright neighborhood beacon, bringing farm-to-butcher meats and provisions to Edgewood. Chop Shop focuses on locally and sustainably farmed, whole animal butchery. This neighborhood hotspot offers organic, fresh-cut beef, pork, sausage, poultry, charcuterie, cheeses, spices, and other specialty items.
Getting Around
Edgewood benefits from several public transportation options. The neighborhood is flanked by two MARTA train stations: one where Edgewood meets Reynoldstown and one where Edgewood meets Candler Park. The Reynoldstown/Inman Park MARTA station and the Edgewood/Candler Park MARTA station are within walking distance from any point in Edgewood and provide transportation throughout the Atlanta Metro area. There are also two MARTA bus routes that go through Edgewood.
Edgewood's location is convenient for walking and biking to nearby attractions, like the Edgewood Retail District, the Eastside BeltLine Trail, Krog Street Market, and all the shops, bars, and restaurants in Little Five Points.
Edgewood Community
Within the small neighborhood, Edgewood fosters a tight-knit community and promotes a family-friendly environment. One of the excellent neighborhood resources available is the Edgewood Community Learning Garden, part of the Wylde Center. The Wylde Center develops greenspaces and educational programs throughout Atlanta to strengthen neighborhoods and provide youth activities.
The Edgewood Community Learning Garden functions as an outdoor educational site to teach Edgewood students about plants, gardening, and healthy living. It's used for field trips, events, cooking demonstrations, after school programs, and summer camps. There are fruit and vegetable gardens, beehives, chicken coops, a play area, and a treehouse.
Another active youth facility located at the Edgewood/Candler Park rail station is A Place To Soar, a project of the Moving in the Spirit nonprofit dance organization. Since 1986, the organization has given inner-city Atlanta children the opportunity to take dance classes. The new location which started construction in 2019 has a theater and two dance classrooms.