Where to Live in Atlanta if You Want to Use MARTA
Where to Live in Atlanta if You Want to Use MARTA
For those among us who despise the congestive headache that is I-85 or the oft-infuriating in-town traffic, Atlanta can seem like a difficult place to get around. However, with some strategic planning, it's possible to live comfortably in Atlanta without ever having to deal with driving in traffic.
Work the system by making MARTA, Atlanta's public transportation system, part of your daily routine. While there are plenty of MARTA bus stops all over the city, it's not the most efficient option. Living close to a MARTA rail station in a neighborhood with plenty of amenities is the ideal setup for those who prefer using public transportation. Here are some of the best Atlanta neighborhoods and suburbs to do so.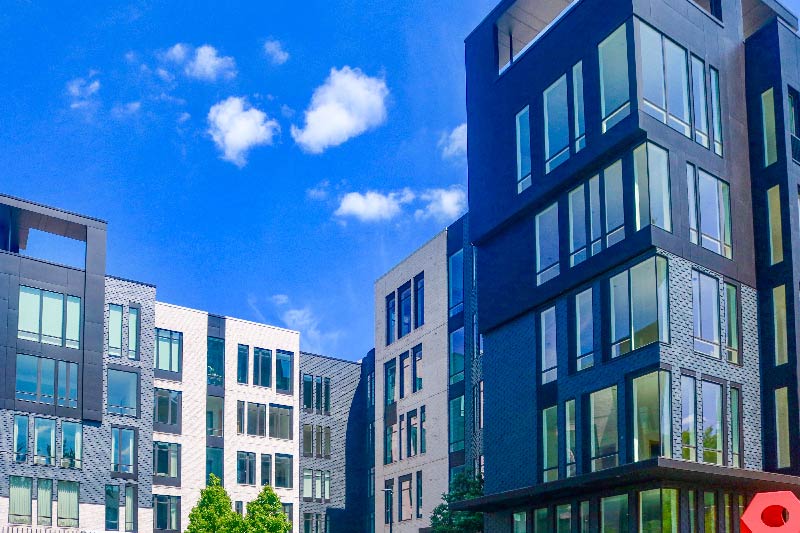 Midtown Atlanta is in the center of everything Atlanta has to offer and definitely gives off that big-city vibe, with its skyscrapers, museums, cultural institutions, constant activity, and luxury high-rise housing. Along with its urban feel, it also boasts walkability and easy access to public transit.
The Midtown MARTA station is located at 41 10th St. near the I-85/I-75 Exit on the red and gold rail lines. It's just a few minutes from the Downtown Five Points station, which connects the North and South lines and serves all red, gold, blue, and green lines. The airport station is a 23-minute ride from the Midtown station.
Depending on which station exit you take, you can access virtually anything you need without ever leaving the neighborhood. For groceries, there's a Publix. For recreation, Piedmont Park—Atlanta's version of Central Park—is an outdoor urban oasis where you can exercise, walk your dog, or tour the Botanical Gardens.
Midtown also has tons of nightlife options including chic restaurants, clubs, and bars (many of which are LGBTQ-friendly). Midtown is an ideal location for Georgia Tech students and employees since the campus is right outside the neighborhood. While the neighborhood does have its fair share of million-dollar condos and townhomes in newer buildings, you can also find older condo units in the $100s to $300s, restored craftsman homes, and modern new builds in a range of prices.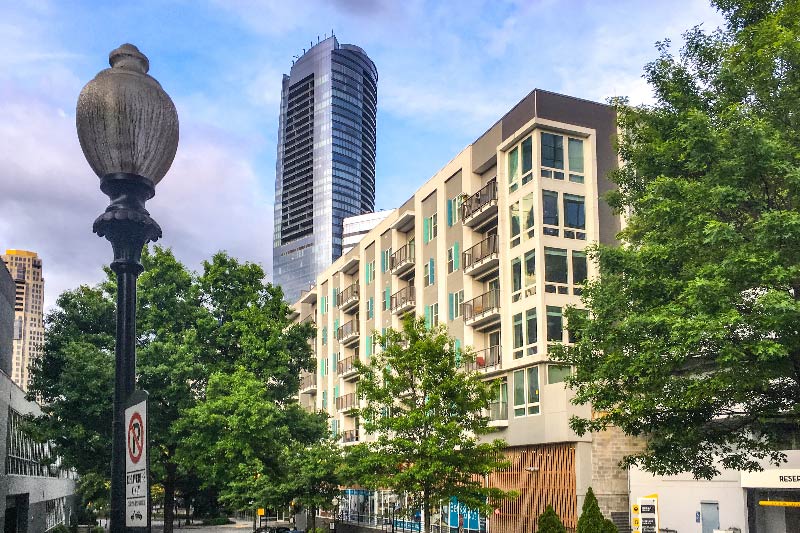 Buckhead: the home of Elton John, extravagant houses, modern high-rises, and luxury shopping. (Although you can also find a lot of housing, both condos and tree-lined single-family homes, on the lower end of the price spectrum.) It's the Upper East Side of Atlanta.
There are a few different MARTA stations serving Buckhead. The Buckhead Station is located on the red rail line at 3360 Peachtree Road. Within walking distance of this station are two major malls with a mix of upscale and more accessible stores: Lenox Mall and Phipps Plaza, the latter sporting a cushy movie theater. Also within walking distance of this station is the Atlanta Tech Village as well as many hotels and restaurants.
The Lindbergh Station is located in a more residential part of Buckhead at 2424 Piedmont Road, next to the MARTA headquarters. There are many apartment, condo, and loft buildings in this area as well as big chain stores like Target, Kroger, and Home Depot. With its large, free parking deck and proximity to the big Atlanta stadiums and events centers, this is also a popular station to depart from for Atlanta United games and big concerts.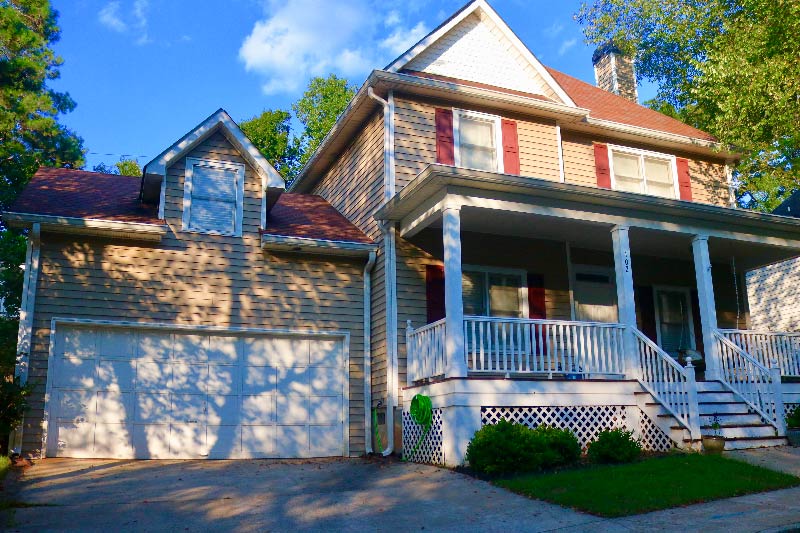 The City of Decatur is just a short drive from Downtown Atlanta and inside the I-285 city perimeter, serving as the middle-ground between city living and the suburbs. It has the best of the suburbs—a highly rated school district (plus Agnes Scott College and Emory University close by), a pleasant atmosphere, and a charming downtown—while also being near Atlanta's city center and public transit.
The Decatur MARTA station is on the blue line, located at 400 Church St. in Downtown Decatur. The Decatur MARTA station is about a 13-minute ride to the Downtown Five Points station and 30-45 minutes from the airport station.
Downtown Decatur is very walkable with lots of dining and shopping options, as well as Decatur Square where neighborhood festivals are held throughout the year. Some of Atlanta's top restaurants are in Downtown Decatur including Leon's Full Service, Kimball House, Chai Pani, and White Bull. There's also a weekly farmers market on Saturdays.
Within Decatur's neighborhoods are a wide range of housing options, with newer townhomes and stately single-family homes being the most common types of residences. There are plenty of options on both ends of the price spectrum, from modest ranch homes to million-dollar new construction homes built in traditional styles.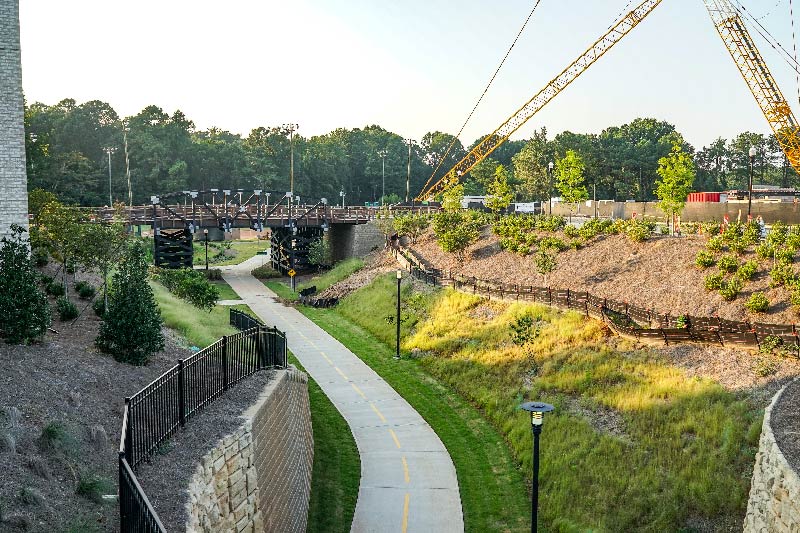 Like Decatur, Chamblee is another area that's outside in-town Atlanta but still ITP (Inside the Perimeter), so it's accepted as an Atlanta neighborhood—unlike the OTP (Outside The Perimeter) areas, which are scoffed at if they try to pass as part of the "real" Atlanta.
What used to be a more affordable, modest neighborhood, Chamblee is now on the rise in both reputation and cost due to recent development. However, the neighborhood is still more affordable than nearby Dunwoody, Sandy Springs, and Brookhaven. And it's more affordable than neighborhoods in Atlanta proper.
Chamblee is on MARTA's gold rail line with a station in Downtown Chamblee, making it that much more desirable as a relatively affordable area. From the Chamblee Station, it's a 22-minute ride to the Five Points Station and 38 minutes to the airport.
Chamblee has a mix of older independent businesses, industrial buildings, and antique stores as well as new, upscale shops, restaurants, and a Whole Foods. It's also home to a swath of Buford Highway, Atlanta's international food destination. Stretching across three Georgia counties, the thoroughfare includes Bangladeshi, Cuban, Vietnamese, and Mexican cuisines—plus much more.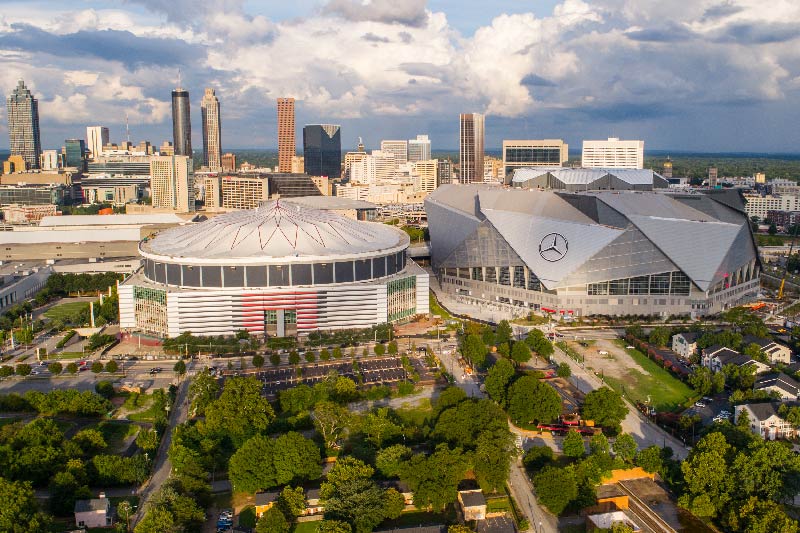 Castleberry Hill is a neighborhood within walking distance of Downtown Atlanta with lots of activity, attractions, and historic warehouse buildings converted to lofts. Housing here almost exclusively consists of reasonably priced attached homes—both modest condos and penthouse lofts alike—lending even more to the neighborhood's urban vibe.
Castleberry Hill is close to three MARTA rail stations, the closest of which is the Dome Station on the blue/green rail line, as well as Garnett Station and the smaller Vine City Station. There are also three bus routes that travel to Castleberry Hill. The Garnett station is only a 15-minute ride to the airport.
The behemoth landmark of the neighborhood is the new Mercedes-Benz Stadium, home of Atlanta United and the Atlanta Falcons. It's a diverse and eclectic neighborhood with plenty of shops, restaurants, and neighborhood pubs, with Peters Street being the neighborhood's main drag. With margaritas and colorful decor, No Mas! Cantina is a neighborhood favorite.
The neighborhood's main attraction is its art galleries. Every second Friday of the month is the Castleberry Hill Art Stroll where all the galleries are open for touring, drinks, and mingling.