What It's Like Living in Georgetown, Texas
What It's Like Living in Georgetown, Texas
As Austin continues to grow, both the Texas capital and the smaller cities nearby are bearing witness to an influx of new industries and businesses, turning the Austin metro area into an economic powerhouse. The region's recent population swell directly relates to this upswing in jobs and corporate office locations. As a result, demand for housing in the city's suburbs has increased as more people seek employment in Austin and neighboring towns like Round Rock.
Both new arrivals and longtime Central Texas residents consider the suburban communities north of Austin particularly desirable, thanks to their charming "small-town" vibes, outdoor amenities, and easy commutes to Austin and Round Rock. A prime example can be found in Georgetown, a suburban city of over 70,000 people located a mere 10 miles from Round Rock and just 30 miles from Downtown Austin.
This suburb combines a laid-back, country-village vibe with urban amenities like shops and restaurants. It also offers easy access to both polished city centers and greenspaces with hiking trails and lake-centric activities.
A Historic Downtown Center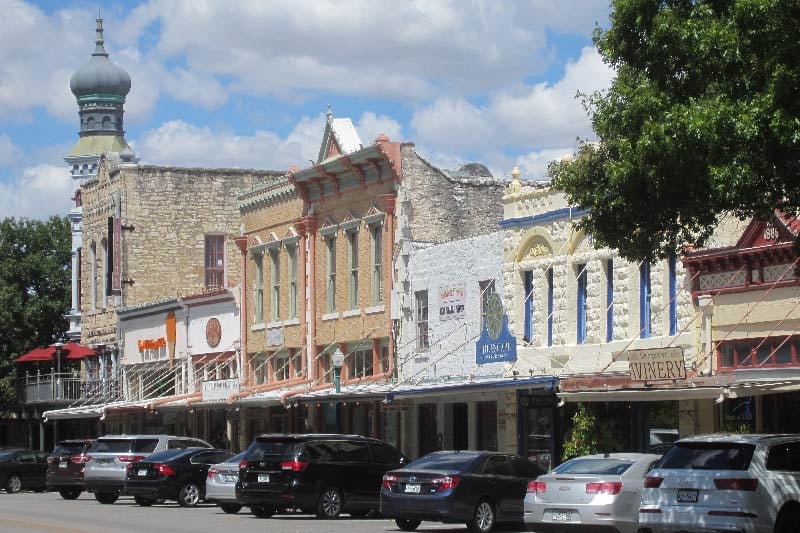 Georgetown takes enormous pride in its historic downtown center, which claims to be "The Most Beautiful Town Square In Texas." The downtown area boasts a venerable history, featuring sights like a classic courthouse over 100 years old. In 1977, the National Register of Historic Places designated this area (the Williamson County Courthouse Historic District) as an official entry on its nationwide list.
Much of the downtown action takes place on Main Street and the adjacent Austin Avenue, both of which include numerous dining, drinking, entertainment, and educational venues. Georgetown guests and residents alike appreciate the informative tours offered by the Williamson County Courthouse, while the Williamson Museum regularly presents exhibits dedicated to the area's history.
Art lovers flock to the Georgetown Art Center to spot works of art by both nationally acclaimed and locally beloved artists. Fans of the performing arts can catch shows at the Palace Theatre, and architecture aficionados can enjoy the beautiful Victorian homesteads scattered throughout downtown.
Real Estate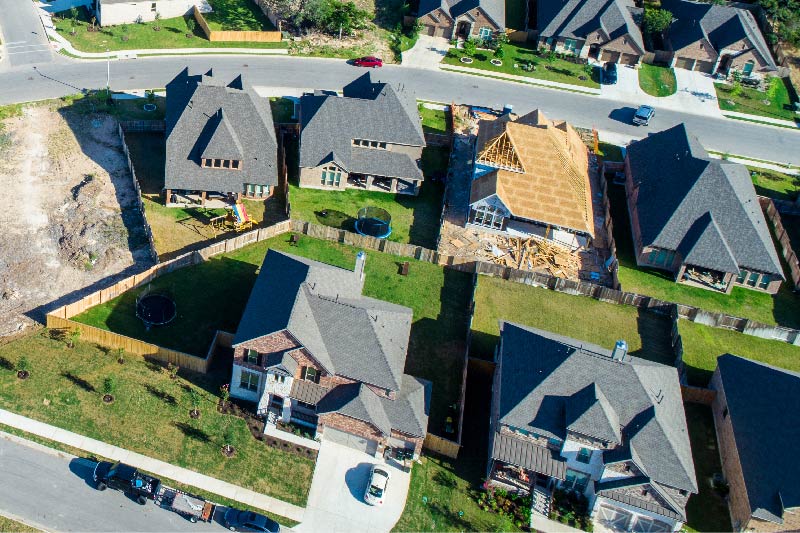 The vast majority of housing inventory in Georgetown comes in the form of single-family homes. The property values in the area are heavily informed by the numerous small-scale master-planned communities framing the town, which offer well-appointed amenities and quality homes that prove especially attractive to growing families in the area.
Also, a full one-third of Georgetown's population resides in Sun City, a large age-restricted community providing desirable amenities like multiple golf courses, swimming pools, a fishing lake, and a central clubhouse with a library, a business center, and hobby workshops.
On the lower end of the Georgetown pricing spectrum, small single-family homes range from the low to mid-$200s in neighborhoods like San Gabriel Heights or University Park.
Homebuyers looking pay a bit more for a larger single-family home, such as a four- to five-bedroom home starting in the high $200s, should begin their search in the MorningStar neighborhood.
Or, homebuyers seeking a newly built two-story home priced in the high $300s should check out the Rancho Sienna neighborhood. For those who meet Sun City's age-related requirements, the most favorable housing deals can usually be found within the Sun City community where the median sale price is in the high $200s, according to Neighborhoods.com data.
Lakefront Adventures With Hill Country Views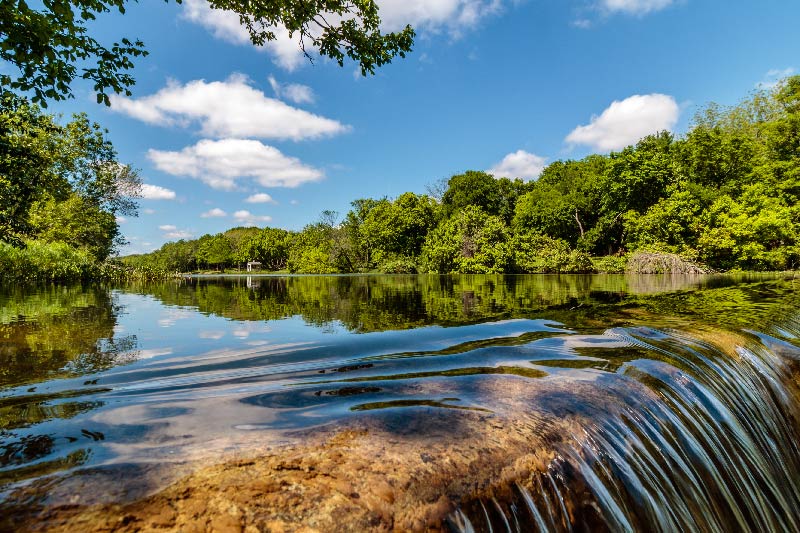 Georgetown's location within the scenic Central Texas territory—colloquially termed the "Hill Country"—provides residents with picturesque views of the local landscape. And for those who'd rather experience nature up close and personal, Lake Georgetown in the town's northwest corner invites both locals and visitors to boat, fish, swim, and camp in the adjacent park areas of Cedar Breaks Park and Jim Hogg Park. Hikers can also make use of the trail network surrounding the lake.
Parks and Outdoor Recreation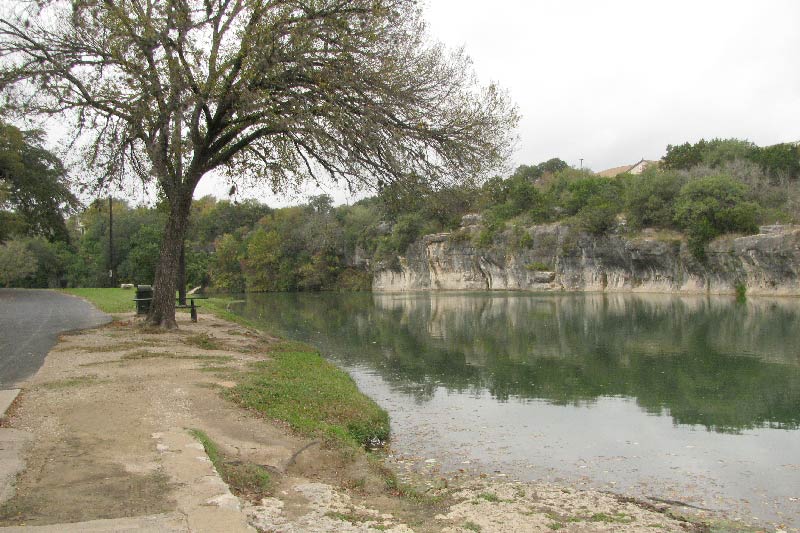 In addition to the parks surrounding Lake Georgetown, residents also enjoy other local greenspaces, each one a true testament to Georgetown's love of the outdoors. A scenic national park named after the river that traverses through Georgetown, San Gabriel Park offers everything from picnic grounds and athletic fields to open space for outdoor concerts and festivals.
If you're looking for an outdoor space perfect for your four-legged friends, check out Bark Park, a sizable off-leash dog park shaded by pecan trees and equipped with an agility course, waste bags and trash cans, and drinking fountains to keep your pup hydrated.
Located on the outskirts of Georgetown, the Berry Springs Park and Preserve is ideal for hikers and outdoor adventurers who enjoy camping and picnicking.
Easy Commutes To Austin and Round Rock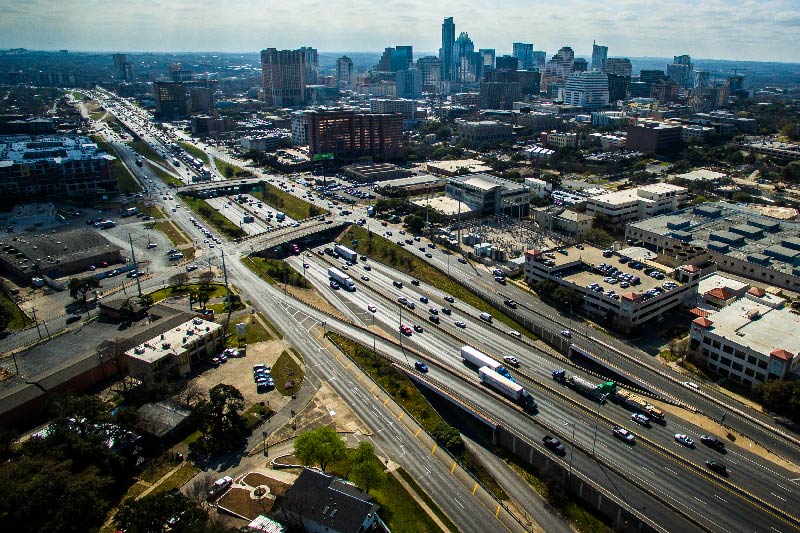 Georgetown's expedient commuting time to Downtown Austin counts among its most sought-after traits with homebuyers who work in the capital. A straightforward 30-mile drive down I-35 brings you right to the heart of Austin's city center, with a travel time ranging between 30 and 45 minutes (depending on traffic).
Georgetowners working in the tech hub of Round Rock have an even easier journey. With only 10 miles separating Round Rock and Georgetown, commuters can zip down I-35 and make it to work in 15-20 minutes.
What It's Like to Live Here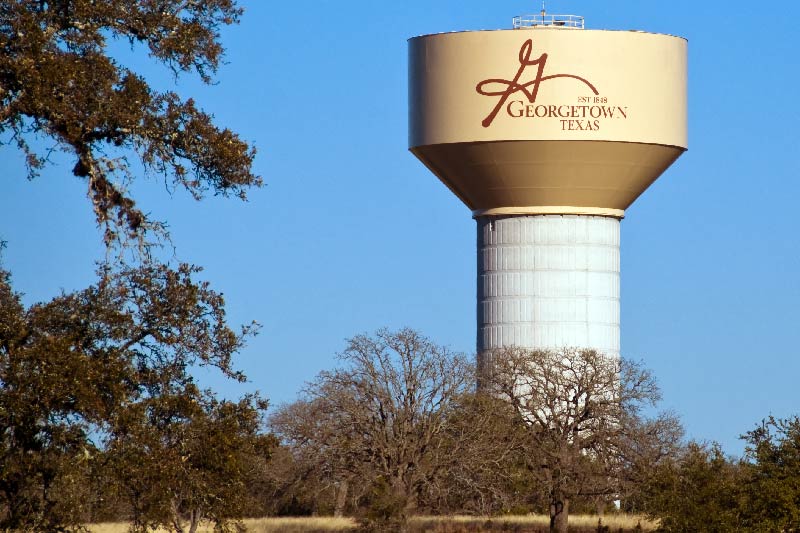 Georgetown's downtown center features a wide range of restaurants and bars, from the super-casual to the upscale. Local favorites include airy Mexican cantina El Monumento, Cajun-Creole bistro Gumbo's, and celebrated steakhouse and cocktail bar Wildfire. Georgetown is also home to wineries like Georgetown Winery and Grape Creek Winery, both of which offer tours and tastings of their noteworthy local wines.
Public schools in Georgetown fall within the Georgetown Independent School District, a well-regarded school system with a 94.3 percent, four-year high school graduation rate. In terms of higher education, Southwestern University is a small, private university claiming to be the oldest college in Texas and offering programs in both the liberal arts and STEM fields.
Georgetown effectively merges small-town serenity, urban conveniences, and antique charm to create the close-knit community which many homebuyers are seeking in Central Texas.