National Local Life
What It's Like Living in LoDo, Denver
Denver, Colorado is full of neighborhoods that make up the city's unique fabric. From funky enclaves like Five Points to the buzzing dive bars of Baker, the mile-high city provides a locale to fit every preference. However, few neighborhoods connect residents with the real heartbeat of this eccentric city quite like the Lower Downtown (aka LoDo) district.
Here's what it's like to live at the heart of Denver's city center in LoDo.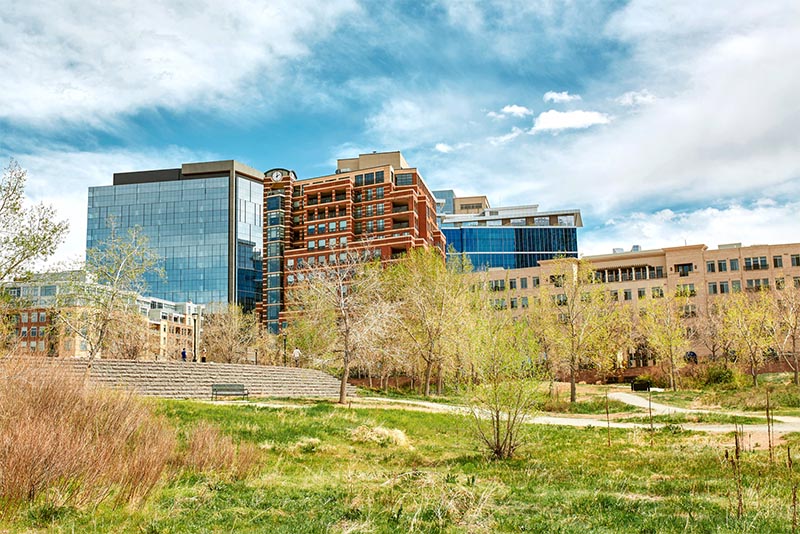 Neighborhood Vibes
First settled in 1858, LoDo is Denver's oldest neighborhood and it melds the city's pioneering past with its progressive future in a number of ways. Historic buildings with aged brick and wrought iron ornamentation sit adjacent to modern, mixed-use spaces with industrial-style garage doors flung open to embrace the sunshine. Landmark establishments continue to draw new faces while remaining faithful to stalwart regulars.
A stroll through this neighborhood is a walk through Denver's western expansion history and a glimpse at its innovative, entrepreneurial future. Colorado natives and international transplants alike are enticed by this historic enclave, giving the neighborhood a diverse and inclusive vibe.
This 23-block area is known for its vibrant nightlife scene, acclaimed restaurants, and concentration of Denver landmarks including Union Station, Wynkoop Brewing Company, Larimer Square, and others.
Things to Do in LoDo
As Denver continues to grow in popularity, its attractions, shows, and events do as well. LoDo's central location gives its residents convenient access to an array of activities. Sports fans are guaranteed to love this neighborhood because it's home to both the Pepsi Center and Coors Field, and it's just a few blocks away from Mile High Stadium.
From intimate acoustic sets at Larimer Lounge to spirited, crowd-pleasing EDM shows at Summit Music Hall, there's an abundance of live music venues in and around the neighborhood. LoDo residents pack weekends with bar hopping, bike rides, people watching, and picnics in the park. You won't run out of things to do in Denver's original neighborhood.
Getting Around
Just minutes from I-25 and smack-dab in the heart of downtown, this neighborhood's most attractive feature is its central location. Residents have options when it comes to commuting. Hop on the Light Rail from Union Station to easily access the airport, the Tech Center, and many other outlying suburban office parks.
For those who work downtown, you're already in the central business district. A quick walk or bike ride can easily transport you to work each morning. Avoiding traffic and ditching the car is easy when you live in LoDo.
On weekends, take the Light Rail to Winter Park for an ultimate skiing or hiking adventure. Don't want to leave town? Catch a game at Coors Field, rent a kayak to paddle the easy rapids at Confluence Park, or visit the Museum of Contemporary Art, all right in the neighborhood.
Real Estate
As one of Denver's more popular neighborhoods, homes in LoDo are exquisite and highly sought after. The current median home price in the neighborhood is in the mid $600s, according to neighborhoods.com data.
Historic homes and brand new high-rise options are available to residents looking to plant roots in the heart of Denver's bustling urban center. Industrial lofts above businesses, modern luxury apartments, and renovated condos pepper the city's streets.
Where to Drink and Dine
Terminal Bar at Union Station provides an elegant happy hour locale for those looking to sip in style. For a boisterous atmosphere, head to Rhein Haus, a German-style beer bar complete with brats and bocce ball.
Fine dining establishments are aplenty throughout LoDo, and foodies will delight in the authentic Italian fare at Venice Ristorante & Wine Bar. Mercantile Dining & Provisions, Freshcraft, and ChoLon Bistro create exquisite yet approachable cuisine that's affordable and delicious. For quick eats in a memorable location, grab a burger from My Brother's Bar, Denver's oldest bar, or a beer and sandwich at Wynkoop, the city's oldest brewery.
The Great Outdoors
Denver residents love the city for its neighborhoods with proximity to outdoor attractions, and LoDo is no exception. REI's flagship store is situated on the border of LoDo and The Highlands, adjacent to Confluence Park. Their mountain bike test track, white water run, and outdoor patio set up is the place to be on sunny summer days. The Platte River Trail begins here and winds a total of 40-miles throughout the city.
Set up a picnic blanket and bring the dog for a total beach day, minus the ocean. Watch whitewater kayakers, paddleboarders, and river surfers ride the waves of the Platte River rapids park. Snap picturesque photos of Denver's skyline from the bridge or play frisbee in the lush green lawn near the river. This park offers a scenic escape from city life and is a great way to enjoy Denver's fabulous weather with friends.
The Bottom Line
Lower Downtown provides the heartbeat for the city. As Denver's oldest neighborhood, this enclave gives residents and visitors a snapshot of the city's roots, it's settlers' history, and its boom-and-bust story. Architectural styles act as a timeline for Denver's expansion and city planners have gone to great lengths to keep historic spaces intact.
The neighborhood has grown and various high-rise apartments continue to appear in the skyline, but at its core, Lower Downtown is scrappy and hopeful. Those who choose to make a life here will love its vibrant energy, packed sidewalks, and adventure down each alleyway. LoDo will continue to provide the rhythm for this ever-expanding metropolis, remaining at the epicenter as keeper of Denver's treasured origin story.