What It's Like Living in Pittsburgh, Atlanta
What It's Like Living in Pittsburgh, Atlanta
Pittsburgh, a historic neighborhood near downtown Atlanta, is on the rise. It's a neighborhood that up until this point has flown under the radar, but it's sure to become a bigger part of the Atlanta conversation as time goes on. It's well into a transition and primed for growth.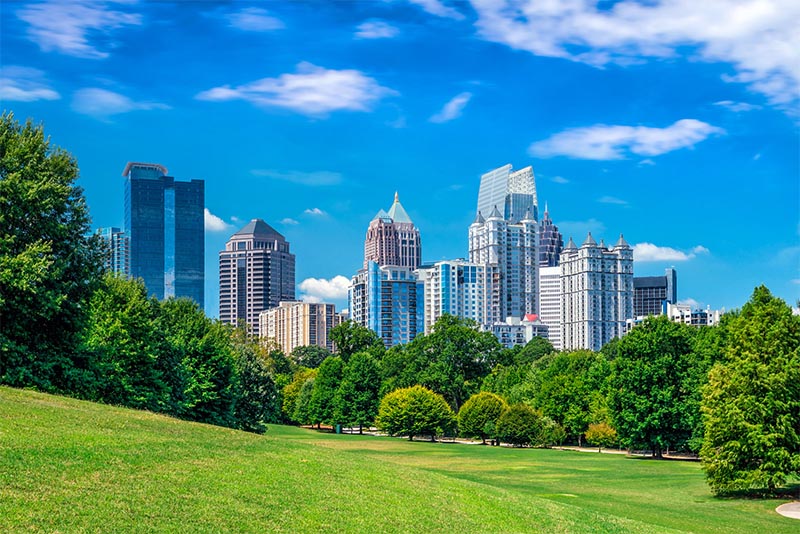 Pittsburgh History
Originally populated by working-class families in the 1880s, Pittsburgh later experienced a withdrawal of residents and depreciation of property, but newfound resources and attention in the area following the 2008 financial crisis reinvigorated the neighborhood. Now, as it's on the upswing, Pittsburgh continues to develop while remaining one of the most affordable neighborhoods to live in Intown Atlanta.
Pittsburgh, Atlanta was named for the Pennsylvania city it sought to emulate in its industrial endeavors. As it was first developing, Pittsburgh was a site with rail repair shops to service the four streetcar lines in the neighborhood.
Two neighborhood groups serve the interests of longtime and new residents alike: PittsburghAtl Homeowners United and the Pittsburgh Neighborhood Association. Pittsburgh is now also a BeltLine adjacent neighborhood, with the Southside Interim Trail that connects the Eastside and the Westside trails bordering the southern end of the neighborhood. Pittsburgh Yards is a new large-scale development project started in 2018 which is slated to bring new businesses, dining, recreation, professional offices, and entrepreneurial opportunities to a 31-acre site in the neighborhood.
All of these efforts combined are reviving this long-standing yet overlooked neighborhood, making Pittsburgh a great place to invest now.
Where is Pittsburgh?
Pittsburgh is in a convenient, central Atlanta location. It's right off I-75 and within walking distance of many attractions, including downtown, Turner Field, West End Mall, Grant Park, and the Atlanta Zoo.
While at present time, Pittsburgh isn't as bustling or thriving as other parts of Atlanta, it's surrounded by neighborhoods that are. Those include downtown, Adair Park, and Summerhill. In those areas, you'll find such top Atlanta destinations as Centennial Olympic Park, the CNN Center, Georgia Aquarium, Spelman College, Morehouse College, the BeltLine Westside Trail, Summerhill's village of outstanding restaurants, and all there's to offer in West End just past Adair Park. These neighborhoods are a quick drive, bike ride, or walk from Pittsburgh.
Metropolitan Parkway is the major thoroughfare that connects Pittsburgh with Adair Park and nearby Sylvan Hills and Capitol View. Pittsburgh is also close to the Garnett, West End, and Oakland City MARTA stations, making it a convenient location to access public transportation.
What to do in Pittsburgh
Pittman Park Recreation Center offers a nice greenspace in the Pittsburgh neighborhood. The park is a family-friendly area, complete with picnic tables, recreational fields, playgrounds, a garden area, a swimming pool, and tennis and basketball courts. Residents enjoy this amenity right in the neighborhood for exercising and family gatherings.
Where to Eat
While restaurants and bars saturate most Atlanta neighborhoods, with new ones opening all the time, Pittsburgh itself is untapped territory. That will certainly change with the completion of the Pittsburgh Yards complex and with the overall growth of the neighborhood, but for now, there are just a few local restaurants holding it down in Pittsburgh. They all have one major thing in common: grilled meats.
GQ's Bar B Que serves a selection of smoked meats including ribs, chicken and burgers. They also have some vegetarian items and sides like mac and cheese, collard greens, and baked beans. They pride themselves on their signature "Gresham Recipe" for their sauce and the "Pittsburgh Plate" which includes a sample platter of their house-made meats.
For Jamaican food fans, Jamrock Jerk Center will satisfy those cravings. This restaurant serves fresh Jamaican food with the bold sauces, seasonings, and flavors that define the cuisine. Some of their signature dishes include curry goat and chicken, stewed oxtails, and sides like cabbage and plantains.
Tom, Dick & Hank is a two-story barbecue restaurant with a bar and dining area on the ground level and an upper-level patio with a killer view of the Atlanta skyline. Owned by Atlanta local and former road manager Hank Johnson, Tom, Dick & Hank serves a large menu of tacos filled with their barbequed meats, smoked wings, ribs, a selection of sides, desserts, and more.
Pittsburgh Real Estate
There are many homes in Pittsburgh that need some TLC which presents some great investment opportunities. In recent years, newly constructed and renovated properties have sprouted up, signaling the evolution of the neighborhood. Most of the homes in Pittsburgh are single-family, primarily one- to four-bedroom houses. The median sale price is in the high $100s, according to neighborhoods.com.
There are also a lot of renters in Pittsburgh. Residents enjoy the relaxed, quiet neighborhood environment that's close to all the business and culture Atlanta is known for.