Houston Real Estate
What It's Like Living in Spring Branch, Houston
Spring Branch, one of the largest suburban neighborhoods in Houston, was once farmland populated by pioneering German immigrants in the 1840s. Naming the area after a branch-covered creek thought to contain natural springs, Spring Branch street names now pay homage to the German families who saw potential in this land situated west of Downtown Houston.
What we like about Spring Branch is the diversity within the neighborhoods.
While the agrarian roots are long gone, prospective homebuyers looking to settle down are still drawn to Spring Branch. Approximately 61 single-family subdivisions make up four Super Neighborhoods (Central, West, East, and North), a geographic designation fostering community involvement among residents, civic organizations, and businesses. Unlike other suburbs, Spring Branch offers more access to daily conveniences from grocery stores to dry cleaners as well as an international culinary scene. The area owes much of its longstanding reputation as a family-friendly environment to its highly regarded school district and plentiful greenspaces.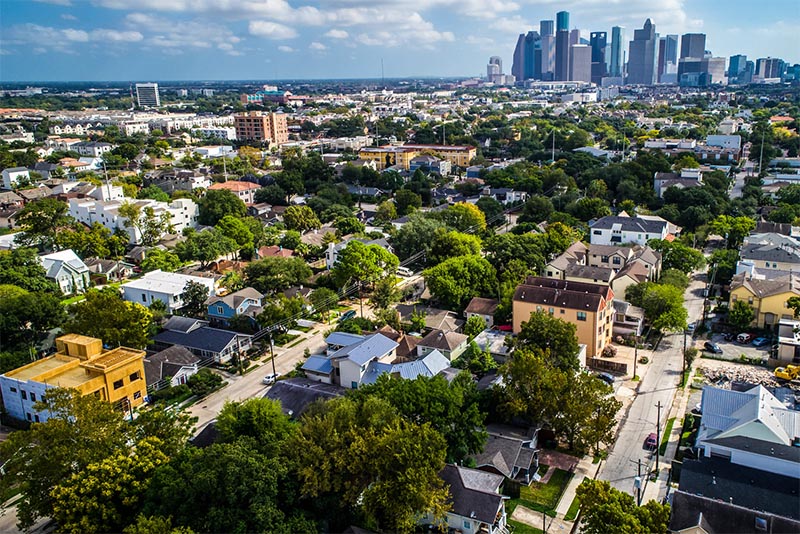 Spring Branch Real Estate
Spring Branch routinely places in the top 10 on listicles ranking the city's most sought-after neighborhoods, particularly for young families like Mikel and Mike Jones, who desired a cul-de-sac lifestyle for their two young children plus easy access to the inner loop's performing arts venues and Museum District. The couple started their search for a Spring Branch address while living in the Heights, eventually finding a home in Ridgecrest, where the ranch-style homes reminded Mikel of the Los Angeles suburb from her youth. As the oldest subdivision in Spring Branch, most of their neighbors are longtime Ridgecrest residents with five original homeowners still on the block. The oak-lined streets offer prospective homebuyers fixer-uppers and newly remodeled homes on quarter-acre lots with a median sale price in the mid $200s.
Newer subdivisions are emerging as well aimed at discerning buyers who want low-maintenance townhome living paired with innovative home design. Intown Homes, a Texas builder with several Houston developments, recently announced plans for Avondale, a Spring Branch community with 165 homes and a starting price of $390,000.
Construction of single-family homes has ramped up in Spring Branch West because of its location near Memorial City Mall and City Centre, an open-air shopping plaza that hosts live music and special events. Sherwood Oak Gardens features larger new builds which list around $500,000.
Where to Dine in Spring Branch
"What we like about Spring Branch is the diversity within the neighborhoods, and that translates to all the other businesses in the area," says Mikel. Her family can start the day with kolaches from Summit Donuts and feast on gyros at Simply Greek for dinner. A majority of the restaurants are locally owned by Spring Branch residents like the proprietor of Las Tortas Perronas, a nearby neighbor. Mikel also visits the deli at the Polish Food Store for smoked meats and pickles or dines next door at Polonia for pierogis.
Houston's best chefs often praise the variety of cuisines available in Spring Branch, including James Beard award-winning chef Chris Shepherd who's a fan of the sour fermented sausage at Vieng Thai and the tender cabrito at El Hidalguenese. The much-lauded breakfast tacos served by taco trucks El Ultimo and Taqueria El Taconazo even attract city dwellers. Also, Korean barbeque and noodle houses are well-represented on Long Point Road thanks to a significant immigrant population who arrived in the 1960s. Consequently, Asian supermarket chains, 99 Ranch and H-Mart have a presence in Spring Branch with bakeries, prepared foods, and food courts for dining while you shop.
Family-Friendly Features
Park-hopping is popular among Spring Branch parents. Mikel's family frequently heads to nearby Glenmore Forest where the neighborhood park is "small and gated on all sides, so you can pretty much see your kid from anywhere in the park and you can let them run free."
She also recommends "Hedwig Park next to the Spring Branch Library that has tons of trees for shade and is great for summer park outings." Moritz Pech Family Park, named for one of the early German settlers in Spring Branch, offers two playgrounds, a walking trail, and picnic tables. Also, Agnes Moffitt Park's swimming pool and disc golf course provide plenty of outdoor fun.
More recently, public art installations have appeared on Long Point Road, delighting all ages with colorful, large-scale sculptures. "Art on Long Point," sponsored by the Spring Branch Management District, features abstract pieces and whimsical designs like an oversized baby stroller reminiscent of a RV. In March, Spring Branch Independent School District launched an outdoor "Art and Literacy Trail" with student-made paintings on display depicting favorite reads like Harry Potter and Dr. Seuss.
Getting Around
Given its proximity to I-10, 290, the 610 Loop, Beltway 8, and Hempstead Highway, Spring Branch's location shortens commutes to Downtown, the Medical Center, the Galleria area, and the Energy Corridor. Being close to the city's main arteries makes for easy trips to Houston's Theater District, concert venues, and sports arenas.
While cars are essential in this neighborhood, improvements to the city's hike and bike trails are making progress. Currently, plans for a trail connecting the Addicks Reservoir Bike Trail and White Oak Bayou Greenway would offer Spring Branch residents seven miles of trail in their own neighborhood. Pedestrians will also benefit from safer street crossings and enlarged sidewalks on Long Point Road.