Los Angeles Local Life
What It's Like to Live in Downtown LA
One of the most popular neighborhoods to live in Los Angeles is situated on the city's east side: the constantly evolving neighborhood of Downtown Los Angeles. Not only is Downtown—or DTLA, as locals call it—a popular hot spot for both visitors and locals, it's also a prime location for many potential homeowners when they're looking for an LA neighborhood that offers a more city-like feel.
It encompasses distinct districts such as Chinatown, Pershing Square, Little Tokyo, and the Arts District, among others. The neighborhood started out as a quiet, low-key community for corporate professionals but—with the development of new luxury complexes, stadiums, and sought-after amenities—has since become the ultimate destination in LA among young professionals, creatives, food connoisseurs, and entertainment seekers.
Neighborhoods.com interviewed a longtime Los Angeles resident and entertainment executive, Patrick Chung, to tell us a little bit about what it's like to live in LA's urban core. He has been living in Downtown for two years and shares a bit about his experience in the community as well as the neighborhood changes he's seen over the past year.
Pedestrian-Friendly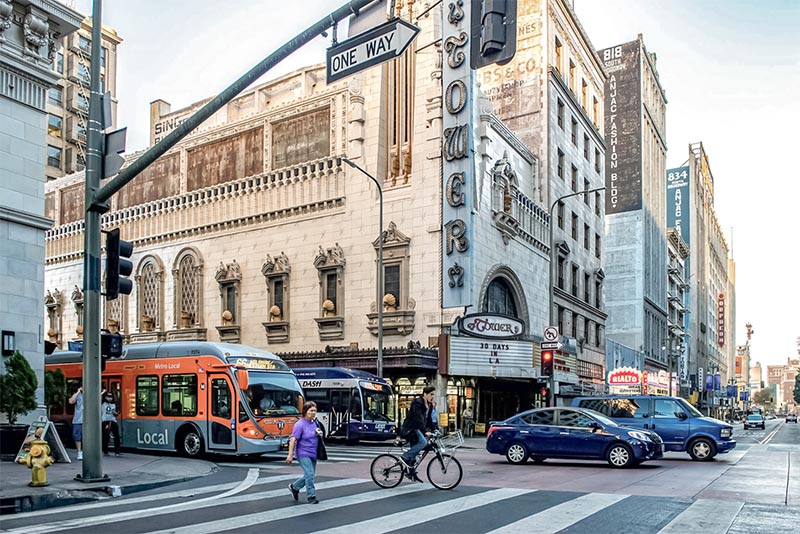 There aren't too many places in LA where residents can forgo having a car. The city itself is widespread, spanning approximately 503 square miles, and there aren't too many neighborhoods that offer everything residents might need within walking distance. However, Downtown is an exception.
There's just a lot of stuff within a two-mile walking radius.
With a Walk Score of 97 (a "walker's paradise"), the community stretches nearly 5 square miles, and it's a popular location where locals have access to anything from daily errands to upscale amenities. Although some areas such as Little Tokyo, the Arts District, and the Financial District attract tourist crowds, many locals don't mind leaving their car at home. Chung, who was used to driving around LA prior to moving to Downtown, says the neighborhood's walkability drew him.
"There's a ton of restaurants and shops. You can get food, and then there's the Flower District and the whole shopping area. There's just a lot of stuff within a two-mile walking radius." Although Chung still occasionally drives his car to visit other neighborhoods in LA, he says, "I never drive my car Downtown. I just leave it at home."
Home to Corporations, Freelancers, and Creatives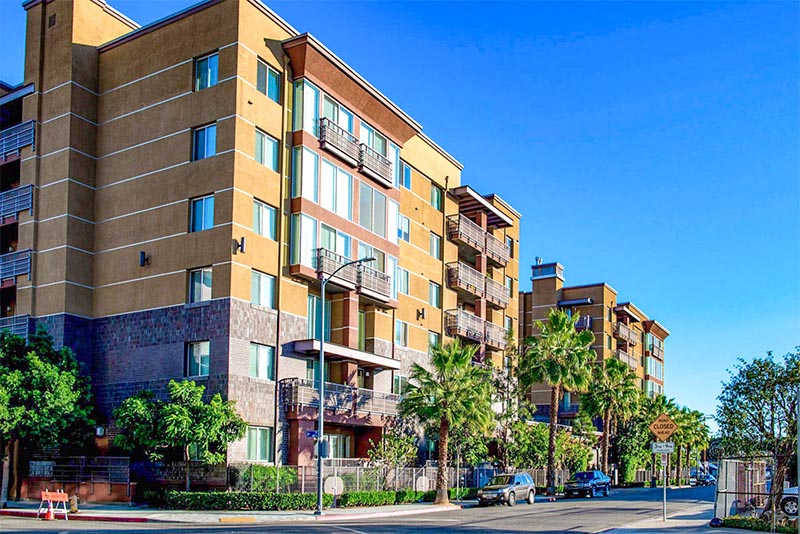 Whether you're working as a creative or professional, DTLA is a community that can help foster your goals by connecting you with like-minded neighbors. The Downtown area has the highest concentration of co-working spaces in all of LA, with outposts of WeWork and The Collection to Indie Desk, Cross Campus, The Park, and more in the neighborhood.
The Arts District is pricey, but a bit more affordable.
Chung, who lives in DTLA's Arts District at the Aliso Apartments, says that the disjointed nature of DTLA's communities keeps it from having a community atmosphere, but you can sometimes find a neighborly vibe within individual residential buildings.
"There is a sense of community in my building. I've met a bunch of my neighbors already," he says.
Luxury Residential Complexes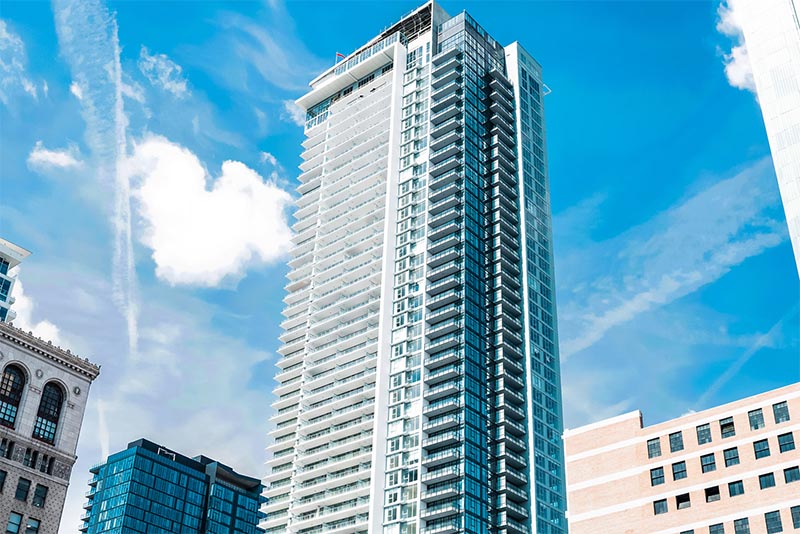 It seemed that Downtown has grown to become one of the busiest places for development over the past few years. However, this year, construction has been put to a temporary standstill, with the pandemic and racial justice protests.
While construction may be on hold, many potential homebuyers are still drawn to DTLA because of its abundance of live-work-play communities, which add to Downtown's overall walkability. Luxury complexes such as The Metropolis, Atelier DTLA, and Seven West made a splash in the past few years, ushering in a wave of upscale offerings and extravagant amenities.
Even though the DTLA neighborhood is still in flux and constantly evolving by the day, current home sales, according to our data, start from the low of $345,000 to a whopping $7 million. This price range has dropped from data from two years ago, when prices ranged from $365,000 to $8 million.
From Casual Eats to Upscale Dining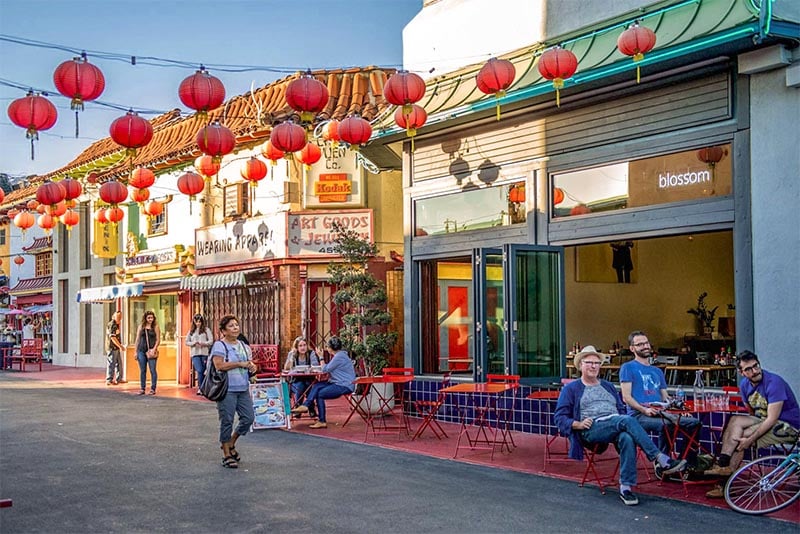 Whether you're a foodie or simply trying to grab a quick meal before your next task for the day, Downtown has everything from Asian eats in Little Tokyo and Chinatown to traditional bar eats, cafes, and fast food in Pershing Square and the Financial District. And of course, there are numerous grocery stores and marketplaces such as Whole Foods, Trader Joe's, and Grand Central Market.
Compared to other neighborhoods in Los Angeles, where visitors often visit with a plan on where to go, Downtown's walkability allows visitors to be spontaneous. Chung's favorite neighborhood haunts include KazuNori on Main Street, a walk-in bar for fresh handrolls, as well as BADMAASH on 2nd Street, and Indian-American fusion gastropub.
Premier Shopping, Culture, and Arts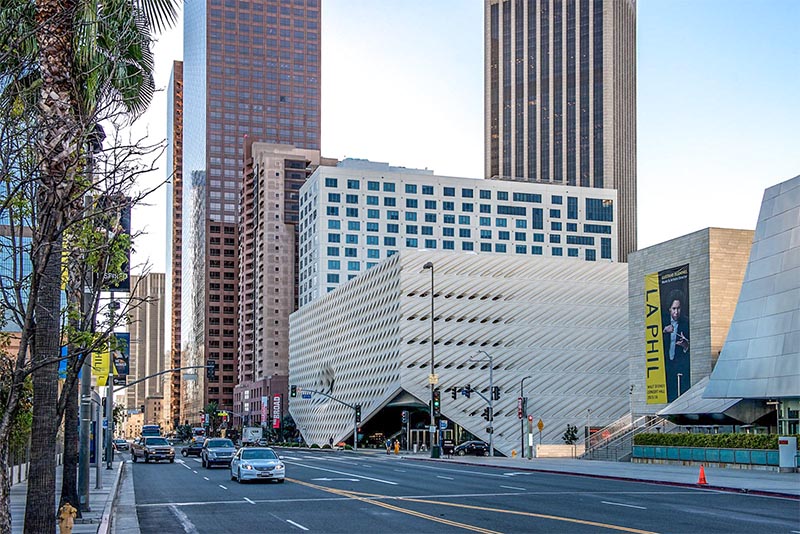 DTLA features shopping—from brand name stores to one-of-a-kind thrift shops—and cultural arts in districts such as Little Tokyo and the Arts District.
"There are the breweries, like Angel City, Arts District, and Hauser and Wirth, and there are also art galleries that are more high end," Chung says. "Downtown is kind of weird where if you go to some of the breweries, there is even artwork you can buy from there."
With the construction of several high-end hotels, bars, and lounges, as well as major venues such as the Staples Center, Microsoft Theater, and L.A. Live, the neighborhood has become one of the best places to live—and visit—in LA overall.
The Bottom Line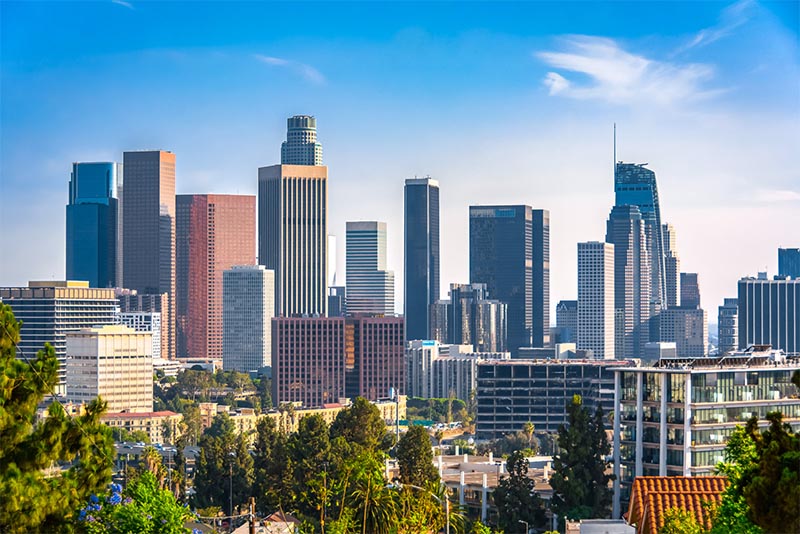 Contrary to its population boom in recent years, it seems this year has been difficult for DTLA due to the standstills in restaurants, shopping outlets, and new tenants.
I think the good thing about Downtown is you're in proximity to other places.
"There was a bunch of construction when I first moved to the area, but that's sort of hit a wall. The reasons people would come here, usually for work or sporting events, are kind of gone now because everything is shut down. Local residents, they're moving out too," Chun says.
Many of the new developments still need to be filled, so landlords are lowering prices or offering more deals and incentives for new residents. Although prices have dropped this year, Chung adds, "it's still expensive to live in, especially by Whole Foods and Staples Center. The Arts District is pricey, but a bit more affordable."
When asked about the pros and cons of living in DTLA, Chung shares that "parking is not that great if you want to drive somewhere to pick something up—it can be a huge pain." However, when it comes to Downtown's actual location within LA, as well as the perks of living in the community, Chung says "I think the good thing about Downtown is you're in proximity to other places. You're close to the highway, Burbank, and K-Town, so you're basically in the middle of everything."